If you love your French Bulldog and want to have them turned into a work of art getting a custom Pet Portrait created is very easy in this day and age.  There are a number of options to get a Dog portrait or French Bulldog painting created.  Below are some great options for dog lovers to get some French Bulldog art for their home.
Reasons To Get a Custom Pet Portrait of Your French Bulldog
There are many great reasons why you might invest in turning your French Bulldog into a beautiful work of art.   Here are the three top reasons:
1. Just Because
We love our Frenchies with all our heart so do we really need a reason to get our pup turned into a customized work of art that we can love and cherish??  I think not.  The fact that is possible to take a photo of our dog, give that over to an artist, and have them transform it into a piece of art that we will love and admire is reason enough in my book!
2. A Custom French Bulldog Portrait Makes a Great Gift
I recently had a photo of our French Bulldog Augie turned into a framed dog portrait and gave it to my daughter as a gift and she absolutely loved it!  She squealed with excitement when she unwrapped it and proudly hung it on her bedroom wall.  She cherishes our Frenchie and now she has a custom piece of art that she can look at and smile.  There is no doubt getting a custom dog portrait makes a wonderful gift idea!
3. Memorialize Your French Bulldog
One of the hardest things I ever had to do was saying goodbye to my beloved Noble who was my trusty bulldog companion for 13 years.  I loved her with all my heart and soul – saying goodbye was excruciating.
I made it through weeks of pain and I am now forever thankful I had a piece of art commissioned by a local artist who took my favorite picture of her and immortalized her into a custom piece of art that I look at and smile every day.  My beloved dog is now playing across the rainbow bridge but I still am able to look at this painting and relive the countless happy memories I had with her.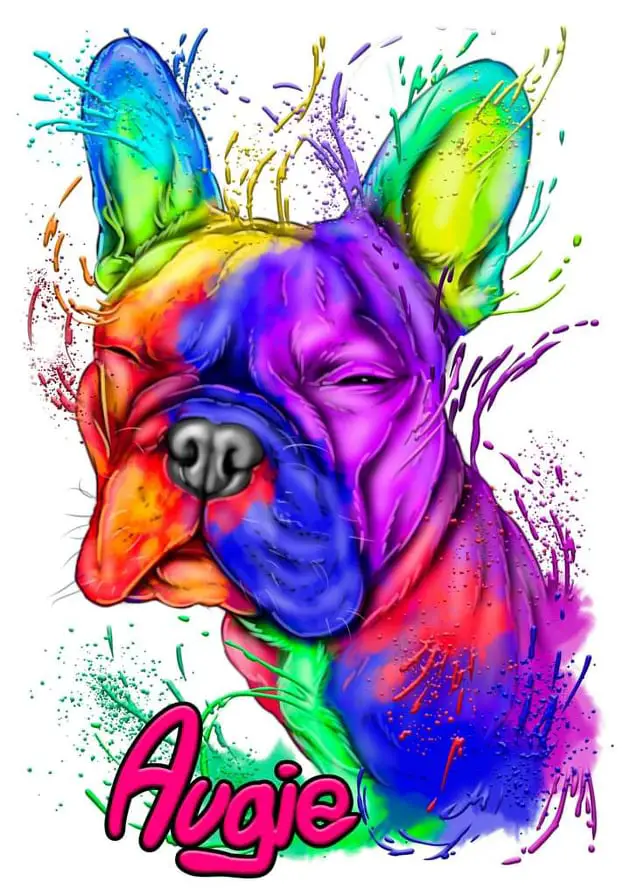 How To Choose The Best Custom Pet Portrait Option For You
There are a lot of great options to get your French Bulldog turned into a work of art via a custom pet portrait.  Before reaching out to get your unique piece of French Bulldog art created you should first learn about the various options available to the modern art consumer.
Factors like your budget, how quickly you need the custom pet portrait delivered, and how big of a piece of art you want made will affect your buying decision.
100% Custom French Bulldog Painting
If you are looking for the very best and are willing to invest a little more on a custom piece of French Bulldog art you might consider having an artist that will take a digital picture you love and recreate it into a hand drawn piece of art.
When I had my English Bulldog Noble I once hired a local artist to turn a beloved photo of my dog into a memorialized work of art.  The process was very simple.  I met with her, told her what I was looking for, and shared some great digital pictures of my dog. She then took one of the photos and by hand, turned that photo into a masterpiece that memorialized by pooch.  With this option you will definitely pay a lot more than the next option but in the right artist's expert hands you can get something truly amazing.  If money is no object to show your love of your dog then this is a great option for you.
With this option it will also take a lot longer for the artist to do their work as compared to the much faster photo upload services available.
Photo Upload Websites That Turn Your Pooch Into a Piece of French Bulldog art
There are many options now a days where you can quickly and easily turn a photo of your Frenchie into a work of art.  These websites make it very easy and very affordable to quickly get your Frenchie turned into a work of art.
The process for many of these custom French Bulldog art services is pretty similar.  You go to their website, upload a photo that meets certain criteria (photo quality will need to be high-quality), and days later you get a wonderful piece of art featuring your beloved French Bulldog.
The benefits of these websites are they very quick and easy.  Additionally, you can get a custom pet portrait of your dog done relatively inexpensively.  This can be a great gift for your children who love their dog as much as you do!
5 Custom Pet Portraits Options For French Bulldog Lovers
There are a lot of great websites and local artists who can transform your Frenchie into art.  Here are 4 great options to start your search of finding the perfect pet portrait for your home.
This is a great option especially if you are looking to turn your beloved pet into a Canvas pet portrait.  This is a pet portrait service available through the popular Amazon website.  You will need to upload a high-quality image of your Dog that you want turned into a customized canvas wall hanging.  You can choose from a variety of size options starting at 8 x10 and going all the way up to the massive 48 x 32 inches!
There are thousands of happy customers who rave about their customized dog portraits purchased through their service.
To learn more about SENEW Custom Canvas Prints click here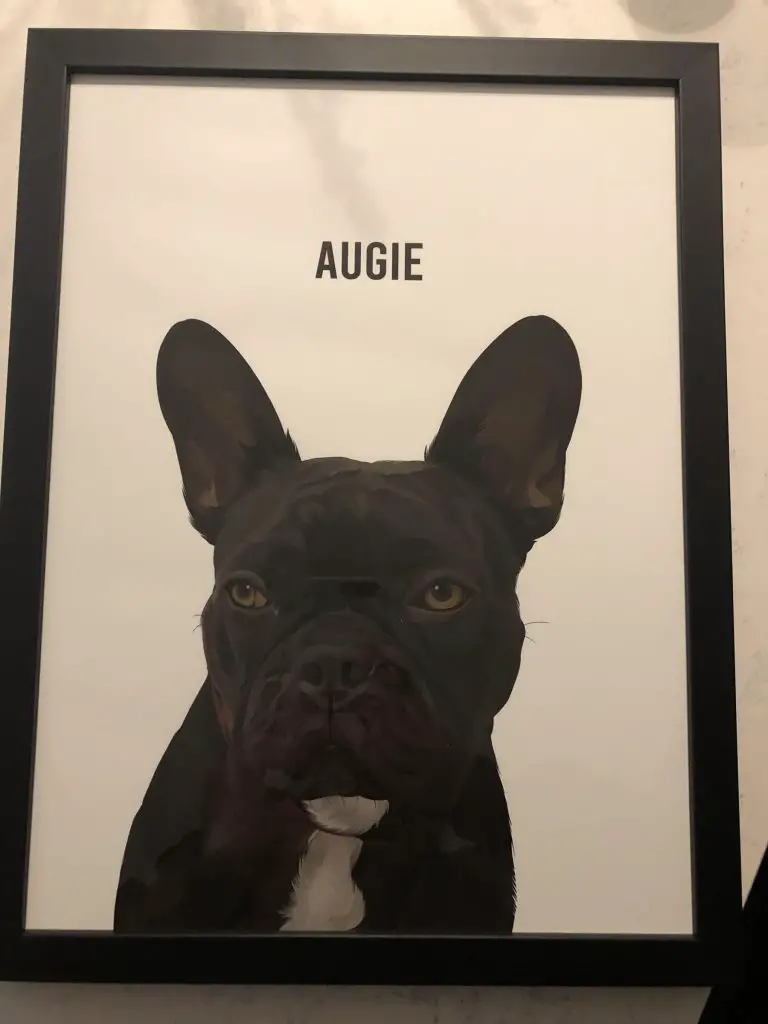 This an excellent Australian-based custom pet portrait business where you can get a customized piece of French Bulldog art created quickly and easily.  I got one of their custom pet portraits done and gifted it to our daughter who absolutely loved it!
The promise of the "Paint My Pooch" team is to "Turn your photo into a masterpiece in a few simple steps."  I followed their process on their easy-to-use website and days later received this super-cute work of art of our French Bulldog Augie.  I gifted it to our daughter and she absolutely LOVED IT!
The custom pet portrait of our French Bulldog came framed and printed on high-quality stock.
You can learn more about this custom pet portrait service at:
At CanvasPop they can do a lot of different types of print on demand artwork but they have an entire section of their site devoted to personalized Pet Portraits.  They promise that you can create a work of art in just minutes using their simple and easy to use site.
They promise that you can simply upload a favorite photo of your dog and they can turn it into a work of art you would be proud to hang in your home.
To learn more about this site click here.
Etsy.com is a very popular website that showcases a lot of artists from around the world and there is a collection of them that focus on custom pet portraits for dog lovers.  There are lots of different pet portrait options from photo upload services, watercolor paintings, to even custom hand-painted pet portraits.
I even saw one Etsy artist offering "Find A Pet Portrait Artist On Etsy.com" that will purposefully create a "Bad" portrait of your pet.  A great gift idea and I was tempted to purchase just because!
Find A Pet Portrait Artist On Etsy.com
5.  Hire a Local Artist For Your Pet Portrait
Years ago I was at a small business networking meeting and a young woman stood up, and went on to explain that she was a pet portrait artist.  She explained how she took your favorite pet photo and transformed it over the course of a couple weeks into a work of art.  She offered both water color and redrawing an existing pet photo into a custom work of doggie art.
Here is the piece that she created of my beloved bulldog Noble: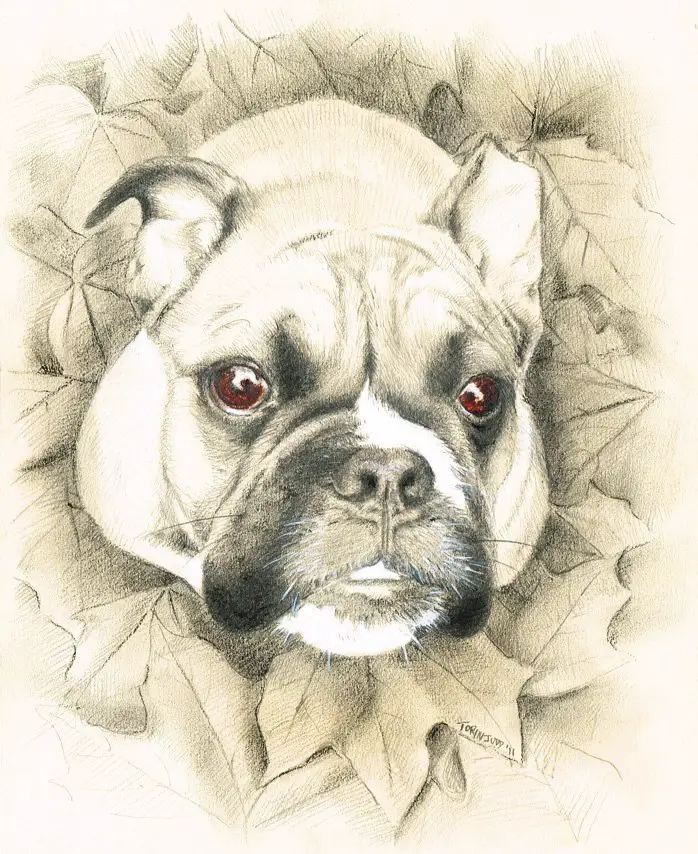 You can find a local pet artist by Googling "pet artist (your city)" and seeing who pops up.  Be sure to look at samples of their work, check out any online reviews.  You can also find a local pet artist on Facebook by asking in one of those local community groups.
Here is the Facebook page of the local NH artist I used for my pet portrait I had commissioned.
Final Thoughts – Custom Pet Portraits
What better way to show your love for your French Bulldog than to immortalize them in a piece of art.  A well-done dog portrait or dog painting of your Frenchie can be something you or your loved one will cherish for years.
PS – Looking for more French Bulldog shopping idea?  Click Here