Most of the things we get to do as French Bulldog Owners are fun. Owning the cutest dog ever, playing with our fun loving pups, snuggling with our lovable Frenchie, and of course going for walks. However, I love going for walks with Augie but that involves him having to relieve himself at some point. Let's face it all dog owners are dealing with this natural bodily function however we then have to "deal with it". Part of being a responsible dog owner involves picking up and carrying it around until you are able to dispose of it properly. 
Most cities and towns require you to clean up after your pup and even at your Frenchies own home and backyard that poop needs to go somewhere. It is not actually safe to leave poop out to degrade in the backyard. Your Frenchies poop is not fertilizer. Unfortunately your little cute bat eared friends can carry all sorts of health risks for others in their poop including heartworm, parvo, and salmonella just to name a few so it is best to clean it up.
We have looked into and tested some of the best bags and bag holders for you to check out.
Important Things To Consider In Dog Poop Bag Holders
Here is a list of some of the things to think of when you are looking at dog poop bags.  It isn't the most fun thing to consider but it certainly beats some of the issues that can arise if you don't think about them in advance!
How Sturdy The Dog Poop Bag Is
A good dog poop bag should be sturdy enough to hold a hefty size load. Our little Frenchies are small but you definitely want a bag that can hold that poop and not leak or break. This would include the thickness of the bag. You want to make sure that you feel comfortable putting your hand inside the bag and getting enough protection while you pick up the poop. A good rule of thumb is that if it is a colored bag and you can see through the bag then it is too thin. 
What Material Is The Dog Poop Bag Made Of
Looking to see what material the poop bag is made of can be important to how you dispose of the waste. There are the bags that are made out of plastic and then there are bags that are made out of materials that allow the poop bag to break down. 
You will want to look and see if the bag says it is compostable or biodegradable. If the bag is compostable this means that it will decompose completely without leaving any harmful residue behind but it must be composted in order to make this happen. If the bag is biodegradable this means that the material will degrade faster than most other plastics but will still leave some chemical waste behind. 
How Easy Is It To Detach And Seal The Dog Poop Bag
I am not sure about you but when Augie is finished with his business he is ready to keep on going. I do like that I can quickly remove the poop bag and that it easily separates from the next bag so that I can be ready to do a quick pick up as soon as he is done. It is just as important that I can easily seal the dog bag  while holding the leash and walking. 
Dog Poop Bags And Poop Bag Holders 
We have reviewed and are sharing some of the best poop bags and dog poop bag holders so you can decide what works best for you and your Frenchie. 
The AmazonBasics Unscented Dog Poop Bags are a great choice. They are sturdy, unscented but smell resistant, easy to use and separate, and marked so you know which end of the bag to open. I will say that the most important thing for me is not being able to smell the dog poop after it has been bagged.  Well, that may be tied with me wanting the bags to be thick enough to help with the heat that you feel when picking up fresh dog doodo. These bags do both of these things. They are thick enough to feel very sturdy and they really do hide the smell. These bags also ship with a small plastic dog bag dispenser.
The Amazon Basics bags come in 5 different quantity sizes and are available both in standard bags (which are black with a black dispenser) and in EPI additives making them biodegradable (which are green with a white dispenser).
Earth Rated dog waste bags with dispensers come with 15 lavender scented bags. We put this one on our list because to be honest sometimes when you get scented bags you just make the smell worse but these bags were different. The lavender scented bags were a breath of fresh air compared to the "Augie" smell. These bags also come with a bag dispenser that has an adjustable strap allowing you to attach it to a leash of any size. There is also a hook that holds used dog bags in case there are no trash bins nearby. 
POQOD dog poop bags are some of the easiest to open and use. We found that their design was so easy that we could even do it one handed. These bags are very sturdy bags and completely leak proof.  The POQOD waste bags are biodegradable and environmentally friendly with EPI technology. The dog poop bags also come with a plastic, clear colored, bone shaped bag holder.
My AlphaPet Dog Poop Bags are backyard compostable. These bags really are the best quality compostable bags that I have found. These cornstarch based bags are made from GM free corn and are completely backyard biodegradable leaving zero waste. The bags are thicker than most compostable bags and have met all the strict guidelines allowing them to advertise as compostable.
Arm & Hammer Disposable waste bags have a fresh scent technology, featuring activated baking soda. This compact roll is perforated and has easy tear seams for quick easy release. 
These bags do not include a dispenser but fit standard plastic dog poop bag dispensers.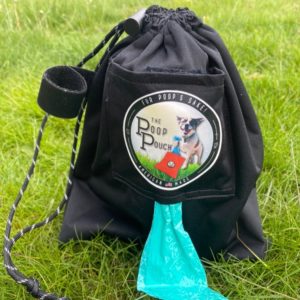 The Poop Pouch is a great locally made product that does just what it says, holds the poop in a pouch. This pouch comes in two sizes and is made with Silvadur, basicly  the fabric contains silver technology that helps to reduce odor and is water resistant.. There is a pocket in the front of the pouch to hold any style bag you want and once the bag is full and placed inside the poop pouch you can securely close the pouch. The Poop Pouch can be attached to a leash for easy carrying. This is a great product and it is made right here in Massachusetts. (Be sure to look for some photos of Augie's walk using this Poop Pouch!)  
The Ruffware pack out bag is made for the complete dog poop journey. The Ruffwear holds poop bags and dispenses them from a slot at the bottom of the pouch. The rest of the bag is used to hold the full poop bags until you are able to dispose of them. The pouch is made of a water resistant shell which helps to keep the pack clean but also minimizes the odor once inside. A pull tab on the front of the top of the pouch allows you to pull open the wide top and drop in your full poop bag with ease.  The Ruffwear can be worn as a fanny pack or clipped to a pocket and comes in two sizes. The sleek design of this poop bag is very appealing. 
The Doo Doo Tube is like a portable garbage can. It measures 3"x5" and holds several full poop bags for small dogs. The Doo Doo Tube keeps odors at bay and is made of an easy to clean plastic. The tube uses a heavy duty key ring and carabiner that can be attached to a belt loop, back pack, or most easily a leash. The only downfall to this poop bag holder is that it doesn't carry the bags you need to scoop the poop with. I like the size of this container since Frenchies are so small. This tube is nice if you are going to want to attach it to your Frenchies leash.
The poovalut is as the company likes to say "your key to dog walking freedom". The lightweight plastic container is perfect for storing your pets full poop bags. The Poovault is easily attached to your belt loop or dogs leash for a hand free, smell free walk. The container is leak proof but with that we did find the lid hard to open one handed.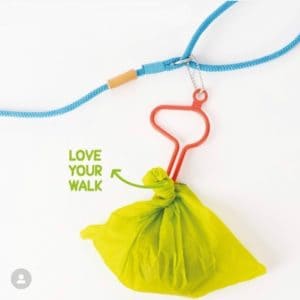 The Dooloop doesn't store your poop in a container but it does hold the poop bag so that you don't have to. This modern loop attaches to your leash and is made right here in Maine, of BPA free biodegradable plastic. The Dooloop looks kinda like a dog head and comes in 5 colors, lobster red, millennial pink, matcha green, charcoal, and new blue. These are great quick add ons to any dog bag dispenser. 
In The End – Dog Poop Bag Holders
In conclusion we have decided that poop might be our least favorite job when it comes to caring for our French Bulldogs but with all of these handy options to use for bags and bag holders it can make this job a little less stinky. I hope this helps you decide which Poop Bag Holder Option is the best for you and your French Bulldog.
PS – Check out these other French Bulldog accessories.