What Are Winpro Supplements?
Winpro is a fairly new dog supplement company that has gotten some rave reviews. My French Bulldog Augie has several allergies and we struggle with ways to make sure that he is as healthy as he can be. Winpro Supplements are actually blood protein pills made and used to aid in specific issues your dog may have.  We decided to give them a try and I share my thoughts in this Winpro Supplement review.  
What Is A Blood Protein?
Alright I am going to try and let you know what a Blood Protein is without getting too medical but allowing you to be able to understand where and why they are used. 
Essentially they are functional proteins that contain certain key blood components which include plasma among other things. Plasma helps blood cells carry proteins throughout the body. The key to take away from Plasma is that it carries proteins which are considered the building blocks for the life and health of any living being including your Frenchie. Each protein within the body performs a specific job and helps support essential body functions.
What Has Research Shown About Animal Blood Proteins?
Animal blood proteins studies  in the US began in 1981. Researchers have looked into how animal blood proteins have helped many different animal species. Many of the studies have shown that aimal blood proteins, when ingested, have helped to support healthy immune systems and function by reducing inflammation. This inflammation can sometimes be in parts of the body that are hard to treat for dogs such as muscles, joints and even within the brain. As you can imagine when your pup's immune system is at the top of its game your pup will be the healthiest and happiest as they are not wasting energy fighting stress.
Learn More About The Technical Part Of Animal Blood Proteins 
If you want some more details about how the Animal Blood Proteins are collected, stored and turned into supplements I would recommend taking a look at Winpro's article The Definitive Guide To Blood Proteins For Dogs. I was able to get lots of great information there and passed some of it onto you but they have more in depth information that they have collected and even though it is very technical it is definitely worth the read.
Winpro Supplement Review – Why Should You Use Winpro Supplements?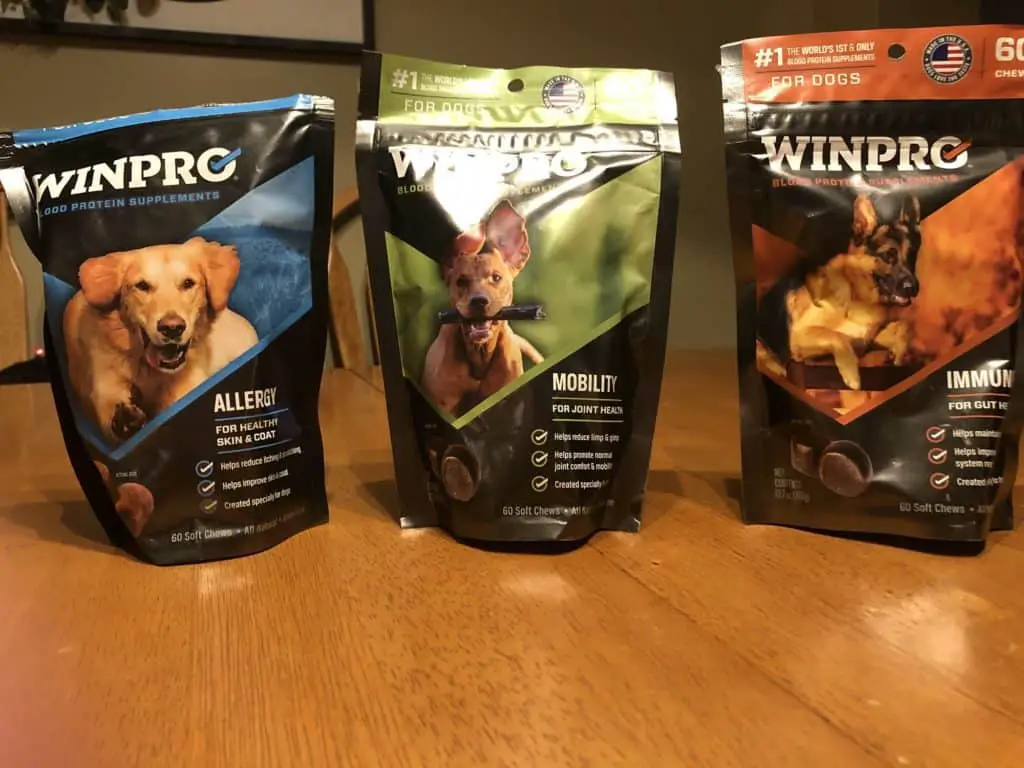 Well the obvious answer is you want your dog to be in the best health and most likely you have noticed that most commercial dog food is highly processed and missing lots of important nutritional value. In 2017 more than two thirds of dog owners were using some form of a supplement. Winpro was started because of the safety concerns of the supplements that were out in the market at the time and they were one of the first companies to offer blood proteins within their supplements. 
Winpro is all natural and doesn't pass straight through like other nutritional supplements. This makes Winpro 6X more effective than other supplements that are on the market. The package contains 60 chews and has no harmful side effects. The suggested daily dose is 1 chew in the morning for dogs under 20lbs. And 2 chews in the morning for dogs over 20lbs. Winpro chews can also be combined with any other medication your Frenchie might be on.
Winpro is so confident that you will love their chews and the effects that they offer a 110% no questions asked guarantee. You can send the product back with only a few missing, all or anywhere in between and they will give you a full refund plus 10%!
What Type Of Supplements Does Winpro Offer?
Ok so now that you have heard how amazing this company is and you are looking to try this for your four legged friend you will want to decide which Winpro Supplement you want.  Winpro has several different types of supplements, Allergy, Mobility, Immunity, Fucus, and Training.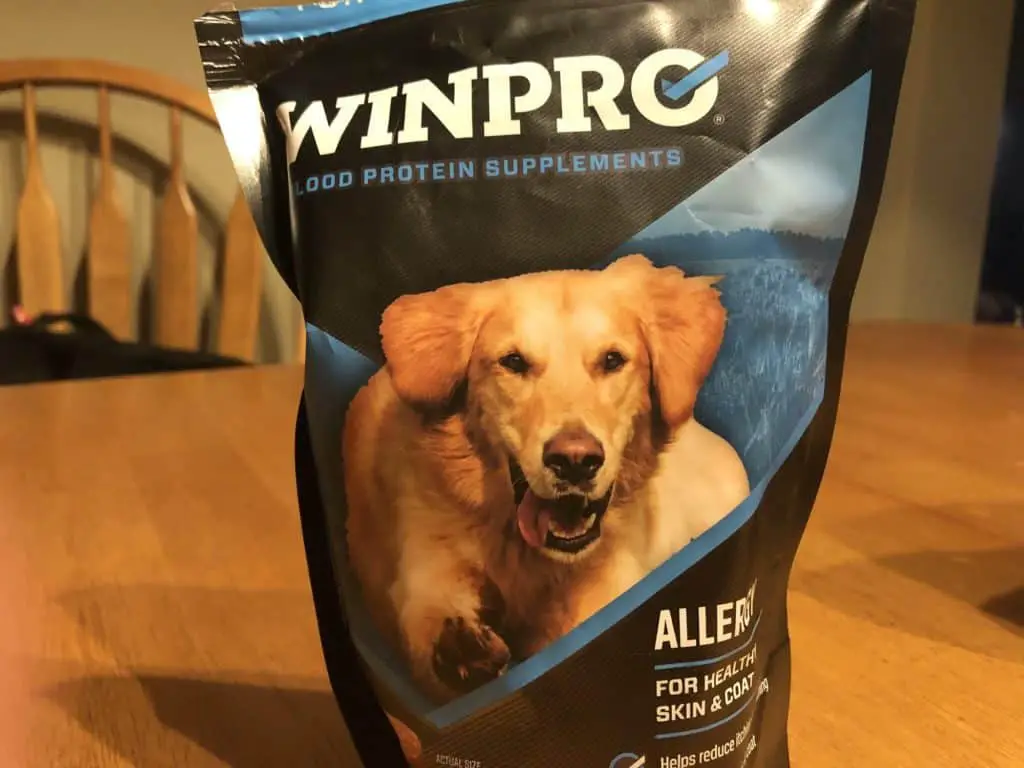 Winpro Allergy contains animal blood proteins that are clinically proven to help dogs with skin and coat issues. From sore spots, runny eyes, itchy skin, seasonal allergies and inflammation the Winpro Allergy Chews work fast offering relief for your dog.  These were the first Winpro supplements we tried with Augie and I am happy to report that he loved them!  Learn more here.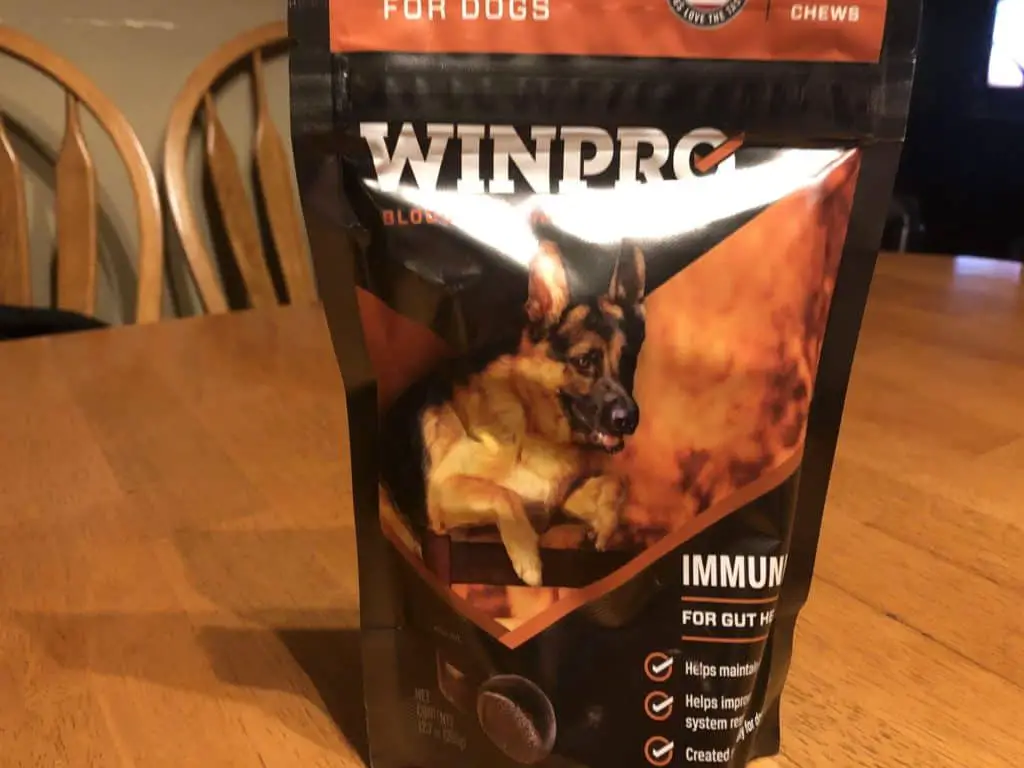 Winpro Immunity contains animal blood proteins that are clinically proven to help dogs maintain a normal gut function. It helps to improve stool, combat the effects that stress has on the immune system, and promotes a healthy gut. Immunity helps dogs with extra stress during times of travel, competition, and any major changes in a dogs life.
Winpro Focus contains animal blood proteins that are clinically proven to help with mental calmness, attentiveness, reduce anxiety, and improve behavior.  Focus can help maintain mental alertness for dogs without making your dog drowsy.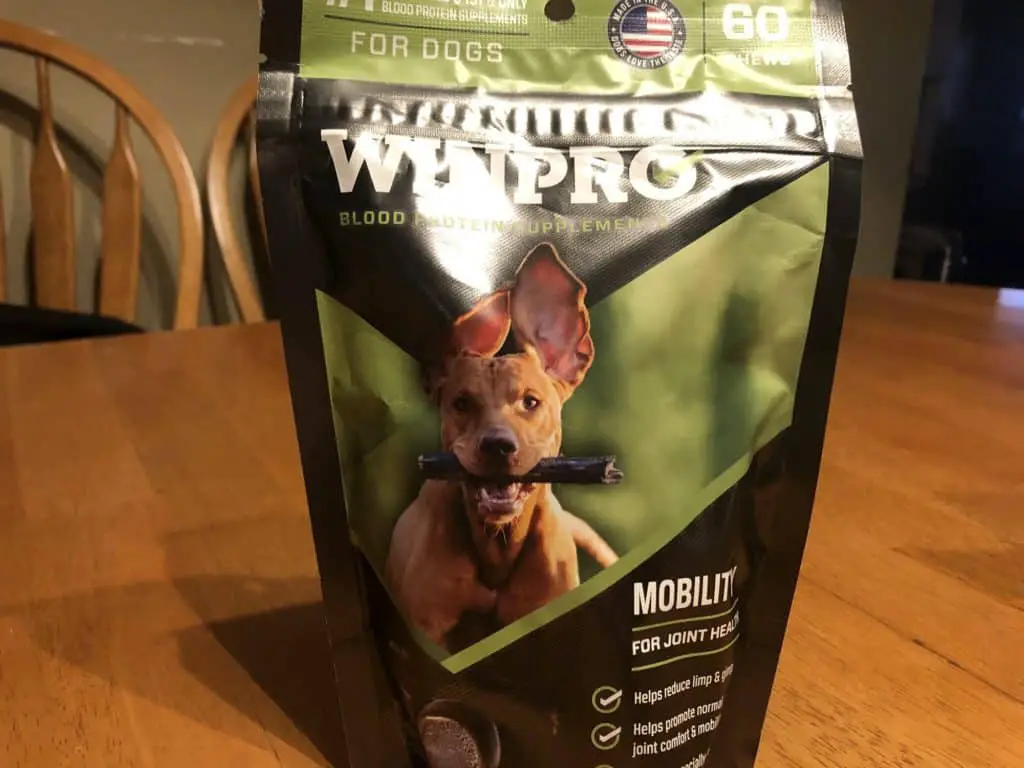 Winpro Mobility contains animal blood proteins that are clinically proven to support normal joint functionality in dogs. This allows dogs suffering from stiffness, soreness, joint pain or trouble with mobility to feel fast easy relief and gives them a chance to take part in normal daily dog activities with more comfort.  
Training
Winpro Training contains animal blood proteins that are clinically proven to help your dog perform at their best. Training Chews allow your dog to quickly bounce back from strenuous activity from either from training, work, competition, hunting or hard play.
In Conclusion – Winpro Supplement Review
After having the opportunity to use the Allergy Chews for my little frenchie Augie I will say that Winpro Supplements are an excellent product made in the USA and are only backed by science and proven to work. They ensure that all of their products are wholesome and all natural. The best part about this company is that they are always available to answer any questions you may have to help you and your dog and that if you are not satisfied with your supplements they offer a 110% money back guarantee – can't beat that.  You can check them out to learn more here.