The first dog crate I got for my French Bulldog was nothing fancy but when we redid the living room we wanted to get a more attractive dog furniture crate that was also an end table dog crate.  We researched the many options out there and ultimately landed on these options shared in this article.  

Different people have different tastes and preferences but I am confident one of these dog furniture will be a fit for your home decor. End table dog crate appears more natural and coordinates with the rest of the rooms rather than appearing like a typical piece of dog equipment.
Top Picks For Best Dog Furniture Crates
If you're in a hurry here are our top picks for attractive end table dog crates for your French Bulldog.  

Factors to Consider When Choosing a Dog Crate Furniture
Dogs need a suitable shelter where they can feel comfortable and train without distractions. A well-designed crate can also help to strengthen the bond between the dog and the owner. While buying a crate, it is imperative to consider the fundamental needs of your canine, and you shouldn't oppose investing in your dog's comfort and welfare. Some of these factors include:
1. Size
Before you invest in that quality crate, ensure the crate will work for all life stages. You must understand that the growth rate for different breeds of dogs varies. Some grow to small sizes, and others may become quite big. Understanding the breed will help you know how big they will get when they are fully grown. Dog crates are not cheap, and the last thing you want is to buy crates in every stage of their development.
Secondly, puppies are very active and restless, unlike full-grown dogs. If you have a pup, make sure the crate has enough space to put up with the animal, their toys, and other stuff to avoid it from getting overcrowded.
2. Material
Today, you can find dog crates in various materials such as plastic, wire, wood, metal, or even a combination of different materials. Therefore, the material you choose will determine the crate's sturdiness, price, size, durability, and portability. The wire crates are not enclosed, thus exposing the dog to the surroundings. Plastic ones are not open, but they allow proper air circulation. They are also not bulky and the best when it comes to hygiene.
Crates made from wire are more long-lasting than plastic ones since dogs like chewing them as they find their way out. Wooden crates make the best choice of material as they harmonize well with the rest of your room. However, if your dog is the type that chews vigorously, the best dog crate as furniture is a wire cage.
3. Hygiene
Dogs are highly vulnerable to diseases, parasites, and other harm. The material of the crate will determine how hygienic the crate will be. Some materials are daunting to clean, while others are quite easy to clean and maintain. For instance, plastic crates are very easy to clean, while the wire ones accumulate so much dirt and hair in the cross-joints make them hard to clean.
Benefits of Dog Crate Furniture
So, what are the benefits of putting your dog in a crate? Dogs find crates as a safe refuge and a place of tranquility, especially if they are introduced to them at an early age. Some of the benefits include:
1. They are Training Tools for Puppies
Crates are a vital tool for dogs that are yet to be housetrained. Dogs instinctively want to keep free from urine and feces. Therefore, a puppy enclosed in a small crate will not toilet before it is released. If the dog obliged being in the crate for a while, this means it will not resist when you take him to his toilet area. This makes house training an easier experience.
2. provides Safety and Security in Case of Emergencies
Letting your dog move around unsupervised can put it at risk of choking, being tripped over, poisoned, or electrocuted. However, confining your dog in a crate protects them from these risks and sometimes gives the dog a place to relax when the surroundings are all chaotic for them. However, it is not advisable to leave them in these crates for too long as dogs have many other things that they love doing. For example, interacting with other people or dogs, doing exercises, mental stimulation, and others.
3. Protecting Your Possessions
Dogs like chewing anything they find lying on the floor. Confining them in a crate will prevent them from chewing things like shoes, children's toys, furniture, and other possessions. Also, a car crate can prevent the dog from doing any damage to the interior of your car.
4.  Dog Crate End Tables Look Great
Above and beyond the benefits of a regular dog crate the added benefit of a dog crate end table is that it looks great and compliment the room decor nicely.  If you are anything like my family you spend a lot of time carefully researching the exact right fit to compliment your room.  The right pick for your home can be a functional and attractive dog crate to serve your French Bulldog well.  
Best End Table Dog Crate
With the above fundamentals in place, you should be able to compare crates and choose a furniture style dog crate based on your needs. Some of the best dog crate as furniture include:
The New Age Pet End Table provides an incredible way to house your pet.
Features
• This fashionable piece of furniture is made of Ecoflex, a non-toxic reused plastic-wood polymer composite material. This feature is great because it does not deform, crack or split.
• It has a detachable tabletop which makes it easy to clean and completely sustainable.
• Another great feature is that it does not take in moisture, a trait that makes it unsusceptible to stains and odors.
• Its spindles are made of quality stainless steel tubing.
• It comes in 3 different colors: russet, espresso, and antique white.
• It has both single and double latches. This feature enables it to accommodate small-sized crates and extra-large-sized crates.
Pros of New Age Pet End Table
Some of the advantages of these products include:
• Functional Double Use: Can serve as an end table in the family room, bedroom, or living room.
• Has a Unique style. It can be painted to blend with other furnishings in your room.
• It is easy to clean as it has a removable top.
• Can easily be moved from one place to another.
Cons
• Not suitable for dogs with anxiety problems.
• Not chew proof which can allow dogs to access the outside as they can chew the door apart.
Features
• This all-around wooden dog table crate is made from wood and stainless steel.
• It is robust, long-lasting, and comes in two authentic colors; black or espresso.
• It is available in both small and large sizes. This incredible feature makes it reliable for hosting a 50 -60lb dog.
• It consists of some safety fastenings on the outside.
Pros
• Unlike other furniture crates, Casual Home Wooden Pet Crate is relatively affordable.
• It coordinates perfectly with many home decors.
• It is fitted with a secure lockable latch.
• It is constructed with solid wood, which makes it more durable.
• It is easy to assemble.
Cons
• Not friendly for injured dogs who cannot step up into the crate.
• Can break easily
• It lacks the interior slide-out tray.
• Can only house dogs of up to 20lbs.
This product is different from other crate furniture.
Features
• It is constructed from wood veneer and metal rungs. This feature makes it blend well with your furniture and gives a considerable lifespan.
• It comes in both medium and large sizes.
• It has a detachable bottom plastic tray. This feature adds additional safety to the floor, thus protecting your dog from accidents.
• It has double functionality. Apart from functioning as a pet furniture crate, it can also be detached to serve as a dog gate.
• Panels are demountable, providing you a considerable deal of freedom.
Pros
• It is easy to assemble.
• It can serve different purposes; it can be used as a dog crate and a pet gate. This element offers value for money.
• It has removable panels.
• It can perfectly house medium breeds.
Cons
• Although it is made of some metal, it is slightly flimsy as its bars can bend quite easily.
• The position of the latch undermines the security of the bottom.
Features
It is constructed from natural fir and materials which are environmentally friendly. This feature offers your dog a safe and cozy living without compromising its security.
It is available in two different sizes, making it suitable for housing small and medium-sized dogs.
It has a blue painted finish. This feature makes it blend well with your décor and other furniture.
Pros
• Perfect for indoor use.
• It is affordable.
• The slant wood design makes it stronger and enhances better ventilation.
• Created out of natural fir wood.
Cons
• Assembling this dog crate furniture can be a nerve-wracking experience.
The Richell store is fitted with some incredible pet products. This crate can perfectly fit in a traditional or contemporary room without feeling like you've got something alien in the house.
Features
• It is available in 3 different sizes and can accommodate dogs for up to 44 pounds.
• It is made up of 100 % wood.
• It has a flexible door that can open fully, allowing easier access and exit.
• It consists of a removable liner. This makes cleaning an easy task.
Pros
• Has a detachable tray.
• It is easy to clean.
• The top part can be used for storage.
Cons
• Can only host dogs with 4 pounds and below.
This soft-sided ottoman-style product can fit anywhere in the house.
Features
• It is made of vinyl.
• Comes in black color.
• Available in small size only perfect for a French Bulldog.
• It is not fitted with a door.
Pros
• It is quite affordable
• It is easy to assemble.
Cons
• It does not offer much security to the dogs.  It's not a true dog crate but more of a pet hideaway
• Only suitable for well-behaved dogs since it doesn't have doors.
• It is only available in small size and therefore suitable for small dogs only.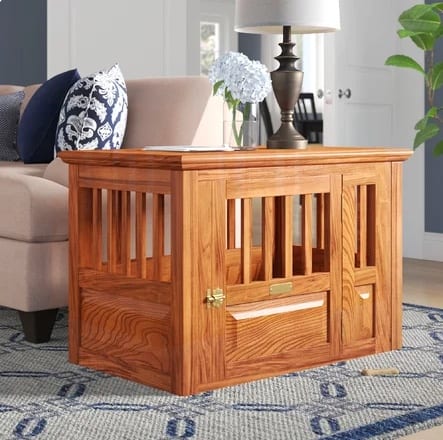 Features
• It is made of wood.
• Perfect for dogs with 70 pounds and below.
• Available in small, medium, and large sizes.
• The crate can open from the side or the top. The doors can also be right-handed or left-handed.
• It consists of durable and robust panels as they are assembled using a mortise and tenon construction.
• The crate bars are easily demountable. This feature makes it sustainable and easy to clean.
Pros
• It comes in multiple sizes.
• Has an elegant design.
• Fitted with ventilation windows.
Cons
• Compared to other furniture style dog crate, this product is quite expensive.
Select the Best
The above dog crates have exceptional features that can perfectly suit your needs. Take your time to explore all the available designs, and you will know precisely what you are settling for.