Sometimes you just want to enjoy some time in your backyard with your French Bulldog and you need a simple way to keep him close by and safe without holding his leash.  A dog tie out stake can be a great option for this situation.  As a fellow French Bulldog owner I am sure you have your dog's safety in mind at all times.  French Bulldogs love to run and play but it is your duty as a Frenchie parent to keep them safe.  If you have the ability to invest in a Fence for your yard that is great but that solution isn't right for everyone. 
A wireless dog fence is another option but that too isn't always the best fit.  A dog tie out stake is a great and affordable option that I use and recommend for my French Bulldog when we are hanging out in the backyard.  The best dog tie out stake can be a great option as long as you use it properly and under direct supervision.
In A Hurry?  Here Are My Top 5 Dog Tie Out Stake Picks
If you are in a hurry to find an answer on my top choices for the best dog tie out stakes here are my picks:  
Alright, let's get into the core of this article and I will share why I think a dog tie out stake is a great confinement tool when used under direct supervision.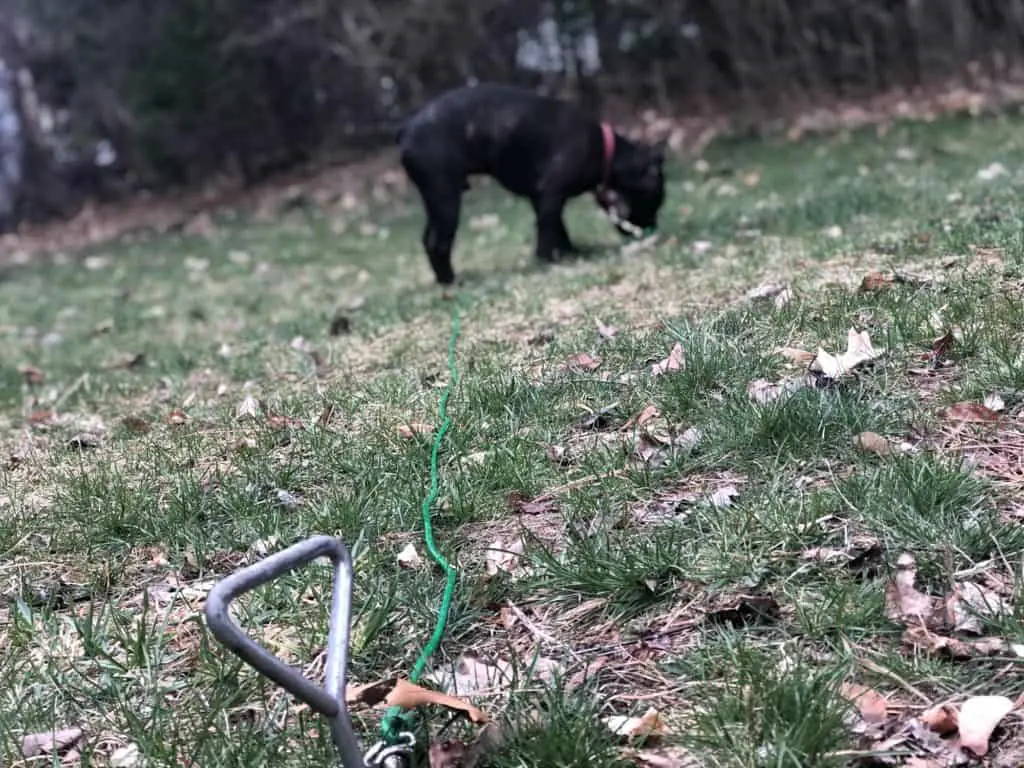 Why A Dog Tie Out Stake Is A Great Tool When Used Properly 
French Bulldogs are companion dogs and love to be near their humans at all times.  Our little Augie is a big fan of staying glued to our hips wherever we go and that includes our backyard.  We have a backyard patio and a decent-sized backyard and when we go outside to sit at the patio table, enjoy a fire around a wood burning fire pit, or read a book outside he very much wants to be with us.  
We don't have a fenced in backyard and live relatively close to a busy road so I don't want him off a leash and unattended.  A dog tie out stake attached to his collar is a perfect solution so he can be with us in a safe and easy manner. We simply put the stake in the ground near the patio and he is able to spend time with us safely outside.  
This tool can be great when used properly.  I can't stress the "used properly" part of this statement enough.  There are some risks of this set up and if you are going to use a dog tie out stake please do it in a safe manner and always monitor your French Bulldog when using this set up.  
Using the most reliable, safe and best dog tie out or stake as those listed below can be a viable alternative, but you must first familiarize yourself with its pros and cons:
What You Must Know Before Using A Dog Tie Out Stake For Confinement – The Dangers of Improper Use
Dog tie out confinement is a tool.  Like most tools, there is a right way to use them and a wrong way.  While this tool is convenient, it is important for me to stress the potential dangers for your French Bulldog if you use this tool improperly.  Even the best dog tie out and stakes pose real risks not to be taken lightly when used improperly. Please read these so you are fully informed on how not to use the dog tie out.  I think all of these risks can be mitigated by being a responsible French Bulldog owner and paying close attention to your beloved four-legged friend while using this dog tie out stake set up.  Here are some of the important risks for you to be aware of before using this confinement tool:

Chance of Choking or Strangulation. Without supervision, your French Bulldog is at risk of choking or strangling himself. If the tie out has a lot of slack in it and your Frenchie may not realize that he's tied up when he suddenly decides he absolutely needs to bust out at full speed to chase after a squirrel or a cat that wanders into your yard.


Trauma To The Throat.  A French Bulldog that is tied up with a tether attached to their collar are not only at risk of throat injuries if they quickly sprint and are restrained abruptly by the tether.  This can cause potentially serious damage to your Frenchie's throat, trachea, or larynx. An abrupt sprint and quick stop causes a lot of force on your Frenchie's neck. That level of force can cause the collar to tighten to a point that restricts your Frenchie's airway and potentially injures his throat.  


Getting The Tie Up Wrapped Around Their Leg.  Your French Bulldog could possibly get the tether wrapped around their leg which could cause serious harm even a broken leg if they take off running after something. 


Food And Water Issues. First I will state I don't personally think any French Bulldog owner should use a dog tie out tether without direct supervision.  With that said, if you were to leave your Frenchie unattended you should at least leave them with water if not also food. The problem with the dog tie out set up in this situation is that your Frenchie could accidentally knock his bowl over and be without water. 


Problem with Harassment by Children.  In every corner of the world, there are kids who enjoy tormenting animals. It's not right, but it happens. If you tether your dog and are not in sight, there is the occasional child who might find it funny to then throw rocks at the dog, especially if the dog barks as people who pass by your house.  If this happens, a dog may start to fear humans, particular children. A hurt animal will lash out by snapping or biting and then you are open to a lawsuit, even if the child was tormenting the dog.


A Sitting Duck For Another Dog Or Animal To Attack Your Dog. When your French Bulldog is tied out and unattended he is at risk of being attacked by another dog who wanders onto your property or worse a wild animal (like a coyote or wolf).  Your tied up French Bulldog would be defenseless and unable to run away. 


Emotional Damaging.

 Leaving your dog tied up and unattended can cause emotional distress and negatively affect your Frenchie.  As I mentioned repeatedly, you should not leave your French Bulldog unattended while tied up. There is a correlation between dogs that have been kept on some sort of a chain or tie out restraint suffering enormous emotional baggage and becoming rescue dogs. Some French Bulldogs become very withdrawn, shy, and fearful if tied out all the time. Others can become aggressive to people. Dogs internalize what they have experienced and can be emotionally scarred for negative treatment like this so if you are going to use a dog tie out please don't do this to your dog. 

The bottom line with this dog tie out tool is that it isn't inherently a "good" or "bad" tool.  It is all in how you use it. Please never leave your French Bulldog unattended and don't use this dog tie out for this purpose.  Hopefully the reasons above will make it clear why you shouldn't do that.  
My Top 6 Picks For Best Dog Tie Out Stakes
Here are the top recommendations for dog tie out systems that I have used and researched.  I hope this information helps you pick the best dog tie out stake that works for you and your Frenchie.  
The Double Dog Run is the only truly tangle-free and impressively-made Dog Tie out.  Some have called it the best kept secret of the dog world. The double dog run is a BEAST of a dog tie out system and it has been tested for over 10 years which is impressive.  Over the years the team behind it have made it even more durable and stronger.  The amount of force it can handle is well and above what you would need for 2 Frenchies.  
Pros
Very, very well built and of the highest-quality
Great for two French bulldogs 
Extremely durable
Can handle up to 1,200 pounds of force
Cons
This is so well built is well-enough to handle the most powerful French Bulldog(s).   


The Camco dog tie out / pet anchor is one of the highest rated pet containment options out there.  It is made of solid steel and is exceptionally-sturdy that's why it gets my top pick. 
Pros
Very high rated with over 500 5-star reviews.  

Features an arrowhead design to easily screw into ground and keep firmly anchored

This 12 inch spiral stake can be screwed into the ground for a secure hold.  This will be more than enough to keep your Frenchie securely anchored and safe.

Includes a 360 degree swivel ring to attach tie out cable.  


Cons
No cable included so you will need to get a cable from Amazon – this tie out cable is a good dog tie out cable option. 




Saker has created a premium 14" heavy duty stake.  It features a 360⁰ swivel that allows your French Bulldog to roam freely without getting tangled in his leash.  This is a great option is likely more than enough to keep your Frenchie securely anchored to the ground.  
Pros
Very sturdy and heavy duty.  (This dog tie out anchor is made of real steel).  

This is one of the strongest dog tie out options

This dog spike incorporates a 15mm+ stake diameter which makes it the thickness and strongest on the market.  

Rustproof

Cons
Can be challenging to install in the ground compared to other options
This dog tie out stake and cable is easy to install, the triangle shape at the top makes it easy to install. and comes with a 20 foot cable that will easily help contain your French Bulldog.  
Pros
VERY easy to install and corkscrew into the ground

The swivel ring part of this dog tie out reduces tangling issues with your dog

Includes a 20-feet dog tie-out cable that will easily contain your Frenchie

The cable has plenty of length to enjoy a nice day in your backyard


Cons
A couple reviewers had issues with the cable after some time.  
Keep your French Bulldog safe and also give your dog a larger run area when in your backyard.  You can take this dog tie out stake and cable to the park or even camping.  It is a great option especially if you have a larger area you want your French Bulldog to play in.  
Pros
Super easy to install, just screw the stake into the ground like a corkscrew and attach the collar to the chain.  

Includes a 30ft dog cable up to hold 125 pound.  It also includes a 16in spiral stake and an oxford carry bag at no additional cost. 

This company has a 100% satisfaction guarantee


Cons
Some buyers complained that it didn't work for their large dogs.  This shouldn't be an issue for you as a French Bulldog owner.
The Pestairs 360 degree swivel dog tie out has one of the most innovative designs I have seen.  It is very sturdy and absolutely will not go anywhere once installed.  Has some phenomenal reviews.  
Pros
Reliable & Secure and doesn't pull out of the ground easily.  
Designed with a Full 360 Degree Swivel Ball so it minimizes tangles
Unbreakable construction and weather proof
Lifetime replacement!!


Cons
Once set into the ground it isn't something you will want to move to another location as it will take some effort.  
Conclusion – The Best Dog Tie Out Stake Set Up And Should You Get One?  
I am personally a fan of these dog tie out confinement systems.  While it is a simple tool it is very effective and can allow you to bring your Frenchie outside with you and your family.  It is an effective way to have your French Bulldog sit outside with you and be safely secured to the ground. There are risks of injury to your Frenchie IF you use this tool improperly so please never use a dog tie out stake and leave your dog unattended and supervised.  Use it properly and it is a wonderfully-simple way to have your Frenchie enjoy the great weather in your backyard with you and your family. Enjoy!