Every Frenchie owner wants the best for their pint-sized pup, which includes a safe yard for exercising and playing. I have always been lucky enough to have dogs that don't stray out of the yard, but recently I decided to install a wireless dog fence in my yard to keep my Frenchie, Augie, safe.
In my search for the best wireless fence I reviewed some of the best wireless dog fences on the market. My reviews can help you decide which fence is best for your yard.
What is a Wireless Dog Fence?
A wireless dog fence has two main components: a transmitter and a receiver. When you plug the transmitter into an outlet, the receiver (which is attached to a wireless dog collar) receives radio frequencies from the transmitter.
The frequencies measure the distance from the transmitter to the receiver, and you can control the signal distance to set the perimeter of your wireless dog fence.
Whenever your dog steps out of the wireless dog fence zone, they will receive a small shock from the collar.
While the thought of "shocking" your Frenchie is a major turnoff for many owners, the shock is similar to what you might get from static (like a static electricity shock). Others compare it to a splash of cold water in the face.  It's all meant to keep your Frenchie safe.  
Depending on how insistent your dog is to test the boundaries of the fence and how they react to the collar, your Frenchie may get used to the fence right away.
Why Get a Wireless Dog Fence?
As a dedicated Frenchie owner, you probably want to weigh the benefits and drawbacks of a wireless dog fence and how they compare to traditional fencing.
Here are some of the pros and cons to consider before deciding if a wireless dog fence is for you. I'll start with some of the benefits of a wireless fence.
Easier to Install and More Cost-Effective Than Standard Yard Fencing
Unless you move into a home that already has a fenced in yard, building a fence can be a big and expensive task. Depending on the size of your yard, you may spend hundreds on building materials alone, and then you need to factor in the time (or extra money if you hire a pro).
You can face even more challenges with traditional fencing if you live in a neighborhood that's part of an HOA and has strict rules about what you can and cannot do with your yard.
Wireless fencing is easy to install. Some options don't even require installation.  There are no underground wires to bury, and you can use it in any size yard and take it with you if you move.
Wireless Fences are Aesthetic and Adaptive
Wireless fences are a great option for dog owners who want to keep their four-legged friend in the yard but don't like the look of fences. Even though you can't see a wireless fence, it's aesthetic for people homeowners who don't like the look of a permanent fence.
If your yard has hills or uneven terrain, installing traditional fencing can be problematic. Wireless fencing works on all types of yards, not just flat and perfectly manicured lawns.
You Can Use Wireless Fences with Existing Fences
I've known many Frenchie and Bull Dog owners who used wireless fencing within a fenced in yard as an added layer of protection. Wireless fencing can help you break up your yard, keep your dog out of a certain area, such as a water feature or garden, or even train them to use the bathroom in just one part of the yard.
Wireless Fences Require Less Maintenance
Investing in a high-quality wireless fence, using it properly, and taking care of it will not only extend its life but will also mean less maintenance for you. Traditional fencing is permanent, but typically needs a fresh coat of paint or needs to have sections replaced depending on the type of fence.
Reliable Fencing
If your Frenchie loves to dig or likes to crawl under spaces, wireless fencing may be a better option. Your dog is less likely to hurt themselves while digging, chewing, or crawling out of a fenced-in area when you use a wireless option.
Decreases Human Mistakes
Even the most attentive dog owners may make the mistake of forgetting to latch a gate or close the fence. Wireless fences can add a little extra protection if your dog accidentally sneaks out of the house. As long as they are wearing the receiver collar, they will be prevented from going out of the yard.
Careful Considerations Before Installing a Wireless Dog Fence
Now that I've pointed out some of the pluses to installing a wireless dog fence, let's take a closer look at some of the drawbacks that you should carefully consider before deciding in a wireless fence is right for you.
You may need to spend extra time training your French bulldog to use the fence
The perimeter may need to be adjusted
Wireless fences don't protect your dog from intruders
Your dog may respond negatively to the shock
Your dog can still leave the yard if the wireless fence malfunctions
Wireless Dog Fence Reviews – My Top Five Wireless Dog Fence Picks
When I was searching for a wireless fence for Augie, I spent a lot of time reading reviews, talking with experts, and even getting advice from fellow Frenchie owners. Here are my favorite picks for wireless dog fences and I've categorized them for your convenience.
PetSafe Wireless Fence (PIF-300) is my top pick for best overall performance. PetSafe has years of experience manufacturing high-quality products that are specifically designed for all types of pets.
The PIF 300 is safe, portable, aesthetic, and easy to install. There are no wires to bury or poles to set up in your yard. Within minutes you can have your fence ready to use and keep your dog safe. When your dog leaves the designated perimeter, they will receive a small "correction" shock until they return to the fenced-in area (or 35 seconds).
If you have more than one dog that would benefit from this fence, you can purchase separate collars to work with the system.
Ideal for dogs who weigh 8 pounds and up
180-foot diameter boundary circle
Waterproof receiver
Comes with 50 training flags
System can be used with more than one dog
Five levels to adjust correction
Three batteries included
You can expand the area with extra transmitters
During a power outage the system turns off
Pros:
The fence is designed to accommodate more than one dog with extra collar and transmitters
Portable and waterproof
A quick and easy install
Other users like the adjustable settings and most dogs trained quickly to the fence
Works on all types of terrain
Operates well near homes or buildings with tin roofs or metal siding
Adjustable collar
Cons:
May experience inconsistent beeps or shocks
Small perimeter
The collar may not work effectively on all dogs
Battery lasts about two months
Some users mention a delay in giving a dog a shock
Call them stubborn or strong-willed; some dogs are determined to go where they want whenever they want. As a loving dog owner, having a stubborn dog can be a challenge, especially when you're trying to keep them safe.
The PetSafe Stubborn Dog Stay & Play Wireless Fence is available as a complete kit, or you can buy additional collars (like the other PetSafe wireless dog fence). The install is simple, and all you need to do is plug the transmitter indoors, which creates a boundary circle up to three-quarters of an acre.
The standard set up time takes up to an hour or two, and most dogs are trained to use the system within two weeks when following the guidelines. The receiver collar is rechargeable, charges in under three hours, and will hold a charge for about three weeks.
Ideal for dogs who weigh 5 pounds and up
Transmitter covers 105-feet range in any direction
Quick charge and long-lasting battery on the collar
Designed for stubborn dogs
Has five adjustable levels to help train your dog
Portable and waterproof
No underground wires
Perfect option when traveling or even camping
Additional collars available for other dogs in your household
Pros: 
Rechargeable battery in the collar
Battery holds a long charge in a single use
Additional transmitters available to expand perimeter
Collar works with other PetSafe wireless fences
Collar has two lengths of prongs for long/short hair dogs
Easy to set up and adjust for your "stubborn" dog
Cons:
Containment perimeter is only circular, not customizable
Collars may come off easily due to their snap closure
Some users note having issues with connectivity or lags in shock
Some users note issues with the battery wearing out quickly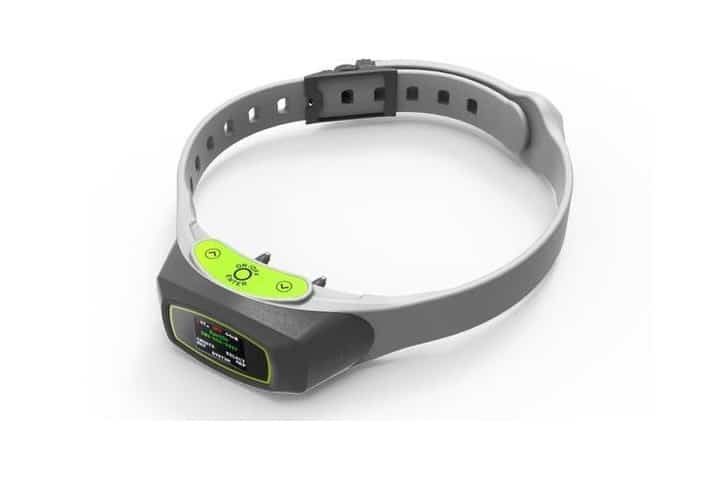 It's not every day that I have the opportunity to meet with owners of a company who dedicates their products to keep dogs safe and healthy. The team from SpotOn Collars is a NH-based company so I was able to meet with them directly on a couple of occasions.  When I met with the owners of SpotOn, it was clear that they are dog lovers just like me.
With experience making night vision and electro-optical systems for the U.S. military, the owners of the SpotOn collar know how to make a top-of-the-line product. They use the same level of quality control that they used in the U.S. Armed Forces.
Here's a video on how the SpotOn Collar works:  
Not only was I impressed by their wireless collar, but I love that SpotOn partners with HeroPups, a non-profit, that pairs dogs with veterans with PTSD (check them out when you get the chance).  I am a big supporter of HeroPups and volunteer some website help with them.  
The SpotOn wireless fence is unique in that it is a collar paired with a Phone app.  No underground fence is required at all and you can create virtual fences quickly and easily.  
SpotOn allows you to create up to ten virtual fences of any shape or size and save the customized perimeters. Since SpotOn is a portable system, customizable fences are a great option if you travel to the same places with your dog.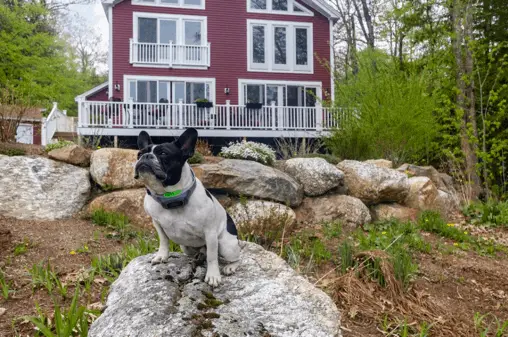 With a monthly subscription for just under $7 a month, you can track your dog within ten feet and get updates every six seconds. The rechargeable battery provides up to eight hours of tracking or 36 hours of a charge.
Easy to install and use, even on all types of terrain
Top-rated for waterproof capabilities
The collar has a "pause" feature to help you set up your smart fence in difficult areas (such as water)
Customizable perimeters with the free app
Pros:
High-tech and high-quality design
Top of the line engineering
No minimum or maximum to perimeters
Easy to use
Best quality wireless fencing device on the market
Cons:
Price may be out of budget for many dog owners
Can't track your dog without cell coverage
May not need the "extras" like numerous customizable virtual fences
Some wireless dog fences may be out of your price range, but it doesn't mean that you can't set up a containment system to keep your dog safe. The wireless dog fence by Extreme Dog Fence allows you to set up a perimeter that is either 650-feet or 1,000-feet and in a variety of shapes (you're not limited to traditional boundary circles).
The setup is easy to do on your own, and like other high-quality wireless fencing, the collar is rechargeable with the option to purchase additional collars for other dogs in your household.
Simple installation
Customizable perimeters
Ideal for dogs that are 15 pounds or more
Rechargeable collar
The best budget-friendly wireless fence
Pros:
Great for households with more than one dog
"Stubborn" dog collars are also available
Easy to train your dog to the system
DIY install, no need for professional installation
Waterproof
Cons:
Doesn't have some of the same high-quality features of other fences
Isn't portable
Some users report random shocks or lag in shock/response
Not ideal for small dogs under 15 pounds
If portability isn't a priority and you're looking for a long-term and long-range solution to keep your dog safely contained, the Extreme Dog Fence kit is a great choice. The kit covers up to six acres and is an underground fence.
With the fencing kit, you receive 20 Gauge high tensile wire with a protective jacket, a digital transmitter, collar (with battery), training flags, and splice kits.
While the installation process is a little more time-consuming than some of the other fences on the market, it is more permanent and works great if you don't need to travel with your dog.
Waterproof collar up to 10-feet
Numerous systems depending on number of dogs (such as up to 4 dogs)
Monitors the status of the collar every two hours
Seven adjustable levels for correction
Pros:
Customizable perimeter
Weatherproof since it's underground
Various controls for training from no sound to progressive correction
Permanent solution
Cons:
Set up may be difficult and time-consuming
Difficult to fix once installed underground
May have similar issues to other wireless dog fences
My Top Pick for the Best Wireless Dog Fence
My top choice for the best wireless dog fence is the PetSafe Wireless Fence (PIF-300) with the PetSafe Stubborn Dog Stay & Play Wireless Fence being a close runner-up.
PetSafe is a company that you can trust due to their years of experience creating products specifically for dogs.
While PetSafe's wireless fences may not have the same customizable or long-range options as other fences on the market, they are portable, easy to set up, and are perfect for most backyards and dogs like Frenchie's.
The PetSafe Wireless Fence meets all your needs whether you're trying to keep your dog contained to the backyard or you want to keep them safe while you travel or go on a camping adventure.