As the chilly New Hampshire days make me want to snuggle under a warm blanket in front of the fire, I realize that my Frenchie's crate could be chillier than he would enjoy, too. His dog crate is in our bedroom next to the exterior wall and it can get colder in our room during the winter months.
His blanket and a warm bed are cozy to be sure, but just like humans love to nestle into a toasty bed, dogs love a heated bed to snuggle up in during the long, cold winter nights.  I decided to research getting my Frenchie a heated dog bed so he can stay warm at night so hopefully my research will help you too!  There are a lot of heated dog bed options on the market so I researched them and will give you my top pick below.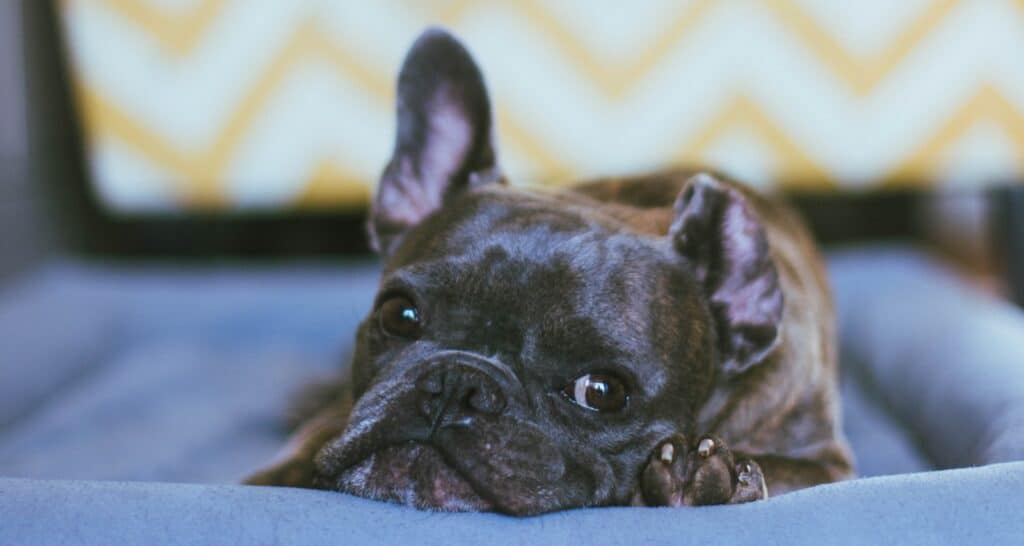 8 of the Best Heated Dog Bed Options To Keep Your Dog Warm At Night
If you want to provide a warm and comfy dog bed for your pup as I do, you might be considering providing a warm heated bed for your four-legged friend just like me. So to help, I created a list of eight of the best heated dog beds out there as well as who should use them and where you can get them to ensure that your pup will have a warm, snuggly night.
The first dog heating bed on my list is NAMSAN's 12×12 heating pad that works well for smaller dogs or puppies of almost any sized breed. Frenchies tend to be on the smaller side so this can fit for a smaller French Bulldog.
This heating pad can be used alone or placed in or on a bed you already have for your dog, making it a very versatile option to warm up your pup's sleeping area. NAMSAN's heating pad is also a great option for those needing just a little warmth for their dog rather than a full bed-sized heated pad.
This round pad comes with seven levels of heating to customize the feel for your pup. NAMSAN's pet heating pad is also outfitted with a washable cover, making it perfect for pups or older dogs that may have accidents in their crates. A chew-resistant cord makes this option safe for most dogs, too, but always double-check to make sure the cord is intact before use.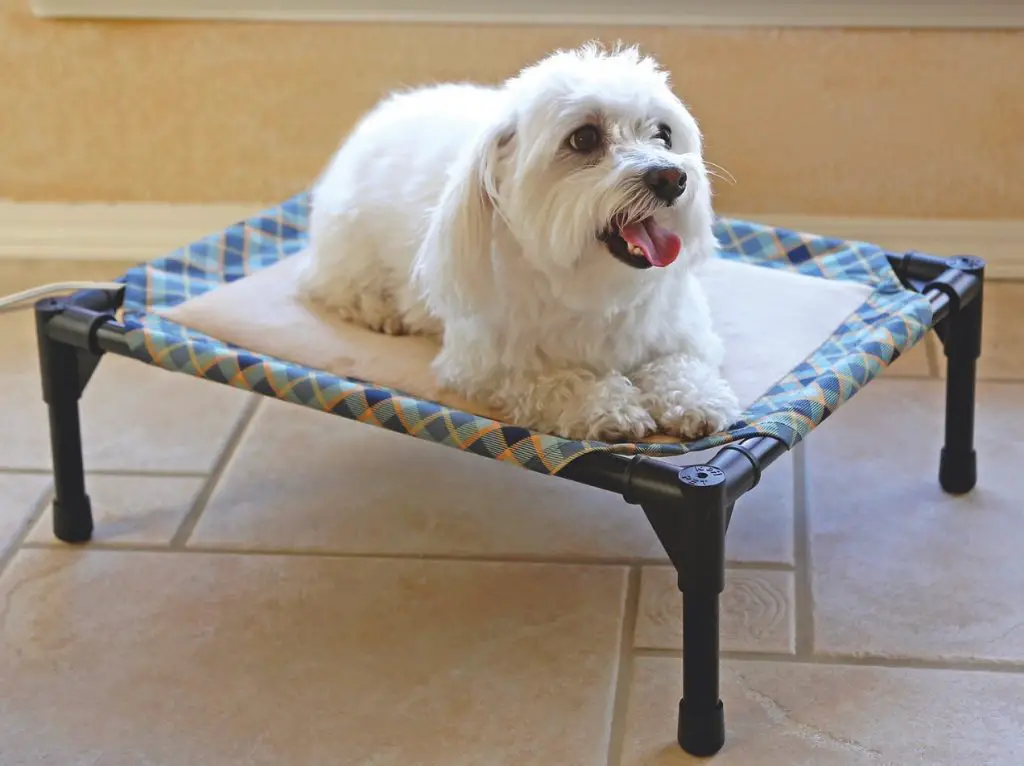 If your pup doesn't sleep in a crate or if you just want a heated daytime option, K&H's elevated dog bed is a great option.
K&H's Thermo-Pet bed can be used heated or not, depending on the season or location you use the bed since it is perfect to use outside as well as inside. The Thermo-Pet comes with a nifty removable heating apparatus so this bed is actually going to be a perfect year-round pet bed as well since the elevated platform can be a cool spot for your dog to rest when it is warmer as well.
This heated dog bed is sized for small or toy breeds, but it can also be purchased in various sizes to perfectly fit your pup. All models will support up to 200 lbs. so even the largest breeds can enjoy a heated, elevated dog bed.
If you are looking for warm pet beds that you can clean easily but also have a wide range of heating temperatures to choose from, Couvkadl's Pet Heating Pad is a great option. This 18×18 pad is a great size and the stainless steel-wrapped cords make this pad safe for pups that love to chew.
Couvkadl's pad is also built to be durable. The strong outer polyester cover is easy to clean with a damp cloth, and the inside layers are made with flame, water and tear-resistant layers for easy maintenance and care.
This pet heating pad is equipped with an easy-to-use controller for the three temperature settings it offers. Couvkadl's pet heating pad controller has three different time settings available too, so you can warm your dog for 2, 4, or 8 hours at a time.
NOTE:  This is ultimately the heated dog bed I got for my French Bulldog Augie as it was the perfect fit for his dog crate.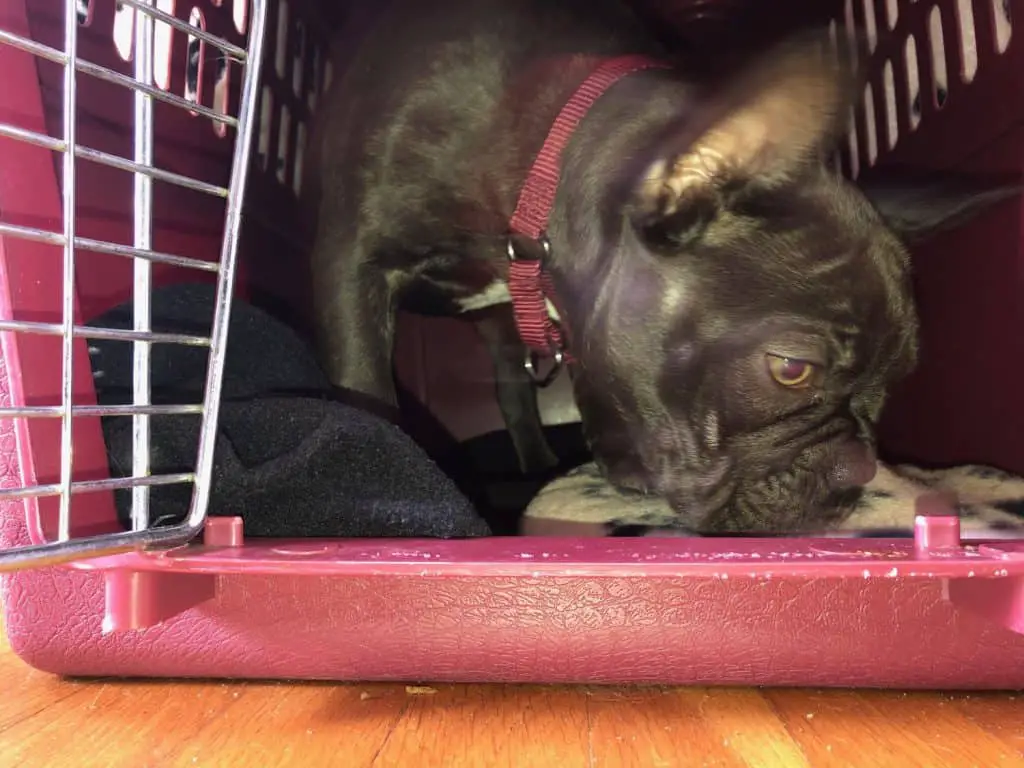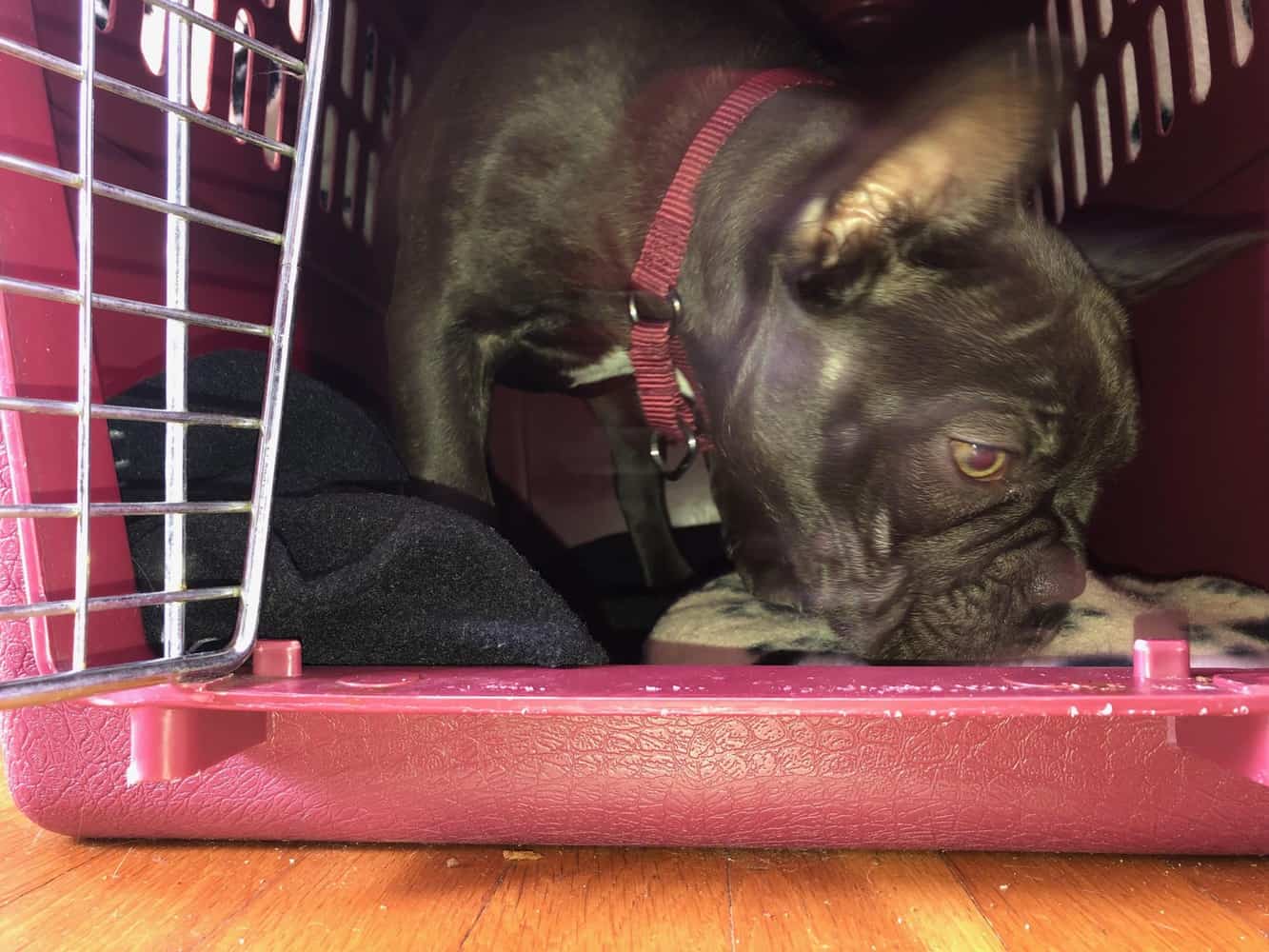 I love Toozey's heated dog bed because of the super-soft cover and the larger size. Whether your pooch is bigger, or you just want to heat a larger space, Toozey's pad could be a good choice for you. This bed is generously sized at 28×16 and comes with a machine-washable crystal velvet cover.
Toozey's Pet Heating Pad also comes with six heating level choices so you can make your dog heated bed perfectly warm, and the built-in intelligent heat sensor will ensure that you will not overheat your pets. You can easily see at a glance on the LED controller how much time is left on the pet bed heater, or you can choose to turn it to "always-on" if you want constant warmth for your dog's cozy bed.
Of course, pups that tend to be chewers will be safe with Toozey's Pet Heating Pad since the cord is equipped with dual-resistant cord protection. This pet bed heater is also constructed with two layers of a waterproof film so you don't have to worry about moisture damage or the safety of your pet on a heated surface.
This cozy heated pet bed is a unique option for those that want to have exacting control over the heating temperature of their dog's bed. RIOGOO's warming pad can be adjusted precisely by 5 degrees between 80-130F, making it a good choice for pet owners with specific needs.
This heating pad's controls also provide for up to 12 hours of usage before turning off, perfect for those long winter nights on a cozy heated pet bed. The cover is washable and the insert where the heating elements are located is waterproof.
However, RIOGOO's pad doesn't come with any extra coverage on cords, so if you have a pup that loves to chew on everything this pet heating pad may not be the best option for you. This medium pad is 18×18, but smaller (17.4×14) and larger (22×18 and 32×20) options are available as well.
This large-sized heating pad is bigger than other "large" sized dog heated beds at 29.5×17.7, but a smaller (19.7×15.8) and larger bed (35.5×26.6) are also available. PetNF's bed is made up of an interior heating pad that is encased in waterproof material along with an outer soft fleece cover for your pup's comfort.
The interior heating pad can be wiped clean as needed while the fleece cover is machine washable. Dual chew-resistant cords are 83 inches in length, making PetNF's bed still convenient for pet sleeping areas that are not super close to an outlet.
The bed control has multiple helpful options: 5 different time frames to choose from and an additional "always on" option as well a precise temperature selection tool that adjusts the heat in five-degree increments between 30-55C. One excellent safety feature included on this bed is an auto-shutoff when the bed becomes too warm, perfect for those pet owners who choose to leave the heating pad on all the time.
This cozy pet heating pad from XIAOSKY is unique because its controller doesn't have pre-set temperatures to choose from. Instead, with a touch of the plus or minus button, pet owners can scale up or down the warmth on the pet heating pad by individual degrees on the Fahrenheit scale. The auto timer on this heating pad is also managed on the controls and XIAOSKY offers four timer options to choose from.
The overheating sensor is also a good addition to this product as can sense when the pad is too hot and will automatically turn off as an added safety feature. This large pad would be perfect for mid-sized breeds, coming in at 23.7×15.8, or even as an oversized mat for smaller dogs.
The outer fleece cover is removable to throw in the wash, and the interior main pad surface, made of water-resistant and flame-resistant PVC, can be wiped clean with a damp cloth when it needs a cleaning. Dogs that love to chew on cords are protected with this model as the cords are dual protected with a strong outer casing.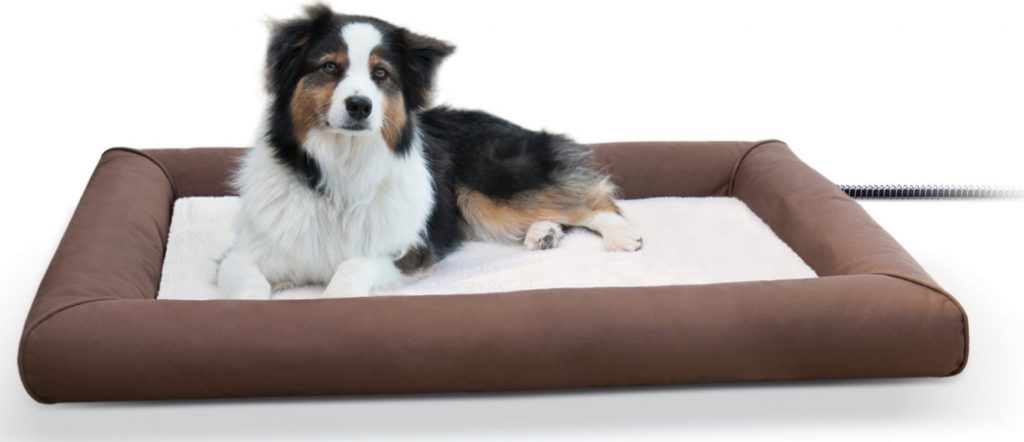 The final entrant to my list of amazing, heated dog beds is K&H's Lectro-Soft bed. This one makes my list because it comes with a unique cushioned bolster surrounding the bed, creating a snug bed for your chilly pup. The fluffy fleece outer cover can be tossed in the wash as needed and hung to dry for more use. Pets will love using the bolster edges that reach 9.5 inches high, and the large bed size (44.5×34.5) makes the Lectro-Soft ideal for larger breeds of dogs that want to snuggle against a corner or pillow while being warmed up.
This heating pad is different from the others that have temperature control as the Lectro-Soft actually only emits warmth when your pet is on the bed. The internal thermostat then keeps the bed temperature steady to keep your pup consistently warm without adding in any excess heat.
When the pup leaves the bed or the Lectro-Soft is unplugged, the surface temperature of the bed will normalize to the outside air feel. This dog heated bed does not need any temperature controls or even an off switch since when your pup gets up, the warming technology will turn off. K&H's bolster bed would be a great option for those that do not want to worry about setting a timer every time their dog needs a warm bed. But dogs that are in extra chilly climates or very old or young dogs that could benefit from a very warm spot to sleep might want to use a bed with a manually controlled thermostat.
Choosing the Right Heated Dog Bed for Snuggly Sleeping
Your choosy canine may prefer a bed with bolsters to lean on or a heated bed that is elevated above the ground, but a lot of pups just love anything warm to snuggle up to while snoozing.
With all of the great heated dog bed options available, pet parents can find one that works best with their pooch to keep them warm and happy during cool nights all year long. I hope you will find a heated pet bed from our list that you and your precious pup will love.
I ultimately chose to buy the Couvkadl Pet Heating Pad heated dog bed insert for my French Bulldog's crate and it has worked out very well!  During the cold Winter months we turn it on before we put him to bed in his crate.   He appears to love it and we sleep easy knowing he is warm and cozy in his crate!
PS – You might want to read this article about French Bulldog crate training.