If you and your family have come to the conclusion that you want to bring a French Bulldog puppy into your life, it is important to learn where to buy a French Bulldog and how to find a reputable French Bulldog breeder.  I'll be sharing my best advice on where to buy a French Bulldog puppy, how to find a quality French Bulldog breeder, and how to select the perfect Frenchie puppy that is right for you.  
When my family decided we were ready to add a new dog to our family we researched various dog breeds and the unanimous decision was that a French Bulldog would be our choice.  We researched the breed, bought books, scoured the internet, and then started our search for a reputable French Bulldog breeder.  I wanted to put together this resource to help you find your perfect Frenchie.  
Why It Is Important To Find A Reputable French Bulldog Breeder
The fact is the French Bulldog is a popular dog breed and they fetch a high price.  With that, less reputable breeders looking to make a quick buck might not adhere to proper breeding practices.  The reality is that there are "puppy mills" out there, and, as a dog lover, you should absolutely avoid getting a puppy from a pet store or any breeder like this.  The breeding practices are unethical, the dogs are often sick, and a puppy from a place like this is at a much higher risk of genetic issues that could be quite costly for you as the dog ages.   
The Downside Of Buying a Poorly-Bred French Bulldog
It is very important to understand that the long-term costs of purchasing a poorly-bred French Bulldog can far outweigh the "savings" from buying from a less than reputable breeder.  
The sad reality is that many French Bulldog owners end up having to give up their beloved dog for adoption when they find themselves unable to pay for the medical bills.
Vet bills can add up very quickly especially if the Frenchie puppy has undiagnosed chronic health issues.  Some health issues may not manifest in a puppy until you have had it for 9 months to a year.  If the puppy you choose ends up having some issues you may struggle to afford these expenses.
This is why I absolutely recommend getting your Frenchie from a highly reputable breeder and investing in pet insurance.  Trust me, I had a Bulldog that tore her ACL and pet insurance was a must!.
While many of these health problems are genetic, meaning they can be prevented by selective breeding of only the best dogs. French Bulldogs are commonly bred for their appearance, with a flat, smushed in face and a short, stocky appearance being desirable.  You want to make sure you are making an informed buying decision and picking a healthy puppy to bring home to your family.  
French Bulldog Breeding Terminology You Should Know
French Bulldogs who simply mated are not proven dogs – they are known as studs or dams. Proven dogs are dogs who have proved that they can produce a high-quality, healthy litter.  They are essential for all champion dog breeding and to ensure you get a high-quality Frenchie that will live a healthy life.  
Dams and sires become proven breeding dogs only after they produce a healthy, disease-free litter. Genetic testing is typically part of this process to ensure the long-term health of the dogs.  Breeders who do not wish to take a chance or are paying higher sums when planning a mating purposefully choose proven breeding stock as opposed to first-timers for many reasons.  As I progress through the article you should pick up on some red flags to look out for, questions to ask the breeder, and how to find a quality breeder.  
Find a French Bulldog Breeder Near You and Create a Shortlist Of Frenchie Breeders To Contact
When starting to search for a reputable French Bulldog breeder having a good place to start looking can be a challenge.  It is easy to find French Bulldog puppies for sale online but there are a variety of websites selling Frenchies that you should likely avoid.  An important thing to mention is that any of the breeders you find to add to your shortlist should just be a starting point.  You will want to conduct proper due diligence on them before making any French Bulldog purchase decision.  
I have done some of that hard work for you so you can start your search for a French Bulldog puppy in your city or state using the websites and French Bulldog breeder directory options below.  There are certainly other places to look as well but these French Bulldog breeder options should help get your search started.  What you will want to do is take a look at the websites below, search the directories, and then make a shortlist of French Bulldog breeders near you.  
Here are some well-known Frenchie breeder directories to start your search with:  
The American Kennel Club Directory
The AKC (American Kennel Club) has a listing directory of French Bulldog puppies for sale that you might want to investigate to see if you can find a reputable French Bulldog breeder.  The nice thing about the breeders shown on this site is that the Frenchie puppies for sale are living up to the AKC breed standard.  You can see that directory here:  https://marketplace.akc.org/puppies/french-bulldog
The French Bulldog Club of America
The French Bulldog Club of America has pulled together a list of French Bulldog breeders in different parts of the country and you can see that here:  https://frenchbulldogclub.org/breeders/
Doggies.com French Bulldog Breeder Directory
Another breeder directory listing site I found in my research is the site Doggies.com.  Here is the direct link to the French Bulldog listings that they showcase:  https://www.doggies.com/French_Bulldog/

Research The French Bulldog Breeders On Your Shortlist and Tips on where to buy a French Bulldog puppy
Now that you have a list of French Bulldog breeders in your area it is time to start reaching out to them and beginning your research process.  I can't stress this part of the process enough.  It is easy to fall in love with photos of a French Bulldog puppy you may find online.  It is essential that you do your absolute best to research any potential breeder, identify red flags, and whittle your list down to quality French Bulldog breeders near you. 
Here are a series of research checks I would recommend you conduct on any Frenchie breeder on your shortlist of options:  
Check The French Bulldog Breeder's Website
Look at their website if they have a website.  Walk through every page of the site, read about their philosophy, their breeding practices, and read any other information you can about them.  
Google The Breeder's Name and Business
Google their business name and their name to see if you can find any online reviews.  Online reviews on sites like Google and Facebook can provide clues like if they are legitimate and if people who purchased French Bulldog puppies from them in the past had good things to say about them.  Read the reviews, check the overall star rating, and that may give you some clues to add to your information about the breeder.  
Look At The French Bulldog Breeder's Facebook Page
Many French Bulldog breeders have a Facebook page.  Go to Facebook.com, type their name in the search bar and see what you can find out about them.  You can also click the link to their Facebook Page from their website if they have one.  Many breeders use their Facebook page to showcase puppies and post photos or videos of puppies they have sold.  You might also see some breeders sharing update photos or videos of puppies they sold previously.  
See if there are any reviews from past clients, read through the posts, and learn as much as you can.  Some reputable breeders will post "updates"on Frenchie pups that find their forever home.  This may help give you some added clues to finding the right breeder for you.  
Contact and Interview The French Bulldog Breeder
As part of your process, you will eventually want to call the breeder and ask them some questions.  I would start with a phone call but you can also message them through their Facebook page and email them through their website.  In the next section I provide a variety of questions you will want to work into the conversation so be sure to check those out.  The answers to these questions will help you in picking the best breeder for you.  
Ask Them For a Puppy Skype or Video Chat
Thinking back to when we got our Augie, we did quite a few video chats via Facebook with the breeder we bought Augie from.  The breeder was really good about sending us adorable video clips of the litter of puppies so we could see them and choose the one we wanted.  
Unethical breeders might try to escape your request to show the Frenchie live because the pups are not around them or are in less than ideal living conditions. They might even show someone else's puppies in some cases and try to pull the bait and switch tactic on you. They might try and tell you that now is not a good time.  They might say the Frenchie pups are sleeping, or the vet is with them.   They might instead try and send photos instead of videos.  It's absolutely fair to be able to see your pup several times before you decide to adopt him or her. 
Another great reason to ask for video is because you can share that video with a dog trainer to get clues on the puppy's health, puppy's temperament, how they stack up in the pack, etc.  If you are looking for a more calm French Bulldog puppy one puppy might be a better fit for you than another.  Video can offer some great clues to a trained eye that knows what to look for.      
Understand That The Breeder Will Ask YOU Questions As Well
Any good French Bulldog breeder cares deeply about where their French Bulldog puppy might potentially end up.  They want to know that the Frenchie puppy they helped bring into this world finds a good home.  They will want to understand how much you know about French Bulldogs.  They will inquire if you are aware of this special breed, and are fully aware of some of the potential health issues Frenchies might have.  They will want to know about you, your family, and what kind of environment the Frenchie puppy will be going into. 

They might ask you to explain why you want a French Bulldog and will ask you to explain who in your family will be responsible for the pup's daily care and training.  They may ask about where the Frenchie will spend most of their time.  Responsible breeders will ask you to sign a contract stating that you will spay or neuter the dog unless you will be actively showing him or her. The contract will also state that you will return the dog to the breeder should you be unable to keep the dog at any point in the dog's life.

Ask For Certifications and Medical Records
Good French Bulldog breeders more often than not have invested in genetic testing to ensure their Frenchie puppies are coming from a good gene pool.  They should also have records of the parents' Veterinarian visits (documenting all their shots and other Vet visit procedures).  What you really want to be looking for is any evidence of genetic disorders.  If they don't have these records this should be a red flag.  
Ask The Breeder For Client References 
This is a recommended step that I would take to ensure that other people who have purchased a French Bulldog from this breeder are happy with the purchase.  If the breeder is hesitant to provide any references, then I'd consider this another red flag. This is customary and a good breeder will gladly provide references from happy customers.  In an ideal world you will be able to communicate with a couple Frenchie parents who have bought puppies from the breeder you are thinking of buying from.  
Plan a Trip To Meet The Breeder and The Frenchie Puppies
This is my favorite part of the process and will likely be yours too!  Here's when you get to finally go meet some French Bulldog puppies!  One thing to understand is that responsible breeders only sell puppies to people they have met in person.  They don't sell to people just over the phone.  They definitely do not sell through pet stores and I wouldn't recommend looking for a Frenchie at a pet store.  A good breeder doesn't sell just online to people they haven't met. The day of the visit you will of course want to do your best to get to know the breeder.   You will want to ask them the questions I have below, and you will want to take note of the conditions the puppies are in.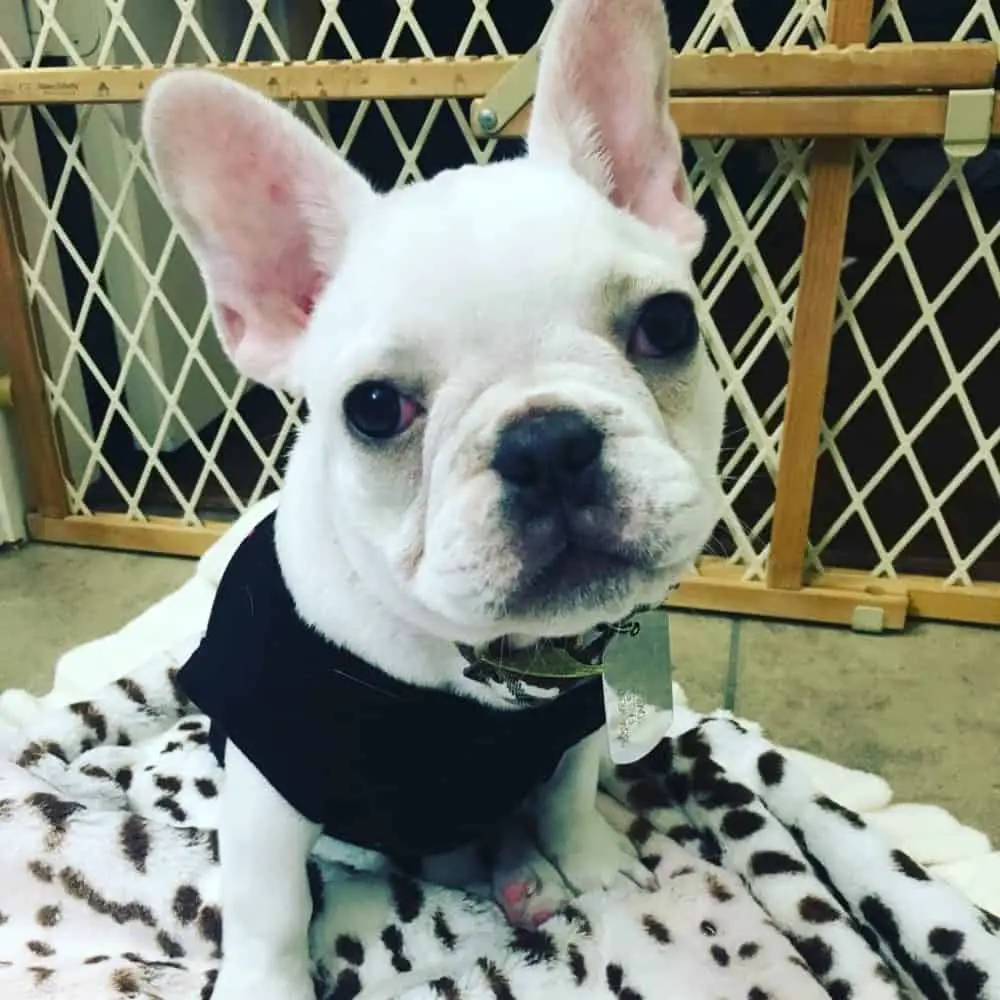 Here are some important things to look for when you visit the French Bulldog breeder:  
How the Frenchies live.

  Responsible French Bulldog breeders will not keep their Frenchies in crowded spaces or cages (especially outside). Their dogs will be in clean, roomy, comfortable areas.  

Infrequent breeding.

  A responsible French Bulldog breeder breeds their Frenchies sparingly. They specialize in only one or a few breeds and don't always have puppies available.  More often than not they don't have Frenchie pups available and you will have to wait.  That's a good sign.  

Health appearance.

  Be sure to take a look at the appearance of all the Frenchies in the house.  All dogs should appear lively, clean and healthy.  They shouldn't be shying away from visitors.  If you see sickly puppies that don't want to socialize this could be a red flag.   

The Breeder's Frenchies should be members of their families.

 Responsible breeders keep their breeding Frenchies as members of their family living in their home with them.  Their breeding French Bulldogs live in uncrowded, clean, and spacious living quarters.  

How they want to meet with you.

 One thing you definitely want to take note of is how and where the French Bulldog breeder wants to meet with you.  An experienced breeder tends to be protective of the Frenchie puppies they have, their kennel, and potentially their home. 





You should use common sense in meeting new people.  For example, I Google'd the breeder's address before my girlfriend and I drove to visit her and her puppies.   Make sure you feel safe before driving to meet the breeder so you feel comfortable.  One of the breeders I messaged with in my search turned out to be pretty sketchy and we decided not to visit her.  

When you do visit take note of the facility.

 Once you do schedule a day and time for a meet and greet with the breeder be sure to take note of things such as the overall appearance of the facility.  Take notice of how clean it is, the condition and treatment of the puppies.  Also, be sure to take note of the behavior of the breeder and watch out for red flags.  A good breeder should also help you in determining the right fit for the French Bulldog and you the potential owner.  

Do some temperament testing of the puppy.

  When we went to pick out our puppy we knew we wanted a sweet, calmer, puppy that would do well with our three children.  Consider doing some

temperament testing

with the French Bulldog puppies to make sure you pick the Frenchie right for you and your family.  
Questions You Should Ask a French Bulldog Breeder And Things To Look For
One of the most important things you should do is be well-prepared to engage yourself in conversation with the French Bulldog breeder and ask them some or all of the questions below.  Remember, you want to make sure you are making the best purchase decision.  French Bulldogs are an expensive investment.  I believe they are well worth it, but you want to make sure you make the most informed decision you can make.  Here are some sample questions you should ask.  
"How long have you been breeding French Bulldogs?"
"How did you become a French Bulldog breeder?"
"What is your process after the litter is born?"
"What is one thing most people don't know about breeding Frenchies that they should know?"
"How many French Bulldogs do you own and how often do you breed them?"  
The potential French Bulldog breeder should not have so many dogs that they can't give each one individual attention. They most certainly should not be churning out puppies with no regard to the health and well-being of the mother.  Ask them how often they breed them and how many times the Sire and Dams have been bred.  
Will you guarantee the health of the puppy to a reasonable age?  
A guarantee against genetic and congenital defects is quite normal to ask about.  Not all disorders can be predicted but a good breeder will stand behind the Frenchies that they produce and offer assistance if issues come up.  
Will you take back the French Bulldog in the event that I am no longer able to keep it?  
All responsible breeders should have a take back or buy back policy which insists that you contact them at any time for any reason if you are unable to care for the dog and they will assist in the process of finding a new home for that Frenchie.  This was part of the contract I signed when I bought my French Bulldog  
Do you use a contract to spell out the terms of the sale?  
Ask if they require a contract and ask to see it when you visit the puppies.  Look through the terms and make sure you are ok with them.  If they don't require any contract consider that a warning sign.  A good contract helps to avoid misunderstandings and protects both parties as well as the French Bulldog puppy.  
Have the parents (the sire and the dam) and puppies been tested for any genetic diseases that are prevalent in Frenchies?  
Poor breeding practices can lead to some serious health issues for a French Bulldog so it is best to ensure to the best of your ability that health testing was obtained on the Frenchie parents.  While not all genetic disorders can be predicted and prevented, you want to protect yourself as much as possible from getting a Frenchie that could have some serious and costly issues.   
Summary – How To Find a Good French Bulldog Breeder and where to buy a french bulldog puppy
There you have it my Frenchie-seeking friend!  Finding a good French Bulldog breeder does take some work but it is worth the time and investment to ensure you find a happy and healthy French Bulldog puppy for your home.  I hope the tips and recommendations in this article help you avoid buying a poorly-bred French Bulldog that can be a costly mistake.  Taking these extra steps can help you find a perfect little Frenchie to add to your family.  
If you have picked out your French Bulldog puppy and now need to come up with a French Bulldog name this article should help.  For more info about Frenchies click here.