Should you use a harness or a collar to walk your French Bulldog? For a Frenchie, most people agree that the answer is a harness.
Why a French Bulldog Harness Is a Good Idea For Your Frenchie
Most veterinarians recommend a harness on dogs like Frenches due to their tendency for brachycephalic issues.
Brachycephalic means short head and short snout. The short head and neck of your French Bulldog can cause significant breathing problems when using a collar. Collars put extra pressure on the neck and trachea, whereas harnesses spread the pressure across the chest.
There are other reasons a harness is superior to a collar, like less overall neck strain and preventing the risk of whiplash. Harnesses are also easier to use as a training tool. 
A French Bulldog harness will give you 100% control while walking your Frenchie.  While a simple collar and a leash can be enough for a well trained French Bulldog.
When we take Augie out for extended walks or hikes we use a harness on him.  Here's a photo of Augie on a hike with his harness on: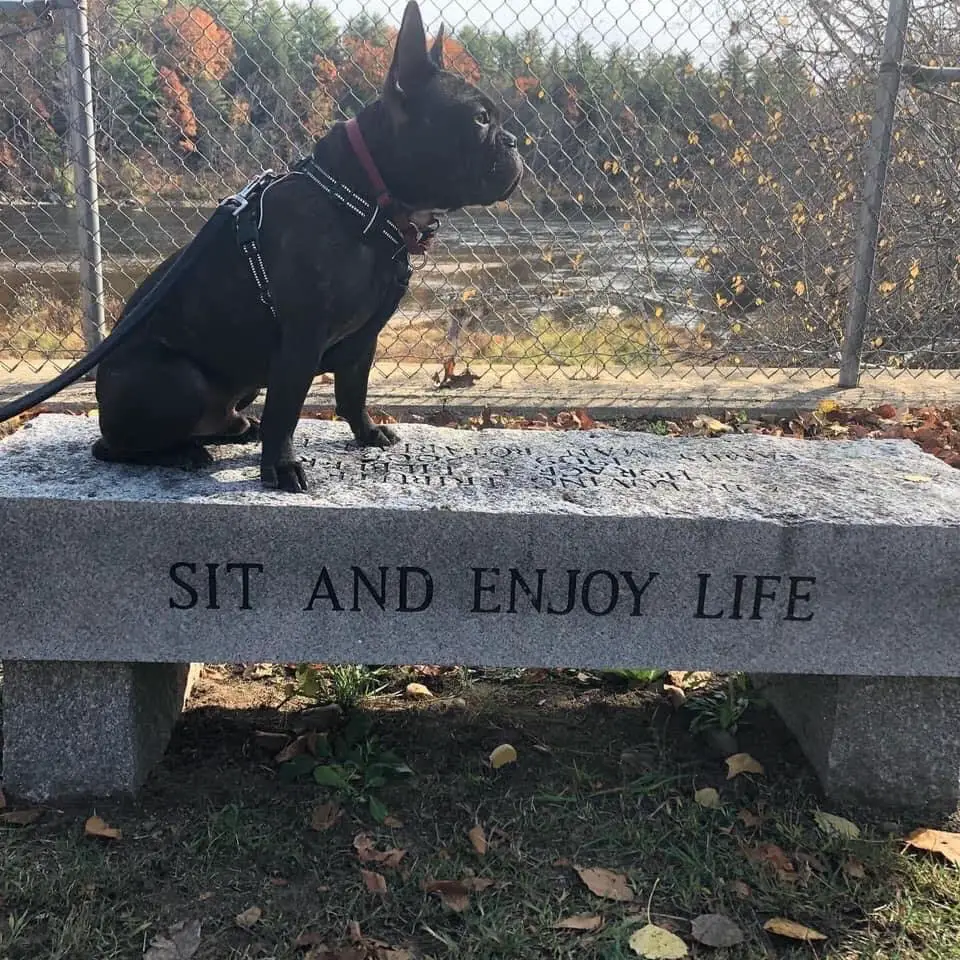 However, for dogs that tend to be a little stubborn like a Frenchie a harness can be a great option to put you back in control during your walks.  A harness will help you avoid the risk to the fragile neck of your Frenchie and their incessant pulling.  A clear benefit of a harness is that it distributes the tension across your Frenchie's body. Finally, a harness discourages your Frenchie from pulling and is comfortable for them to wear. 
If you have a Frenchie or are looking to get one, read on to learn about the best French Bulldog harness for your fur baby.
What Type of French Bulldog Harness is Right For You?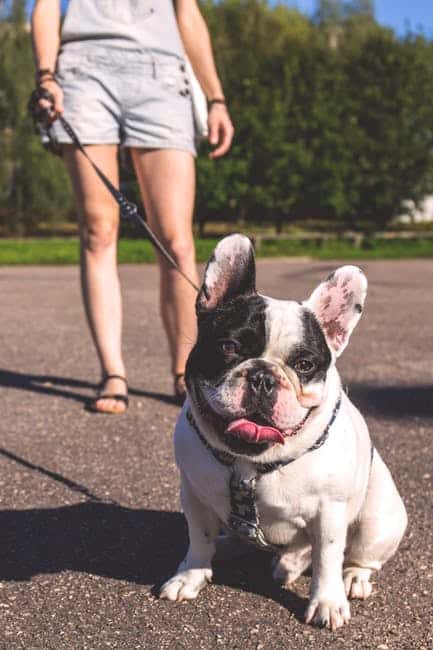 I'll review the harnesses we have tried below, but let's start with some basic types of harnesses on the market. Harnesses with adjustable straps are ideal, as they can grow with your dog and you can adjust them to fit him or her perfectly.
Augie and I work hard to give you an honest review so that your French Bulldog can be as happy as mine. Doesn't one of the top 5 Dog Breeds, as identified by the American Kennel Association, deserve the best?
One more note on harnesses: each harness reviewed and discussed has a slightly different purpose. Harnesses for training function differently than ones for walking or riding in the car. Be sure to consider the needs you have for your harness as well as its style.
A Great French Bulldog Car Harness 
Training can certainly make you Frenchie's adoption to his new harness easier.  If you want to train your Frenchie, check out some simple training tips to make training easier on both of you.
You will still want to put a collar on your Frenchie that has your contact information unless you buy a harness that has a place to attach an ID tag.  Some harness have this option while others do not so be sure to read the full product description.  
Mesh Harnesses
Mesh harnesses are perfect for warmer climates or the higher temperature times of the year. The mesh allows the fabric to breathe. Breathable fabric is important for a Frenchie because they are prone to overheating.  Just a normal walk around the neighborhood for my Frenchie Augie heats up his core temperature considerably and we live in New Hampshire which isn't known for extremely hot Summers.  The added benefit of mesh is that it helps to prevent skin irritation. 
PUPTECK Soft Mesh Dog Harness
Click Here To See This On Amazon
Leather Harnesses
Leather is extremely durable and gives your Frenchie a true sense of style. Leather harnesses for Frenchies should be soft because of their sensitive skin. If you are looking for natural material, this is the fabric for you. 
Nylon Harnesses
Like all other nylon items, these harnesses are durable and easy to clean. If your Frenchie is prone to excitement before or during walks and pulls, this is a good harness for you. We like this harness for a strong, adult French Bulldog. Here's a great option for a Nylon French Bulldog Harness:  
Click Here To See This On Amazon
Soft Padded Dog Harnesses
The soft padded harness works great for Frenchies because of their sensitive skin. If your French Bulldog is like most, they are also prone to allergies, which makes this harness a good choice.  
The nice thing about most of the soft padded harnesses on the market is that they have a combination of benefits, which may make your choice easier if you would like to have one harness serve multiple functions.  Here's an example of a soft padded French Bulldog harness:  
Click Here To See This Product On Amazon
Other Types of French Bulldog Harnesses
There are other types of harnesses that I wanted to briefly mention.
Dog Safety Belt Harnesses
You love your Frenchie, so you take her/him everywhere with you. Consider buying a safety harness for your car as well as one to use when you walk.
Having one harness for the car and one for walking will make you and your Frenchie more comfortable when you are traveling.   There are some French Bulldog Car Harnesses that do play double duty as a car safety harness and a walking harness.  
Cooling Harness
We all know that our beloved Frenchies tend to overheat. Buying a cooling harness, especially if you live in a warm climate, is an easy choice. These types of harnesses will help keep your French Bulldog comfortable, no matter where they go. Here's an example of a French Bulldog cooling harness:  
Click Here To See This Product On Amazon
6 Best French Bulldog Harness Options 
Keep in mind that no dog enjoys wearing a harness for the first time, so don't panic and think you purchased the wrong one for your Frenchie. Give her/him some time and they will adjust and thank you for it later.
Consider introducing the harness to your Frenchie for short periods as they get used to it.
This harness has won several awards from many publications. One of the best features is its double hoop system. The two hoops allow this harness to serve as both a training aid and a walking lead. 
The front hoop guides your French Bulldog versus pulling him to follow your direction. This is a gentle way to train your Frenchie to walk on a leash. Once she or he has mastered walking on the lead, you can change to the back loop.
For me, the major benefit of this harness is that is adjustable and has the two lead attachment for training. The downside is that it is expensive, but we all know our French Bulldogs are worth it.
Click Here To See This Harness On Amazon
The Julius is often associated with larger breeds, but it has a line that is perfect for Frenchies. 
One of the selling points of this harness is that it gives your French Bulldog a tough look, as the harness is similar to police harnesses.
This harness is waterproof, strong, and has an aluminum lead attachment. We love that this harness is adjustable and has a heavy-duty buckle for easy release. 
The Julius also has reflection built into its fabric and comes with a handle that makes picking up your Frenchie a little easier. 
If you allow your French Bulldog to run at the park, you will love the strength of this harness. This harness, however, is not appropriate for a dog seatbelt.
While this harness is from a well-known maker, it is not ideal if you are training your Frenchie to walk on a lead without pulling. I do love its high visibility strips and the ability for a flashlight holder on some models. The cammo on the model shown in the image above is a nice touch too.  
Click Here To See This Harness On Amazon
If cost is an issue, this is a good harness for you. In harnesses, as in life, you get what you pay for, so you are saving money in exchange for fewer features.  
The color range for this harness is great. Neon green, for example, is perfect for a Frenchie with some flair.  
This harness has adjustable straps but only one clip. The fabric is strong and reflective but not padded. 
This is a basic harness with some issues. It may not work well on Frenchies who pull. On this harness, the attachment for the lead sits above the back straps so that the straps loosen when your Frenchie pulls. Think about this before you buy this harness, as no one wants the harness to slip off during a walk.
This is a basic harness with some issues. However, it may be the perfect harness for a well trained Frenchie who needs an inexpensive stylish harness.
Click Here To See This Harness On Amazon
This harness is a popular choice due to its bright colors and lightweight material. There are a total of 11 colors to choose from, so pick the one that matches your and your French Bulldog's personality. 
The EcoBark is a padded harness with a double layer of mesh fabric. The straps consist of light weight materials so you can feel good about your purchase.
We like this one for a puppy because it is inexpensive and great for training.
Click Here To See This Harness On Amazon
This is another well-known inexpensive brand you can use for both walking and training. The Rabbitgoo has two metal attachments for the leash, like the Ruffware harness.
This harness is also adjustable, which is a bonus. It's important to note that the straps are rigid, and Frenchies with sensitive skin will not enjoy this harness as it may rub.
This harness is high visibility and also has a quick-release buckle making it easy to get on and off.
I know that you put a lot of thought into which harness you buy for your Frenchie. Ultimately, you will need to choose the harness that best suits your Frenchie, your budget, and how it is used. Regardless, your French Bulldog will appreciate a harness that allows her/him to spend more time with you.
Click Here To See This Harness On Amazon
Another option to consider for your French Bulldog is a tactical dog harness.  I have always been a fan of our armed forces and the military apparel look and feel is appealing.  If you are a fan of this look you might want to consider a tactical dog harness.  
With a tactical dog harness you can also velcro attach various pouches, patches and more to fully customize your Frenchie's look.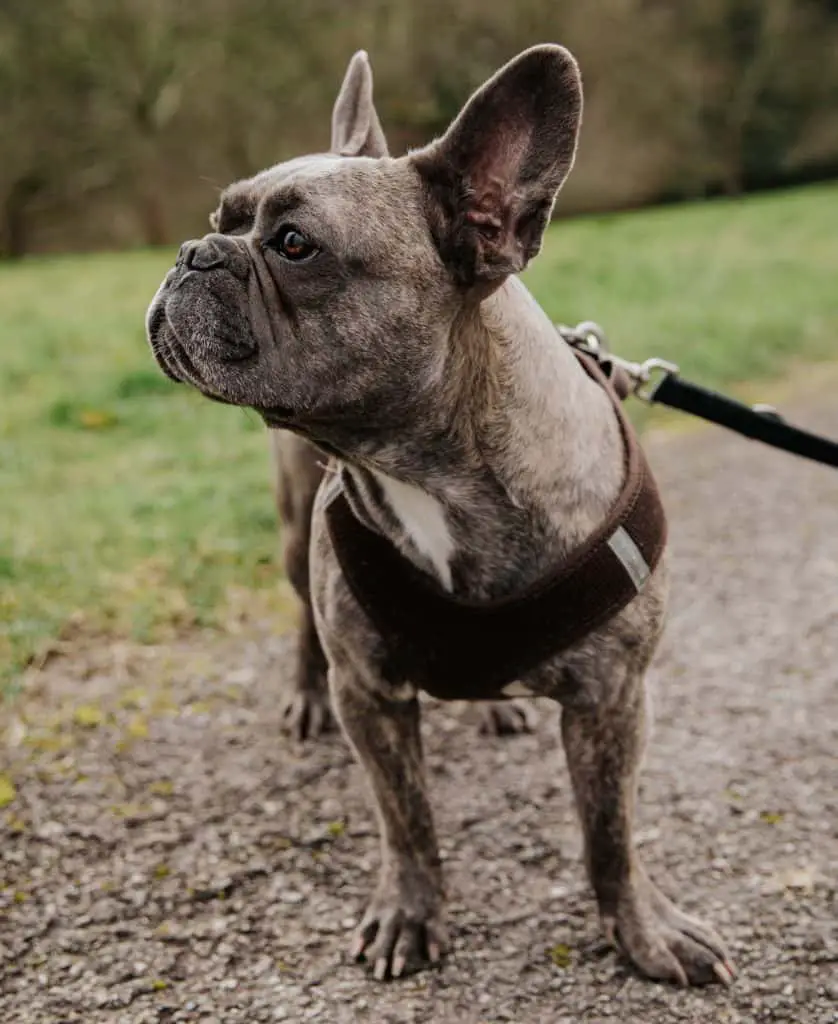 What Size Harness For a French Bulldog Puppy?  
I have found that for most harness brands a small size is best for a Frenchie puppy. You should definitely plan on measuring your French Bulldog's chest and neck to ensure a proper fit. 
What Size Harness For an Adult French Bulldog?  
Even an adult French Bulldog is not a big dog so a medium harness size tends to be a good fit.   You will of course want to measure your French Bulldog before purchasing to make sure it will fit well.  
Final Tips To Choose The Best French Bulldog Harness
I hope this information has been helpful to you but if you are looking for some final tips on how to choose the best French Bulldog harness I have some parting thoughts for you.  
 Function:  I believe function is the most important thing to consider.  Think about the situations you will be in with your Frenchie.  Will he be riding in your car often?  Does he pull?  Does he not pull?  Is your Frenchie a puppy that will grow considerably or an adult already grown?  
Fashion:  Once you have found a French Bulldog harness that fits your specifications then you can worry about fashion.  What designs do they offer?  What colors does it come in?    

French Bulldog Harness Considerations – Soft Padded Harness, Mesh Harness, or Nylon Harness?
Soft Padded Harness – A Great Mix of Durable and Cozy
Another aspect to consider when choosing a harness for your French Bulldog is to find the most comfortable and all-purpose harness.  In this case I would recommend a soft-padded dog harness.  This option of French Bulldog harness is very soft and very cozy. It is also still very firm and extremely durable. 
Mesh Harness – a Great Summer Harness Option
It is no secret French Bulldogs have a tendency to overheat during the Summer months so a thick, padded harness won't be the best option.  A mesh French bulldog harness can be a better fit during the hot Summer weather.  A light mesh harness can help to prevent your French Bulldog from overheating. 
Nylon French Bulldog Harness – Easy To Clean and Sturdy 
Finally an option to consider is a Nylon dog harness for your Frenchie.  A nice aspect of a Nylon French Bulldog harness is that it is very easy to clean.  My French Bulldog always manages to get grime, slobber, and other muck on his harness so having one that is easy to clean is very helpful.  
A Nylon harness is also a very sturdy and durable option to consider.  
Are You In Love with Your French Bulldog?
I love sharing recommendations and stories with other French Bulldog owners. I hope this post helps you choose the perfect French Bulldog harness for your fur baby.  Check this out for more harnesses for bulldogs.
Check out other blog posts on my site to learn more about Frenchies!