A mini French Bulldog or Teacup French Bulldog is not technically an official dog breed. They are actually a miniature version of a French Bulldog purposefully bred to be much smaller than a normal Frenchie.  Teacup Frenchies are the smallest of the small.   A Teacup French Bulldog normally grows to less than 11 inches in height, weighing less than the typical 28 pounds adult French Bulldog.  However, this will vary depending on the method used to breed the Teacup French Bulldog.
Introducing The Mini French Bulldog
The mini French Bulldog or Teacup Frenchie is bred through a few different methods which I will cover later, and is smaller than a typical French Bulldog. In order to be classified as a teacup, the dog must be smaller in size than the mini breed. Due to the teacup size, you have to be very careful because these tiny French Bulldogs are very fragile in nature. My normal sized Frenchie doesn't do well in the cold but these even smaller versions are even less adept at dealing with cold. 

These miniature French Bulldog have difficulty healing when injured. As a brachycephalic breed, they can occasionally experience breathing issues. Brachycephalic simply means their skull is fairly short and broad. The origins of the full-sized French Bulldog can be traced back to England. As I cover in the history of French Bulldogs, during the revolution, the breed was brought to France by Nottingham lace workers.

As the years passed, this adorable breed became extremely popular. Since they are not considered a full-bred breed, Frenchies were not accepted by the American Kennel Club or the Europe Kennel Club. This did not change until 1988. My Frenchie Augie is loving, kind, loyal, sometimes calm, sometimes crazy and makes a terrific addition to my family. Due to their sweet nature, I have found they do extremely well with other animals and small kids.

Frenchies enjoy interacting with everyone. You need to make time to give them the attention they need. You will discover all they want is to be loved by their family and be around "their people." The teacup version shares these same characteristics and makes an extremely good companion because they are loyal and with proper care will give you their hearts. I also find them absolutely adorable. A lot of celebrities have become interested in this breed due to its gentle nature.

Not a day goes by when my Frenchie does not make me smile. I believe this is the reason they have become one of the most popular breeds of small dogs. In 2020, the American Kennel Club ranked these beauties number four in popularity in the United States out of all dog breeds. In the United Kingdom, Frenchies have become more popular than the Labrador Retriever which is an impressive feat.

Officially, there is no such thing as a teacup, mini or micro French Bulldog. They are simply bred in a manner resulting in a much smaller size than your average Frenchie.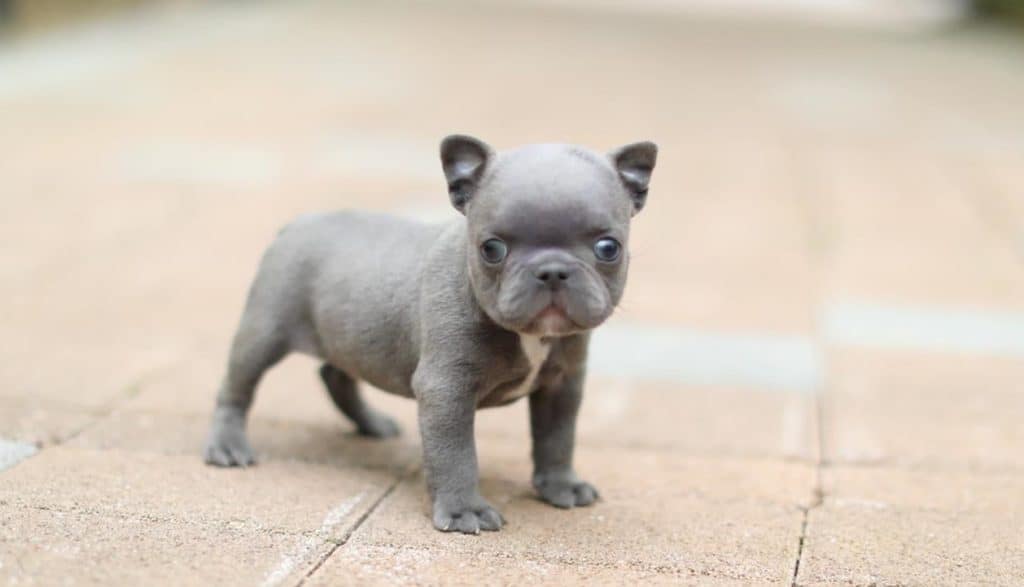 The History of Mini French Bulldogs
Most experts believe Miniature French Bulldogs came from England during the 1800s. The dogs were then taken to France by lace workers and caught the attention of the Parisians because of their small size. By the middle of the 1800s, Frenchies were much more popular in France than in England. The dogs were purchased by artists and aristocrats because they were considered fashionable.

There is another theory. The lace makers moving to France already had bulldogs. They wanted a smaller version of the English Bulldogs, so they began breeding them with smaller dogs. As time passed, the mini size was achieved.

By the time the 20th century arrived, the Parisians had fallen in love with the mini breed. Frenchies then became popular among wealthy Americans visiting Paris, writers and artists. The dogs were brought to the United States during the middle of the 20th century and achieved immediate popularity.
The Size of a Teacup or Mini French Bulldog
You can find three size variations for a French Bulldog. The standard breed weighs approximately 26-28 pounds. The weight of the smaller Frenchies is between 14 and 22 pounds. The mini or teacup breed weighs between nine and 14 pounds. The puppyish appearance of the teacups will melt your heart. Even after your dog grows into an adult, it will still look like a tiny little Frenchie puppy.
Exercise and Agility for Your Mini or Teacup Frenchie
The Teacup French Bulldog is similar to the French Bulldog in the sense they do not have high levels of energy or require a lot of exercise. My normal size Frenchie enjoy spending time outside, running around my backyard with the kids and taking walks (as long as they are not too long). Depending on the size of your dogs, their need for exercise and energy levels will vary. You need to make sure your dogs get some exercise to keep them healthy (and keep them from getting into trouble). I have found a tired dog is a good dog.  🙂
 
Keeping your pups agile and fit requires moderate exercise and movement. You should be aware this breed has a reputation for agility. The way they are bred also prevents a lot of the joint and bone issues so common for full-size French Bulldogs. The agility helps keep their bodies agile while running around and jumping to get rid of excess energy. I have never seen anything cuter than when these little Frenchies dogs jump.
Expected Age of Mini French Bulldogs

As I cover in my French Bulldog life expectancy article, the American Kennel Club places the life expectancy of a standard French Bulldog between 10 and 12 years. If you have the mini version, you can expect a slightly longer life span. Mini and teacup versions of any breed generally live longer than their larger counterparts. Your dog can live as long as 20 years due to the natural development of an excellent gene pool.
Personality of Teacup French Bulldogs
I believe the best trait of my teacups is their personalities. They have a mellow nature so you will not usually disturbed when you have something important to do. They are incredibly friendly, love attention and are highly intelligent. When you have house visitors, these mini French Bulldogs run to them expecting love and attention. 

These miniature Frenchies love to snuggle and be cuddled. They never run out of affection. What surprised me was the way they sense whatever anyone in my family is feeling (they are very empathetic). When my daughter fell down and skinned her knee, she came in from the backyard in tears. Our dogs were stuck to her side like glue. It was obvious they were trying to make her feel better. I am delighted to say they succeeded beautifully.

If you are interested in a family dog, companion or service pet, I recommend a mini or a teacup. The personalities of these breeds are ideal for kids and companions. I have never found a friendlier dog or one with a greater desire to please.
Home and Family Life
A Mini French Bulldog is about family. These dogs are especially sweet, playful and loving around kids, but they also get along well with other pets. If you have a dog park nearby, I recommend taking them for a walk. You will find your dogs are both nurturing and calm around other dogs. I was worried when my best friend came over and brought her cat.

These dogs were so curious because they had never seen a cat before. It took a little while for her cat to calm down but by the end of the afternoon, they were all napping together. I told my husband I could win an award with the photos I took. That much cuteness should be illegal. When you have a Frenchie, you do need to nurture their spirit. The result is the most loving and affectionate dog imaginable.
Possible Health Complications of Mini French Bulldogs
You should understand the potential health complications with Frenchies so you can help protect them. I recommend consulting with your vet or breeder about any potential conditions. If you can contact the breeder, any information you can get about the parents is invaluable. The following conditions are possible with your dog but depend on parentage.
Hip Dysplasia
Hip dysplasia occurs when the socket and ball of the joint form incorrectly. If you do not treat this condition, your dog will be in pain, have hip arthritis and limited movement. This condition comes from traditional French Bulldogs and can affect your teacup.
Cherry Eye
You may not be aware the majority of dogs have a third eyelid. This is a type of membrane protecting your pet's eye from debris, fighting infections and producing tears. Cherry eye is a condition generally causing the tear glands located in the eyelid to pop out.

The general consensus is cherry eye is inherited from one of the French bulldog parents. If you do not get treatment for your dog, the third eyelid can be seriously damaged. The result will be dry eyes often resulting in a major impairment.
Pinkeye
Conjunctivitis results in tissue inflammation triggering pinkeye. Look for red eyes and swollen eyelids with some discharge. This condition is caused by a variety of irritants, allergies and dry eyes. If your dog has a rare illness called canine distemper, it can result in pinkeye.
Temperament
As a companion dog, this breed is both patient and affectionate. If you leave your dog alone for too long, it can suffer from separation anxiety. My dogs do not bark often, but they do emit gargles, yips and yawns. The only time my dogs generally bark is when they need affection. This means if you live in an apartment, a Teacup French Bulldog is an excellent choice. If you treat your dog well, it will adapt.

Your dog will need enough attention and the right treatment. You also need to play with your teacup on a regular basis. If you do this, your dog will remain loyal and faithful. This breed is lovable, funny and a terrific babysitter. Teacups are a good choice for families and kids. When you leave your home, your dog will keep your children company. You can take your dog anywhere and it will remain calm
Visual Characteristics and Coloration
This breed is known for a round, smooched and grumpy face and alert bat-shaped ears. The teacup version of a French Bulldog comes in several different colors. Some variations are rare while others are common.
The common colorations include white, pied, fawn and brindle. The rare colorations are blue, blue sable, sable, chocolate brindle, pure black and cream. Your dog will lose its undercoat during the fall and spring but will not shed much. During these times, I use a grooming mitt and stripping comb to get rid of the excess hair.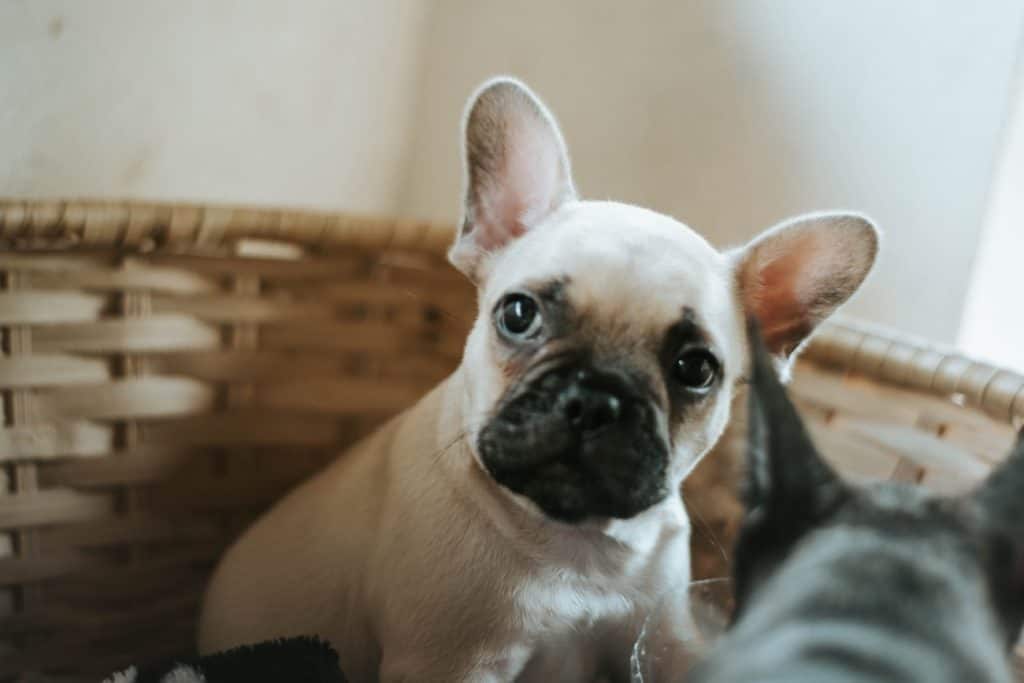 How Are Teacups or Mini French Bulldogs Bred?
There are several different methods used to crossbreed a mini or teacup version of a French Bulldog.
Method 1:  Crossbreeding
The most common method is crossbreeding a smaller breed of dog with a typical French Bulldog. This is likely the best option for creating a smaller and healthy dog in addition to improving gene pool diversity. Keep in mind a mixed breed can inherit the characteristics of both or either parent. This means the dog can have the appearance or temperament of the smaller breed. A few good examples of crossbreed include:
Yorkshire Terrier French Bulldog Mix:
Yorkshire Terriers are crossed with French Bulldogs because they are one of the smallest breeds of toy dogs. If you are interested in a smaller mini or teacup version, this is a good option.
Poodle French Bulldog Mix:
Technically, this combination is called a French Boodle. Crossbreeding a French Bulldog with a toy or miniature Poodle increases your odds of having a small puppy. The severity of brachycephaly can be decreased due to the longer tail and nose of a poodle. The issue is there are genetic health issues fairly common for poodles. If you choose this mixture, make certain the breeder is crossing with healthy Poodles.

Crossing with a Poodle requires a reputable and responsible breeder. Both breeds of parents need to be tested. You should be given access to the results of all of these tests.
Method 2:  Dwarfism
Another method to create teacup or miniature dogs is called canine dwarfism. This is when the genetic mutation of the dog is cultivated to produce a smaller size of puppies. According to research, more than 50 percent of Frenchies have chondrodystrophy. This is a type of dwarfism with an appearance extremely popular among breeders and owners.

Unfortunately, the narrow pelvis and oversized head often result in several different health issues for this breed. Some breeders introduce different types of dwarfism in an attempt to breed even smaller dogs. This can result in even more health issues.
Method 3:  Breeding Smaller French Bulldog Puppies
The third method for breeding teacups is crossing the runts of different litters together. The idea is the runt is the smallest dog in the litter and their smaller size can be passed down. Be careful if your dog has been bred with runts because health issues are common. The littermates are stronger and bigger so they have more access to the milk from their mother.

If the runt does not get enough milk, the result is often poor development of the immune system and malnutrition. When the weakest and smallest puppies from the litters are bred, the offspring can have poor health. There have also been cases of unscrupulous breeders trying to pass off the runt of a litter of French Bulldogs as a mini or teacup version of the breed. Be care which breeder you choose.
Training Your Mini French Bulldog

Yes, French Bulldogs tend to be a little thick-headed and stubborn, but this does not mean they were especially difficult to train. As puppies, they were patient, loveable and sociable. When we got our Frenchie, I started working with a dog trainer right away.  My little Augie was smart and learned quickly. I never had issues with aggression with any of my dogs. I firmly believe if you give them enough love, everything else follows.
Teacup French Bulldog Price – How Much Do Mini French Bulldogs Cost?
Teacup French Bulldog price is dependent on your breeder.  This type of miniature is expensive with the price as high as $8,000 for a teacup. The range I have seen is $800 – $8,000.  The reason the price is so high is due to the expenses of the breeder to successfully produce a teacup Frenchie. This can include a C-section and artificial insemination. This breed has very slender hips. This means giving birth naturally is almost impossible.

The breeder is also responsible for the food required for the puppies and the vet bills. Once you total everything up, the price tag makes sense. Yes, the process of acquiring your furry little friend is challenging. I do know once you look into those sweet little eyes, it is more than worth the effort. You also need to understand taking care of your puppy requires a lot of your time.

All you need to do to have a loving, loyal and adorable companion is give your dog all of the love in your heart. Remember, your dog needs love and affection to be happy.
Final Thoughts on The Teacup French Bulldog / Mini French Bulldog
Teacup Frenchies are popular in this day and age but just be aware that they are fragile and can have various health issues.  They are incredibly cute little dogs and if you think they may be a fit for your home just do your homework on them before moving forward.  If you do get one, please send me your photos as I'd love to see them!  
PS – Want to learn about the French Boodle dog mix?