You may be wondering, "Who else owns French Bulldogs?" Celebrities of course! These lovable dogs are not only a favorite with the family, but a favorite with celebrities! Many famous personalities including Lady Gaga, Zach Braff, Hugh Jackman and Hilary Duff are all French Bulldog owners. Martha Stewart often features her Frenchies on her blog. Celebrities are use to attracting attention, but they get even more when they are out with these adorable bat eared pups. Famous Frenchies are popping up everywhere from Twitter to Instagram, who doesn't love looking at these famous frenchies all dressed up and out on the town with their famous parents? With a breed this popular, just about everyone wants to own one!
Here's a List of 40 Celebrities With French Bulldogs
2 Chainz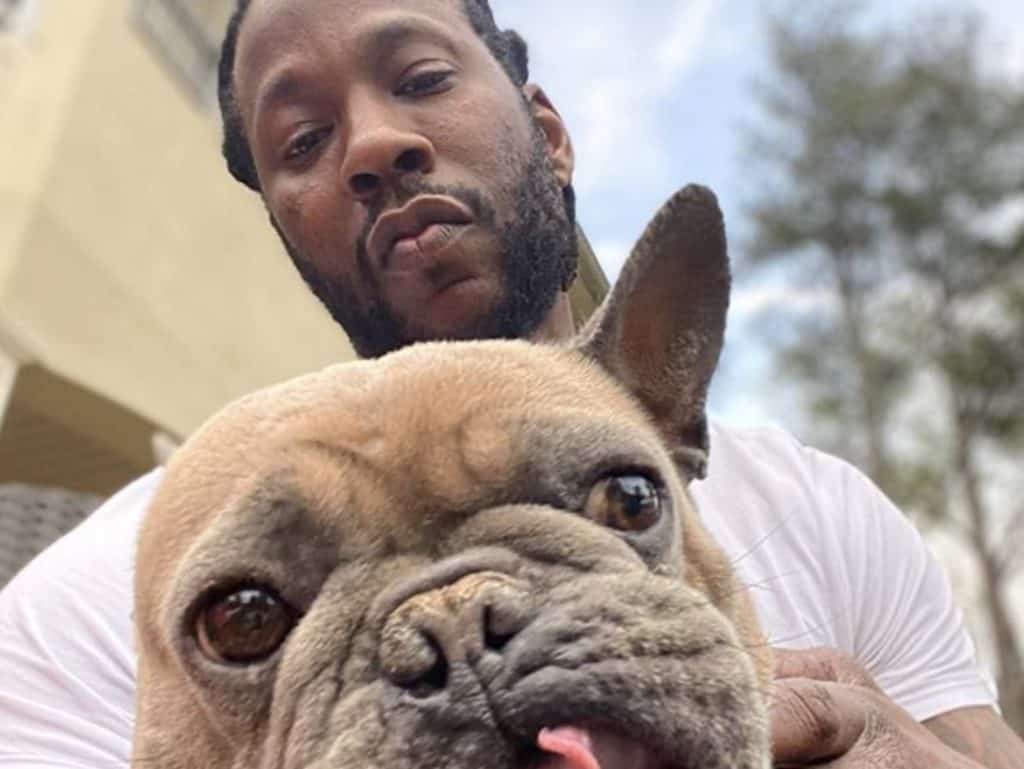 2 Chainz's French Bulldog, Trappy became a star in July 2016 when he appeared in 2 Chainz's "Not Invited" music video. After Trappy's music video debut he became a celebrity himself with over 84.7K followers on Instagram.
Ashley Olson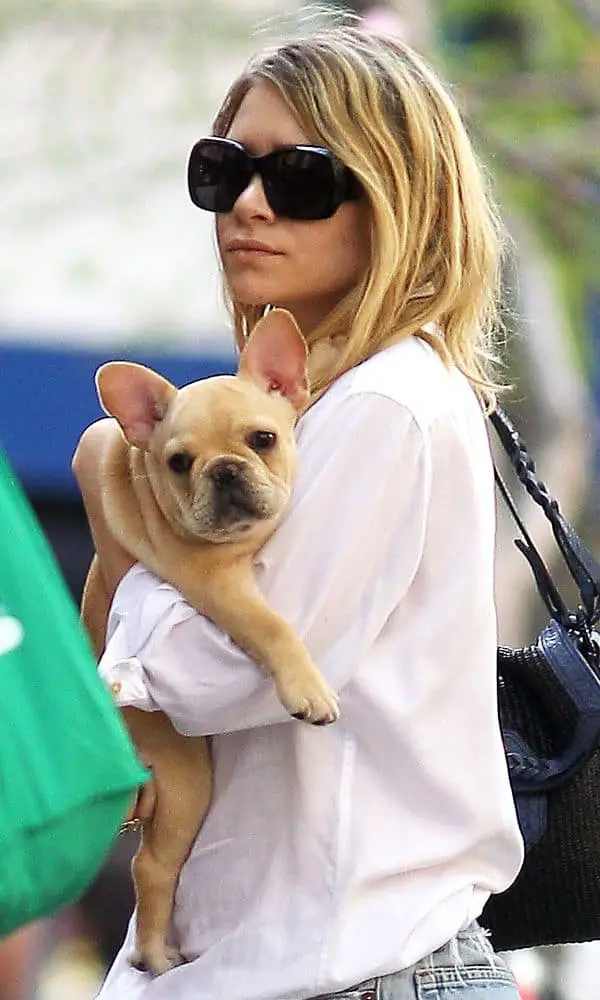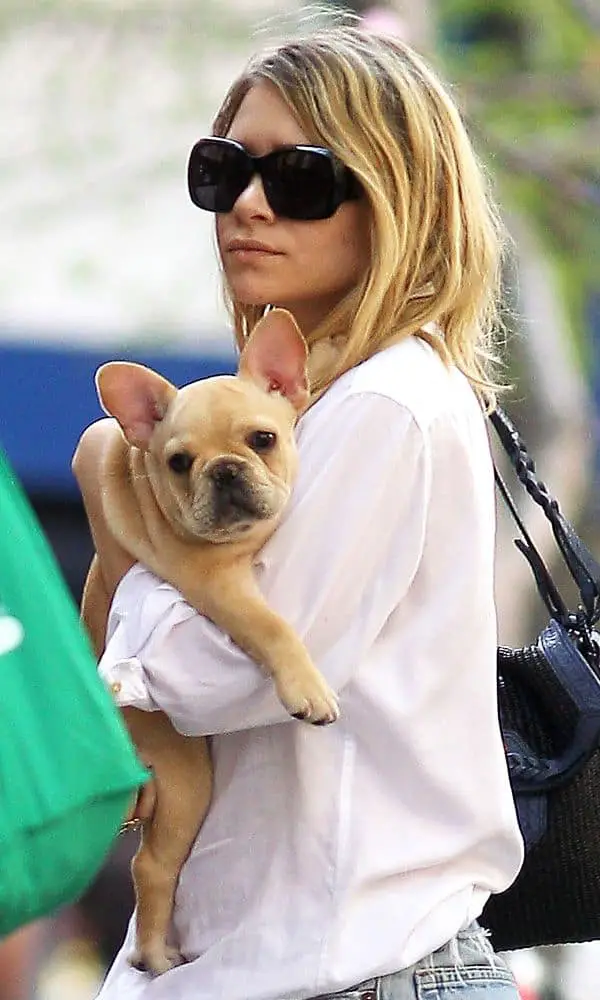 Ashley Olsen's French Bulldog is almost as mysterious as she is. However any time the Row designer travels her adorable dog is her jet-setting partner.  Occasionally this fawn colored Frenchie hits the streets of New York City, well at least in Ashleys arms anyway.
Ashlee Simpson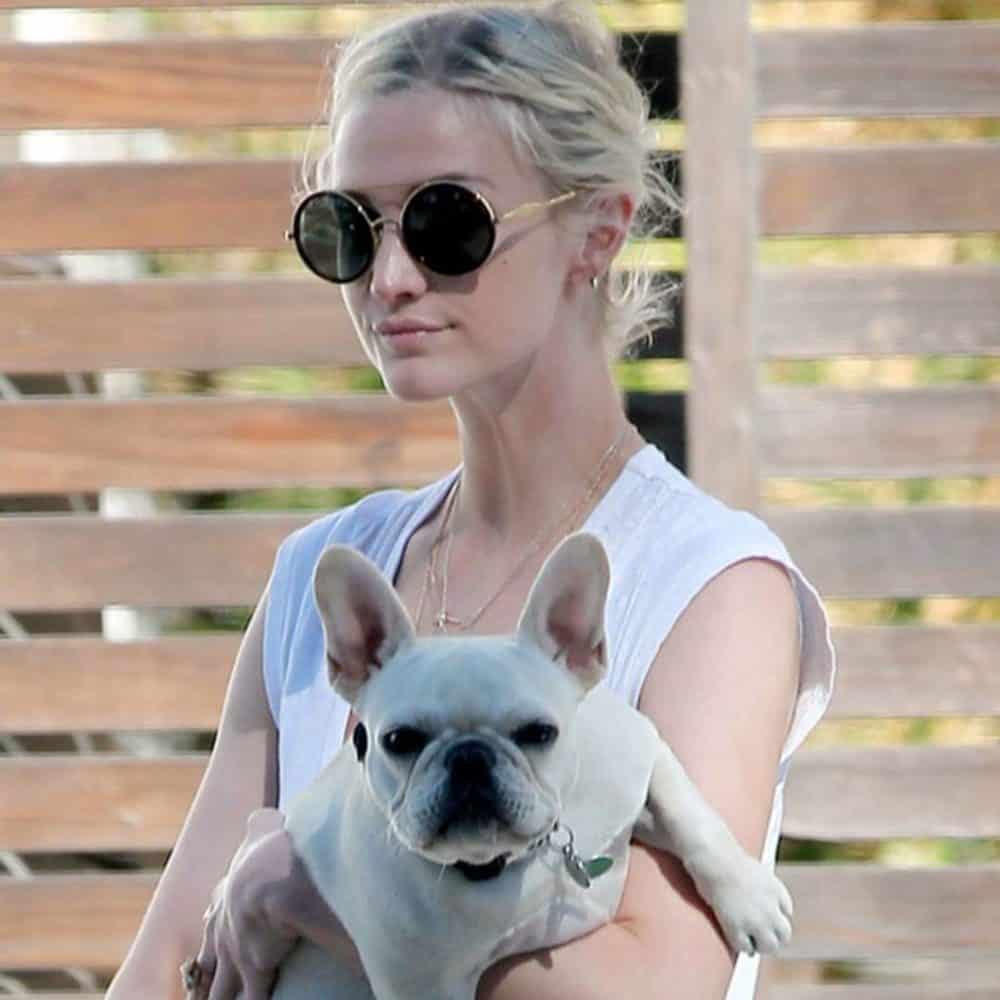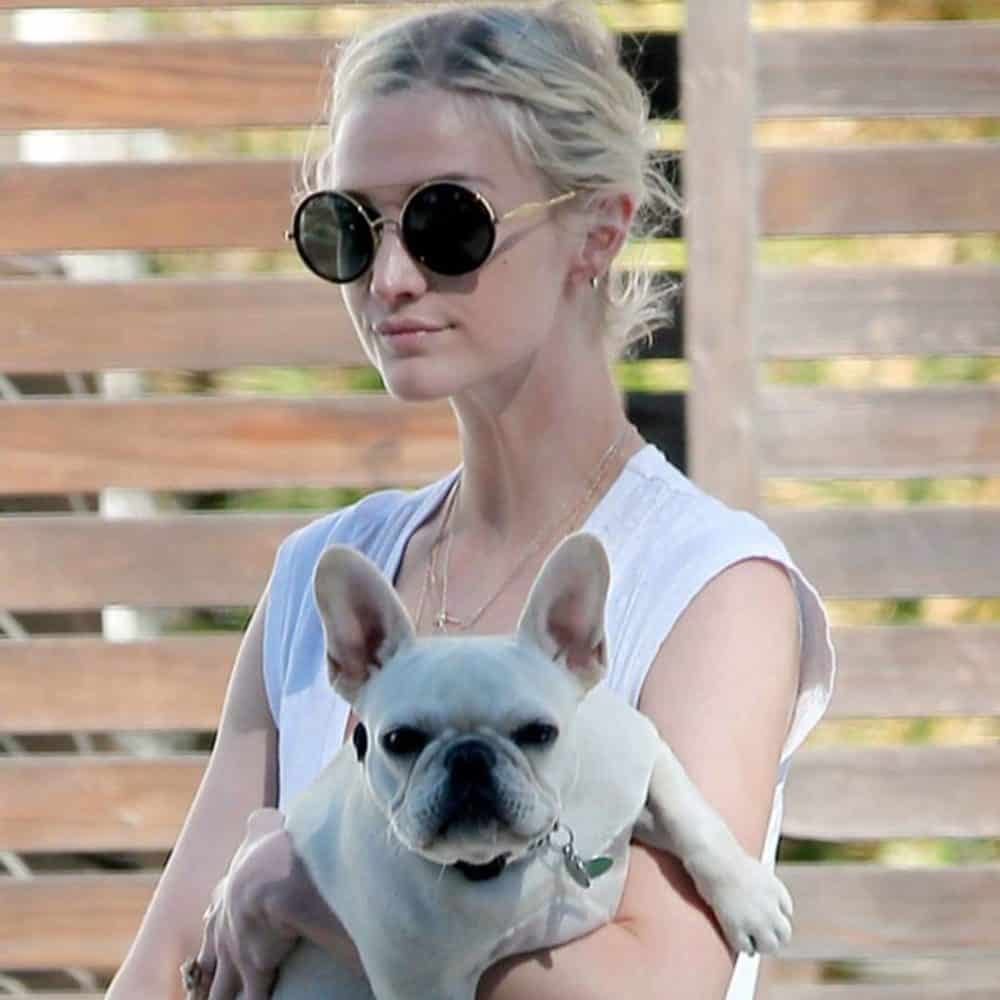 Ashlee Simpson is bringing up  her family with an adorable Frenchie named Alabama.  Her son Bronx nicknamed his little fur sister Bam Bam. Ashlee is thrilled with how well Alamba has adjusted to her new family life!
Carrie Fisher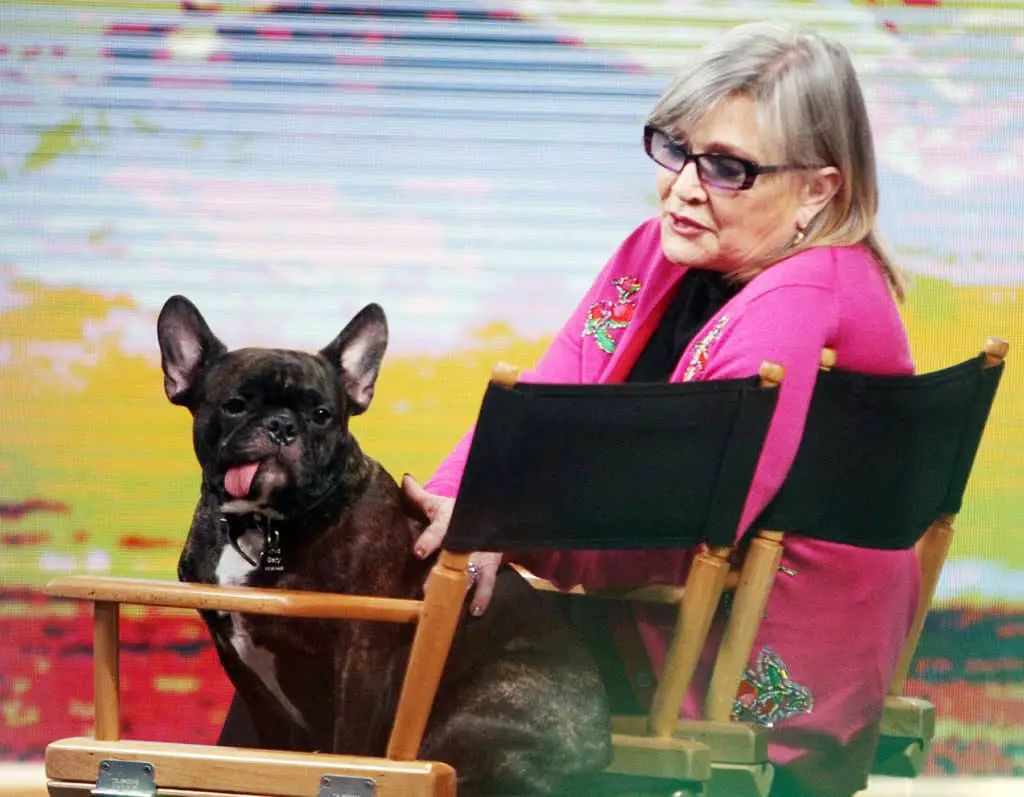 Carrie Fisher's Bulldog Gray now lives with her former assistant Corby McCoin. Gray went everywhere with Fisher.  He was her movie set and interview companion.  McCoin says that he and Gray sat down to watch The Last Jedi. Gray was very excited and even perked up when he saw Carrie in the film.
Christina Perri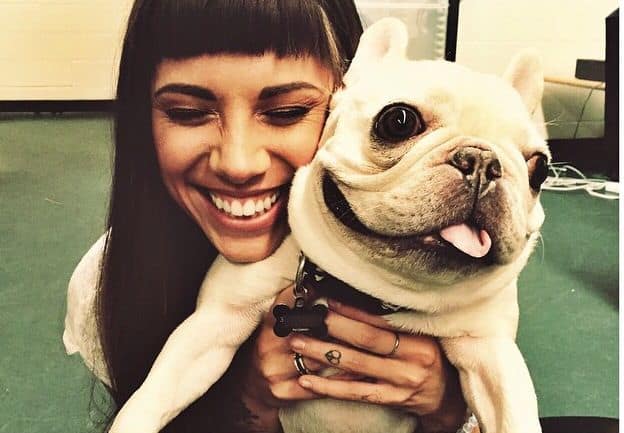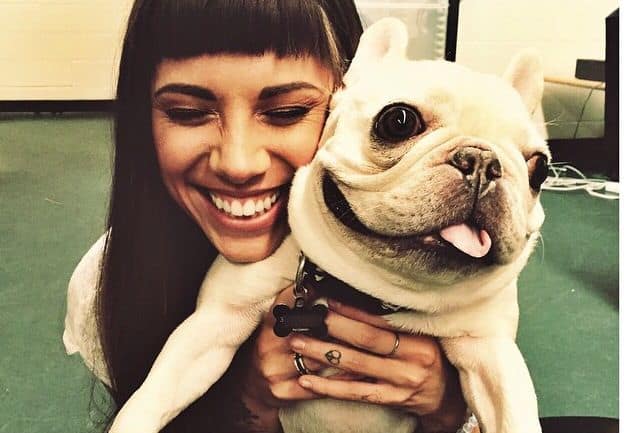 Christina Perri has a little white French Bulldog she calls Pistachio.  The pair is pretty much inseparable, which we can tell from all of the pictures of the two lounging around after they have had a long day at the studio. This is not the first Frenchi Christina has owned. She has a special memorial tattoo on her left arm of her first French Bulldog Leixi.
Chrissy Teigen & John Legend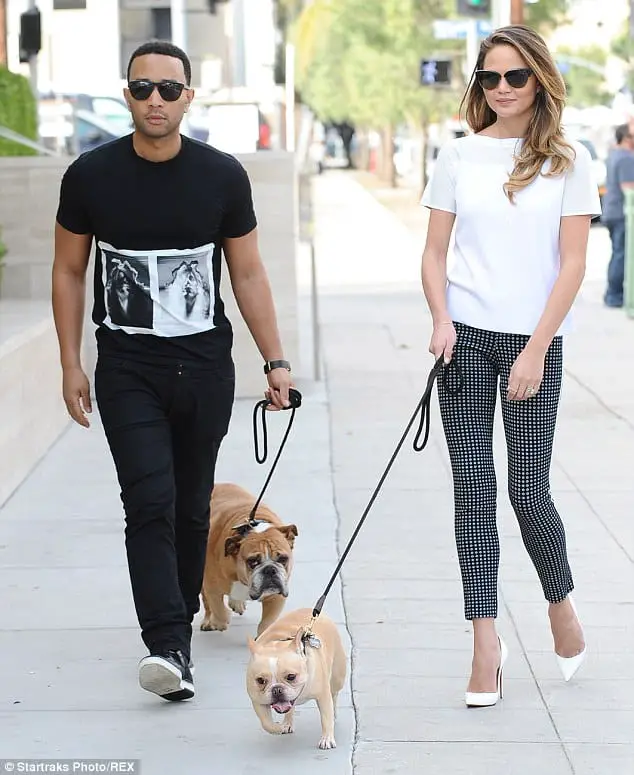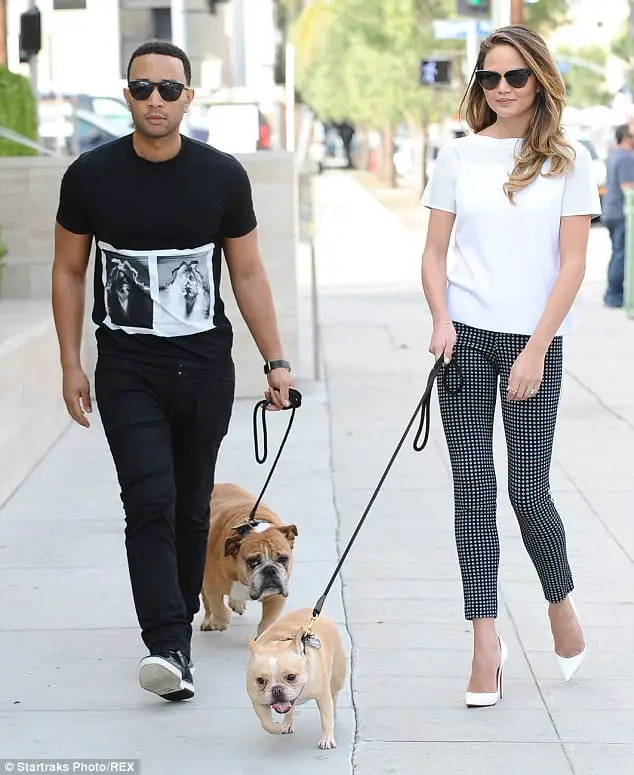 Chrissy Teigen and John Legend love their bulldog babies and are always posting photos and videos of them.  Chrissy has titled herself the ultimate dog mom and John has officiated a doggie wedding.  These two celebrities have it bad when it comes to their French Bulldogs.
David Beckham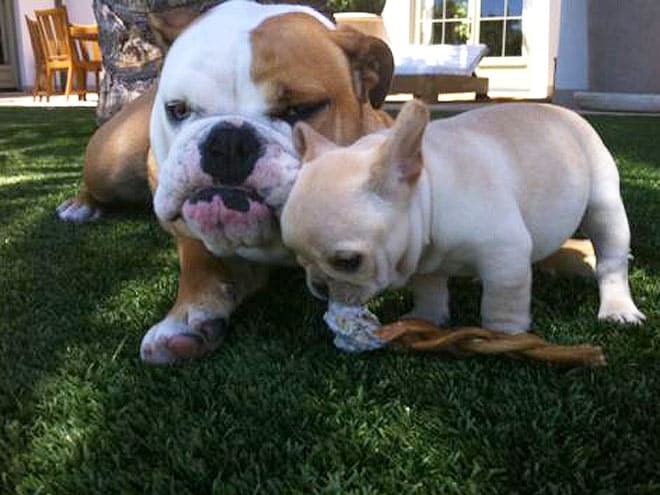 The Beckhams have two fur babies. French Bulldog Scarlet joined Coco (an English Bulldog) and have become fast friends.  Victoria quickly posted photos of little Scarlet letting all David's fans know how much he loves her. This is going to be one spoiled pooch.
Denise Richards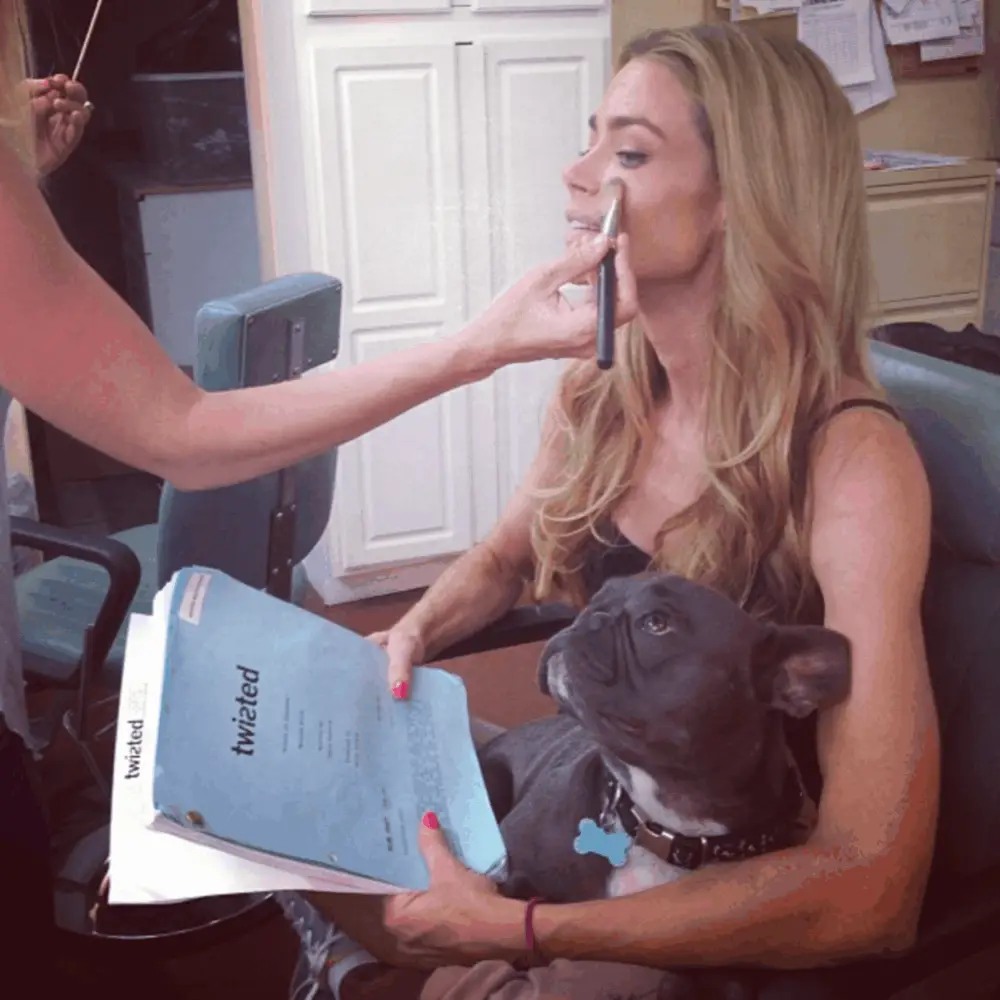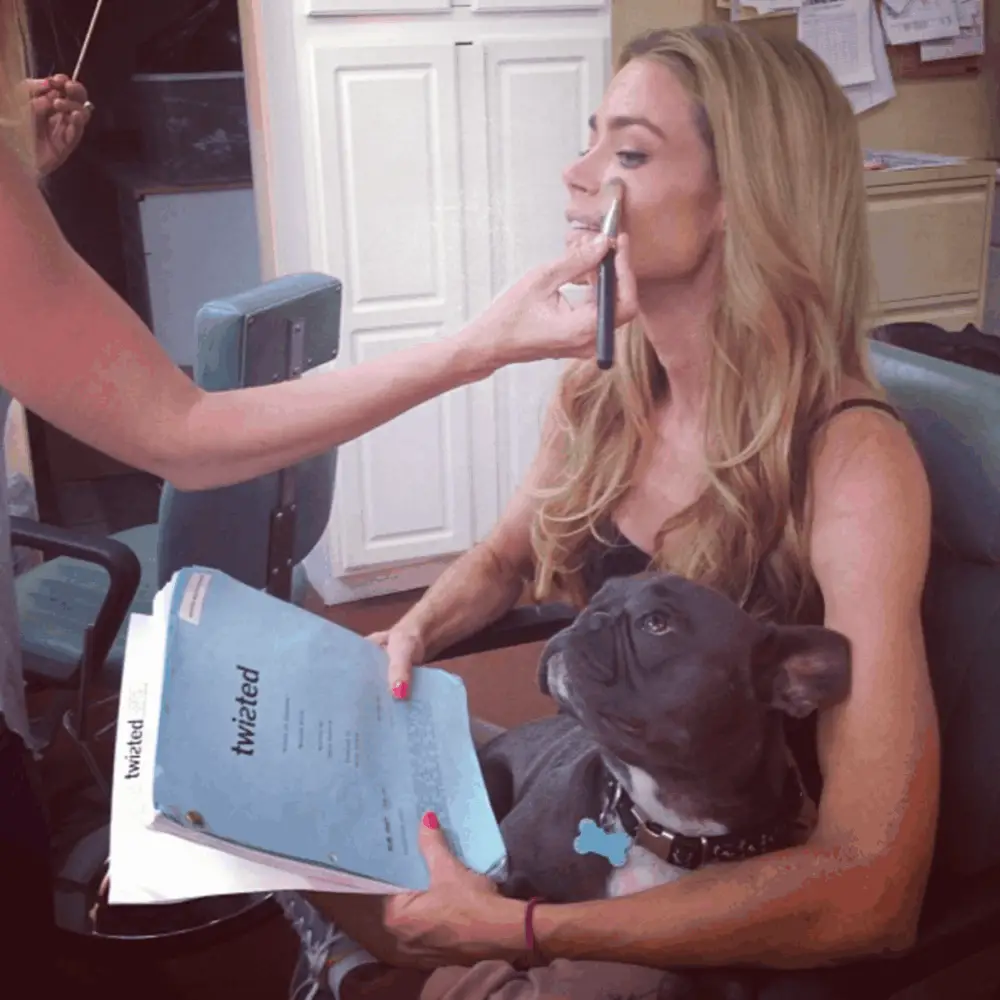 Richards has joked about having too many dogs to count and admits that she has turned her garage into a doggie bedroom.  The actress and model has had a few French Bulldogs in her life.  Her Frenchie Hank was with her for 13 years and she frequently brings Leo to the set with her while she gets her makeup done.
Dieter Schmitz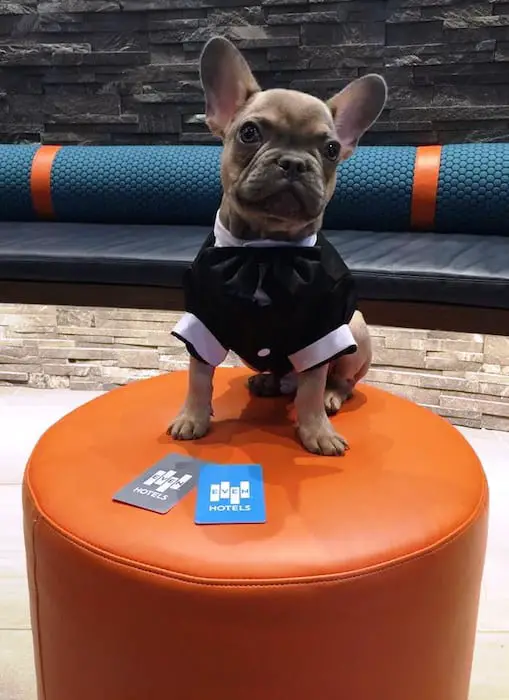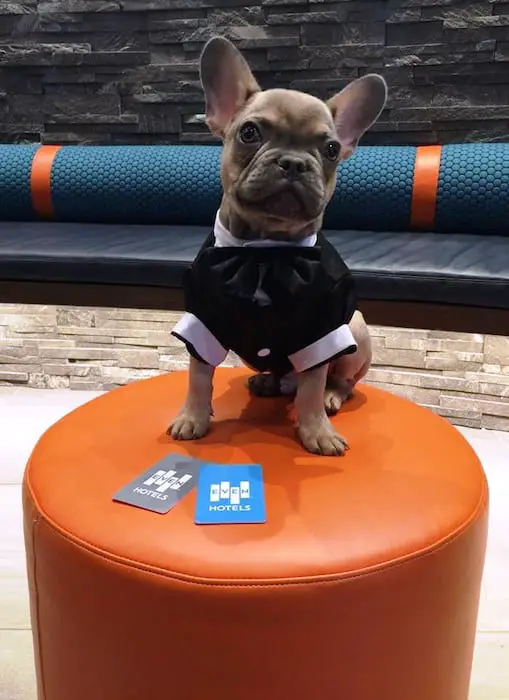 Reality TV's Laguna Beach star Dieter Schmitz has a super cute fawn Frenchie named Wellington. Everyday Wellington goes to work at the EVEN Hotel as the  Chief Wellness Officer. He is in charge of greeting canine travelers to this dog-friendly hotel.
Dwayne"The Rock" Johnson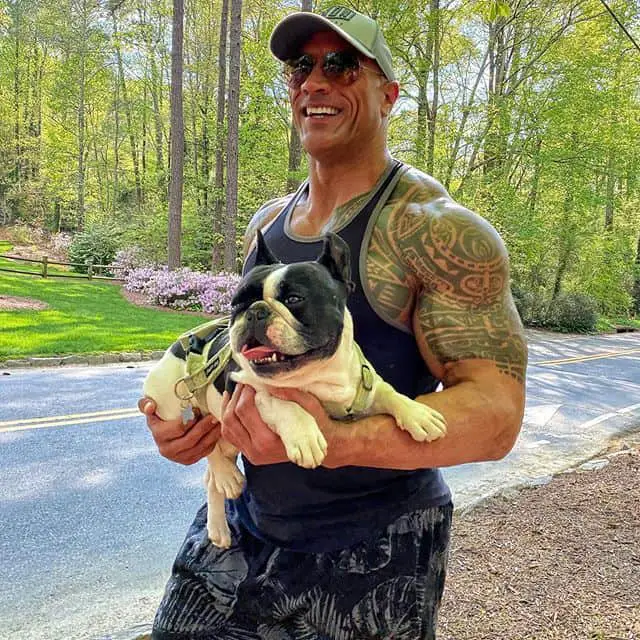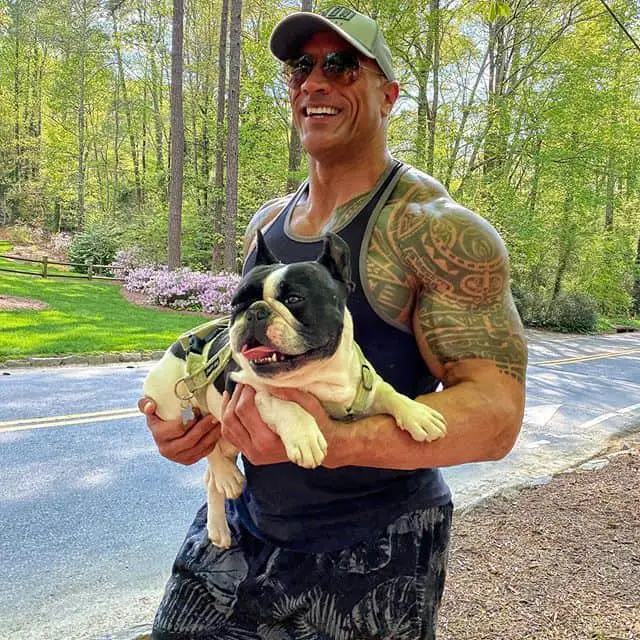 Dwayne Johnson learned the hard way not to take his couch potato French Bulldog Hobbs for a walk.  Dwayne thought it would be nice to take Hobbs out for a walk and get some fresh air but after a mile walk Dwayne had to carry Hobbs back to the house.  Hobbs looks pretty happy with the situation. Clearly Hobbs is a dog who wants to be loved but doesn't love exercise.
Eli Roth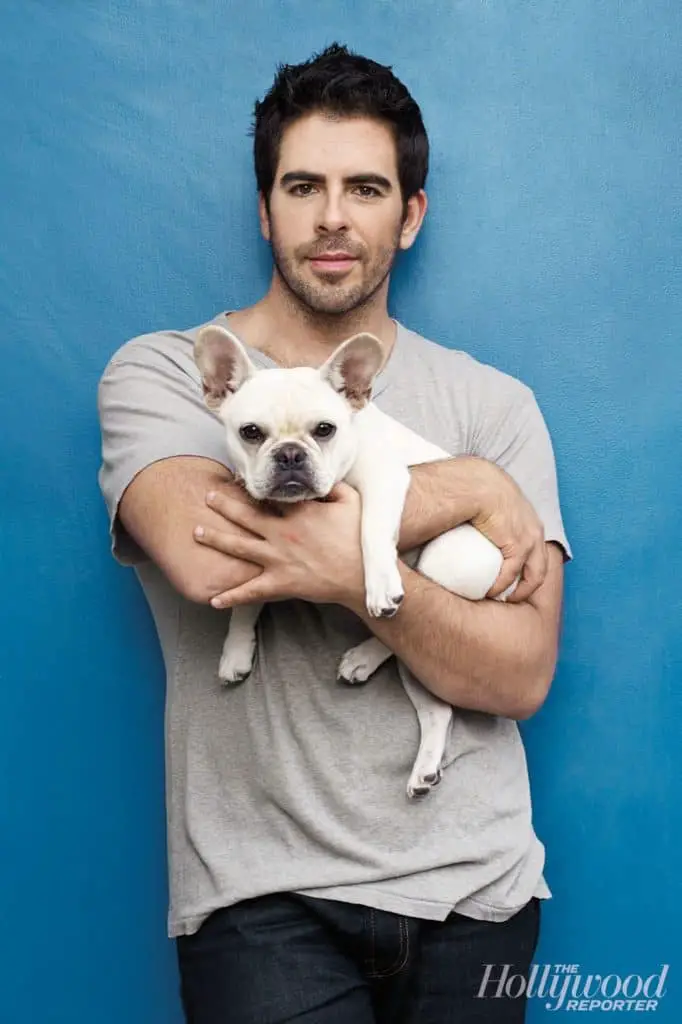 Even the master of horror has a soft side.  His soft side is his French Bulldog Monkey. He has such a soft spot for his little Monkey that he even started letting her sit at the table for dinner.  Eli said "She was making all kinds of noises while I tried to have dinner so I put her up on the chair next to me and she immediately calmed down." Now Monkey joins him every night for dinner.
Eva Longoria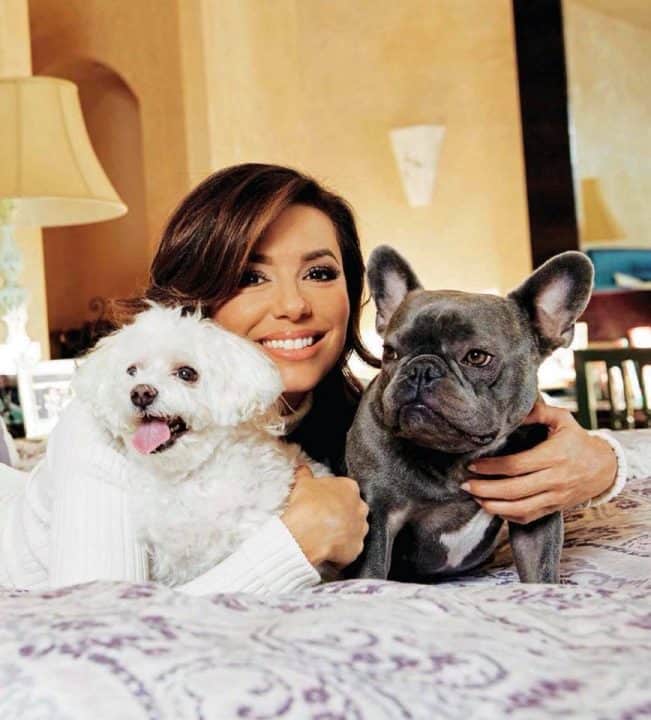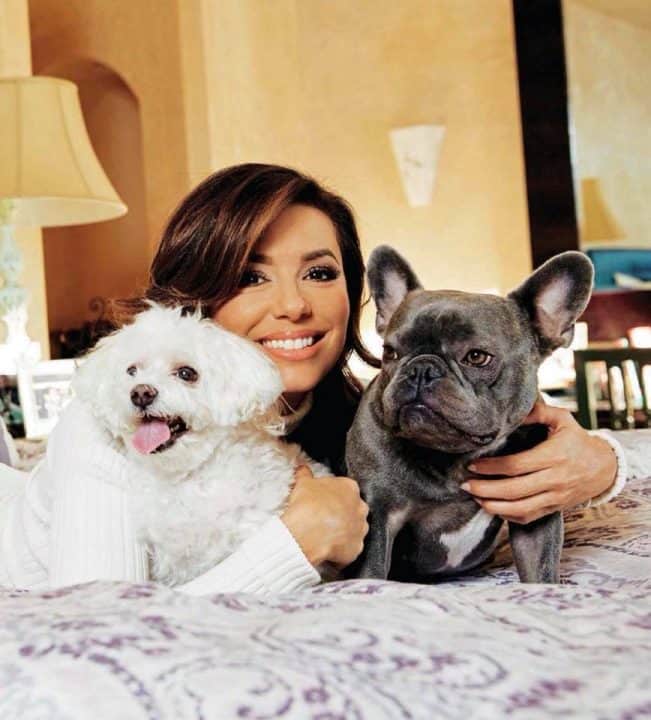 Eva Longoria loves her dogs and they are definitely part of her family.  Popeye is a Blue French Bulldog and has been with Eva for several years. If you like cute puppy photos make sure to check out Eva's social media.
Gilles Marina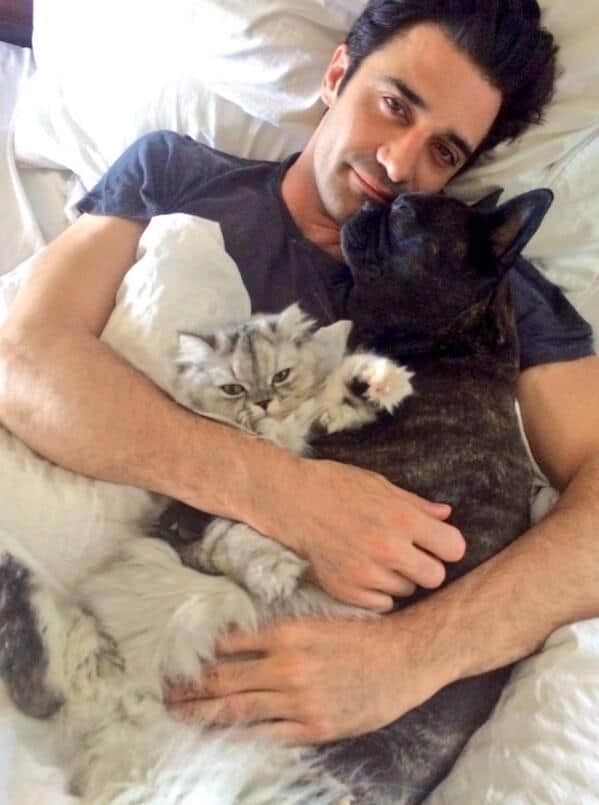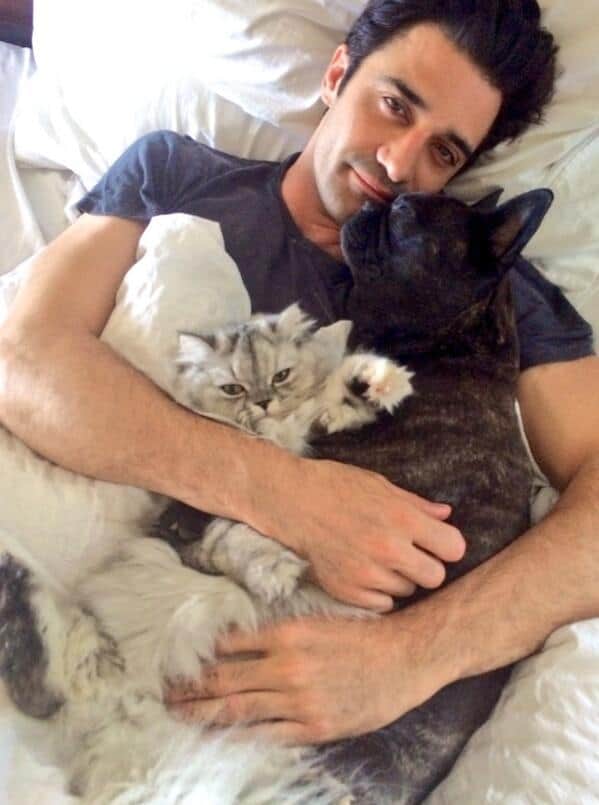 Gilles Marina the actor from Sex and the City is known for being a lover not a fighter.  He has all of his animals follow this same montra. Gilles posted a photo of him with both his cat Penelope and his Frenchie Mila with the caption "who said we cannot all live in peace! #Cat#Dog#Frenchbulldog#Persian Cashmere#Love".
Hillary Duff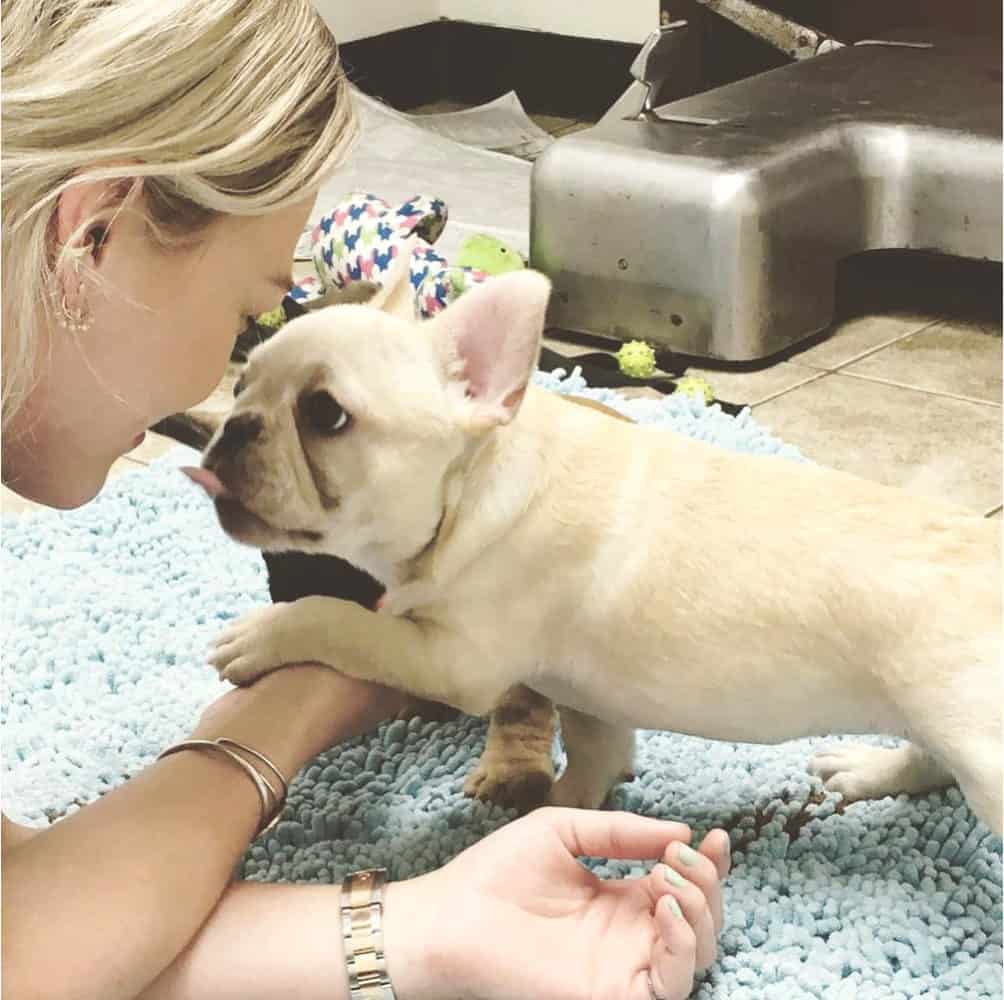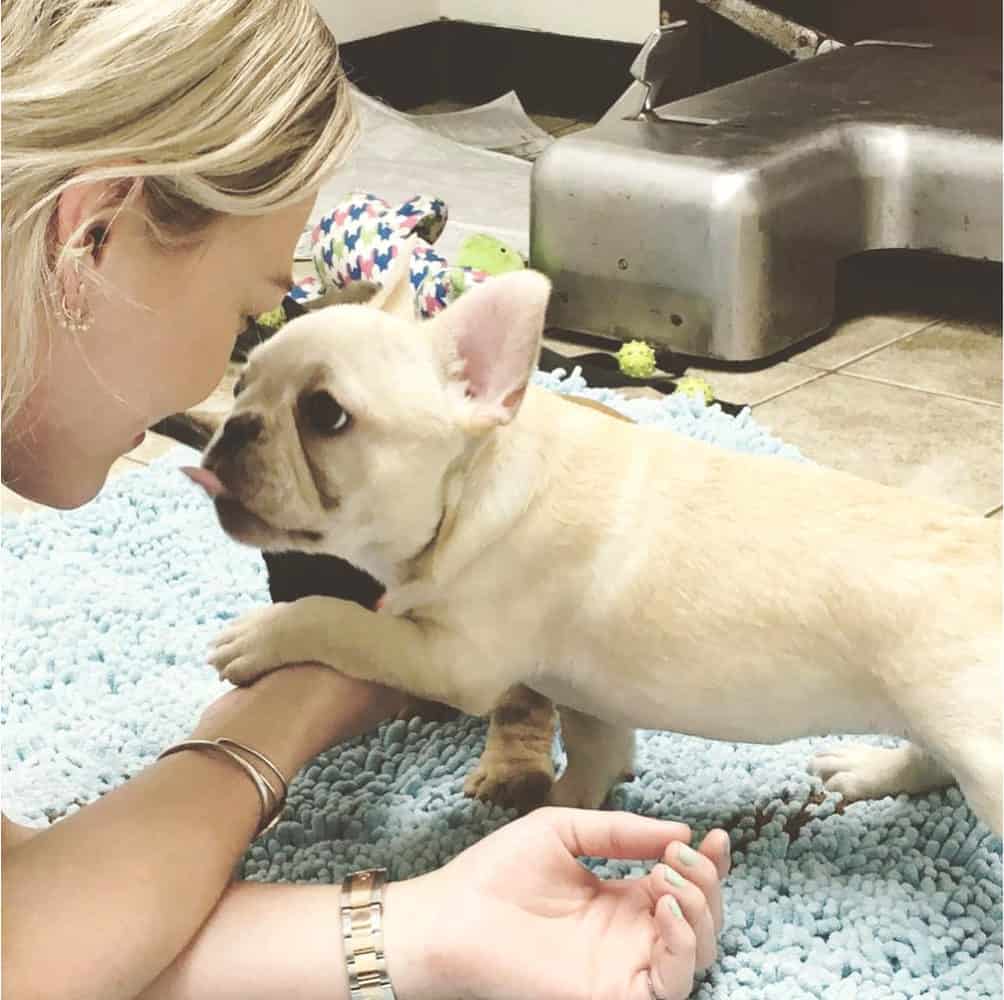 Hillary Duff owned a French Bulldog named Beau who passed away a few years ago.  Hillary was devastated but was soon able to welcome a new puppy into her household who helped Hillary make a connection to Beau.  She was able to adopt Beau's sister Peaches!
Hugh Jackman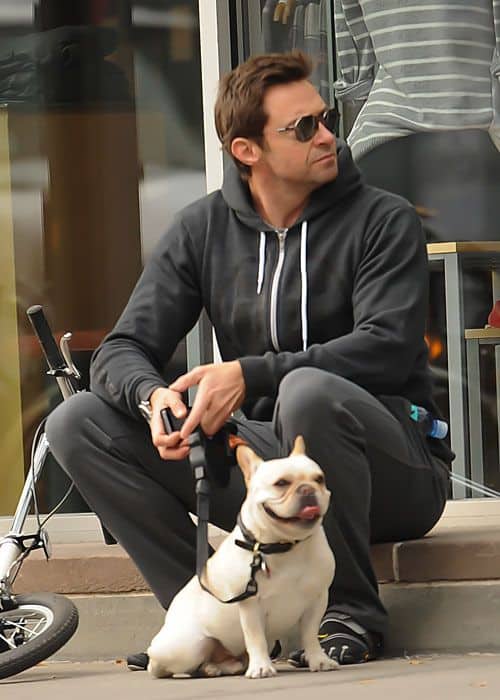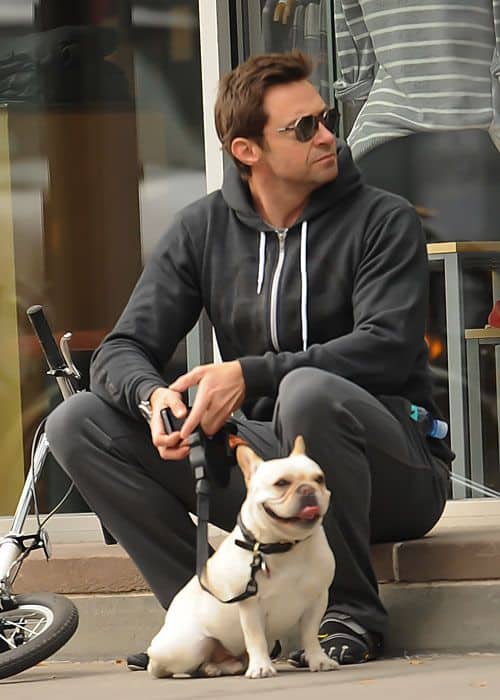 Hugh Jackman loves being a fur dad. Dali is a Fawn French Bulldog named after Hugh's son Oscar's favorite artist Salvador Dali. The whole Jackman family agrees that the adopted pup has a spunky personality and fits right in.
Jack Osbourne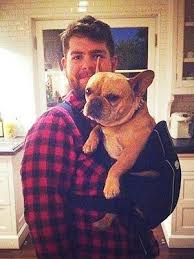 Jack Osbourne The Prince of Darkness son is a big French Bulldog lover. He has had at least three bulldogs now, Lola being the first, Bruce was his second bulldog and as he called him his "ride or die homie".  Jack is going to be a lifetime owner of bulldogs.
Jason Priestly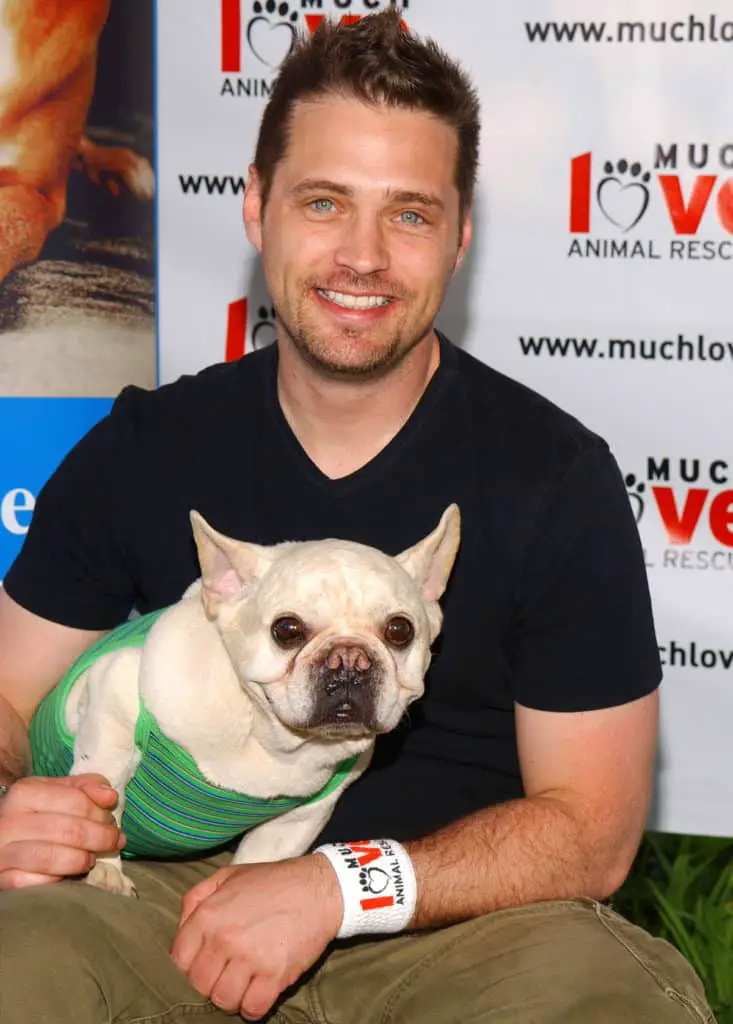 Jason has attended the Silver Spoon Dog and Baby Buffet with his French Bulldog Swifty for several years, which benefits the Much Love Animal Rescue in Beverly Hills, California.
Jason Schwartzman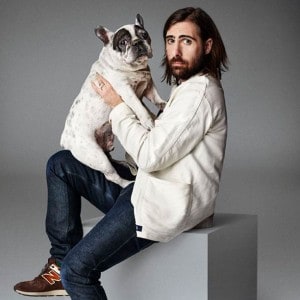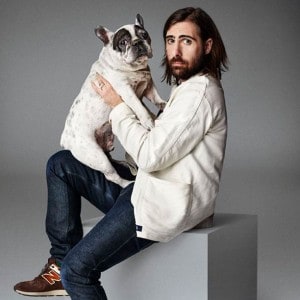 Jason Schwartzman made his French Bulldog, Arrow, a film star when they both starred in the 2015 American comedy film, 7 Chinese Brothers.
Jeremy Piven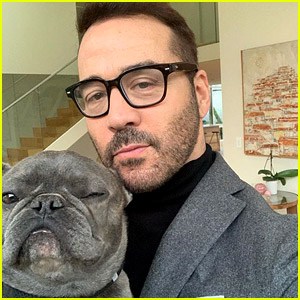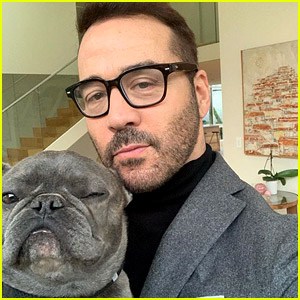 Jeremy Piven doesn't go anywhere without his super cute dog Bubba.  He loves his Bulldog that he adopted at 2 months old and says he recommends adoption of puppies especially a Bulldog which he finds to be the best companion.
Jonah Hill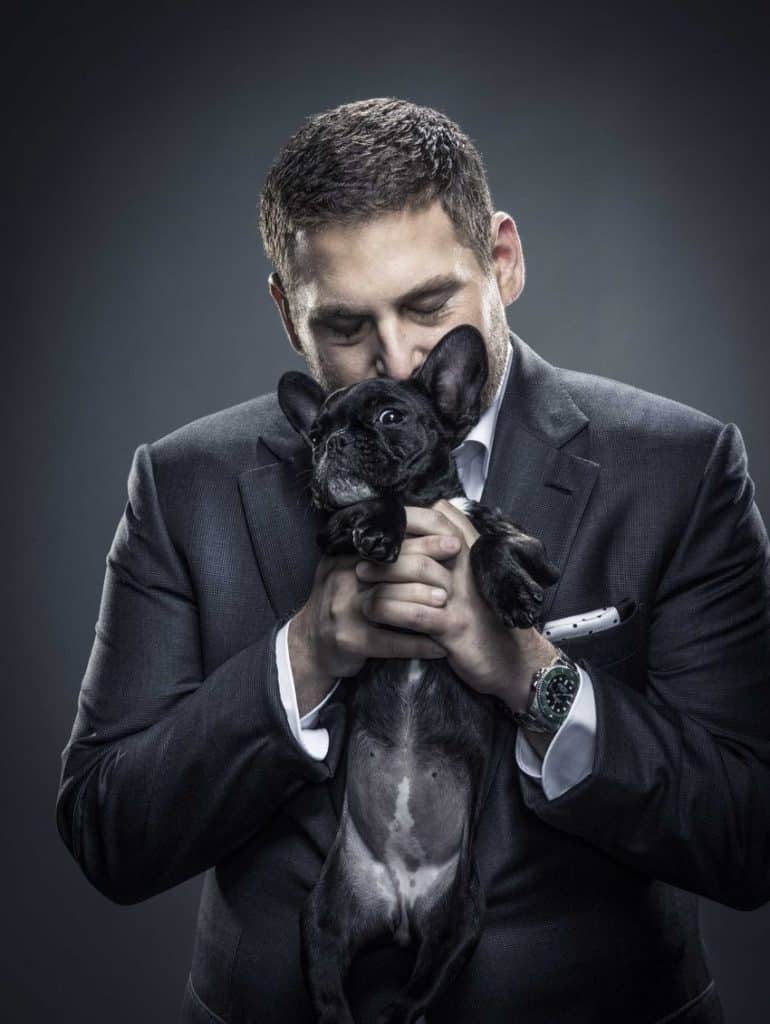 Jonah Hill gushed to Ellen about his French Bulldog, whom he refers to as his adopted daughter and the light of his life.  In the interview he told Ellen that Carmela has many mediocre talents and he also shared some cute photos of her.
Kris Allen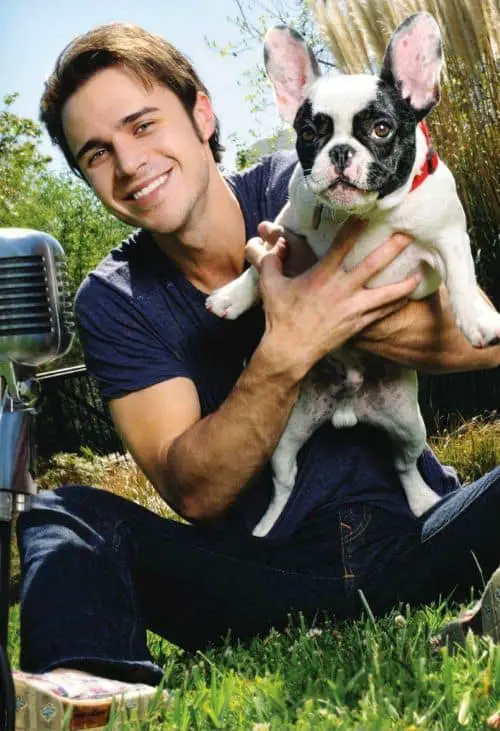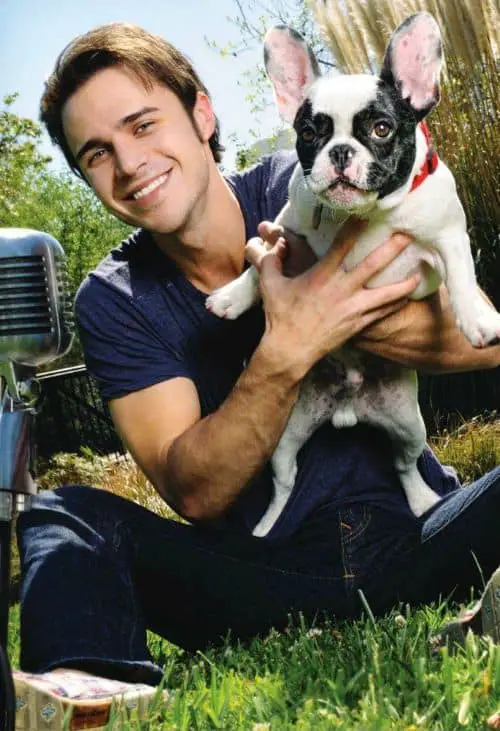 Kris Allen got a Christmas surprise from his wife, a Frenchie named Zorro. A Bulldog was a compromise as Kris's wife wanted a small dog but Kris wanted a big dog.  Katy decided that a French Bulldog was kinda in the middle as it is a small dog but they are chunky and kinda have big muscles and they are known for their big dog personalities.  Kris even put his Frenchie on the cover of his album "Thank You Camellia" and Zorro even went on tour with the band.
Lady Gaga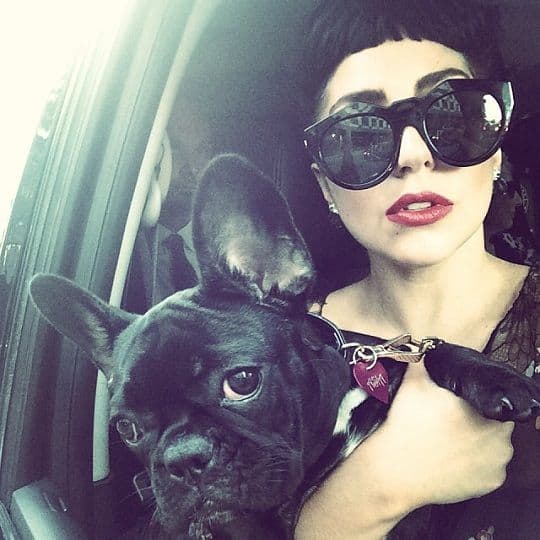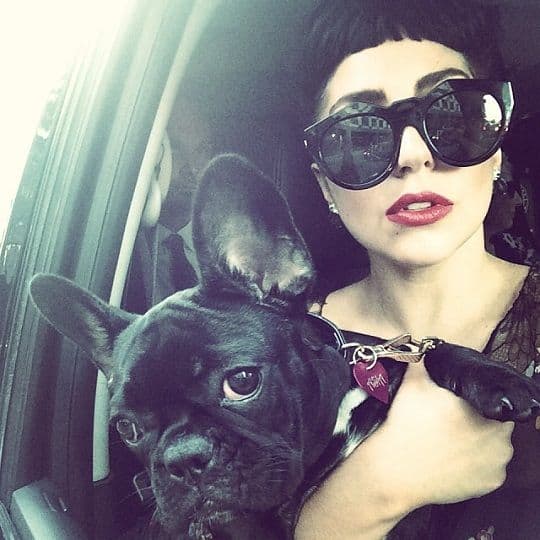 Lady Gaga has not one, not two, but four French Bulldogs.  She loved her first puppy Asia Kinney so much that she quickly adopted three more Frenchies. Asia is the pup with the most media presence with over 236K followers on Instagram.
Leonardo Dicaprio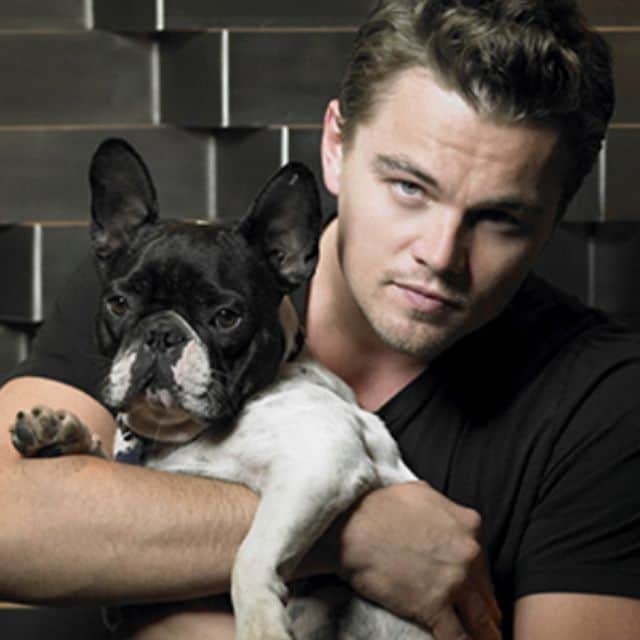 Leonardo DiCaprio and his French Bulldog Django do their best to stay out of the spotlight but with such a handsome pooch it's hard.  Leonardo has posted several pictures of him and Django and confessed his love for Frenchies.
Madonna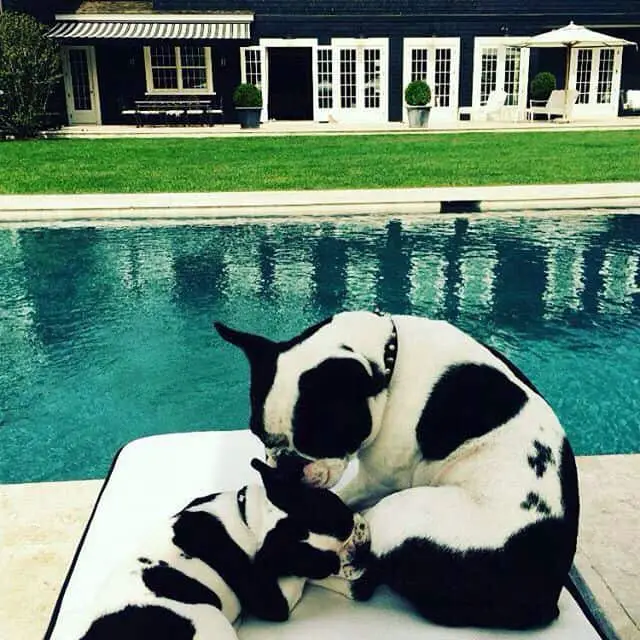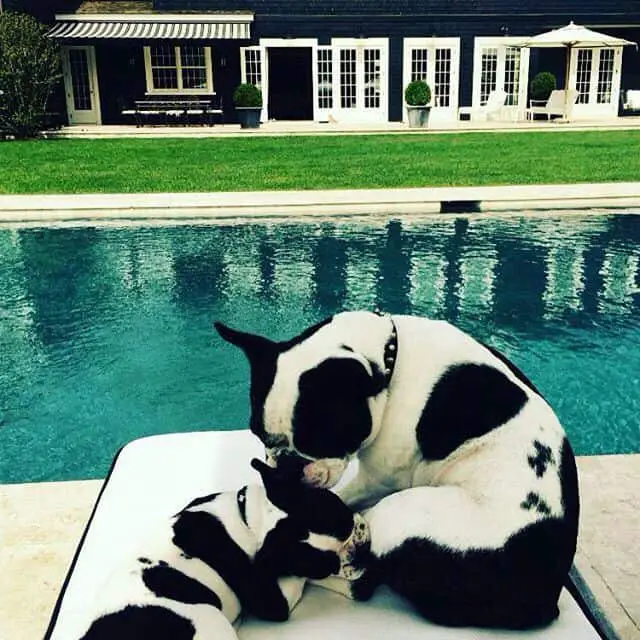 Madonna joined the celebrity craze and got her Frenchie pup on her 57th Birthday.  Madonna shared a picture on her Instagram page of her new puppy Gypsy Rosa and let her fans know that this was her best birthday present ever. Gypsy Rosa joined Madonna's other Frenchie Olga.
Marcus Rashford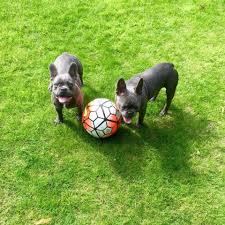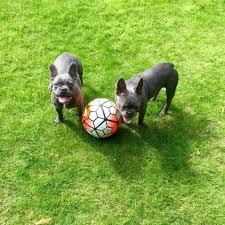 Marcus Rashford of the Manchester United Soccer Team adopted two Blue Frenchies but didn't take into account how much time he would need to be with them.  He does love his Frenchies but had to hire someone to come in and train the dogs for him while he is away. He does love spending time with them every chance he gets.
Mario Lopez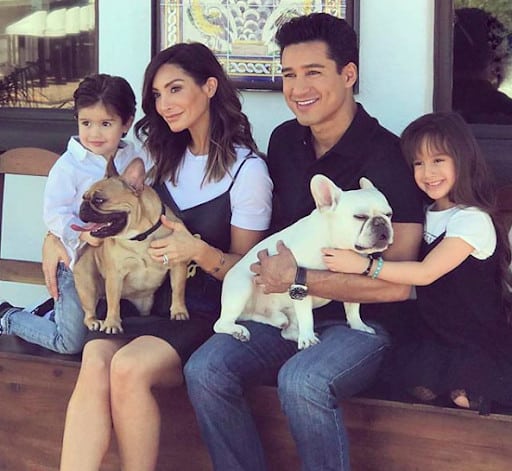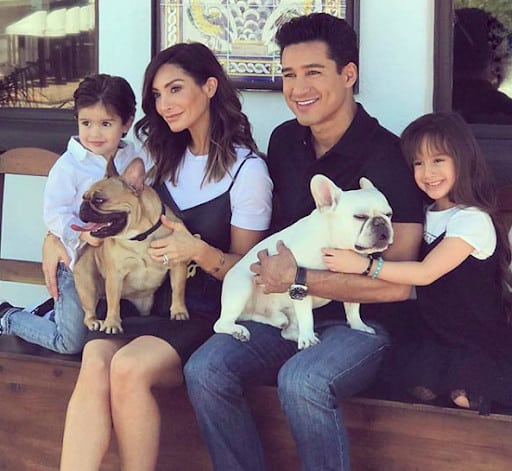 Actor and entertainment journalist Mario Lopez has two French Bulldogs. Mrio's first Frenchie is Julio Cesar Chavez Lopez who is about 10 years old. The family added a second Frenchie pup who of course is also named after a fighter Oscar De La Hoya Lopez. These dogs have a wonderful life with the Lopez family.
Martha Stewart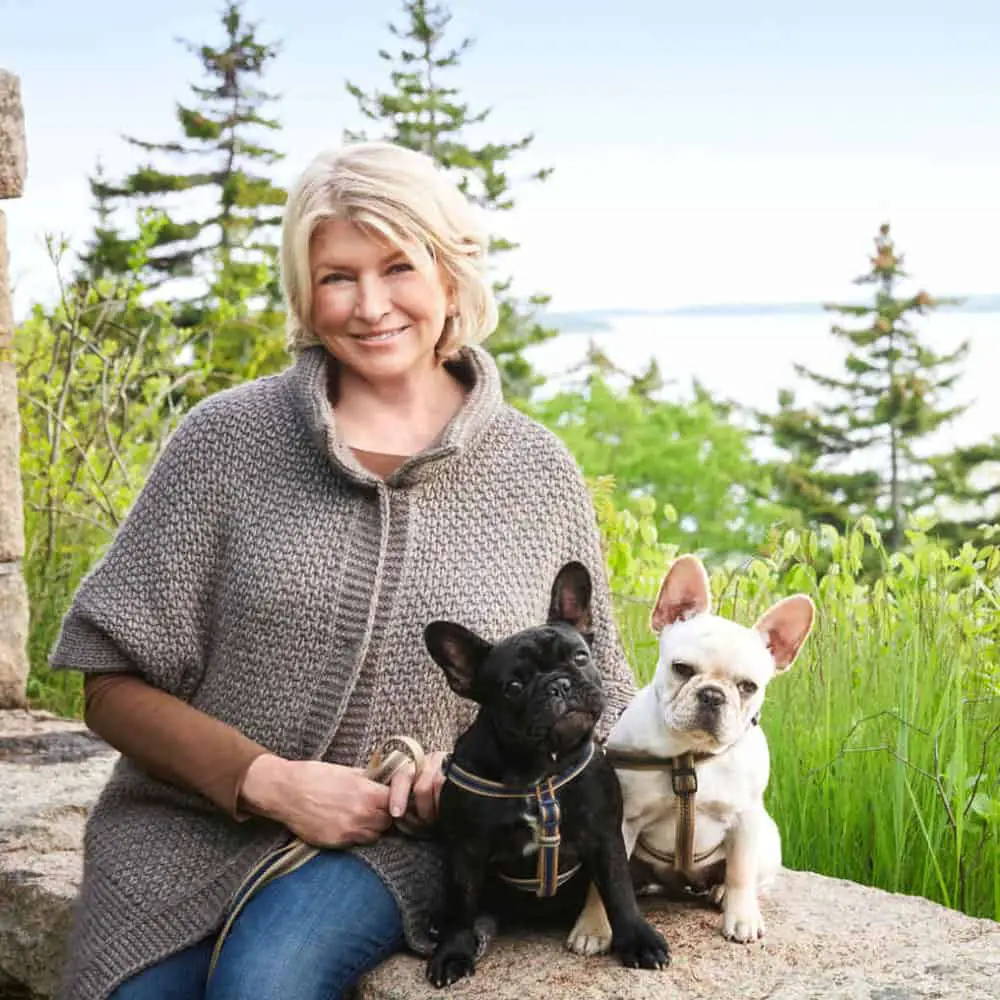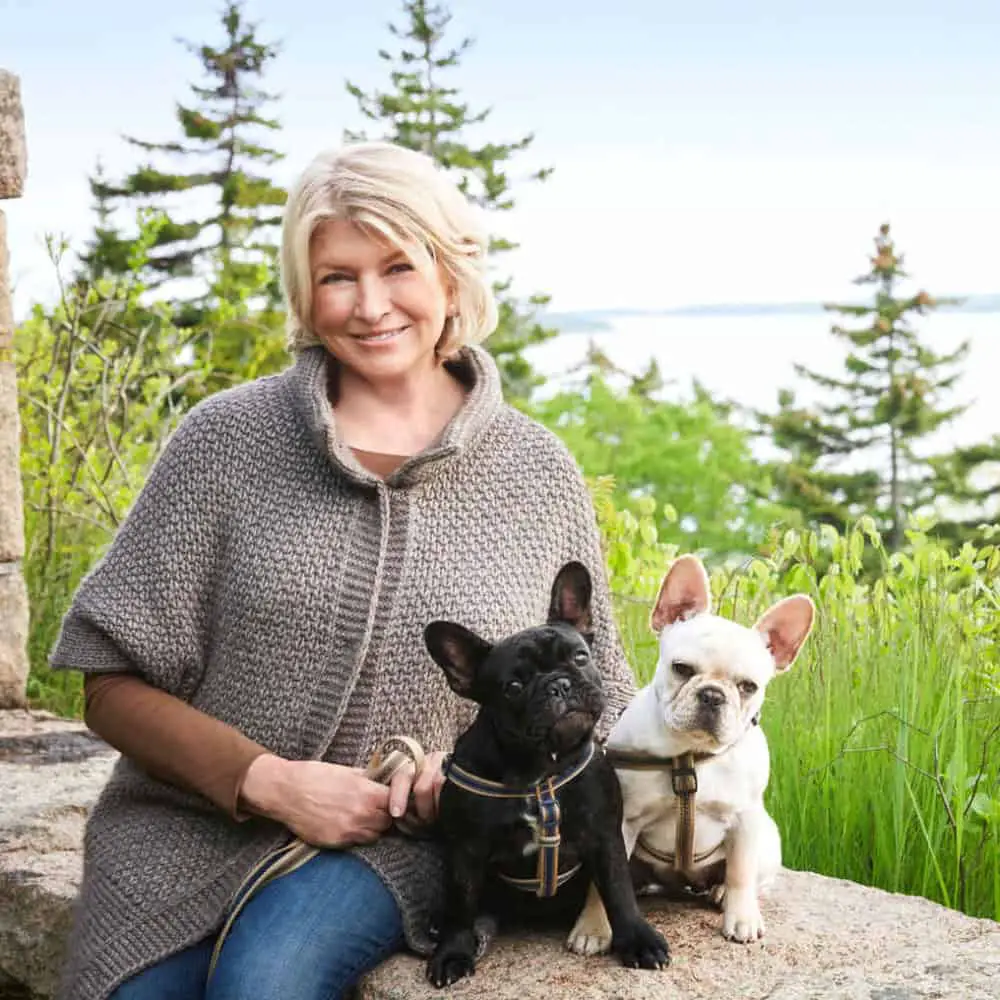 Martha Stewart is widely known for being a dog lover and actually owned 4 Frenchies at one time. She had two adorable French Bulldogs, Francesca and Sharky which Martha often dressed in her brand dog apparel. Because of her love  for these two poochies Martha added two more French Bulldogs, Bete Noire and Creme Brûlée.
Michael Phelps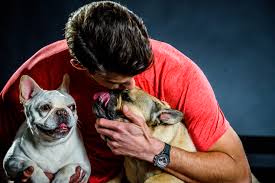 Michael Phelps Olympic swimmer and long-time dog-lover along with his family, have two French Bulldogs, Juno and Legend.  This lovable duo even have their own Instagram account.
Michelle Trachtenberg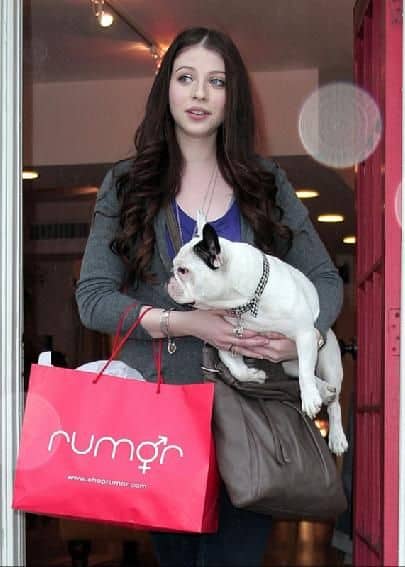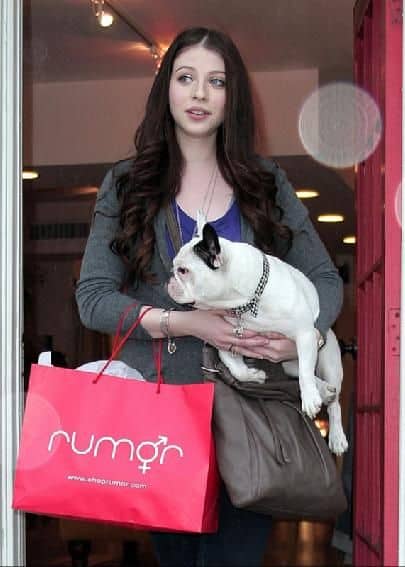 Michelle Trachtenberg the Gossip Girl actress has a very sassy French Bulldog named Mya.  Michelle lets all her fans know that Mya is a paparazzi queen. She loves to take walks and can sense the paparazzi presence always stopping to pose for the cameras.
Nicola Peltz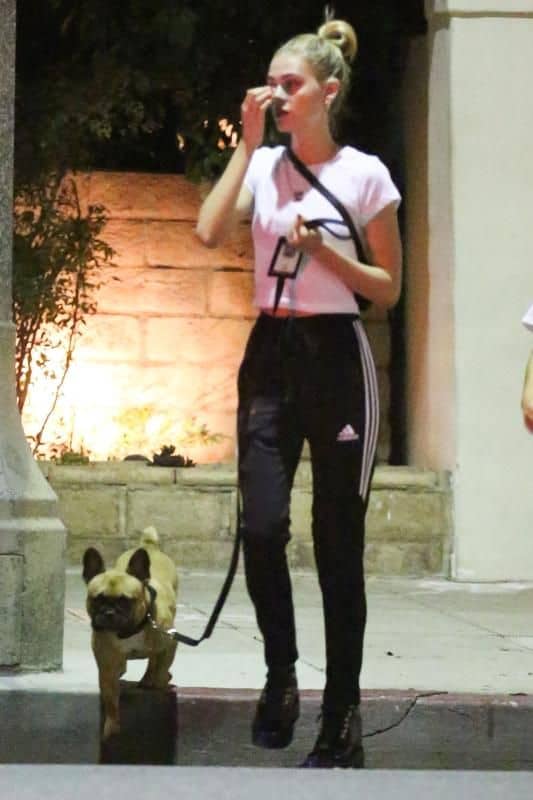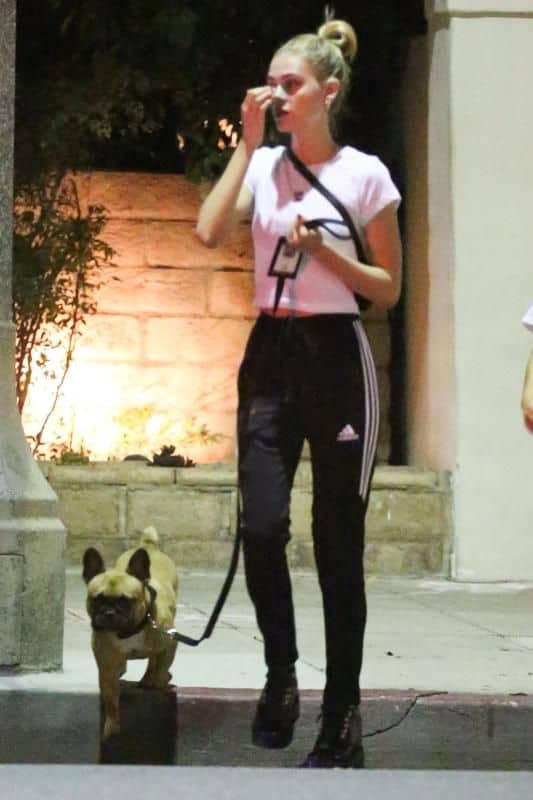 The Transformers 4 star Nicola Peltz pup also has an Instagram account. Banksy is a very stylish Frenchie and loves getting out with mama Nicola.
Rachel Bilson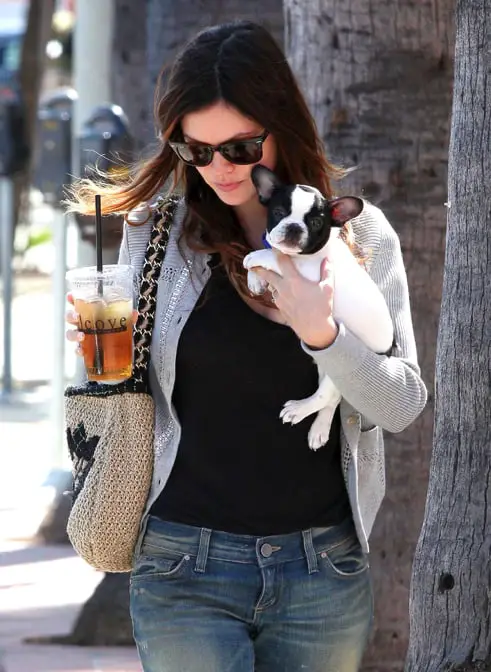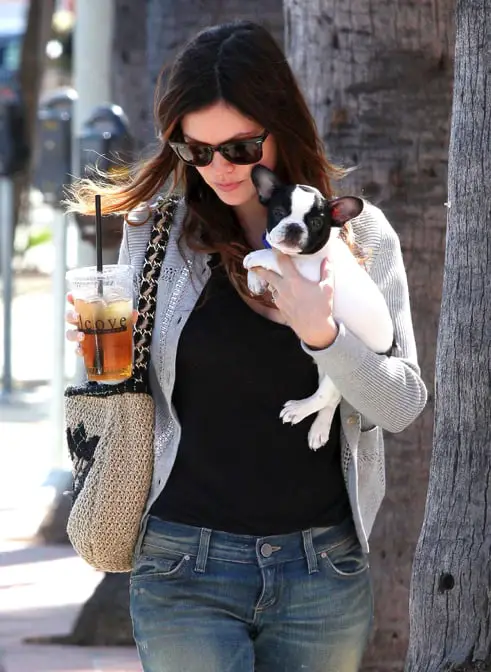 Rachel Bilson's French Bulldog was just the cutest puppy. She got her puppy just before the arrival of her own child. These two will be growing up together and that makes Rachel so happy.
Reagan Agee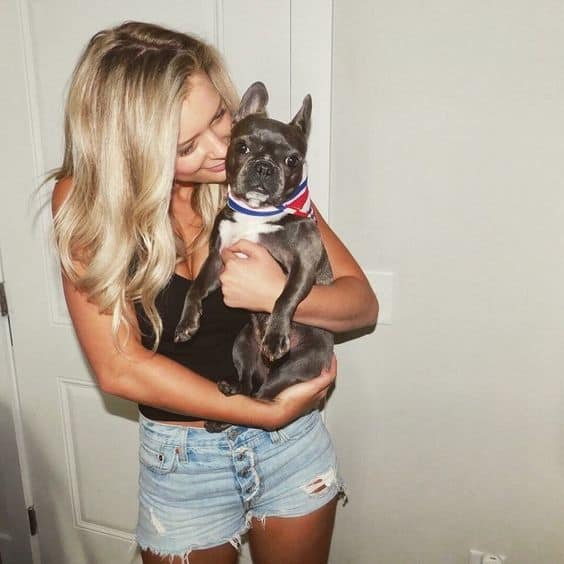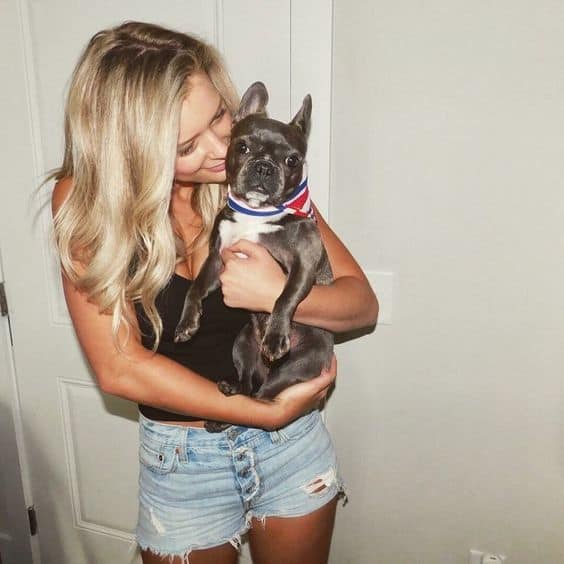 Regan Agee star of E! Has herself a Blue French Bulldog which she aptly named Blu.
Reese Witherspoon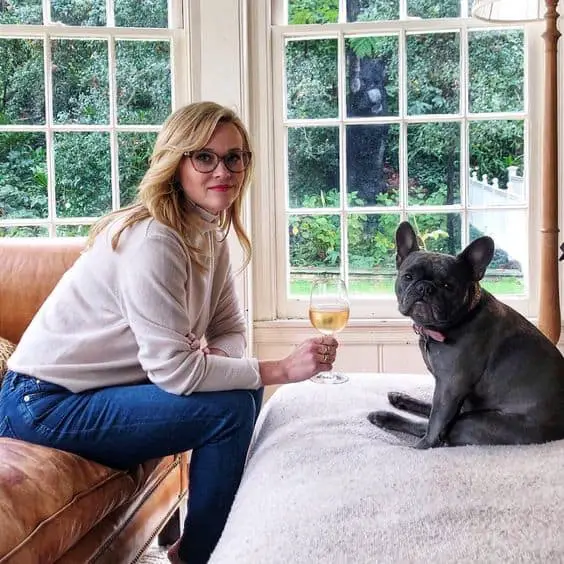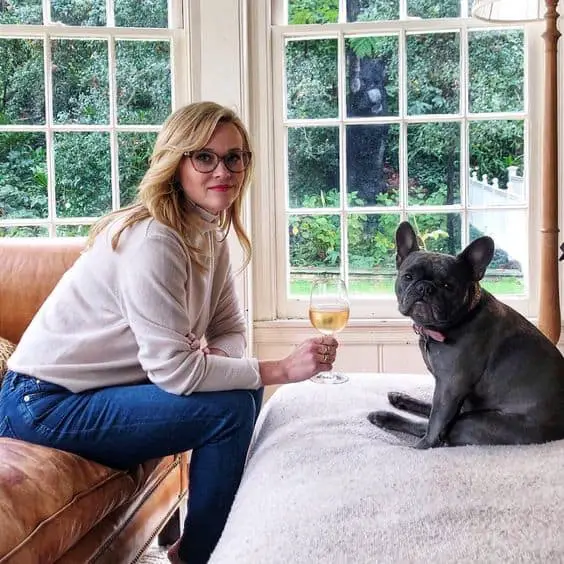 Reese Witherspoon spoils her Bulldogs. The actress used to take her pooch Pepper shopping for designer Frenchie apparel.  She has now added a sibling for Pepper named Lou.  Reese's Instagram bio even boldly states she is a Bulldog Lover.
Scott Foley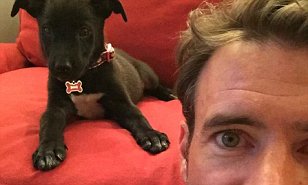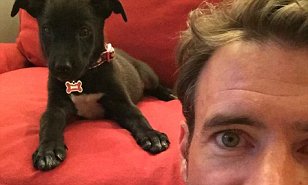 Scott Foley the Scandal hunk has welcomed a new member to his family. Her name is Frankie. Scott's daughter loves Frankie so much she picks her up and carries her everywhere. Scott then added that his son is terrified of the little pup and wont even step on the floor if Frankie is on the floor.
Shaun White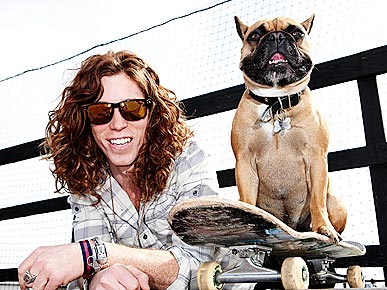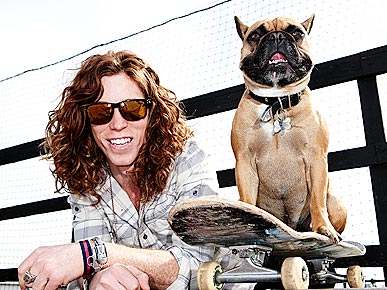 The U.S. snowboarding legend Shaun White owns a fawn, black-masked French Bulldog named Rambo. Rambo has become pretty famous on Instagram and has quite the pet clothing collection.  Shaun has even made some human clothes, tee shirts with Rambos face to auction off in benefit for French Bulldog Rescue in New York.
Snoop Dogg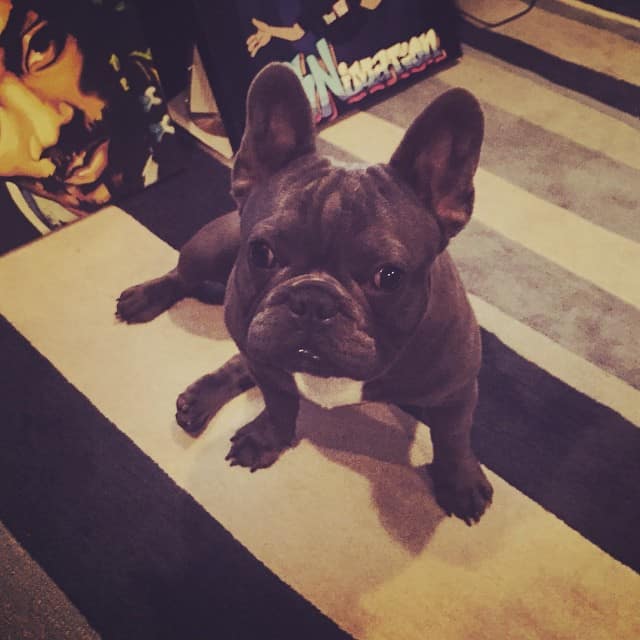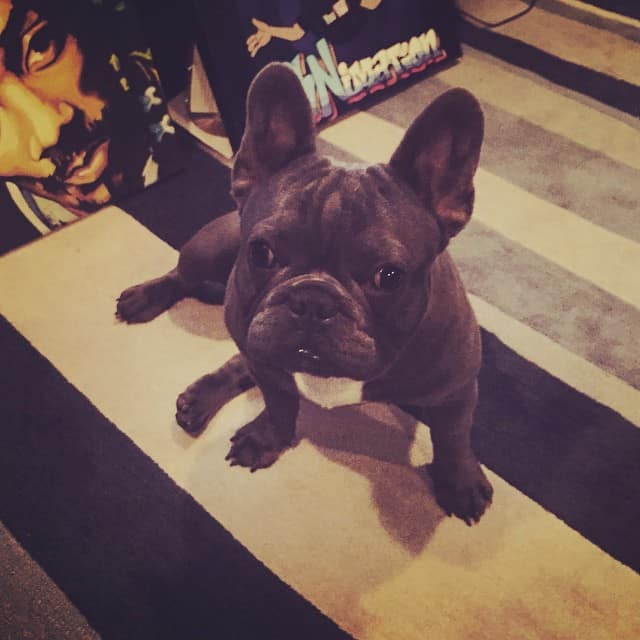 Even Snoop Dogg himself is smitten with the breed! He was given a French Bulldog as a birthday present.  Snoop named him Juelz Broadus and of course Juelz has his own Instagram too.
Taraji P. Henson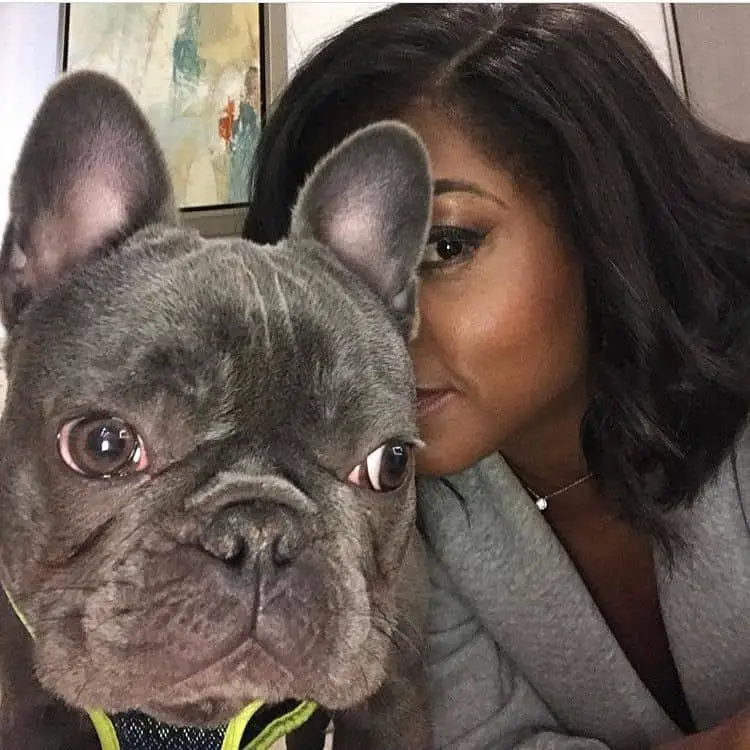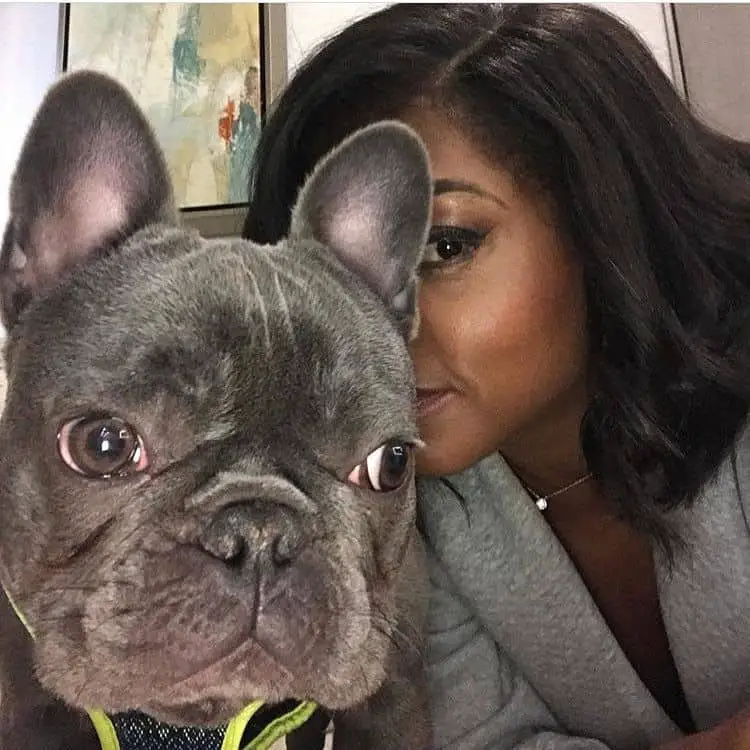 If you follow Taraji P. Henson on Instagram you know that her French Bulldog K-Ball lives a life of luxury. When K-Ball he is not napping on his fancy bed then he is sporting amazing doggy coats.
Travis Barker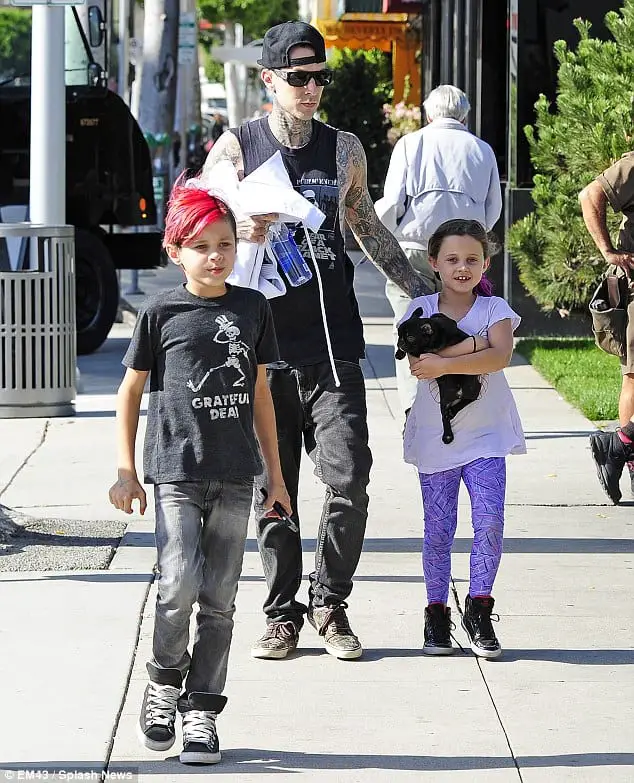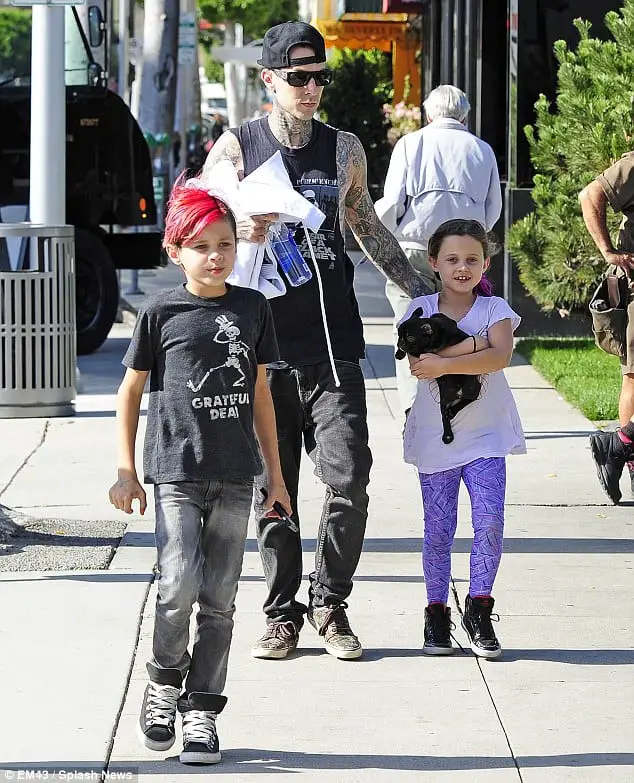 Blink Drummer Travis Barker and his kids love to take their dogs for walks.  He has a cute French Bulldog named Biscuit.  Travis also has a bulldog named Q-Tip and a rottie named Lil' Kim and a pug named Clarence.
Vanessa Hudgens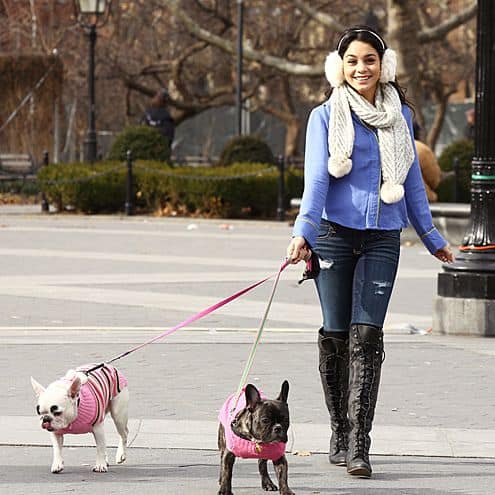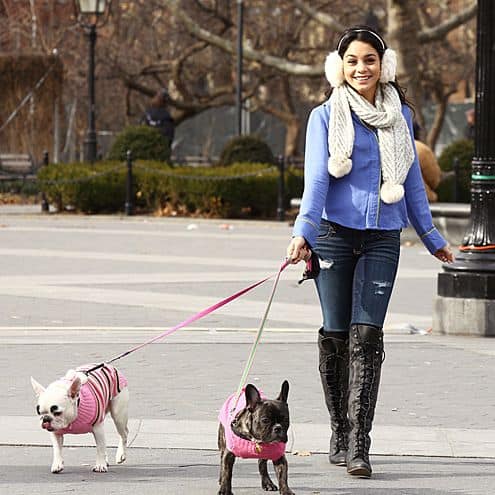 Vanessa Hudgens has two adorable French Bulldogs named Bella and Lilly.  Vanessa is usually seen dressing her pups in pink sweaters for their fall walks in New York City.
Zach Braff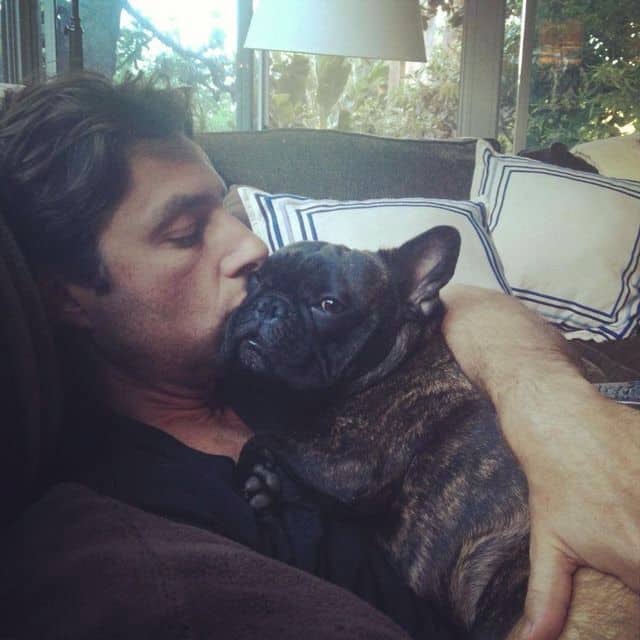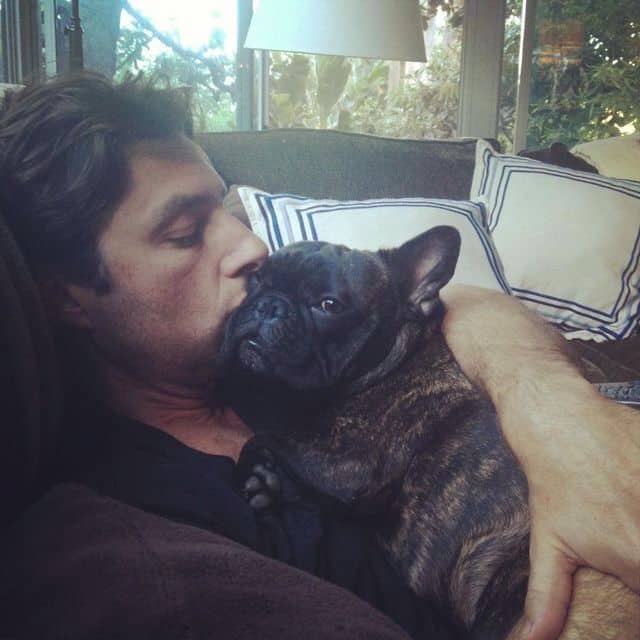 Conclusion – Wow, That's a Lot Celebrities With French Bulldogs!
The Wish You Were Here star is always Tweeting pictures of him and Scooter, his French Bulldog hanging after a long hard week of work.
The French Bulldog became popular and enormously fashionable in the early 20th century, especially in London and Paris. American travelers to France took a shine to the little pups, preferring the big bat ears to the smaller of the other American Bulldogs in the United States. This move across the pond led to today's breed standards, with the French Bulldog as the most popular bulldog breed in the United States and with some many celebrities owning Frenchies their popularity will continue to grow.