There has been a rising demand for adorable French Bulldogs over the years.  As a result of their popularity, there has also been an unfortunate increase in French Bulldog Scams. These French Bulldog puppy scammers have advanced skills in manipulating unsuspecting people who desire a Frenchie of their very own.  What often happens in these scams is that the hopeful French Bulldog owner gets scammed out of their money and doesn't get the dog they wished for.
When looking for a French bulldog, always be careful and look for 'red flags' that the sellers may not have the greatest motives.  I put together this article to educate future Frenchie owners on what to watch out for you so don't get scammed.
Understanding French Bulldog Puppy Scams
To take advantage of people hoping to buy a Frenchie, these dog fraudsters often advertise false French Bulldog litters on the internet or claim to be something they are not, typically an established French Bulldog breeder.
If you are not careful, you may think you have found a great deal on a French Bulldog puppy, give all your cash to the 'breeder,' and never get a puppy or any move correspondence in exchange.
While these puppy scams postings often surface on platforms such as Facebook or Craigslist, some fraudsters discover methods to pose as respectable breeders by collecting personal information from them.
Fortunately, knowing what to watch out for can help prevent you from being the next French Bulldog puppy scam victim.
Tip #1: Poor Grammar
Poor grammar can be a sign that you are dealing with a scammer. If you see a post in a Facebook group asking them to private message you or DM (direct message) you and there is a lot of poor grammar in their messages that should trigger a red flag to you.
Is it possible a legitimate French Bulldog breeder might use poor grammar?  Yes, it is possible but more often than not it is a sign of a scammer.
Tip #2:  If  The French Bulldog Puppy Sounds Too Good To Be True It Probably Isn't
The first tip I will share is that if the deal you stumble upon for a French Bulldog Puppy sounds like it is too good to be true then it probably is a scam.  The fact is that French Bulldogs aren't cheap.  If you found one that is cheap then it is likely either a scam or a genetically unwell puppy from a Puppy Mill.
Don't let yourself be lured in by the low price of the French Bulldog puppy.  This is the bait they use to
Even inquiring from this "breeder" can be a costly affair for you.  They will lure you in and next thing you know you have wired them money and no French Bulldog puppy will magically appear at your door.
Run the other way and save yourself from heartache.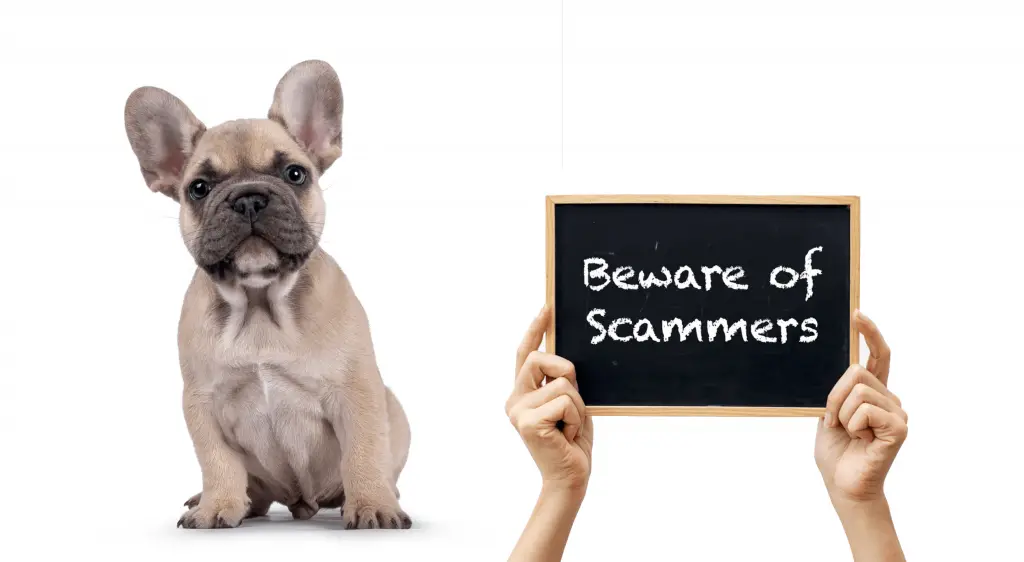 Here Is An Example of a French Bulldog Puppy Scam In a Facebook Group
I created a Facebook Group for French Bulldog lovers and every single week, fraudsters join this group and then post in the comments of popular threads scammy posts like the one below.  These French Bulldog puppy scam "phishing" attempts try to lure unsuspecting people to engage with them and fall victim to their ploys.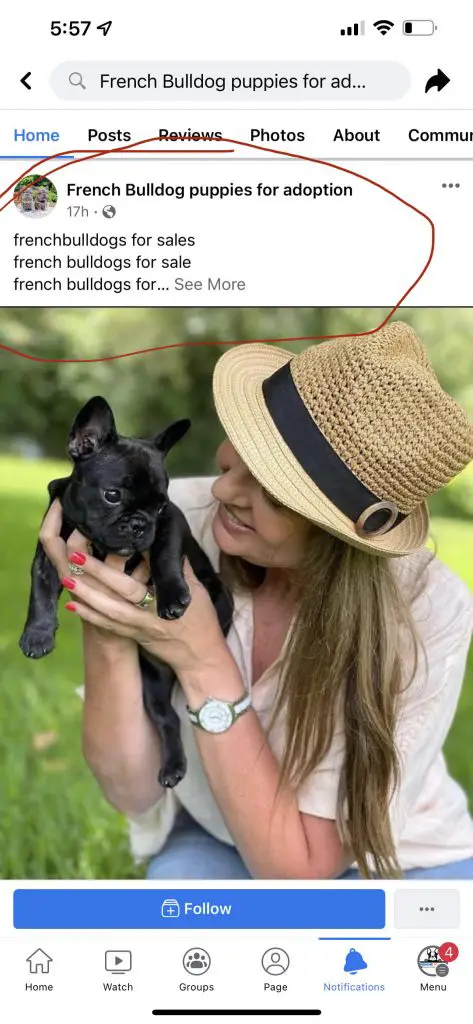 Notice a few things about this post.
The fraudster grabs a stock photo of some adorable Frenchie puppy, they will say they have litters available for adoption, and they jam in a bunch of buzz words / keywords like this one did.
Posts like this are the bait they use to lure in unsuspecting people who desperately want a Frenchie puppy to engage with them.
Here are some screen shots from a conversation from a poor woman who got scammed for almost $1,200 by a scammer: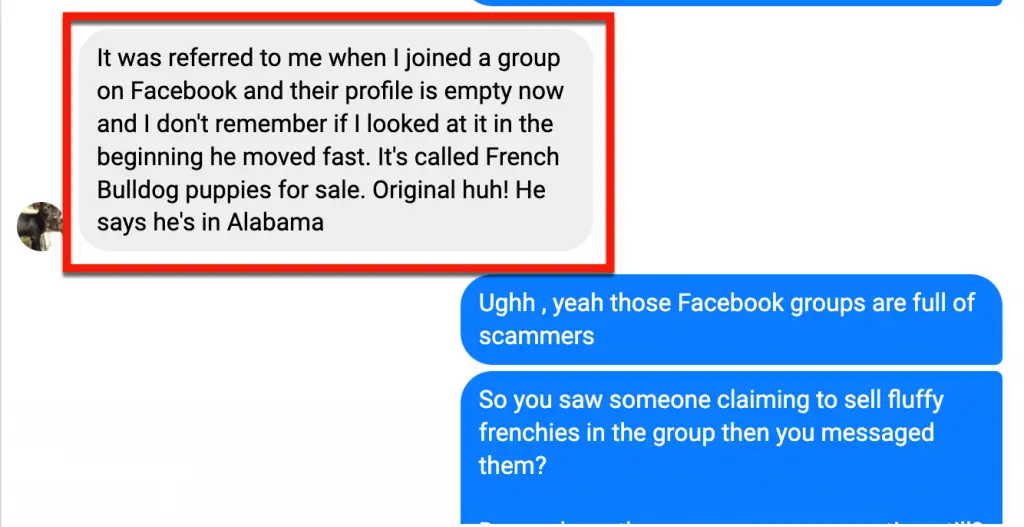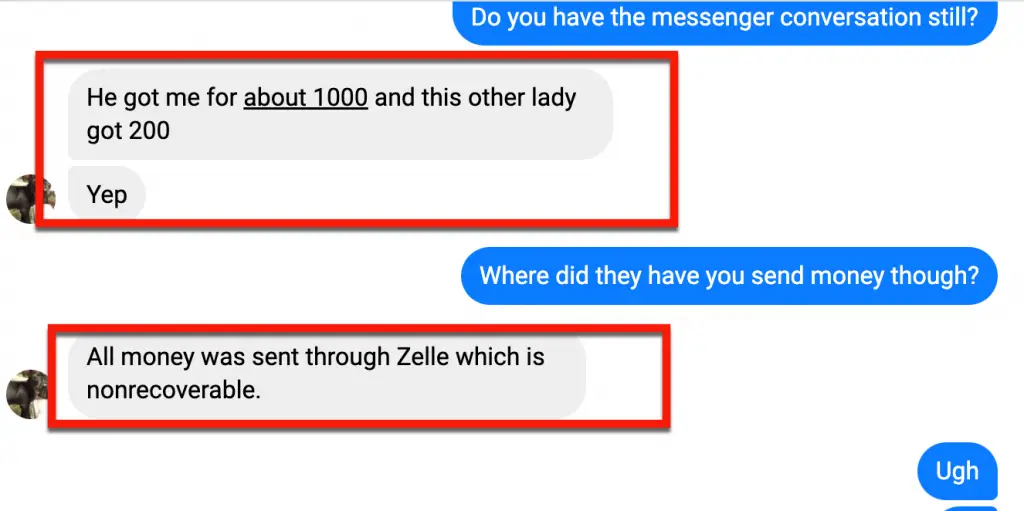 Tip #3:  To See If The Picture of The French Bulldog Puppy is an original, a Stock Photo, or a Photo Taken From Another Site
One way to sniff out Scammer is to do what is called a "Reverse Image Search."  You can basically "Google" to see where the photo came from.  This can be one way to protect yourself and sniff out a scammer.
If they post a photo on the internet claiming they have a new French Bulldog puppy available do the reverse image search to see if that same photo shows up other places online.  If that photo appears elsewhere chances are you are dealing with a scammer looking for his next puppy scam victim.
The results of the reverse image search will let you know if this supposed French Bulldog breeder posted an original, a stock photo or photo they grabbed from someone else.
Tip #4:  Trying To Get You To Join another Group or Message Them Privately
If someone is trying to get you to join a Facebook Group or to Private message them that is a sign of a scammer.  Their plan usually involves having you join their group or messaging them so they can start influencing you and beginning the process of scamming you out of money.
A legitimate French Bulldog breeder will usually have a website and a phone number where you can talk to them on the phone.
Most scammers conduct their "business" via private messages.  It is virtually untraceable and when they have gotten their money from their victim they can just "burn" that account and go create another one quickly.
Most scammers have many Fake profiles which they can quickly discard once they have ripped someone off.
Fraud Schemes Involving French Bulldogs
Websites That are Scams
Since this is where most people search first, it's no surprise that several people fall for French Bulldog puppy frauds on the internet.
Fraudsters on the internet are eager to play on your feelings and swindle you out of a lot of money for pups who are unwell, abused, or perhaps non-existent.
The crooks behind French Bulldog scams know how strong attachment you would have to buy a French Bulldog puppy and will prey on that.
They will usually utilize sleek photographs of French Bulldogs that they believe will attract you before stealing your cash in an elaborate puppy fraud. Similarly, they will promote free Frenchie pups to entice you.
Even though the website seems to be trustworthy, proceed with caution. Plenty of the French Bulldog hoax sites I have seen use an actual postal address to seem legitimate. These identities are commonly those of totally innocent persons.
Tip #5:  Watch Out For French Bulldog Puppy Price Reductions To Get You Hooked
When you engage the fraudsters regarding a Frenchie puppy, they will normally reduce the price and use traditional sales strategies to entice you. If this happens run away and stop the conversation.
The fact is that French Bulldogs are expensive.  There is good reason for this.  Don't fall for the allure of a "cheap Frenchie."  It is a way for the scammer to get easy money from you because you think you're getting a deal.
Scammers will pretend to organize distribution after you have transferred the amount. It is mainly accomplished by using a bogus shipping firm – usually using a different web scam disguised as a genuine courier service.
Never try to purchase a Frenchie puppy available on the internet. Undertake the basic tests if you are concerned that the web page you visit is a fraud.
Fraud French Bulldog Producers and Breeding Farms
Although not a recent occurrence, Puppy farms are becoming more common, particularly for famous types that may be quite expensive. However, with French Bulldog puppies often selling for thousands of dollars, they are among their favorite varieties to utilize in their frauds.
Scam producers and puppy farms don't bother with their dogs or the pups in their possession, confining them in secluded and unsanitary circumstances, frequently apart from their family and with little to no interaction. As a result, pups purchased from them are usually anti-social and fearful of humans.
Several pups purchased from such producers struggle with ailments. Although they may seem fine when you initially acquire them, they may swiftly deteriorate and sometimes die when you get them if appropriate medical attention is not provided.
The entire experience may be challenging and traumatizing for both the French Bulldog and you as the current owner.
Therefore, if you want to bring a French Bulldog puppy into your home, how can you ensure that the producer you purchase from is respectable, licensed, and dependable? And how can you be certain that the dog you acquire is fit, socialized, and well-bred?
Indicators of a French Bulldog Scam
Some red flags indicate a French Bulldog producer fraud. In most cases, you can tell Bulldog puppies scam by the appearance of the advertisement and your first interaction with the vendor. They include;
Tip #6:  Forcing you To Commit Immediately
Whenever it relates to temptation, scammers are geniuses and are knowledgeable on how to get you hooked. To book your dog, they will want payment by MoneyGram, Venmo, PayPal, Zelle, or any other transfer that favors them. Some even ask for Pre-paid Gift cards.  
Likewise, they will offer you specific guidelines to designate the transaction as a gift to relatives and friends instead of 'buying a product,' so you will not be eligible for a refund.
Never transfer money under duress. If a vendor puts you under pressure, it's a sign that they are attempting to con you.
They will put you under pressure to make a deposit. They will often request that you send them the funds.
While a commitment fee is common for puppies, you must never transfer a deposit through wire or feel pushed to 'hold' a puppy. Check if the amount is accompanied by a written agreement and inquire whether it is redeemable.
A Too-Good-to-Be-True Offer
Superb purebred dogs are not cheap. If you find a French Bulldog sold for a ridiculously low cost, you should be wary.
French bulldogs are a famous breed in the United States and Europe. The standard market forces paradigm is often used to determine puppy pricing.
Therefore, would anyone offer one-third or less of the amount for a lovely dog? The response is no unless there is a swindle to be had.
Their Testimony Will Touch Your Soul
On Craigslist, and increasingly more commonly on Facebook, you will discover several advertisements offering a genuine French Bulldog puppy "Free to a Good Home" or "Must Transfer, Can't Bring Our Lovely Dog."
These advertisements often state that a rehoming fee is required. Then, when you contact them, you discover that the charged additional costs are high or that the rates increase as you contact them.
Swindlers know you have emotions and would want to give a dog in need a wonderful home, but don't believe their advertising.
They Will have that one-of-a-kind color or size
Meanwhile, Blue, Sable, and Chocolate Brindle French Bulldogs are popular among fans, yet they are scarce. Several unscrupulous fraudsters will be aware of this as well.
They enjoy the benefits of hard-to-find hues by stealing images from Google and passing them off as their own. These pups don't always exist.
How to Avoid Being a Victim of a Puppy Fraud
Spend Some Time Researching Your Vendor
Search your breeder's email account or contact details with "feedback." People who have been swindled want to defend everyone else and will mostly report a con artist to the Better Business Bureau or on Google Maps.
You may always get recommendations from a competent breeder. Responsible breeders would like to be beneficial and demonstrate how delighted their puppies' family is. Often these breeders are proud of their puppies and want their customers to applaud their efforts.
Click on their Facebook page, click on their profiles and look for Red flags.
Pick Up The Phone and Call The Breeder
Legitimate breeders will have a way for you to speak with them.  It is fine to start with a messenger conversation but you should pick up the phone and talk to them.  Have some questions ready to ask the breeder.
If the so-called "breeder" isn't able to speak to you on the phone run the other way.  You're likely dealing with a scammer.
Organize to Meet the Parents
It's vital to know that introducing a new dog to your home establishes a long-time commitment. Therefore, it is understandable to see where the French bulldogs were brought up and meet their parents, if not both. Examine the area where they are housed. Is it hygienic? Is it odorless? Likewise, concentrate on the dam's situation. She must be clean, healthy, and happy.
Take Your Puppy to a Vet for Examination
Among the most tragic consequences of a Frenchie, puppy deception is when you hold the lovely fur-ball in your arms and are completely in love, only to discover that it is unwell or not the breed you imagined.
Before seeing the youngster and its mother, make sure you are acquainted with the French Bulldog Breed requirements. Do not be scared to request documents for your dog and its parents. Similarly, do not transfer any funds until you have confirmed the authenticity of the documents. Organize a DNA test before taking the puppy home.
Inquire with your vendor about accompanying you to your veterinarian to ensure the puppy's wellbeing. I read Craigslist postings advising that a dog someone took home was infected with illnesses like parvo. These schemes are harmful to both the canines and the new owner. Ensure your French Bulldog is healthy before bringing it into your home.
Fake Testimonials
A review aims to provide social validation: you can receive information from other consumers about their experiences.
It appears to be more trustworthy than listening from the vendor, particularly if it comes from the client's social network profile.
Fraudsters are fully aware of this and have developed advanced tactics for generating phony online profiles and posting recommendations. Be cautious because it's possible to purchase the following, remarks, likes, or testimonies.
You may identify these frauds by looking at the reviewers' profiles. Do they have any images of their dog or anything else? Do they have any other contacts?
Must You Purchase from a Reputable Breeder?
Skilled French bulldog vendors are mostly in great demand, with large wait times that might make other solutions considerably more appealing if you are not willing to wait.
However, there has been a regrettable increase in unethical breeding techniques and puppy farms, where famous dogs are bred in substandard and sometimes hazardous circumstances for huge profits, with no genuine care or importance attached to the dogs.
When purchasing a puppy, it is critical that you see it engaging with its parents and that you are aware of its pedigree. Unsafe mating may result in inbreeding and the merging of unsuitable breeds, leading to poor health ranging from trouble respiratory to disease susceptibility.
If you need a purebred French Bulldog, you receive what you spend for, and although there may be a long wait and a somewhat greater price tag, you will be guaranteed a strong and productive Frenchie.
Number of People Who Puppy Frauds Has Affected?
According to BBB statistics, more than ten thousand fraud claims about "companies" offering French bulldog puppies have been received in three years.
According to the FTC, approximately ten per cent of respondents disclose these offenses, so the actual figure might be significantly higher.
Sixty per cent of these claims said that the customers never got the dogs they ordered, while others acquired pets with health or hereditary issues and did not get paperwork for their puppies.
What Should You Do if You Suspect a French Bulldog swindle?
Although there are Forums, Reddit sites, and other internet blogs devoted to exposing Bulldog puppy scams. There are a few formal organizations you may complain to if you've been a casualty of a hoax or are worried that a breeder you discovered is not legitimate.
Immediately you feel you have been the prey of a swindle, call your local police authorities and your financial institution if you've already spent on the pet. The longer you wait before notifying, the more difficult it could be to bring charges or even find them.
There are many venues to file French Bulldog frauds, including:
com: The website gathers and informs on proven pet-selling frauds online and maintains a thorough database of current fraudsters. Inform them of fraud.
Better Business Bureau: it's a non-profit organization that promotes responsible business practices in the United States and Canada. The BBB is not associated with any government agency or company. While they cannot promote or support any particular services, they can provide a reporting mechanism for internet scams.
In Summary
Practically everybody shops online in the current digital age, even while looking for a new dog. Do not worry if you know what to look for; it's simple to recognize puppy frauds available on the internet. Knowing what to ask makes it much simpler to locate a reputable breeder.