Seeing your Frenchie suffering from anxiety, loss of appetite, fear of loud noises, epilepsy, or any other problems is not easy as a pet owner. You want to do everything you can to keep your pup happy and healthy.

The best CBD treats for dogs may be able to help alleviate any pain or stress your dog is experiencing to keep them calmer and more comfortable. We've researched five of the best options for you to consider when selecting a CBD treat for your French bulldog.
How to Choose the Best CBD Treats for Your Frenchie
Look for Quality CBD Oils
First, and foremost, when looking for the best
CBD treats
for dogs, you want to look for products that use quality CBD oils. All CBD oils are not the same. Looking for a product that contains less than .3% THC will help ensure that the CBD is safe for your dog and will not produce that 'high' effect.
Finding treats made using a full-spectrum
CBD oils for dogs
can help ensure you have selected a high-quality product for your dog. Full-spectrum CBD oils include proteins, fatty acids, chlorophyll, and other components that are not found in CBD isolates, making them more effective.
It is also important to look for a company that conducts third-party testing on their CBD oils. This allows you to see the breakdown of each batch of CBD and can help you feel confident that what the company says is in the product is what is actually there.
Another important thing to look for when selecting a high-quality CBD product is hemp that is grown in the United States. This will mean the hemp is subject to more regulations, and can provide you with more confidence that no questionable methods were used when growing the hemp or creating the treats.
Select the Appropriate Treat Type
Once you start looking at
CBD treats
for dogs, you'll quickly realize that there are many options available. Some treats are formulated for dogs suffering from stress or anxiety, while other options are designed to support a healthy heart, provide relief from pain, reduce inflammation, or support healthy joints. Think about your purpose for seeking
CBD treats
for your dog, and choose a product accordingly.
Choose the Right Dosage for Your Dog
Finally, pay attention to the amount of CBD oil contained in each treat. Keep in mind that it is generally recommended to start with a dose between 1 and 2 milligrams of CBD oil for each 10 pounds your dog weighs. However, since every dog is different, the specific amount your dog will need may vary.
The reason you're choosing to try
CBD treats
will also likely impact how much they need. For example, a Frenchie who is suffering from pain may need a higher dose than a Frenchie with anxiety.
Frequently Asked Questions
Could CBD treats help my dog?
Formal scientific studies are still needed to learn more about CBD oil treats for dogs, but there is a lot of encouraging information that suggests that dogs can benefit from CBD oils. Many dog owners who have given their dogs
CBD treats
have reported that adding the CBD to their dog's routine has helped to provide relief for pain, control seizures, and keep their anxious dogs calmer.
Will CBD treats make my dog high?
No, CBD is not the same as THC. While CBD, or cannabidiol, is derived from cannabis, it does not contain enough THC to get dogs 'high.' Rather, the chemical structure of CBD can be very effective at helping dogs (and humans) feel calmer, more relaxed, and less anxious.
How could CBD treats help my dog?
While more studies are still needed, based on reports from pet owners,
CBD treats
can help with a variety of ailments in dogs. These include anxiety, inflammation, epilepsy, nausea, fear of noises, and pain.
How much CBD should my dog get?
Since every dog will react differently, there is no set rule for exactly how much CBD you will want to give them. Most experts recommend to start with between 1 and 2 milligrams of CBD oil for every 10 pounds. This means that if your French bulldog weighs about 20 pounds, you'll want to start with between 2 and 4 milligrams of CBD.
After starting with the treats, watch your dog to see how they react. If the dosage seems too high, try breaking the treats in half or choosing an option with a smaller dose. If you don't notice a change in your dog's symptoms, try to slowly increase the amount you give them.
A 20-pound Frenchie may need anywhere between 2 milligrams and 6 milligrams of CBD in order to experience the greatest benefits. They'll likely need a lower dose if you're looking to provide relief for therapeutic problems, such as anxiety and a higher dosage for managing epilepsy or other medical conditions.
The Best CBD Treats For Dogs – Product Recommendations
NOTE:  Use Coupon Code Frenchie20 to save 20% on your purchase with this awesome CBD dog treat!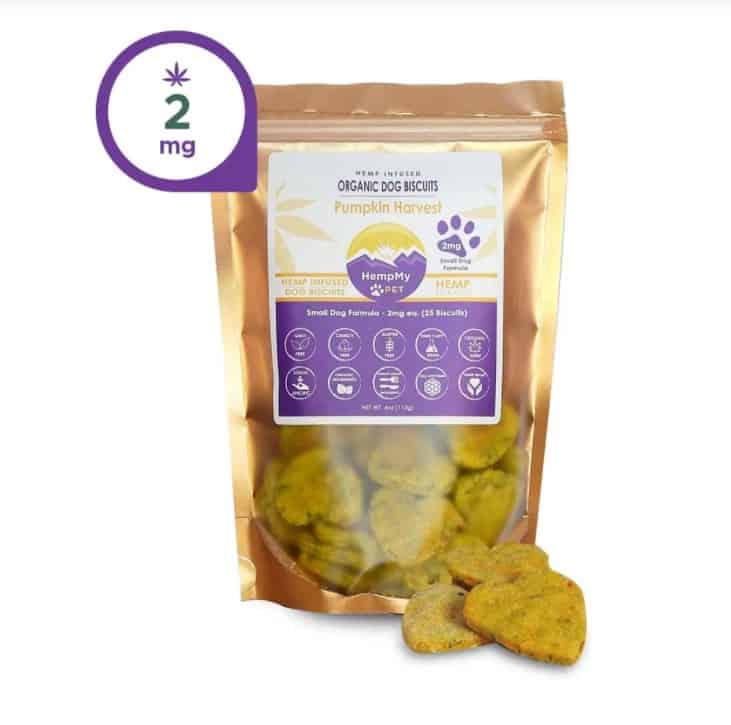 HempMy Pet Hemp Infused Pumpkin Harvest Organic Dog Biscuits are our top recommendation to consider when you're looking for best CBD treats for dogs. These biscuits contain 2 milligrams of CBD, making them a good option for smaller dogs who may require less CBD oil for managing anxiety. They are made using human-grade, organic ingredients. The formula is cruelty-free, GMO-free, and gluten-free, helping you feel good about what you are choosing to feed to your dog.

HempMy Pet uses only full-spectrum hemp extract to provide the greatest benefits for your dog. Full-spectrum CBD is more natural, less processed, and more effective than CBD isolates you may find in other treats. HempMy Pet uses third-party testing to provide customers with a certificate of analysis for the components of their treats.

These treats come in a heart-shaped pumpkin biscuit that your Frenchie is sure to enjoy.

Pros
• These are a good option for Frenchies who don't need a large dose of CBD.
• They are made use full-spectrum hemp.
• The pumpkin flavor is likely to be a hit with your dog.

Cons
• If your dog will need a high dose of CBD oil, you will likely go through the bag of treats rather quickly.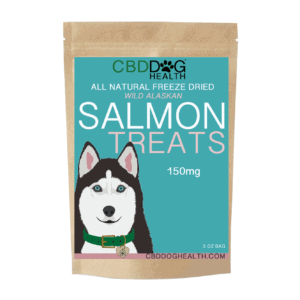 Frenchies are sure to love the CBD DogHealth Freeze Dried Salmon treats. These treats are formulated with full-spectrum hemp extract, protein, and fatty acids to deliver the greatest benefits possible for your dog. They can be used as either a treat or a meal topper, depending on your needs and your dog's preferences.

These treats are made using quality, wild-caught Alaskan salmon. They are freeze-dried in their raw state to preserve the nutrients in the salmon and provide your dog with a treat that is tasty, safe, and effective.

No pesticides or herbicides were used when growing the hemp used to make these treats. Additionally, they are made using non-GMO hemp.

With just three ingredients, you won't need to worry about giving your dog anything questionable. The treats include just full-spectrum hemp extract, vitamin E, and Alaskan salmon.

About 4 milligrams of CBD is contained in each treat.

Pros
• You can use this product as a treat or a meal topper.
• They are made using wild-caught Alaskan salmon.
• No herbicides or pesticides were used on the hemp when it was growing.

Cons
• The hemp used in these treats is not organic.


The HolistaPet CBD Dog Treats +Stress & Anxiety Relief are specially formulated to help calm anxious dogs. These treats have a green apple and peanut butter flavor, which is sure to make them a big hit with your Frenchie.

Only organic and vegan ingredients are used when making these treats. They do not contain any artificial flavors, animal by-products, wheat, or cornmeal.

To aid with the anxiety-relieving properties of the CBD oil found in these treats, L-theanine, chamomile, and hemp seed powder were also added. If your Frenchie suffers from separation anxiety, seems terrified of thunder or other loud noises, or has a nervous stomach, they'll like benefit from these CBD oil treats for dogs.

Each treat contains 5 milligrams of CBD.

Pros
• These treats are made using natural, organic ingredients.
• Other ingredients that can aid with reducing anxiety, including chamomile, L-theanine, and hemp see powder, are added to the treats.
• Third-party lab testing is conducted to verify the composition of the treats.

Cons
• If your dog is more likely to enjoy a meat-flavored treat, you may want to choose a different option.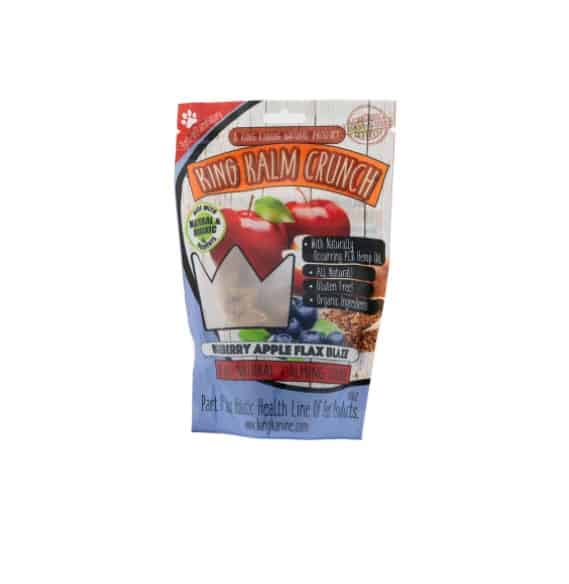 Another great option to consider is the KING KALM™ Crunch CBD Treats. These treats are made using organic ingredients that have been specially formulated to help calm dogs by a licensed holistic physician and nutritionist. They have a delicious blueberry apple flavor.

To maintain ideal levels of nutrition, the KING KALM Crunch CBD treats are baked very slowly at a low temperature. They are then dehydrated to preserve the nutrients. Each treat contains 3 milligrams of CBD oil and has 0% THC, making them a safe, yet effective option, for your French bulldog.

In addition to the quality CBD oil from KING CALM, some of the other ingredients found in these treats include blueberries, apples, honey, sweet potatoes, eggs, flax seeds, and gluten-free oat flour. These ingredients will help provide antioxidants, macronutrients, and micronutrients to your dog.

Pros
• A licensed holistic physician and nutritionist formulated the treats to aid with anxiety in dogs.
• The treats are baked at a low temperature and dehydrated to ensure the nutrients are preserved.
• They contain 0% THC.

Cons
• A bag of treats is more expensive than some of the other products we reviewed.


[lasso ref="kingkongcbd" id="30641″ link_id="3199″ rel="kingkongcbd"]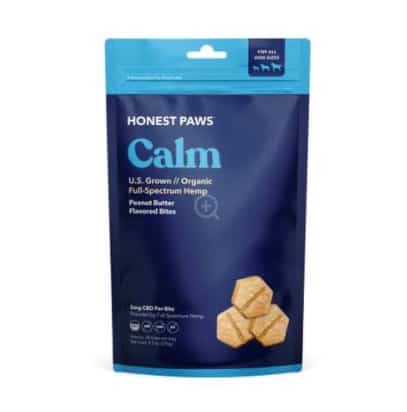 The Honest Paws Calm CBD Treats are formulated to help reduce your dog's anxiety. These treats are made using organic hemp and human-grade organic ingredients. No harmful additives or any other questionable ingredients are found in these treats, allowing you to give them to your Frenchie with confidence.

Honest Paws uses only full-spectrum hemp oil. Their formula is designed to help calm dogs who suffer from anxiety or nightmares, have a troubled past that causes them stress, or bark or pant too much. Third-party testing is also conducted on their products to verify they contain safe and appropriate levels of CBD.

Within an hour of giving your dog one of the Honest Paws Calm Peanut Butter Flavored Bites, you'll likely notice that they are more relaxed and not acting out. The company backs your purchase with a 30-day money-back guarantee.

Each bite contains 5 milligrams of CBD.

Pros
• This option is made with human-grade organic ingredients.
• The treats are made with a full-spectrum hemp oil.
• A 30-day money-back guarantee protects your purchase.

Cons
• Finding an effective dosage for your dog may take some time.
The Best CBD Treats For Dogs – Conclusion

After conducting our reviews of the five CBD treats listed above, we decided that the CBD DogHealth Freeze Dried Salmon Treats were our favorite option. Your Frenchie is sure to love the taste of these treats, which will make it easy to ensure they receive the correct amount of CBD they need to stay calm and content.

The company that produces these treats uses a high-quality CBD oil. They use only full-spectrum hemp oil that is analyzed by a third-party lab.

Only natural ingredients are found in these treats. They are made using just three ingredients: full-spectrum hemp extract, Alaskan salmon, and vitamin E. Nothing is else is added that may make you question how safe or effective the treats will be for your dog.

Each treat contains 4 milligrams of CBD oil, which should be a good dose for a French bulldog. However, if it is too much or not enough, you can always break the treats in half to accommodate the individual needs of your dog.



References:

https://www.austinchronicle.com/daily/events/2019-12-18/cbd-for-dogs-the-ultimate-buying-guide/

https://www.austinandkat.com/blogs/blog/how-much-cbd-should-i-give-my-dog

https://www.healthline.com/health/cbd-vs-thc

https://www.preventivevet.com/dogs/what-to-know-if-you-want-to-give-your-dog-cbd-cannabidiol

https://www.akc.org/expert-advice/health/cbd-oil-dogs/