Keeping My Frenchie Happy, Healthy, and Protected: Embrace Pet Insurance Review
When I was a novice pet owner, it never occurred to me to purchase pet insurance. But you never know when disaster will strike, be it in the form of injury, illness, or anything in between. That's why when I brought my Frenchie Augie home for the first time, I knew I had to protect him in any way possible. Amid significant research, I ended up choosing Embrace Pet Insurance to keep my buddy safe.
Who Buys Pet Insurance?
Trust me, I thought the same thing when I was first researching the idea of buying some extra protection for Augie. I thought that the people who bought pet insurance were the same people that gave their pet a spot at the dinner table and fit them with a bib for mealtime. But you don't have to be a celebrity to care about the wellbeing of your pet. And, of course, if you're 100% positive your pet is going to be safe and healthy their entire life, then pet insurance isn't for you. Or, if you can handle covering thousands and thousands of dollars worth of emergency vet bills out of pocket, you won't need pet insurance either. But if you're someone like me, an average joe who just wants to protect their pet at a reasonable price, and make sure that they'll be taken care of if anything unthinkable
does
happen, then it's my recommendation that you
purchase pet insurance
on your furry little family members.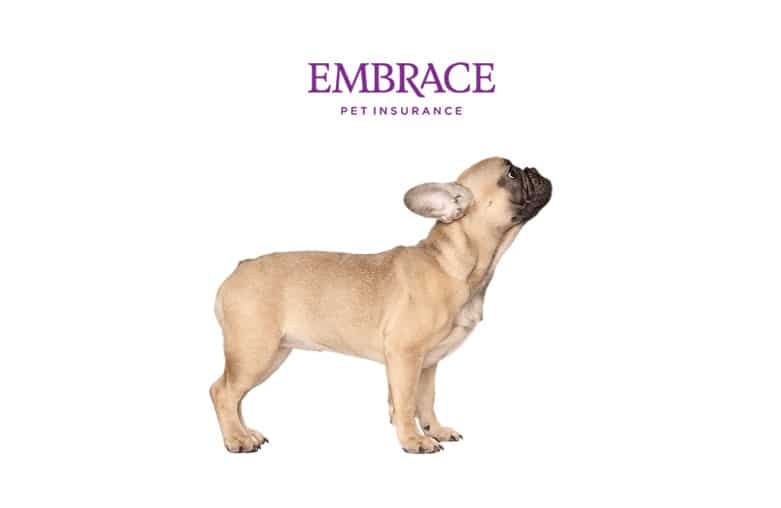 Embrace Pet Insurance is a company that promises to give your best friend the pet insurance they deserve. With coverage for accident and illness, wellness rewards, and complete protection for your pet, I will admit I was immediately enthralled with the product. There
are
many benefits, including:
Coverage of exam fees
No networks
Personalized plans to fit your budget
However, as with any product, there
are
also downsides.
Generally expensive cost
Somewhat pricey deductibles
Pre-existing conditions are not covered
In my opinion, it really comes down to the price. Are there less expensive
options for pet insurance
? Yes. But do those other options have the same amount of benefits as Embrace dog insurance? No. It's all about balance; how much do you want to pay, and what benefits do you need in your pet insurance? And while there
are
other options for pet insurance out there, Embrace is the company that made the most sense for my family and me. If you would like to do some research of your own, here is a link to the
Top 9 Pet Insurance Plans of 2020
. And if you
don't
want to do your own research, no worries, as I will go over a few other options for pet insurance below!
[lasso rel="embrace" id="30720″ link_id="3200″]
What Makes Embrace Dog Insurance Stand Out to Me?
Coverage of Accidents & Illness
No one goes into owning a pet thinking that they're going to get sick, or that they're going to be severely injured. That being said, it
does
happen. When I was a much younger pet owner, I had a Golden Retriever, Mitzy, who I loved to death, but one day she got very sick. She was incredibly lethargic, vomiting, and I knew that something was wrong. It turned out, after several trips to the vet and specialists, that she had a cancerous growth on her stomach. Thankfully they were able to remove it, and Mitzy lived a happy and healthy life, but the costs I faced from the surgery, vet visits, and recovery period were astronomical. If I'd had pet insurance before, I would've saved myself thousands of dollars in vet fees, which is why I love how wide-ranging Embrace Dog Insurance is. They cover nearly
everything
, from diagnostic testing all the way through to surgery and rehabilitation. And it is definitely cheaper than the vet fees I had to pay to make Mitzy better.
Breed-Specific Conditions
As the owner of a lazy, plump, and all-around adorable Frenchie, I know a thing or two about the breed. All in all, Frenchies are not known for being the healthiest of breeds and can suffer from a long list of genetic health problems. Although they make up for it with their adorable faces, the vet bill from owning a Frenchie can add up
very
quickly. That's another reason I am very relieved at the fact that Augie is an Embrace Insurance Dog; their pet insurance covers breed-specific conditions. If you have a dog whose breed is relatively healthy, like an Australian Shepherd or Border Collie, this might not be the most important feature for you. But if your pet is at risk of suffering from genetic health problems, anywhere from allergies to Von Willebrand's Disease, this is a feature you no doubt will want to look into.
Dental Illness
If you are a pet owner and haven't had to deal with your pet's dental illness, count yourself lucky. For everyone else, you know what a pain it can be when your dog has an issue in their mouths. From fractured teeth to gum disease, when your dog's mouth hurts, they'll make sure you know it by refusing to eat and pretty constant whining. That being said, dental work (especially on animals) can be very time consuming for vets, and therefore very expensive. Augie has had to have a few teeth extracted, which is why I was so relieved to find out that Embrace covers dental illness up to $1,000/year. If like me, your pet is prone to some mouth-pains, this is a good feature to consider in a pet insurance plan.
Customization and Discounts
Every pet, and pet family, is different and requires different coverage options. I
love
that Embrace Insurance is customizable because you shouldn't be paying for more than you're going to use, right? In making a plan for Augie, I got to choose my annual reimbursement limit, deductible, and reimbursement percentage.
The other thing that got me excited during this process was the extra discounts I was able to earn!
Embrace offers a multi-pet discount
of 10%, so if like me you have more than one fur-baby in your family (I have a very plump orange kitty who suffers from diabetes and blindness), you will receive a pretty hefty discount. And, if you're a member of the military, you can count on another 5% off. These customization and discount features drove me to purchase Embrace, giving me peace of mind that if anything unthinkable
does
happen to one of my pets, I will be able to take them to the vet without worrying about how much it's going to cost.
Don't Take My Word For It
I can go on and on about how making Augie an Embrace Insurance Dog was a great decision, but I'm just one guy, and although I've had my fair share of pets, I don't think I can consider myself a "pet expert". I've included some other consumer's opinions, and an Embrace Pet Insurance review, so you can see just how much
other
people love their pet insurance, too!

See current Embrace Pet Insurance Reviews HERE
Other Pet Insurance Options
If you think Embrace Insurance isn't the right choice for you, that's totally fine! There are plenty of options when it comes to ensuring your pet's safety, and they all feature different customization and healthcare options that might be a better fit for you and your fur-family than Embrace is!
You've probably heard of Nationwide Insurance for home or auto insurance, but did you know they can ensure your pet as well? Like
Embrance
, Nationwide:
Covers a wide range of your pet's health issues
Feature customizable insurance plans
Cover your pet's possible hereditary issues
Unlike Embrace, Nationwide:
Only offers a 5% discount for multi-pet homes
Claims to have an easy and efficient claims process
Can be added to an existing insurance plan with Nationwide
Another good pick for pet insurance is ASPCA Pet Health Insurance. Now, when you think ASPCA, your mind might immediately wander to the teary commercials of abused animals featuring a sad Sarah McLachlan song, but rest assured, the ASPCA is just as good at insuring animals as it is at rescuing them. ASPCA Pet Health Insurance features similar features to Embrace, like:
Customizable insurance plans
Freedom to use any veterinarian
Coverage of hereditary conditions
However, ASPCA Pet Health Insurance also:
Is relatively cheap compared to Embrace
Is considered the best option for multi-pet homes
And, finally, if you're looking for the
best pet insurance
for the lowest price, turn your attention to Healthy Paws. Comprable to Embrace Insurance, Healthy Paws:
Has customizable plan options
Generally does not cover pre-existing conditions
Covers a wide range of issues, including dental problems
Healthy Paws also:
Is considered the best option for overall value
Is relatively inexpensive compared to Embrace
Like I've admitted previously, I never would've thought that Pet Insurance was something that would change my life, but I will
never
own a pet without purchasing pet insurance for them for the rest of my life. I love Embrace and decided to write this Embrace Pet Insurance Review so that I could share with the world the help that Embrace has shown me. Without Embrace Insurance's wide-ranging coverage and flexible insurance plans, I might not have had enough money to pay for my animal's health problems. Now, I can rest easy knowing that if there is a problem,
Embrace
has my back.
[lasso rel="embrace" id="30720″ link_id="3200″]