As a dog parent to a French Bulldog puppy, we may often find ourselves conflicted over what to feed it. What is the best food for a French Bulldog puppy? What food will give it all the important nutrients it needs to grow into a healthy adult?
Here's everything you need to know about the dietary requirements of a French Bulldog puppy. Read on to discover more. 
French Bulldog Dietary Requirements
French Bulldog puppies are notorious for gulping everything that's placed before them. Little wonder that this breed of dogs is prone to obesity once they grow up. This means as a dog owner, the responsibility of providing them with healthy and well-balanced meals lies on you alone.
The dietary requirements of French bulldogs change as they age. For example, the dog food suitable for an adult French Bulldog may contain too small an amount of calcium to sustain a growing puppy. You must therefore ensure the dog food they consume is at par with their body's nutritional needs. 
A French Bulldog puppy also needs the right combination of fats, fibers, proteins, carbohydrates, vitamins, and minerals to maintain optimal health.
The best food for a French Bulldog puppy is the key to your puppy's development and growth.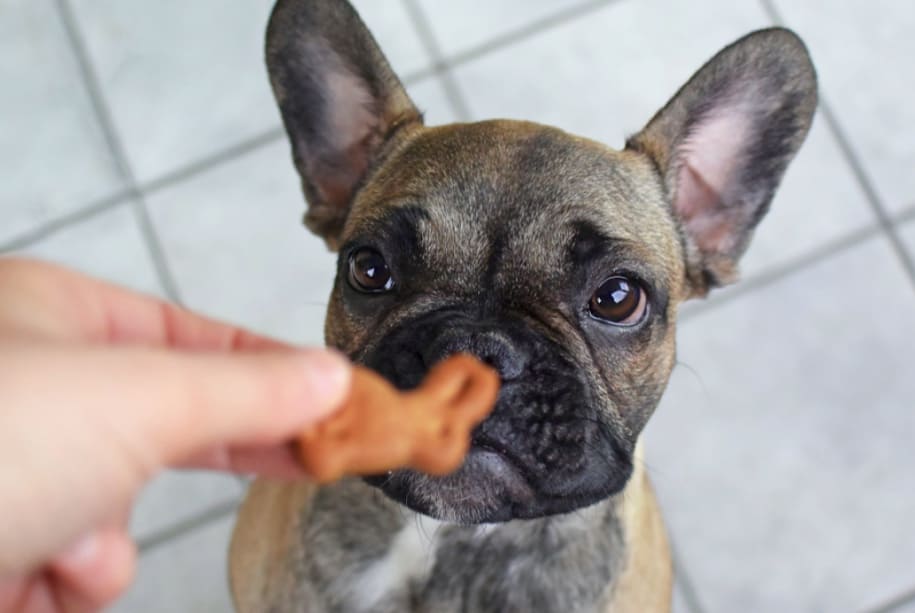 The Best Food For a French Bulldog Puppy
What do French bulldog puppies eat? French Bulldogs don't have a limited food palate. They do not have any major health concerns either. However, that doesn't mean you should disregard the importance of a balanced diet for their health.
Listed below are some of the best foods for a French Bulldog puppy. 
As the name suggests, the Royal Canin French Puppy Food is formulated specifically for puppies. 
Made from chicken, rice, and dried beet pulp, Royal Canin French Puppy Food contains a lot of nutritional supplements. The fish oil, vitamins, and minerals like calcium iodate, folic acid, and zinc oxide work to keep their coat healthy and strengthen their bones and teeth.
Royal Canin also has an adult formula variant available. So, transitioning from puppy to adult food will be easy on your pet. Frenchies seem to love Royal Canin and paired with its easy accessibility, there's no reason why you should not feed your Frenchie this nutritional dog food.
 Blue Buffalo's Life Protection Line is a protein-rich formula and has zero harmful ingredients. You know the drill, no preservatives, no color, and no flavor, just plain old nutrition.
It is made with whole grains, high-quality deboned chicken, and antioxidant-rich vegetables and fruits. 
The formula encourages growth and development in French Bulldog puppies. The kibble is puppy-sized, perfect for your Frenchies' small jaws.
The main reason why Canidae is a fan favorite is that it is very delicious. It also aids digestion. Once you have given your puppy a taste of Canidae, you'll have a tough time getting them to like any other dog food.
With ingredients like potatoes, chicken, turkey, and beans, Canidae takes care of your dog's health by providing them ample nutrition. It's formulated to keep your dog active while keeping the calorie count in control. Canidae does not contain any artificial colors, preservatives, and/or anonymous meat ingredients which is a huge plus.
One of the variants of Canidae, Canidae Pure Grain-Free L.I.D is considered to be the best food for French bulldogs with skin allergies. Formulated with grain-free but fiber-rich carbohydrates, this limited-ingredient diet contains salmon as a single source of protein, which makes it great for Frenchies with allergies.
The grain-free recipe from Taste of the Wild provides a unique blend of proteins, vitamins, fats, and minerals for small-breed dogs. Packed with venison, lamb, and duck, this recipe also contains fresh fruits and veggies. Taste of the Wild provides quality nutrition and the probiotics required for healthy digestion. 
This recipe also contains less fat, mostly derived from chicken fat and salmon oil. As French Bulldogs are prone to obesity, the formula of Taste of the Wild can help in the battle of the issue.
Specifically formulated for small breeds, the Purina Pure recipe is perfect for your French Bulldog puppy. Frenchies have a huge personality, yes, but they still have a small frame which means they require small bite-sized kibbles. Lucky for your pup, Purina Pure understands that.
This formula e contains grains in the form of rice, which is ideal for Frenchies who are prone to allergies or have a sensitive stomach. It is loaded with all the essential nutrients required for your Frenchie to transition from a little puppy to a full-fledged adult.
The above-listed options are the best French bulldog food recipes of 2021. If you're looking for optimal health and development for your Frenchie puppy, they're the way to go. Of course, if your puppy has special requirements, it'll be best to do your research before you check any of these out!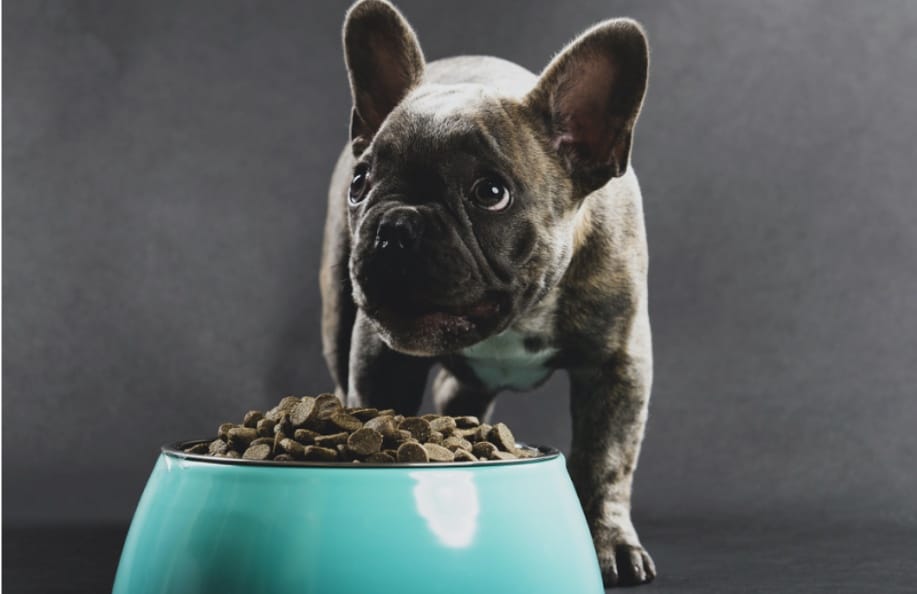 What You Should Keep in Mind While Selecting Dog Food for Your Frenchie
?
When looking for dog food for your French Bulldog pup, ensure the food you choose supplies them with all the necessary dietary requirements while keeping a check on their calorie intake. 
Your puppy gaining a few pounds may not look like much of a problem but as French Bulldogs are prone to obesity, it can escalate to a full-fledged health issue really quick. 
Frenchies are small dogs, so their gut health is a delicate matter. When you go food hunting for your Frenchie, make sure you pick a formula that meets these requirements:
Wholesome ingredients

High-quality protein sourced from animals like poultry and fish

Low-fat content

Moderate calorie count

Nutritionally complete
Additionally, steer clear from dog foods that contains:
Excessive proteins

Animal by-products or artificial additives.

Allergens (depending on what causes allergies to your Frenchie)

Toxins like BHA, BHT ethoxyquin, and sodium selenite

Feeding Schedule for a French Bulldog Puppy
How much should a French bulldog puppy eat? Generally, puppies eat more food than adult French Bulldogs. Feeding them three to four times a day is considered normal. However, not all Frenchies require the same amount of food. You should tailor your French Bulldog Puppy's feeding schedule and quantity according to its weight.
Most of the time, following the portion guide found on the dog food brand packaging does the trick pretty well. 
How To Switch Dog Food Without Getting Your Frenchie Sick?
As your puppy grows, its nutritional needs will change. However, you have to remember that Frenchies don't really stop growing until they reach 9 to 12 months of age. Introducing them to adult food too early can do them more harm than good.
A radical change in their diet can expose them to gastro-intestinal issues like vomiting, diarrhea, and a decrease in appetite. So instead of reaching out for adult food the moment your French Bulldog puppy crosses the one-year mark, make sure you give their system ample time to deal with the change. 
Introduce the new diet gradually, mixing it with the current dog food they consume. Little by little, change the proportion, with an increase in the ratio of adult food to puppy food. In a week's time, your puppy will complete the transition.
Of course, dogs have different temperaments, preferences, and behavior. So if your dog takes more time to transition to a new diet, that's completely fine too! If you notice your dog displaying any signs of sickness even after completing the transition, it's best to consult a vet who can look for the root cause and provide solutions for the same.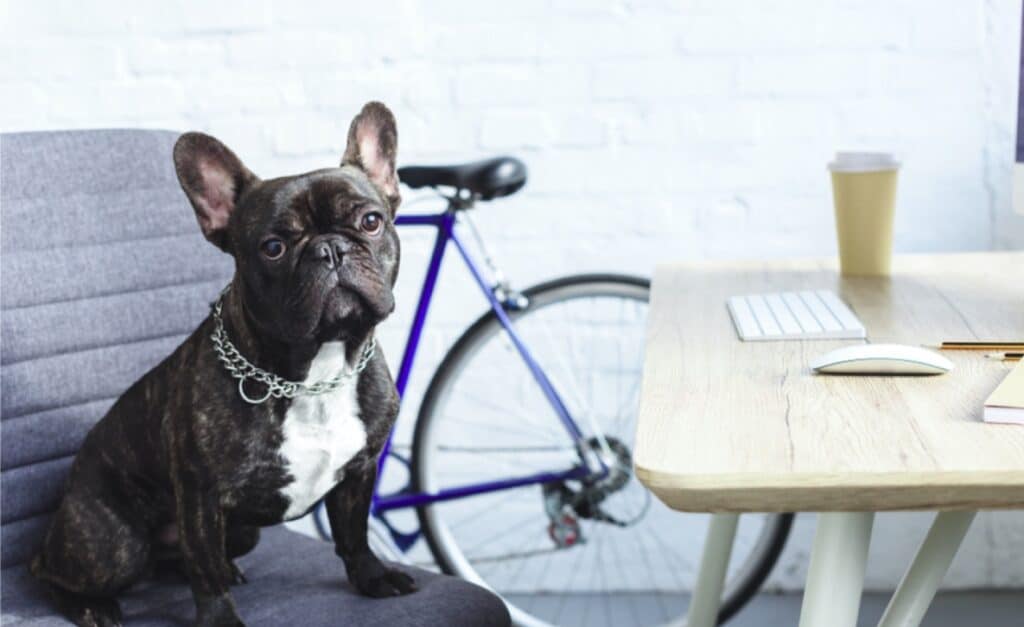 Take Care of Your Frenchie 
Being a dog parent to a French Bulldog Puppy is pretty rewarding. This adorable breed packs a huge personality in a tiny body. Living alongside them is like living a life of constant adventure.
As dog parents, providing your French Bulldog puppy the right diet can be the best gift you can give it as a healthy and nutritious diet will ensure that your pet stays in prime health, and can live life to the fullest.
So, select only the best food for a French Bulldog puppy and watch them grow into healthy and happy adults.
PS – For more French Bulldog nutrition information check this out.  
PPS – Ever heard of the spice Turmeric?  Find out if Turmeric is good for dogs