With those bat-like ears, tiny bodies, and mushy little faces, what's not to love in a French Bulldog? 
Their price maybe—but for most Frenchie lovers, they find a way around that. What's important is how you take care of your pup once you bring it home. One way to ensure that you can keep up with their health and wellness is by purchasing pet insurance.  It was one of the first things I did with my first bulldog and I was darn glad I did it because my Dog Noble tore both her right and left ACL ligaments in her knees.  When we got Augie we got him insured the first week he was home just in case.  
Unfortunately, not all insurance companies and policies are created equal. If you're on the hunt for the best pet insurance for French Bulldogs, there's a lot to learn. Fortunately, this is a good place to start. 
Let's start here.
Is Pet Insurance Worth It For a French Bulldog?
You better believe it.  I have owned multiple bulldogs and for each it has more than paid for itself.  If I didn't have it my Frenchies wouldn't have been able to live long relatively healthy lives.  My first bulldog once tore her ACL (anterior cruciate ligament in her knee).  The veterinarian told me I need to get a TPLO surgery.  Total cost, around $8,000.  The pet insurance covered the majority of it.  One year later her other knee had the exact same thing happen (this happens in about 40% of dogs that experience this issue).  Another $8,000.  If I hadn't had pet insurance my dog and I would have been in serious trouble.  
Another example.  My newest French Bulldog Augie had became ill and started having diarrhea.  A routine Vet visit turned into X-rays, blood work, and an MRI.  In a week I spent $1,600 on medical tests to diagnose what was wrong with my Frenchie.  Once again Pet insurance came to my financial rescue and covered the majority of the costs.  To me, I won't get a bulldog without Pet insurance to protect my dog and I.  Pet insurance is absolutely worth it in my experience.  
Keep reading to learn everything you need to know about protecting your Frenchie's health and wellness.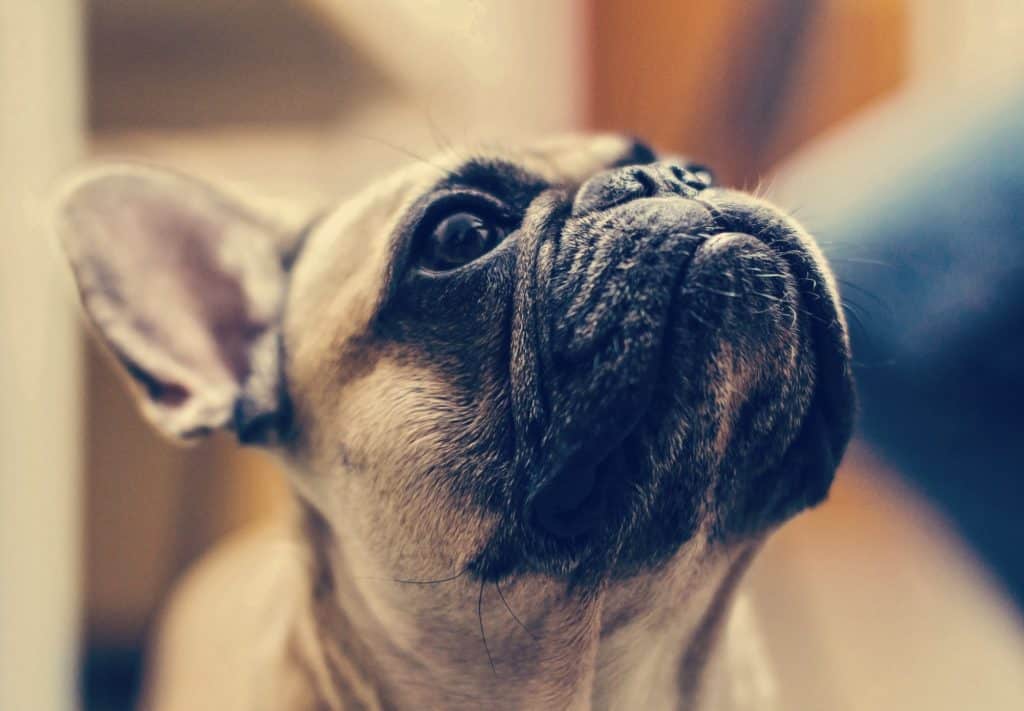 Your French Bulldog Should Be Covered At Any Vet With Pet Insurance
The way most pet insurance policies work is that you go to the Vet to get your dog seen.  The Vet office bills you, you pay, then the pet insurance reimburses you.  This way you can use your Pet Insurance plan at any veterinary practice in the United States.  You should be covered no matter if you take your French Bulldog to a local animal hospital, the emergency vet in your town, or even a mobile pet care clinic.  The bottom line is that a quality pet insurance plan can help you reduce out-of-pocket expenses that you did not see coming.  
Understanding Common Health Issues with French Bulldogs 
Before making any breed of dog a member of your family, it's crucial to research the breed's history in terms of their common health issues. Knowing what kind of problems French Bulldogs have is important.  Frenchies are no exception, especially since they're susceptible to a myriad of health issues. Those issues include:
Brachycephalic Syndrome 
Allergies
Patellar Luxation
A Cleft Palate
Eye diseases including Cataracts, Cherry Eye, Progressive Retinol Atrophy (PRA), and Entropion
Hemivertibrae
Obesity
In addition to this list, Frenchies also tend to suffer from heat intolerance and exhaustion, skin problems, as well as reproductive issues—which are actually very common. 
There are a few ways to ensure that you're getting a healthy Frenchie. Here are a few tips:
Get Your Frenchie from a Reputable Breeder
It's really not recommended to buy a Frenchie from a pet store because you run the risk of bringing home an unhealthy and unsocialized dog which can be difficult to train and also cost you a lot of money in vet bills. 
The French Bulldog Club of America has a referral list of breeders who are bound by the club's code of ethics. These ethics prohibit any of the breeders from selling to pet stores or online.
Make Sure to Get the Dog's Papers
The breeder should provide you with written documentation from the Orthopedic Foundation for Animals (OFA) and the Canine Eye Registration Foundation (CERF), and a PennHip Certification if available.
This documentation proves that your Frenchie's parents were cleared for hip, knee, eye, thyroid, and heart issues. In other words, it's proof of a clean health history that holds the breeder up to the code of ethics.
Establish a Good Contract with the Seller
Whether you get your Frenchie from a decent breeder, a rescue group, or even a shelter, make sure the established contract clearly spells out the responsibility for both parties. This includes understanding the puppy lemon laws in certain states in terms of rights and recourses. 
Take Your Frenchie to the Veterinarian ASAP
Have your vet check out your new Frenchie as soon as possible. They will be able to conduct a thorough examination, spotting any health issues right away. From there they can help you set up a preventative regimen and give you advice to avoid any major issues in the future.
Understanding Their Exercise and Nutritional Needs
The French Bulldog is a small breed, which means they don't need too much exercise to stay healthy. In fact, they're prone to being over-exercised, which could lead to extreme exhaustion and even death. Your best bet is to make sure they get about 20 minutes of exercise each day.
A nice walk will suffice since they have such short snouts. The shortness of their snout prevents them from cooling down efficiently, which can lead to overheating or hyperventilation. So, aside from keeping their exercise sessions light, you also want to avoid walking them during hotter days.
Adversely, Frenchies are also prone to obesity, so you're going to have to keep an eye on what they're eating. Make sure you stick to feeding them a high-quality food with a low fat and carbohydrate content. 
Diet and exercise are universal elements in keeping your pup healthy. It's always best to talk to your vet about what type of food and how much of it is best.
Frenchies are also a breed well known for their companionship. Many would agree that they get a little too attached to their owners. 
They commonly suffer from separation anxiety, which will lead them to wreak havoc around your home. While this is a behavioral issue, this constant state of stress can have severe impacts on your Frenchie's overall health.
Finding the Best Pet Insurance for French Bulldogs
Pet insurance can alleviate the weight on your bank account if an unexpected accident or health issue arises with your Frenchie. It may also be the deciding factor of whether you can afford to do what is best for you beloved dog in the event something terrible happens.  Of course, jumping right into buying a plan without understanding how pet insurance works can become very costly.
To find the best pet insurance for your French Bulldog, you're going to have to understand what the policies cover, what they don't cover, and how deductibles are applied. Here are a few things to look into:
The Rules of Enrollment
Most companies will provide lifelong coverage, but of course, if your Frenchie is too young or too old you may be turned away. You may also be required to have your pet examined by a veterinarian as part of the enrollment process. 
There are also waiting periods, which could be up to two days or two weeks before your policy becomes effective. Make sure you fully understand and accept the enrollment rules.
The Types of Treatment They'll Cover
The types of incidents and treatments covered often vary by the insurer and policy. For example, an accident-only plan will cover injuries and mishaps but they won't cover illness or routine check-ups.
Another thing to consider is continual care. In some cases, if your pup develops a condition, certain policies won't extend your coverage after your policy renewal—unless you pay extra.
You want to be aware of routine care and wellness check-ups, exams, procedures, and behavioral and alternative treatments. This can get tricky since reimbursement for procedures may be covered, but the exams won't be. 
Deductibles and Payout Limits
The deductible is typically the amount you pay out of pocket before the insurance company kicks in their part. In some plans, the deductible is offered annually while others are applied per incident.
You should also be aware of payout limits since some companies will cap the yearly limit for how much they'll reimburse you for covered costs. Limits can vary by year, the lifespan of your Frenchie, type of incident or even condition. 
Pricing and Reimbursement Levels
Policy pricing will also vary by the dog's age and breed, reimbursement level and deductible, type of coverage, and your location. Not all companies reimburse on a benefit schedule approach.  Many reimburse on the actual veterinary bill.  It's extremely important to look into the reimbursement levels as you choose your level of reimbursement—but, that doesn't mean you'll be reimbursed the actual percentage. 
You're going to have to dig deeper and look into each company's maximum payout per diagnosis under what is called a benefit schedule. 
Exclusions
You want to pay close attention to the exclusions. Aside from pre-existing conditions, many plans won't cover things like hip dysplasia or certain genetic conditions.
Our Top Picks for French Bulldog Pet Insurance
Keeping all of the above in mind, we've compiled a list of the best pet insurance for French Bulldogs to help you choose the right company and coverage for your Frenchie.
ASPCA Pet Health Insurance: ASPCA Pet Health Insurances offers coverage for accidents, illnesses, hereditary, and congenital conditions. They also offer up to 90% reimbursement of covered costs and you can go to any veterinarian or specialist of your choosing.
Pets Best Pet Health Insurance: Pets Best has a 24/7 veterinarian support line for all their customers. They offer up to 90% reimbursement of any unexpected vet costs, and there are no annual or lifetime limits.
Embrace Pet Insurance: Embrace offers coverage for exam fees and they have a Healthy Pets Deductible system which reduces your annual deductible by $50 each year that you don't receive a claim payment. You can get a full 90% reimbursement along with comprehensive coverage for both accidents and illnesses. They also have an optional Wellness Rewards program for routine care.
Nationwide Pet Insurance: Nationwide is the first and largest pet insurance provider in the United States. They offer continual coverage no matter what age or condition your Frenchie is in. You can get up to 90% on all vet bills.
PetFirst Healthcare – Founded in 2004, it is under the company known as MetLife and has insured tens of thousands of dogs (and cats) across the United States.  With this insurance you go to the Vet, then submit your claim, and they say they'll pay out within a couple weeks.  
FIGO Pet Insurance: FIGO offers up to 100% reimbursements and offers comprehensive coverage for nearly all conditions, including cancer. They also waive all copays and deductibles on their lifesaving care plan.
These Programs Offer The Best Pet Insurance For French Bulldogs
These companies won't leave you hanging during your Frenchie's time of need. Of course, policy costs will vary depending on your Frenchie's age and where you live.  
Your Frenchie's Health Takes Priority
Don't forget that the best pet insurance for French Bulldogs includes the necessary comprehensive coverage that benefits them the most. This means paying attention to their family's health history and any other factors that may concern you. It's always better to play it safe rather than be sorry.
Have more Frenchie questions? Don't hesitate to contact us with them. And don't forget to browse the site for more information on Frenchie health, news, and more. For a more in-depth look check out my Embrace Pet Insurance Review