I recently came across a game called Farting Frenchies and, as a proud French Bulldog owner, I just had to get it for our family to play.  Every French Bulldog owner has experienced their little "bat Pig" passing some gas and clearing the room – this game leans into that.  Farting Frenchies is a fast paced, family-friendly card game.  In the game, players collect, feed (of course the Frenchies are hungry) and steal each other's Farting Frenchies.  The goal is to win by stealing away Frenchies with unique names as you compete for the top spot.  
The deeper you go into the game the more and more exciting it gets.  Every card you play causes the game to accelerate even faster because the more Farting Frenchies you have the more there are to steal away from your opponents. This game had us laughing like crazy, is simple to learn, extremely family-friendly, and moves quick (only took us about 15 to 25 minutes to play).
Tired of a tedious life at home and picnics? This exciting Farting Frenchies card game is all you need! You can play it anywhere anytime. Just take out your exciting game and begin this Frenchies fun with everyone.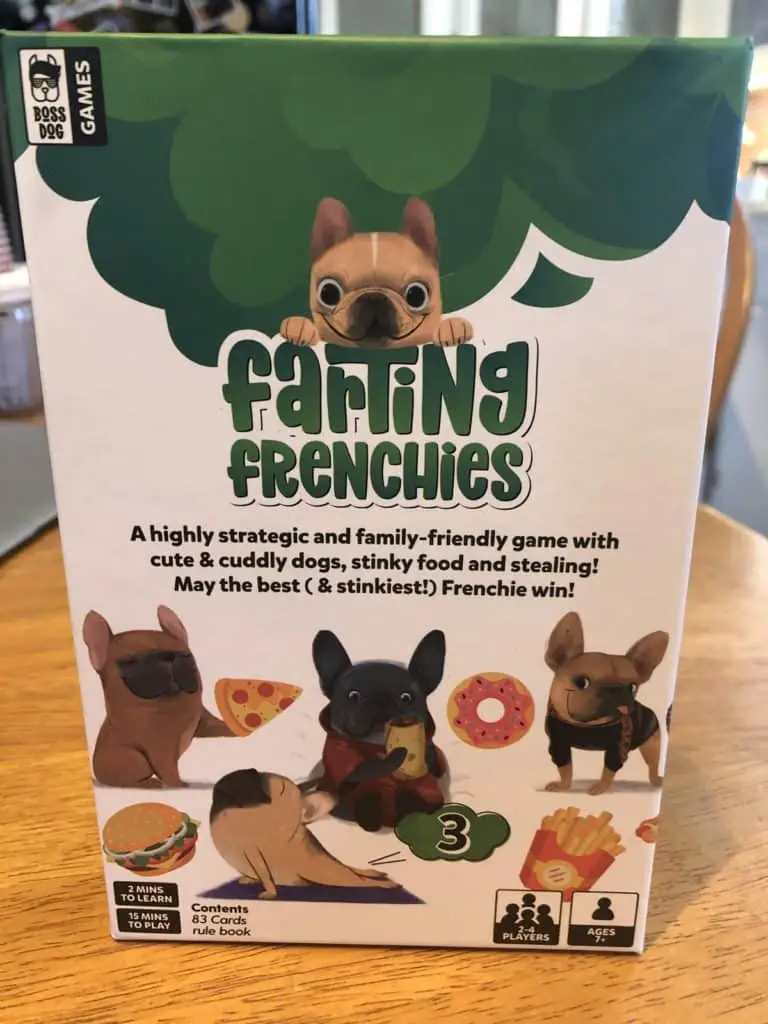 When I originally bought Farting Frenchies I wasn't sure if my family would like the game.  We have a Frenchie Bulldog we love who certainly passes some gas from time to time so I figured it was a worth a shot.  We also had a game cabinet in our living room packed with all kinds of other card and board games so would this just be another game to add to the pile that rarely ever gets played?  Time will tell how it stands the test of time BUT, I'm happy to report our family has played it regularly since we purchased it.  Every time we have played Farting Frenchies the entire family LOVES it and has a lot of fun.   
The base Farting Frenchies game deck comes with a 54 total cards and those include:
15 Farting Frenchies Dog cards
12 Action cards
27 Good Smell and Stink cards
In the section below I go into detail on how to actually play Farting Frenchies. 
If you wondering if my family and I liked this game the answer is absolutely Yes.   After getting our package in the mail we busted it out for game night and had a blast playing it.  
In short, I would definitely recommend this game if you love Frenchies and have kids that like to play games.
How to Play Farting Frenchies
Farting Frenchies is a pretty simple game to play and our family figured it out pretty quickly.  Here's a video on how it works.  
Each player starts with 4 playing cards and 1 dog card.
The goal of the game is to collect what are known as "Stink Cards" (ie.  Midnight Bean Burrito. Half Eaten Anchovy Pizza, A Year's Worth of Homework, or Grandpa's Old Fart Couch) and feed them to your Frenchie.  
On each turn players draw a card from the deck and then you must play a card.  
Here is where you have some options…
1. You can place a Stinky card next to your dog to "get the toots going."
2. You could also diffuse another player's dog by playing a "good smelling card."  
3. You can discard a card
4. Or finally you can play an action card like stealing another player's Frenchie.  
Each Frenchie dog card in the deck has a "Stink level" that lets you know how many stink cards you need to make your Frenchie Fart.  
After you max out your Frenchie's farting capacity you can add a new dog to your fart army.  
The player who builds the biggest farting dog army stinks out their opponents and wins the game!  
Play will continue in the game until the end card is drawn and then the game ends instantly.  The player with the largest stink army then wins the game.  
Pretty simple in concept but it is really fun!  
where to get the farting frenchies game
If you want to give this game a shot for your family it is an easy find online.  You can get this fun and fast-paced Frenchie game here.  
Farting Frenchies is fun For All Ages
The Farting Frenchies game is for players ages 8 and up.  No matter if you're a teenager living with your Frenchie, an adult, or a parent of kids, this Farting Frenchies card game is going to rock your world. The excitement and fun of playing this game is beyond ages. Wherever you think there's need to add some Frenchie Wild Vibes, 'Farting Frenchies is going to be your best option.
We sat down and played the game with a 44 year old (yours truly), a 40 year old, a 16 year old, a 14 year old, and a 12 year old.  Everyone loved it!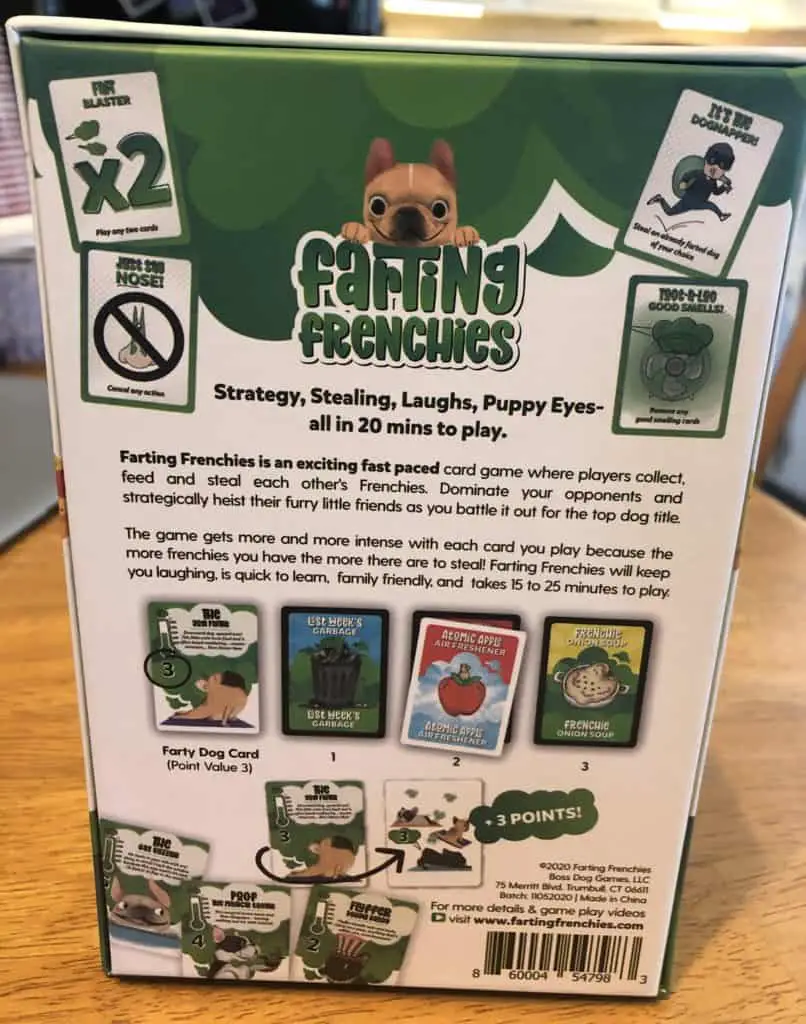 A Treat To Frenchie Owners & Lovers
If you have a French Bulldog with game-loving children in your home, this game becomes a must-have at your home. If you're a Frenchie lover, you would not be able to deny the exciting and exhilarating feels you'll get from this game. The creative names of the Farting Frenchies in the game will put a smile on your face for sure.
Farting frenchies is an Intense and Strategic Game
If you're thinking Farting Frenchies is just another usual card game, you are just unaware of its intense vibes. All the thrill and joy of this game is just because of the intense, fast-paced environment it creates. And it's fun how you learn new tactics and tricks with every new game you play. We noticed the strategy each of our family members used evolved every round of the game.  So, instead of becoming boring with time, Farting Frenchies becomes more compelling.
Endless Fun & Delight
If you're just a few friends to play, or have a get together at home, no worries at all! You can have fun with Farting Frenchies with a bare minimum of two players. This number can go up to eight just in case. So, no problem if you're alone with a friend or in between of a rush, the Farting Frenchies game got it all sorted out!
Farting Frenchies Game Review – Final Words
I am happy to report that we have gotten our money's-worth from our investment in the Farting Frenchies game.  If you are a French Bulldog lover and don't mind some fart humor then this game will probably be a hit.  Well, from all these above-mentioned characteristics of this joyful card game, there's no reason you should miss this out. If not for you, your paw friend totally deserves to have a card game treat dedicated him and only him.
If you want to learn more about this fun game you can do so here.