Picking out a name for your French Bulldog can make your head spin if you let it.  Perhaps you have picked out the perfect French Bulldog puppy and now comes the difficult task of choosing the perfect name for you new Frenchie friend.  Coming up with names doesn't have to be a difficult process and my hope is that this French Bulldog naming guide will assist you in the process of picking out the perfect fit. 

Wondering What To Name A French Bulldog?  French Bulldog Names To Assist You With Your Brainstorming…
Did you know 60.2 Million households in the United States have a dog?  That's a lot of possible dog names!  Below I have put together a large list of possible French Bulldog names so you can get some inspiration, generate some possible ideas, and eventually make a short list of names for your French Bulldog.  Some of these are cute French Bulldog names, some are classy, some are funny, some are nostalgic.  There is no right name only the one that fits perfectly for your Frenchie.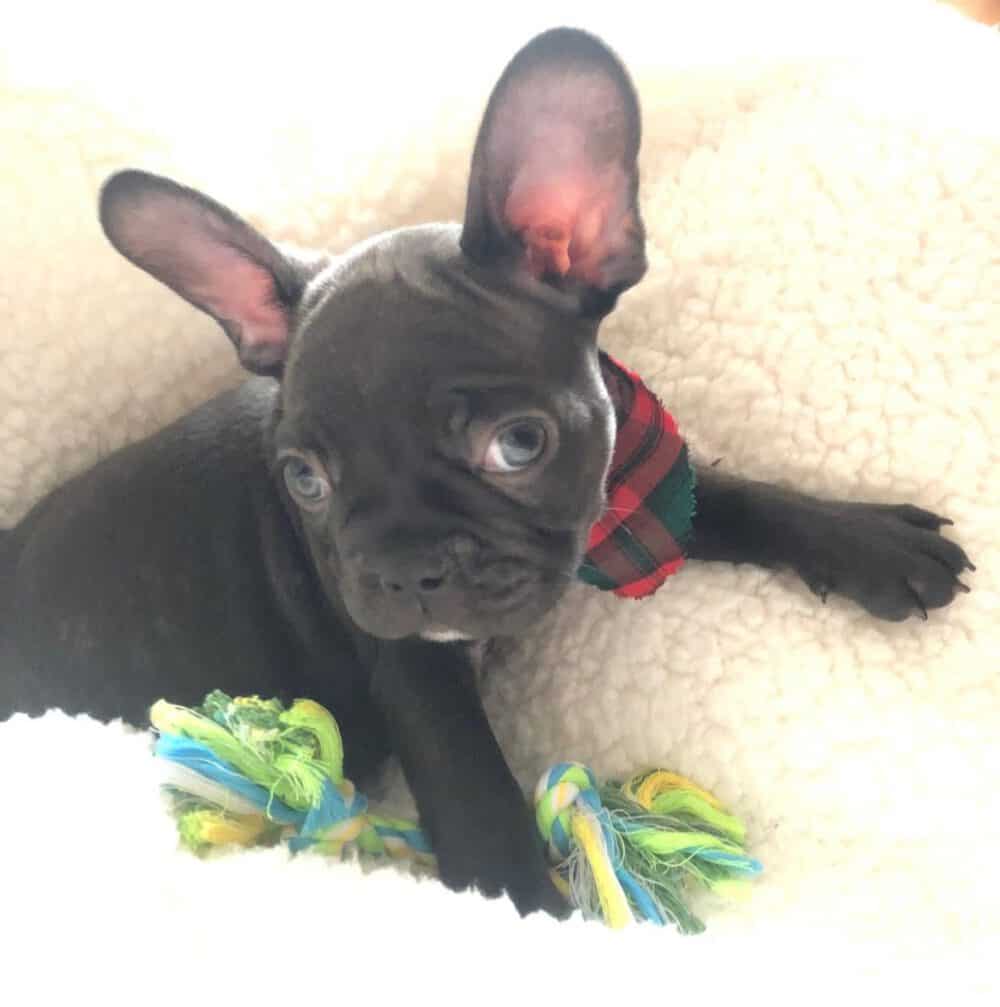 French Bulldog Names To Kickstart The Naming Process
Starting from a blank page and having to think up a name for your French Bulldog can be a challenge.  My advice is to not do it the hard way.  Let the possible French Bulldog names below be a primer to start the brainstorming process.  I have included an exhaustive list of possible Female and Male French Bulldog names to get your creative juices flowing.   
Possible Female French Bulldog Names To Consider
What are good female French Bulldog names?  Look no further as I have put together massive list of female French Bulldog names for you to consider:

Abbie
Abby
Abigail
Adeline
Addi
Ati
Alex
Alexis
Alice
Alyssa
Amber
Angel
Anna
Annie
Ariel
Ashley
Apsen
Athena
Autumn
Ava
Averie
Avery
Babe
Baby
Bailey
Barb
Barbara
Basil
Bean
Beannie
Bella
Belle
Berkleigh
Betsy
Betty
Bianca
Birdie
Biscuit
Blake
Blondie
Blossom
Bonnie
Brandy
Brin
Brinley
Brooke
Brooklyn
Brown
Brownie
Buffie
Buffy
Cali
Callie
Camilla
Cam
Camryrn
Candice
Candy
Carla
Carly
Carmela
Casey
Cassie
Catarina
Cayleigh
Chance
Chanel
Chloe
Cinnamon
Cleo
Coco
Colt
Cookie
Cricket
Crystal
Daisy
Dakota
Dana
Dani
Daniella
Daphne
Darla
Darlene
Darsey
Delia
Delilah
Demi
Dez
Desiree
Destiny
Diamond
Diva
Dixie
Dolly
Duchess
Eden
Edie
Ella
Ellerie
Ellie
Elsa
Ember
Emma
Emmy
Emory
Eva
Faith
Fanny
Fern
Fiona
Foxy
Frankie
Gabby
Gemma
Georgia
Gia
Gidget
Gigi
Ginger
Goldie
Grace
Gracie
Greta
Gypsy
Hadley
Hailey
Hannah
Harley
Harmony
Harper
Hazel
Heidi
Hendrix
Henley
Hershey
Holly
Honey
Hope
Ibby
Inez
Iris
Isabella
Ivy
Izzy
Jackie
Jada
Jade
Jasmine
Jasper
Jenna
Jersey
Jessie
Jill
Jordyn
Josie
Julia
Juliet
Juno
Kadence
Kali
Kallie
Karma
Katalina
Kate
Katie
Kayla
Kelsey
Khloe
Kiki
Kira
Koko
Kona
Lacy
Lacie
Lady
Layla
Leia
Leah
Lena
Lexi
Lola
Lianna
Libby
Liberty
Lily
Lizzy
Lola
London
Lucky
Lulu
Luna
Mabel
Mackenzie
Macy
Maddie
Maddy
Madeline
Madison
Maggie
Maisie
Maisy
Mandy
Marley
Matilda
Mattie
Maya
Max
Mia
Mika
Mila
Miley
Millie
Mimi
Minnie
Missy
Misty
Mitzi
Mocha
Molly
Morgan
Moxie
Muffin
Mya
Nadia
Nahla
Nala
Natalia
Nell
Nellie
Nia
Nikki
Nina
Noel
Nola
Nora
Nori
Ophelia
Oriahna
Olive
Olivia
Oreo
Orion
Paisley
Pandora
Paige
Paris
Peaches
Peanut
Pearl
Pebbles
Penny
Pepper
Phoenix
Phoebe
Piper
Pippa
Pixie
Polly
Poppy
Precious
Primrose
Princess
Priscilla
Quinn
Quaid
Randi
Raven
Reese
Renee
Riley
Rose
Rosie
Roxy
Ruby
Sadie
Sage
Sally
Sam
Samantha
Sammie
Sammy
Sandy
Sasha
Sassy
Savannah
Scarlet
Shadow
Sheba
Shelby
Shiloh
Sierra
Sissy
Sky
Smokey
Snickers
Snow
Snowflake
Sophia
Sophie
Star
Stella
Sugar
Suki
Summer
Sunny
Sweetie
Sydney
Tasha
Teigan
Tessa
Tianna
Tilly
Tootsie
Trixie
Ursala
Uriah
Valentina
Venice
Venicia
Venus
Vicky
Victoria
Violet
Willow
Winnie
Xena
Xia
Yasmine
Yesenia
Yol
Ysabelle
Zahara
Zayla
Zelda
Zillow
Zoe
Zora
Zinc
Zoe
Possible Male French Bulldog Names To Consider 
Wondering what to name your male French Bulldog?  Here is a large list of French Bulldog names for your consideration:

Abe
Abbott
Ace
Aero
Aiden
AJ
Albert
Alden
Aldo
Alex
Alfie
Alvin
Amos
Andy
Angus
Apollo
Archie
Aries
Artie
Ash
Asher
Augie (this is my current French Bulldog's name)
Austin
Axel
Bacon
Bailey
Baird
Bandit
Barkley
Barney
Baron
Baxter
Bear
Beau
Benji
Bennett
Benny
Benson
Bentley
Billy
Bingo
Blake
Blaze
Blue
Bo
Boomer
Brady
Brock
Brody
Brownie
Bruce
Bruno
Brutus
Bubba
Buck
Buddy
Buster
Butch
Buzz
Cain
Captain
Carter
Cash
Casper
Champ
Chance
Charlie
Chase
Chester
Chewy
Chico
Chief
Chip
CJ
Clifford
Clyde
Coco
Cody
Colby
Cooper
Copper
Damien
Dane
Dante
Dayton
Davey
Denver
Dexter
Diego
Diesel
Dodge
Dom
Dominic
Drew
Duke
Dylan
Eastwood
Eddie
Eddison
Eli
Eliot
Elmer
Emmett
Evan
Felix
Ferris
Finn
Fisher
Flash
Frankie
Freddy
Fritz
Fuller
Garth
Garrison
Gage
George
Gizmo
Goose
Gordie
Grady
Griffin
Gunner
Gus
Guy
Hank
Harley
Harvey
Hawkeye
Henry
Hoss
Huck
Hulk
Hunter
Iggy
Indy
Ivan
Jack
Jackson
Jake
Jasper
Jax
Jesse
Joey
Johnny
Jordan
Judge
Kade
Kane
King
Knight
Kobe
Kolbe
Koda
Landon
Lebron
Lenny
Leo
Leroy
Levi
Lewis
Lincoln
Logan
Loki
Louie
Luca
Lucky
Luke
Malone
Micah
Mickey
Magnus
Marley
Marty
Maverick
Max
Maximus
Mickey
Miles
Milo
Moe
Moose
Morris
Murphy
Ned
Nelson
Nero
Nico
Noah
Nolan
Norm
Oakley
Odie
Odin
Oliver
Ollie
Oreo
Orin
Orion
Oscar
Otis
Otto
Ozzy
Pablo
Parker
Paxton
Peanut
Pepper
Petey
Porter
Prince
Princeton
Quincy
Radar
Rafe
Ralph
Rambo
Randy
Randy Savage
Ranger
Rascal
Rebel
Reese
Reggie
Rhett
Remi
Remy
Rex
Ricky
Rider
Riley
Ringo
Rocco
Rockwell
Rocky
Romeo
Ronin
Rosco
Rowan
Rudy
Rufus
Rusty
Sam
Sammy
Samson
Sarge
Sawyer
Scooby
Scooter
Scout
Scrappy
Shadow
Shamus
Shiloh
Simba
Simon
Smoky
Snoopy
Sparky
Spencer
Spike
Spot
Stanley
Stewie
Storm
Taco
Tank
Taz
Teddy
Tesla
Theo
Thor
Titus
TJ
Toby
Trapper
Tripp
Tucker
Tyler
Tyson
Upton
Urban
Urbain
Vance
Vince
Vinnie
Vinny
Voss
Wade
Wally
Walter
Watson
Weston
Willy
Winston
Woody
Wrigley
Wyatt
Xander
Xavier
Yates
Yogi
York
Yoshi
Yukon
Zane
Zeke
Zeus
Ziggy
French Bulldog Naming Tips – Suggestions To Help Choose The Perfect Name For Your New French Bulldog
1.  Movie Character Names As Inspiration For Naming Your French Bulldog

When I grew up my parents owned a movie store so I became a bit of a movie junkie.  Movies can provide some great French Bulldog name ideas for you.  Maybe you like Marvel movies like I do?  Perhaps names like Thor, Loki, Thanos, Black Panther, Hawkeye, or Starlord.  Perhaps you are fan of 80″s movie so how about Animal, Ferris, Goony, Jaws, Gremlin or Scarface?  Think about some of your favorite movies, think about the characters in the movie and it may inspire you.   
2.  Childhood Friend's Names As a Possible Name For Your Frenchie
I had some great friends growing up and I'm guessing you did too.  Think back to some of your childhood friends.  Can any of those names be possible names for your favorite French Bulldog?  
3.
 

An Appearance-Based Name For Your French Bulldog

Noble was my last Bulldog and the first time I saw her I fell in love.  She had a Noble and majestic look to her so that's how she got her name. I've seen some French bulldogs names like Tank or Shorty.  Are there specific characteristics about your Frenchie that might contribute to a good name?  
3.
 

A Favorite Snack Or Food

Perhaps you a foodie?  Nothing like looking at some of your favorite foods as a source of inspiration for a potential name of your French Bulldog?  Here are some food-related French Bulldog name ideas:  Pizza,
Meat, Beef, Cake, Beefcake, Nacho, Tuna, Churo, Taco, or even Quesso.  
4.
 

A Nickname As An Option As The Best Name For A French Bulldog

I don't know about you but my family always uses nicknames to address our dogs.  Noble's nicknames included Brown (she was brown), Brown Dog, Mrs. Brown, and even Stinky.  For Augie his nicknames include Bat ears, bat dog, Aug-man, Aug-dog, Softball head, and even Fatty.  🙂 

Perhaps a nickname or ten will be in your French Bulldog's future?  
Final Thoughts On Choosing The Best French Bulldog Names
Hopefully this article gave you some ideas to properly name your Frenchie.  One last point to mention before I wrap up.  If you are considering training your French Bulldog (you should), you don't want to give him or her a name that can be confusing when you give commands like "Augie Sit", or "Augie Stay." That tip should serve you well I hope.  
There you have it my fellow French Bulldog owner!  I hope these suggestions help you in the process of choosing the a suitable name for your four-legged companion!  Enjoy!
PS – Here's another piece I wrote about French Bulldog cost.