As Olympic athletes, the co-founders of TomKings Puppies Geri and Tom pursued one goal in their sporting careers: to become the best freestyle wrestlers in the world. Their hard work paid off and the two brothers managed to achieve some great success: Geri gained a 7th place at the 2008 Summer Olympics in Beijing while Tom won the European Championship in 1996. After they both had to finish their careers due to injury, they needed to find another passion in their lives. That's when they decided to go back to the roots and devote themselves to their childhood dream: living on a farm and raising puppies.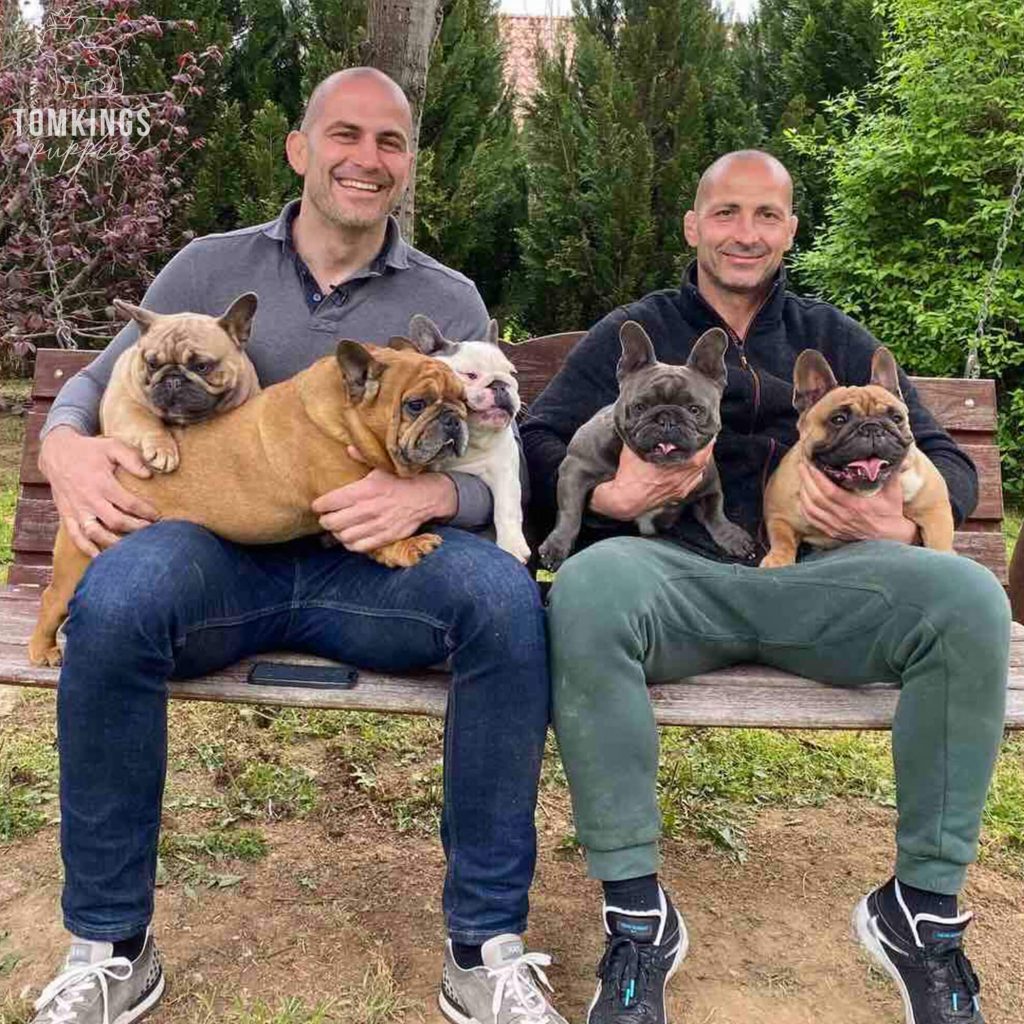 Over the last 13 years, Geri and Tom have been breeding Frenchies with the same passion and goal in mind as professional wrestlers: they still want to be the best in the world! The sport has taught them that success doesn't come without hard work and dedication, and the facts don't lie: today, they have happy adopters in more than 45 countries worldwide. In this article, we reveal their secret of how they became one of the most successful Frenchie breeders in the world.
"If someone had told me 10 years ago that we would have Frenchie parents in more than 45 countries, I would've laughed in their face, that's how impossible it seemed!", says Tom. "Why would anyone choose us from the other side of the globe?! How could our puppies travel stress free and arrive happily? How would we have enough time, attention and love for more puppies?" These were the biggest questions and challenges that Geri and Tom had to solve during the last decade.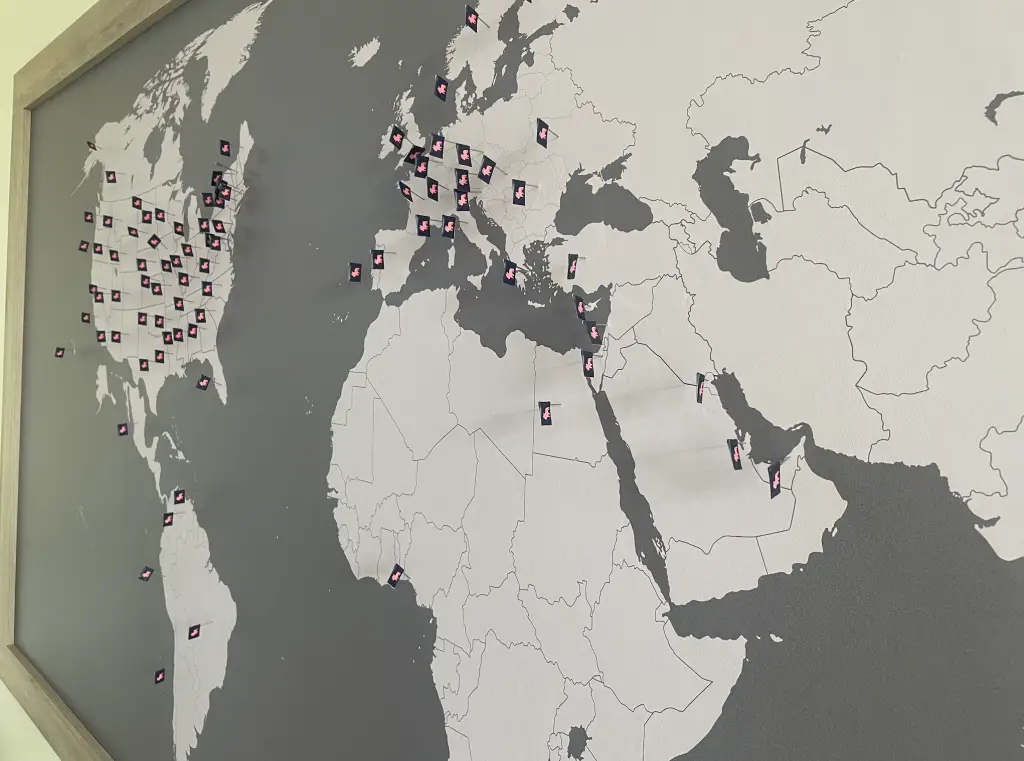 "From the sport we know that hard work always pays off," continues Geri, "so we set the highest standards from the very beginning similarly to sport:
the rigorous selection process of the puppy parents
the feeding and healthcare protocols of the babies
the space they need to play and grow healthy muscles
the attention we give to the puppies and the Frenchie moms."
He explains that apart from being extremely selective about the health and look of the Frenchie parents, they make sure that the puppies receive the utmost love, care and attention. The newborn babies spend their first 8 weeks with them inside the house to be able to help the Frenchie moms breastfeed the pups every three hours and give them extra milk supplement if needed. They are also constantly looking for the best foods and vitamins for the puppies, and work closely with three vets who examine the Frenchies three times before they leave for their forever homes.
TomKings treat every puppy as a family member from the moment they are born. They believe that the secret of having socialized and healthy Frenchie puppies is spending time with them all day long and letting them run and play in the backyard. "We give them much more space than officially needed. Their muscles can grow better if they have the space to move around and we can also radically decrease the chance of infections and diseases," explains Tom, who has gained most of his professional knowledge from his university studies in animal breeding.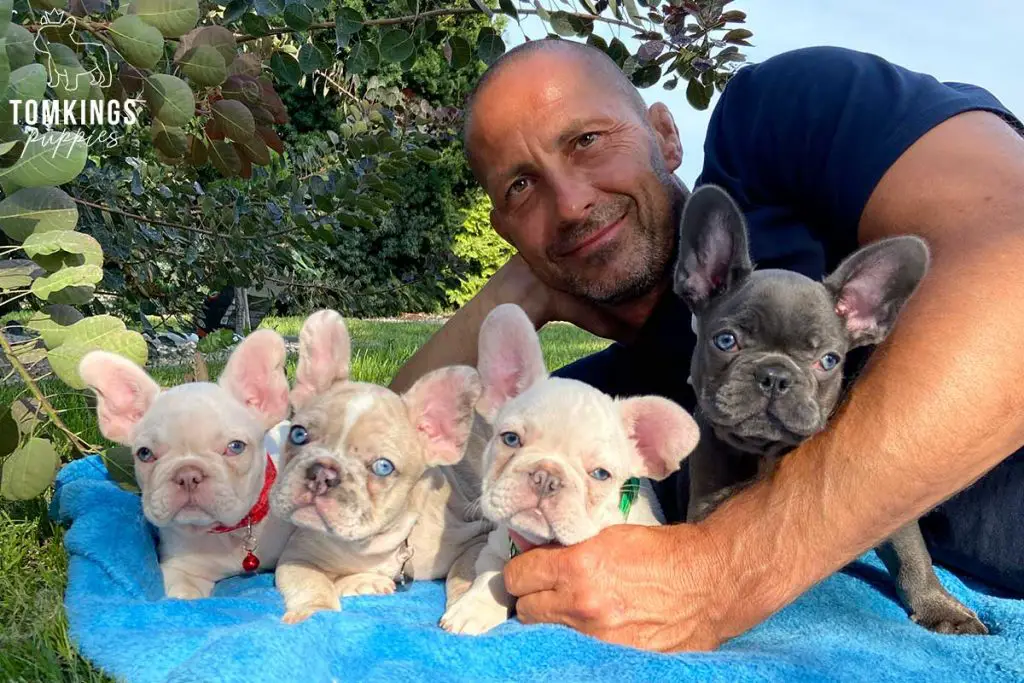 "When our breeding program got more and more popular, the hardest thing was refusing most of the inquiries. We were simply out of time and space for extra litters and we also insisted on keeping the highest standards" says Geri. That was the point when they decided to train professional TomKings nannies: families who are crazy about dogs and can offer the same standards and circumstances under Tom's strict supervision. "I am sure you know people (or you are one of them too) who would be over the moon to raise adorable Frenchie puppies. This way, we can give love and attention to more Frenchies who grow up like family members, and we don't need to refuse so many inquiries."
"On the one hand, our life is very simple as we do what we love most every day: doing our best to raise the healthiest and happiest furry friends," says Tom. On the other hand, we have very complex challenges", adds Geri. "Our puppies have to travel from Europe to the States and other continents every week. Earlier we flew with them a lot, now Covid makes that much more difficult so they travel with experts of pet shipping. One thing is for sure: our puppies always arrive safe and sound! We organize everything about the trip including the flight, passport and crate, the excited parents just need to show up at the airport and pick up their new babies," he explains.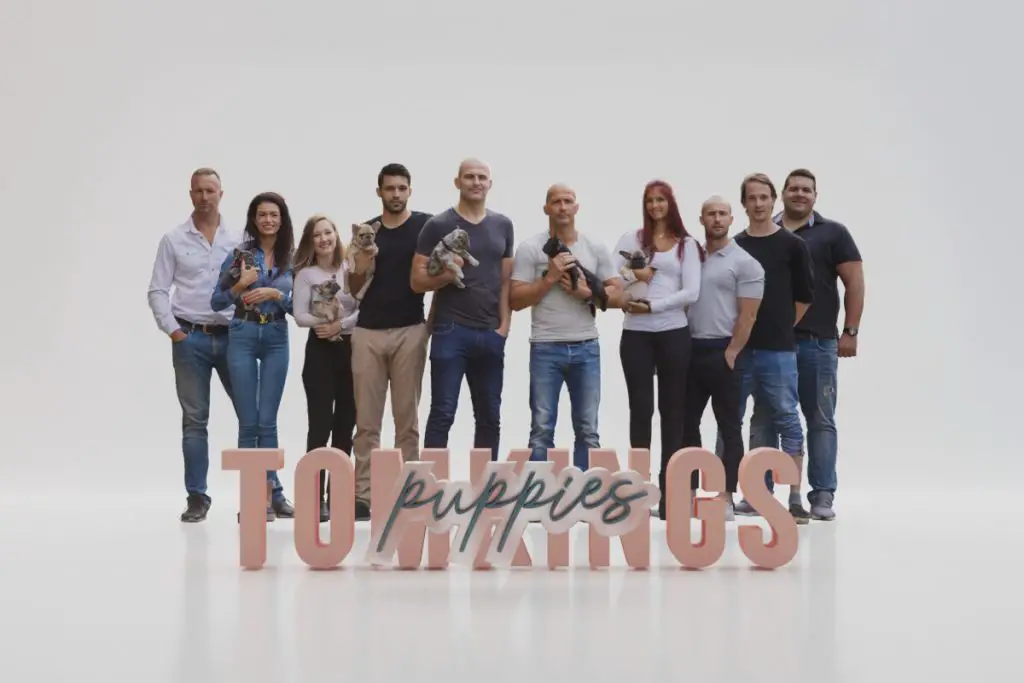 One of the things their customers love most about TomKings Puppies is the lifelong help they receive after getting their Frenchies. "We get many questions from our adopters about raising their furry family members so we have a team of dog loving colleagues who consult our experts and answer those questions every single day. We are available via phone, Instagram, Messenger and email 16 hours a day." They even have a book available on Amazon called Frenchie Love with lots of practical advice about raising a Frenchie and they publish new expert articles every week addressing the puppy parents' most frequent questions about their fur babies.
Getting a TomKings Frenchie also means that you become part of a big family. They have a Facebook group called TomKings Frenchie Family where they stay in contact with the adopters ever after and consider every one of them their extended family. "We are very proud to say that this year we had our first official TomKings Meetups throughout the States (in New York, San Francisco, Miami, Boston and Chicago), which we plan to arrange regularly at other locations, too. Our goal is to create a strong community where the adopters share their experiences to help others and find friends while their Frenchies are playing together," says Geri.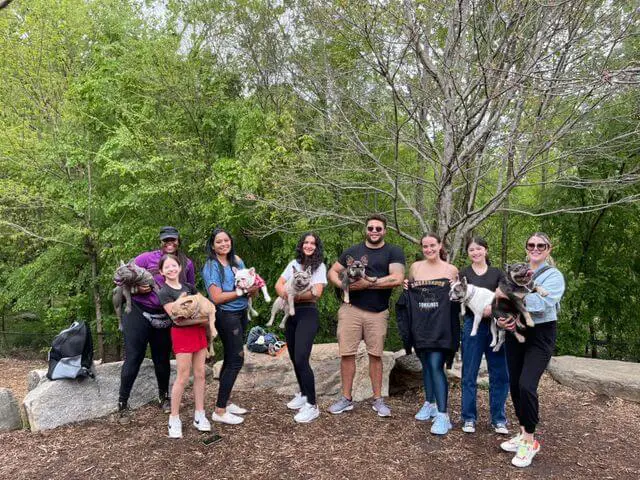 It's safe to say that if there was an Olympic Games of Frenchie kennels, TomKings Puppies would definitely be in the finals! Geri and Tom managed to achieve what they did in their sporting careers, which is the support of hundreds of people: more than 300 adopters from 45 countries all over the world can't be wrong! As Kurt said from San Antonio: "Geri and the Team at TKK are world class and always answering our questions! We are TomKings Family forever!" If you'd like to see it with your own eyes, visit them in Hungary or join their Facebook community!