If you are looking to find the perfect French Bulldog puppy to buy and bring to your home this list of the best French Bulldog breeders in Florida will help you.   Finding a quality French Bulldog breeder can be a challenge especially with all the scams out there.  I personally researched this list to help you get started on your search for a Frenchie puppy of your very own.
Even though I did some initial research for you, I highly encourage you still following my tips here on how to find a reputable French Bulldog breeder near you.
11 Best French Bulldog Breeders in Florida
This list of Florida French Bulldog breeders will help you get started on your search.  Be sure to check out their websites, check out their social media, and be sure to have a phone conversation with the breeder to ensure you are getting a healthy and happy Frenchie puppy.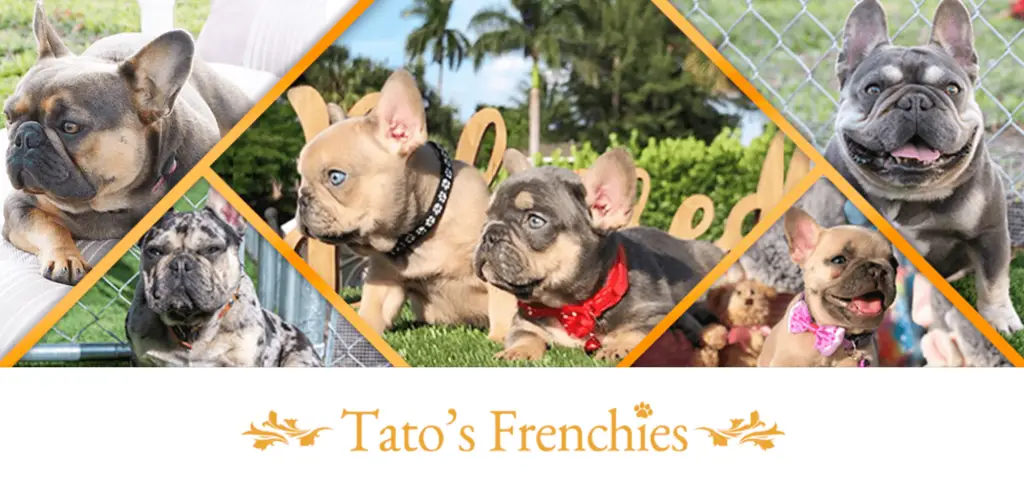 Tato's Frenchies
They started as a small family business but have since grown into a massive operation that spans multiple states and countries—and even has its breeding facility. Their goal is simple: to give their clients the most preferred, fit, brilliant puppies possible. The French Bulldog being the most popular dog in the world, they want to ensure that every Frenchie has the best life possible. That's why they've dedicated their lives to breeding Frenchies with excellent pedigrees, who will be healthy and happy for years to come. They have specialized in breeding standard and non-standard breeding of Frenchies.
Their dogs are AKC registered and fully health tested before leaving their facility. They're raised in a loving environment with lots of love, attention, and playtime—just like what they'll get at home when they're ready for adoption.
Address: 7825 S Dixie Hwy, West Palm Beach, FL 33405
Phone: (561) 806-4818
Website: Tato's Frenchies Florida
Poetic French Bulldog
Poetic French Bulldogs are the perfect breed for you if you're looking for smaller, more compact French bulldog puppies for sale Florida. They have 16 years of experience breeding bulldogs and producing quality french bulldog puppies.
They breed them in a way that ensures perfect health and a great disposition, so you can expect your puppy to grow into a beautiful adult with no health problems or behavioral issues. In poetic french bulldogs, you will find puppies with unique colors such as blue, chocolate, and lilac.
You'll also love how easy it is to take care of these little cuties: they're already small enough, so You can just throw them in a backpack and head out the door. They also offer one-year health assurance for the puppy.
Location: Pompano Beach, FL (by appointment only)
Phone: (954) 933-6521
Website: Poetic French Bulldogs
Pure Devotion Frenchies
Pure Devotion Frenchies is a passion project that started with two little girls, Cosette and Brigitte. From their birth, they were astonished by their love, beauty, and character. They always felt a connection to these little puppies—the kind of connection that you only get when you've been around the breed for a while. Their passion led them to start Pure Devotion Frenchies, where they offer finite, great-bred litters.
They are genuinely the best Frenchie you could ever find. They aim to create the best Frenchies possible by breeding them with the best quality dogs they can find.
Phone number: (352) 816-4251
Address: 3931 SW 42nd St, Ocala, FL 34474
Website: http://puredevotionfrenchies.com

Jem French Bulldogs Florida
They're a French bulldog breeder in southern Florida, located just outside Miami. They take time with every puppy they produce and are committed to raising healthy pets with excellent temperaments. Their adults are healthy and have lovely character as well.
They raise their puppies with lots of love and care—they feed them a balanced diet and provide proper socialization, exercise and stimulation to maintain their health. As a way of showing care to their dogs, these breeders make sure that the new families offer the same care and respect to the dogs.
Location: Just outside Miami, Florida
Phone: 786-471-6505
Website: Jem French Bulldogs Florida
Championsgate Frenchies
They are a small, home-based breeder located in Central Florida who breeds French Bulldogs puppies for sale in Florida. They breed one type of dog to focus on their needs and health. They aim to produce healthy, beautiful puppies that their new families will love. They select their dogs carefully, choosing only the healthiest dogs with excellent pedigrees to breed their puppies.
All of their dogs and puppies are AKC registered. Their puppies go to their new homes with de-worming treatments and are vet-inspected. They are raised in a loving environment and adopted to approved homes only.
Website: Championsgate Frenchies
Location: Central Florida
Oceanside Frenchies
Oceanside Frenchies have the finest pure breed and rare colored French bulldogs for sale in Florida . They love their dogs, and they treat them like members of their own family. They aren't confined in cages but roam free on a huge property with plenty of room to explore and play.
They only sell their puppies to pet homes, not kennels, where puppies will not be raised with the love and care they grew with.
Phone: 561-287-3660
Website: Oceanside Frenchies
Location: Contact the breeder for their location in Florida.
Best Friend Frenchies
When it comes to Frenchies, you can't go wrong with Best Friend Frenchies.
Best Friend Frenchies was founded by Brenda and Eric Schaller, who have been breeding dogs for the longest time. They've devoted their lives to raising their pups in their home, where they're treated like family—and that's something no one can take away from them.
They focus on health and temperament when they breed their dogs and want to ensure they're giving them the best start in life possible. That means loving them from birth.
Phone number: 608-293-1699
Address: In Florida but not shared for privacy reasons
Website: Best Friend Frenchies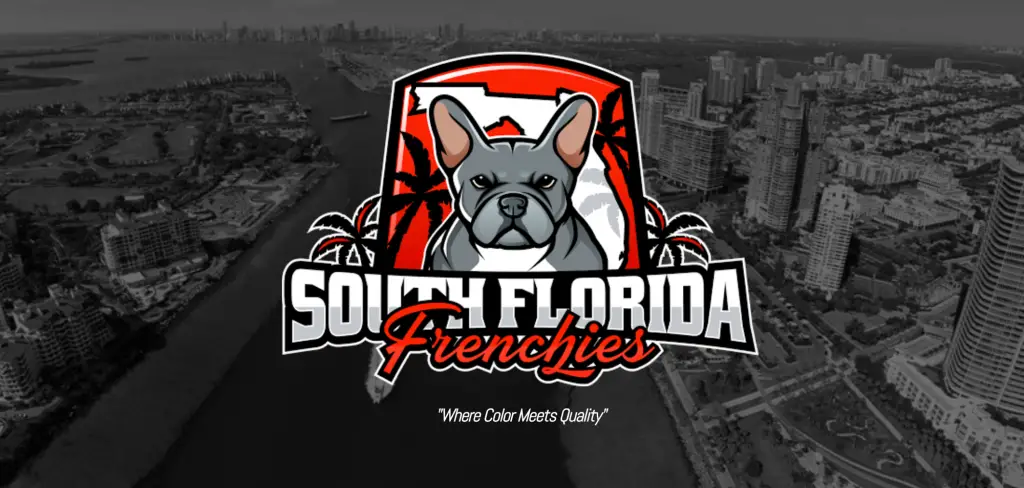 South Florida Frenchies
They are a family-owned kennel located in Fort Lauderdale, FL. Their goal is to provide exceptional service to their clients and French Bulldogs. They are the best French bulldog breeders Florida.
They specialize in the rarest colors of the French Bulldog and offer AKC registration so that you can be certain that your puppy comes with both health and structure. Their dog comes with either full or limited registration. They are also able to provide stud services for their clients.
Telephone: (954)-850-6658
Email: sflfrenchies@gmail.com
Website: South Florida Frenchies
Bentley Bullies
Bentley Bullies have over 20 years of experience breeding french bulldogs and know what it takes to produce healthy puppies with the right temperament. They only sell puppies from their breeding program, meaning every puppy is accompanied by a health certificate from a board-certified veterinarian and a one-year health guarantee. Their dogs are raised indoors in an enclosed, cageless environment, so they'll be comfortable enough to live with your family members in the household. These breeders also provide their clients with references upon request.
You can also rest easy knowing that all our dogs come with 24/7 lifetime support.
Address: Boca Raton, FL 33498 United States
Telephone: (561) 922-6098
Website: Bentleys Bullies
South Florida Frenchie Department
They have all the Frenchies you could ever want, and they're located right in Boca Raton, FL. With their premier French Bulldog breeding program, they have made it their mission to produce quality, healthy, and gorgeous puppies. They do this by keeping in line with high standards for health and structure.
They also use DNA testing to ensure each puppy is free from genetic disorders. To make sure that these standards are met, they hand select every dog for breeding.
Their puppies are all AKC registered and show quality.
Address: 21752 Little Bear Way, Boca Raton, FL
Phone number: 954-369-6589
Website: http://sffdpups.com/
French Bulldog INC
They've been breeding french bulldogs for 11 years. They have health guarantees on all their puppies, and their lifetime support will ensure that your pup is taken care of even after it leaves you. Their puppies are given room to roam to be happy and healthy, not caged.
Also, they do not breed them in captivity—they breed them with other dogs who are also happy and healthy. They have no inbreeding policy, which means there's no chance of passing on inherited diseases or defects to your pup.
Owners Name: Nataliya Safronova
Address: 11999 Frenchie Lane, Jacksonville, FL 32258
Telephone: (904)616-2706
Email: frenchemom@gmail.com
Website: AFrenchBulldog.org
Miami Blue French Dog Bulldogs
The Miami Blue French Bulldogs breeders have been in the business for a while now and are determined to keep their reputation as one of the best French Bulldog breeders in Florida. Their focus is on quality over quantity.
This breeder takes their dogs on vacations, to the beach, bike riding, and every other place they visit. They want their Frenchie to be happy and healthy, so they take them wherever they go.
They are very cautious about who wants to adopt their Frenchie. To receive the puppy, you must accept a background check before selling the Frenchie to you. One of the main reasons why they are referred to as the best french bulldog breeders in Florida is the fact that they offer face time calls for you to see how they raise their dogs. They even potty train their dogs.
Address: Miami, Florida
Telephone: 305.505.1500
Website: Miami Blue French Bulldogs
Lucys Frenchie Farm
Lucy's Frenchie Farm is a Frenchie Bulldog breeding facility that has been in business for 22 years. Their main aim is to give the best Frenchie Bulldog Pups possible. They want them to be healthy, happy dogs with the emotional and physical qualities that make the French Bulldog one of the most preferred dogs in America.
They are committed to providing the highest quality Frenchie Bulldog Pups, so they only breed with AKC-approved color models and only use high-quality puppy food.
Address – 16606 Lake Iola Rd, Dade City, FL 33523, United States
Phone – +1 813-382-9068
Website – Lucy Frenchie Farm
Final Thoughts – Best French Bulldog Breeders in Florida
To sum it up, Bulldogs can be the perfect companion if you're in search of a playmate. They're not aggressive to other animals and are always loyal to their owner. They are always cute and love to play. An immaculately cuddly bulldog might just be the perfect family pet.
I hope this list of French Bulldog Breeders in Florida gets you started on finding the perfect four-legged companion for your family.
If you are looking for French Bulldog breeders in other states this list may be helpful for you: