It is only natural to want to give your furry friend the best home possible. One great way to make their lives better is to buy the best dog bed for them.
On average, a dog needs at least 12- 14 hours of sleep in a day. You can help your Frenchie get the rest it needs by buying it a great dog bed!
If you have a Frenchie puppy, you might want to get a bed that they can grow into. It is also the best way to begin sleep training them. Getting a bed for an adult dog is all about upgrading to the best and more comfortable bed for them.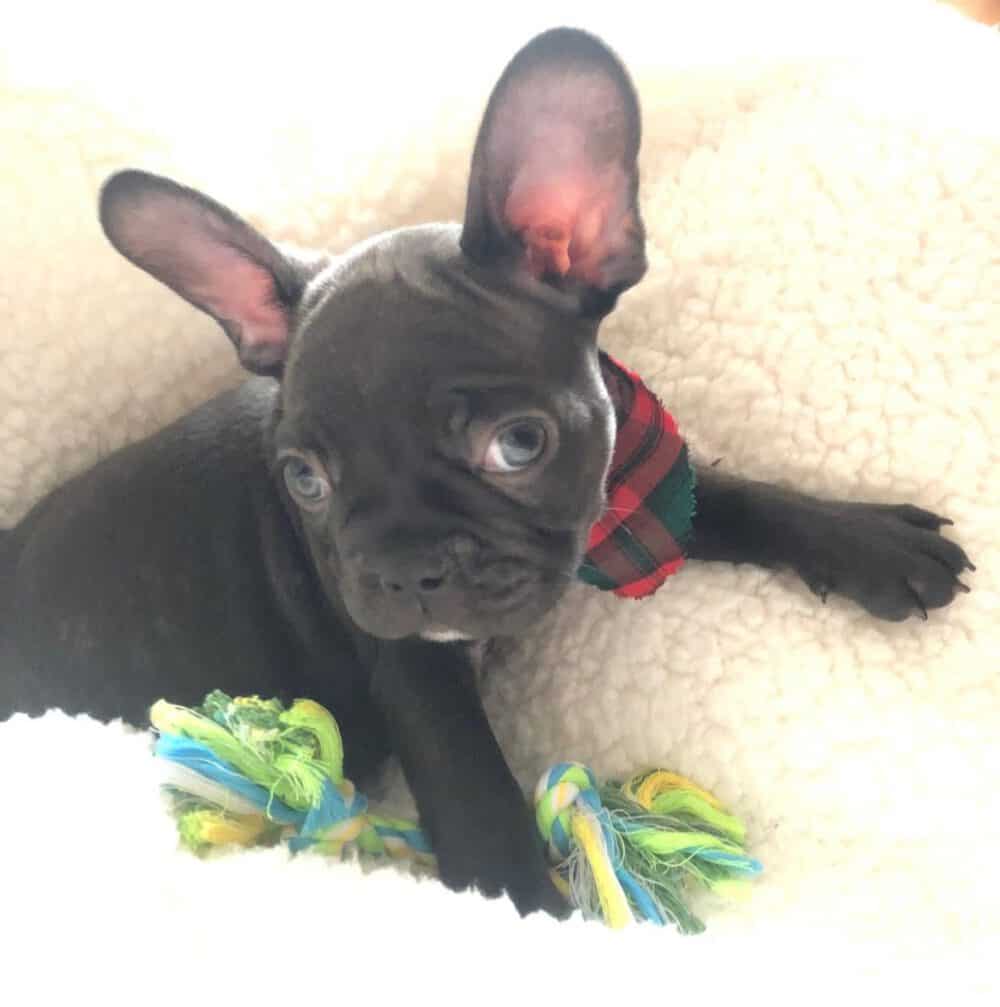 Benefits of Choosing the Best Dog Bed
Why get your French bulldog a new bed? Not only will a good quality bed help in improving your French bulldog's sleeping habit, but there are also more benefits of having a special place for your dog to rest in.
Here are a few:
Keeps Them Healthy
French bulldogs are very active. After all that running around, they will appreciate getting a nice comfortable place to sleep to maintain her energy levels and stay healthy. It will keep him or her well-rested.
Protects Your Furniture
Dogs like playing on furniture. If you are tired of getting rid of dig hairs from your furniture then it is time to get a dog bed. It will help you maintain a clean and tidy home.
Provides Insulation
A dog needs to maintain its body temperature. The best bog bed provides insulation that will help keep them warm. Your dog will not need to lie on the floor and risk exposure to cold temperatures that can get them sick.
Relieves Joint Pain
Older dogs are prone to arthritis and joint issues. Just like in human, arthritis in dogs is equally painful. A comfy dog bed will help soothe those aching joints and prevent arthritis.
Decreases Separation Anxiety
If your dog has its place to rest even while you are at home, they will be less stressed even when they are alone at home. Your dog will not feel abandoned but safe. A dog bed will give him or her a safe haven.
You and your buddy stand a lot to gain from the perfect bed. If you have not thought of getting your Frenchie their own nest, Then it is time to do so.
What You Should Consider When Buying a Dog Bed for Your Frenchie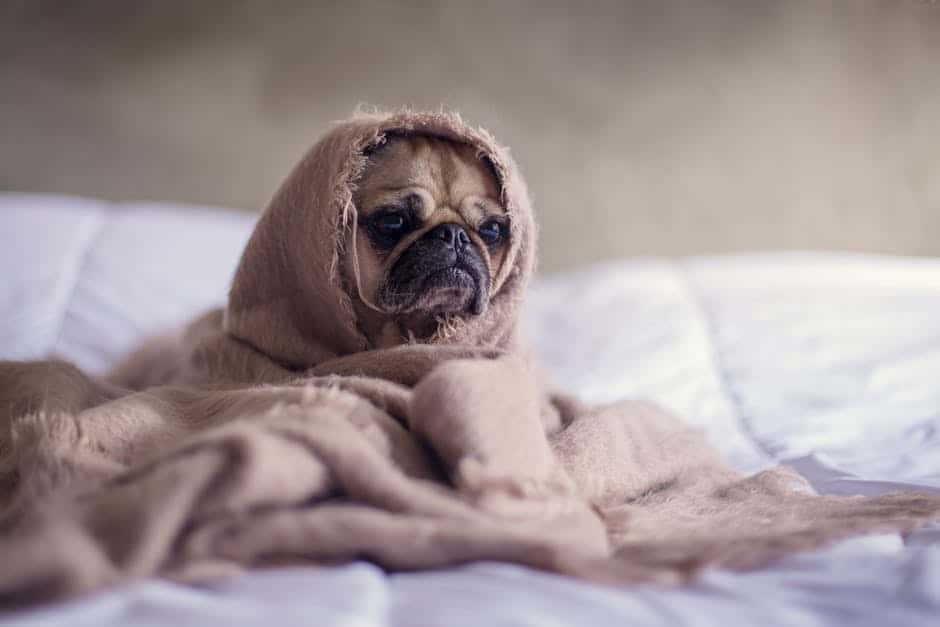 Are you looking for a French dog bed and do not know where to start? Well, we hope that this guide will get you a step closer to choosing the right bed for your buddy.
There are several things that you should have in mind while shopping around for the best dog bed. These include:
1. The Size Of Your Dog
The average weight of a French bulldog is around 16-18 pounds and 11 inches in height. To get the right size of your dog, you will have to measure them while in a sleeping position. This is very important in determining the right size of the bed.
The bed should be big enough to give your pet enough room to stretch in, but also not so big, that it cannot keep them warm.
2. Your Dog's Age
Older dogs need more care and they stand a lot to benefit from thicker beds, high-quality memory foam beds, or orthopedic beds. This is because of the painful joints and back pains. Otherwise a nice snuggly and comfortable bed will do just fine for your overly active bulldog.
3. Sleeping Position
So you have monitored and maybe laughed about your dog's sleeping styles. Do they sleep in a frog-like position, do they curl up like a dog, or do they just lie on their side while sleeping? Such information will come in very handy while choosing a bed.
The best dog bed for your pooch should be able to accommodate their sleeping position no matter how funny and weird they are.
4. The Material
Look for a bed that is durable, easy to clean and care for. The covers of the bed should be removable for easy cleaning. If your dog sheds excessively then you can consider buying a smooth polycotton bed and a soft fleece material for more warmth, if they have short hair.
Buy a bed with sturdy chew-proof material if your dog is a chewer. There are several choices of inner padding that you can choose from. From foam beading, polyfill, and memory foam. Get padding that matches your dog.
Heavy dogs will need a bed with thicker padding for more support, while smaller dogs require minimal padding. Just make sure that your buddy in as comfortable as possible. You can also choose to buy a bed with heated bed inserts, good for the cold winter days.
5. Your Budget
There are high-end French bulldog beds that are quite pricey. This does not mean that the one you can afford is not equally good. You will still get a good bed for your dog and that is why you need to understand what you need when buying a bed for your dog.
6. Design
Choose a lovely color, unique design bed that can portray your personality or your dog's personality. Remember, the bed is going to make up part of your interior design and you have to get it right.
Dog beds come in many designs that include enclosed tents poster beds couches, and more. You can be sure to find just what you are looking for. These styles range from vintage to modern and they still offer the right comfort and support that your Frenchie needs.
It might be heartbreaking to get your dog off your bed and into their own, but it is good for you and your pet too.
Best Dog Beds to Buy
There are several types of dog beds available in the market today. You can find these beds online or even in your favorite pet shop.
Some of these beds include orthopedic beds, outdoor dog beds, bolsters and donut beds, dog mats and pads, pillow style beds, cave or tent style beds, and cots. Here are some beds that you can buy:
Click Here To See The BarksBar On Amazon
This is an extremely cozy dog bed that is good for small to medium-sized dogs. It is made with a double layer orthopedic foam and has fully padded pillows for comfort. If your Frenchie loves to curl up when sleeping, then this bed will suit just right.
It also has faux fur for warmth and has a sleek and luxurious design.  
Might I suggest grabbing one of the BarksBar Pet Blanket to accompany the bed too.  Its very soft and your Frenchie will love snuggling in it!
Click Here To See The Pet Tent On Amazon
If you are looking to give your pet more privacy then this adorable tent can be a good choice for you. It comes in an array of colors and you can simply toss it in the washing machine and get it clean without losing its shape.
This bed is comfortable, affordable, and big enough for your dog no matter their sleeping position.
Click Here To See The Friends Forever Bed On Amazon
Your dog will be sleeping in no time with this bed, made with human-grade mattress foam. It has poly-filled bolsters that give your dog a soft place to lay his head. The cover in anti-tear that makes it ideal for that very active dog and also removable for easy cleaning.
Click Here To See The YML Pineapple Bed On Amazon
Add some color and fun to your house with this adorable pineapple shaped bed. It will give your French bulldog a good and comfortable hideout. This bed is lined with a soft cushion that is removable but can only be hand-washed.
It is made of non-toxic polyester and comes in two sizes; small and medium.
Click Here To See The Zaihe Pet Teepee On Amazon
This bed wins major points just for being cute. Your dog will love it, you will love it, and it will make your living room look good and unique too. It is easy to assemble, allows for machine wash, and is made with flame-retardant and mildew-resistant cotton canvas.
It comes with coordinating cushion that will make napping and cuddling easy.
Click Here To See The Dogbed4less Bed On Amazon
With an anti-skid bottom and waterproof internal liner, this is a solid -option bed. It has alignment support, pressure point relief, and a cozy temperature because of its gel-infused memory foam.
It is resistant to mildew dust mites and bacteria.
These and more dog beds are available on amazon
Consider This Guide When Looking For the Best Dog Bed for Your French Dog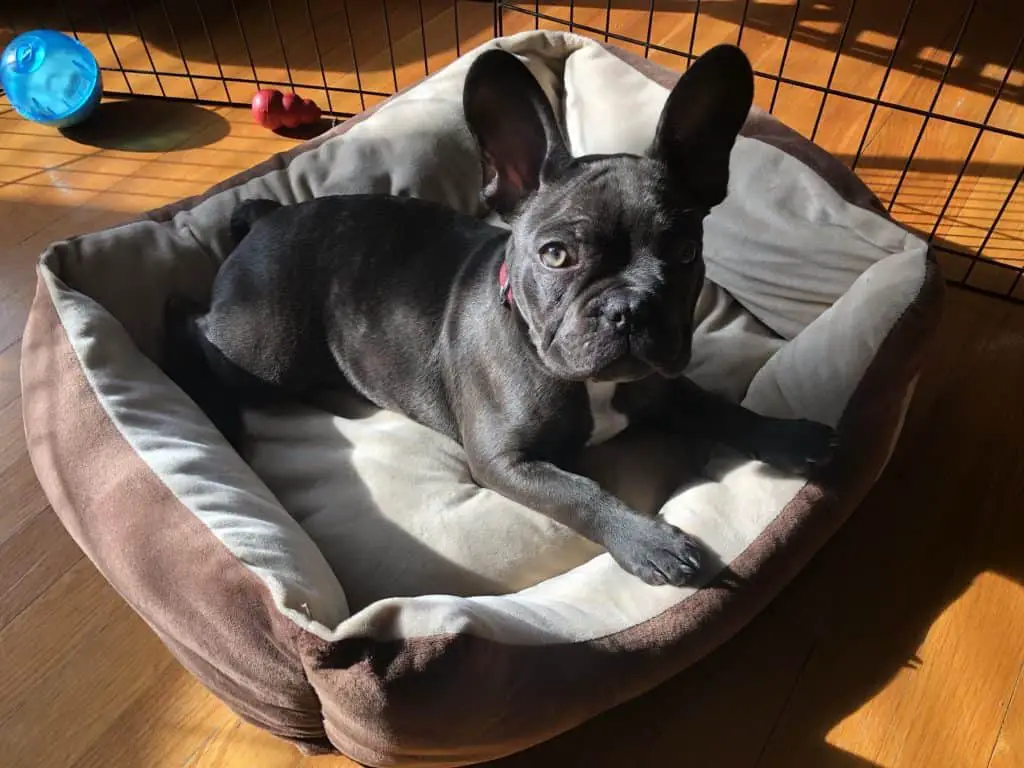 Finding the best dog bed is all about understanding what your dog needs, your budget, and style. As long as the bed will be comfortable, your dog will be happy to have a place that it can call it's own and relax on with no much disturbance.
I am dedicated to giving you information on how best to live with and care for your Frenchie. I will share my experience with you so that you can give your French bulldog a great and healthy life.
If you want to know more about French bulldogs and how best to care for them, visit our website for more information.
Check out the shop category to learn more about the accessories you can purchase to make the life of your French bulldog better.