I took some French in high school so I thought I would start off this article with some of my foreign language skills. 
Nous aimons nos Bulldogs français!
Translation: We love our French Bulldogs! Oh boy, oh boy – that is the absolute truth!
Those ears. That face. Even that snoring!
There is nothing that makes us happier than spending time with our French furry friends! They are part of our lives. They are our family. They drive us nuts, sometimes, but we love them more than we can ever express to a non-Frenchie owner.
As much as we love cuddling with our faithful canine friends, these pups need to play!
Here are a few of the best toys and products that I've found to be my top Frenchie fave finds:
Frenchie's Toy Time: The Best Toys for Frenchies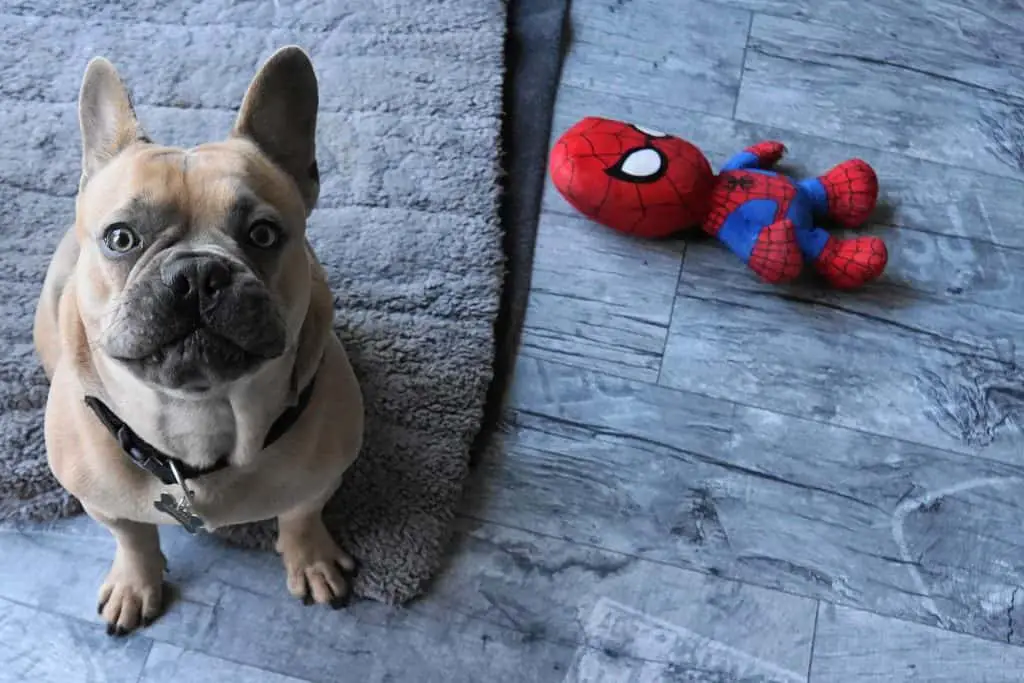 If your French Bulldog is anything like mine, then you understand the obsession with playtime and peanut butter.
All of my Frenchie's have had such different personalities, but there is one thing that remains true: they love to play, learn, and have fun.
Here are a few of the best toys that I've found to be really great for my little Frenchie.
Click Here To See The Kong Wobbler On Amazon
I'm convinced Augie has a built-in radar to detect trace amounts of peanut butter anywhere in the house.
One of Augie's faves is any toy that involves the presence of peanut butter, or really, any type of treat.
Kong seems to be the most popular leader in this category. It's durable, made with quality ingredients, and can handle a hungry pup!
To be honest, I'm not sure if Augie likes this toy better than I like watching him play with this toy?
The KONG Wobbler has become a top fave. Peanut butter is the perfect option to stuff inside because it will occupy and mentally engage any pup's time for hours! However, anything you can fit inside is fair game for these crafty canines!
The KONG Wobbler, specifically, is a bit different than the other red, rubbery KONG toys that we all know and love. This toy is made out of a harder plastic that unscrews in the middle to allow for food insertion. In fact, it's really more of a feeder and a brain-game than a chew toy.
Do you have a Frenchie that eats too fast?
I've found that mixing some food with some treats and putting it in this Wobbler is a winning solution. In the frenzy of trying to get the treats and food from inside the Wobbler, it's still a challenge. This can help slow down any wild eating ways.
This product is made in the good ol' USA, fits all kinds of treats, and the best part – it is dishwasher safe! Plus, KONG uses safe, durable materials! This definitely adds some peace of mind when choosing quality bulldog toys!
Click Here To See This On Amazon
This is a company that I can whole-heartedly support!
West Paw makes dog toys and beds from sustainable materials that are made in-house. Based out of Bozeman, Montana, this company has made it their mission to do good for both the environment as well as our canine companions.
There are so many fantastic, pet-safe products that I love and would rate as best toys for our Frenchie friends!
My favorite, though, is the Montana Collection of toys, more specifically the Targhee Trout. I don't know if it's the shape, the color, or the highly durable material that makes this one of my favorite french dog toys!
There are tons of fluffy, squeaky chew toys on the market. These West Paw options, though, are made in America and are made from non-toxic chemicals and materials. That's enough for me to consider West Paw for the win when it comes to quality small dog toys!
Click Here To See The SmartPetLove Snuggle Puppy On Amazon
Ah yes, the dreaded storm. Mother Nature loves to wreak havoc on our home, some days. The rain, and especially the thunder, can send the pup into a total tailspin!
The SmartPetLove Snuggle Puppy is not only cute, but serves a great purpose for any dog that has anxiety.
We know that tell-tale whining and restless behavior that indicates our furry friend is about to lose their cool. Anxiety is common in a lot of dogs, but I know that our Frenchie's might be a bit more prone.
Frenchie's are companion dogs. Without their companion(s), there is a tendency for them to suffer from anxiety. This toy helps combat that anxiety.
There is a pulsing heartbeat AND a heat-source that replicates being next to something living.  
It's relaxing. It does the trick.
There are many of these types of dog toys for dogs that suffer from anxiety. The aspect that I like most about this toy, though, is the heat source. That makes a huge difference when looking for Frenchie toys that can help combat anxiety when we're away.
The only potential downfall is that the heat packs will need to be reordered when they run out.
Click Here To See This Toy On Amazon
Our Frenchies are smart. Of course, in our humble opinions, they are the smartest of all dog breeds.
This toy can get your dog MENSA ready!
The best part about choosing this, specifically, as a french dog toy is that our breed is very easy to train. Frenchie's love to play. We all know that. They, also, love to be challenged.
The Trixie Move 2 Win is a mental game that involves treat dispensing. 
Not only do our Frenchie's have a quality prey-drive, but they have a quality play-drive! This toy seems to combine both for hours of entertainment. It's a really strong contender for bulldog toys, in general.
What I like most about this mentally-challenging toy is that it involves total attention. Augie has to figure out which of the buttons need to be pressed and which of the cones need to be moved. This is a full mental exercise that results in a delicious find.
We love it!
Add this toy to your Frenchie's training regime.
Click Here To See The Kyjen Hide-A-Squirrel
Is it just my little Augie, or do you notice that as soon as a squirrel is in the picture the dog is in the 'I Must Get That Animal' zone?!
The prey-drive is immediately activated!
This toy offers an indoor alternative to the must-capture-squirrel phenomenon.
Made by a company with a hilariously cheeky name (Outward Hound), this toy is interactive and fun. It encourages the prey-drive without the worry of your Frenchie running into the street or into harm's way.
This is one of the best toys, in my humble opinion, because it not only challenges our little guys, but also offers multiple ways to hide the squirrels. This means our pups have hours of fun built into one interactive toy.
Plus, if you have kids, they will love changing the position of the squirrels. This is a great way to help kids learn ways to interact and engage with their Frenchie.
Click Here To See This Toy On Amazon
These. Are. My. Favorites.
Not only are these great dog toys, but they are hilarious, too!
Each of these chew toys and beds are extremely kitschy. They will be fun for your Frenchies, and they will offer hysterical reactions from your friends and family.
With their Muttini Bar Collection, Fashion Hound Collection, and other awesome designer parody toys, these are sure to be a hit with both canine and human!
What I like so much about these are the materials and durability. Also, they are fantastic conversation starters!
My absolute favorite from the Muttini Bar Collection is the Grrrrona Interactive Cooler! This may be one of the best toys on the market!
Click Here To See The Varrum Pet Fitness Toy On Amazon
Ready to take your canine into the 21st century of dog toys?
The Varrum Pet Fitness robot claims to be "your pet's new best friend". Don't get jealous, though – this IS a really fun, interactive, and fitness-friendly toy!
Providing treat rewards, scheduling, AI (artificial intelligence…think Alexa or Siri for dogs) driving, health stat tracking, and mental/health care data collecting – this toy seems to do it all.
What is really great about this toy is that it can provide something physically and mentally challenging when we are not at home with our Frenchies.
I can set the scheduling timer for the AI driving, and Augie can run after this thing for hours. Also, it keeps track of his activity so that I can see how playful he is when I am not there with him.
Our Frenchies, sadly, are prone to some health issues.
This toy can help us deter some of these health issues by getting our pups up-and-moving instead of sleeping until we return home.
This is definitely the next generation of dog toys. It doesn't talk or cuddle, but it sure does offer a great opportunity for your Frenchie to have both a personal trainer and a personal assistant on hand.
Bark Up The Right Tree
Our Frenchie's are our babies. They deserve the best.
Finding the perfect french dog toys can be a bit daunting. However, there are so many fun, challenging, and playful options available for our little Frenchies.
We dress our pups up for holidays. We take them with us anywhere and everywhere we go.
Why not make sure to offer our best pals the very best toys that we can find.
When it's time to play, engage their mental, physical, and social personalities.
Our Frenchies are fun! Find the best toys that will cater to your Frenchies specific personality.  
Looking for another dog toy option?  Take a look at the Wunderball review.