They may be one of the smallest dog breeds, but everything about a French Bulldog is larger than life, from their large bat ears to their friendly dispositions. Playful, adaptable, and alert, they're among the most irresistible breeds out there.
They're not bad escape artists, either.
So, how do you keep these intelligent, adorable dogs out of mischief? By finding a puppy gate that can stand up to their antics. What if you've already tried out a home barrier (or two), and the jailbreak high jinks continue?
That just means you haven't found the right one yet. With that in mind, let's dive into the best puppy gates for small dogs so that you can keep your best friend out of harm's way.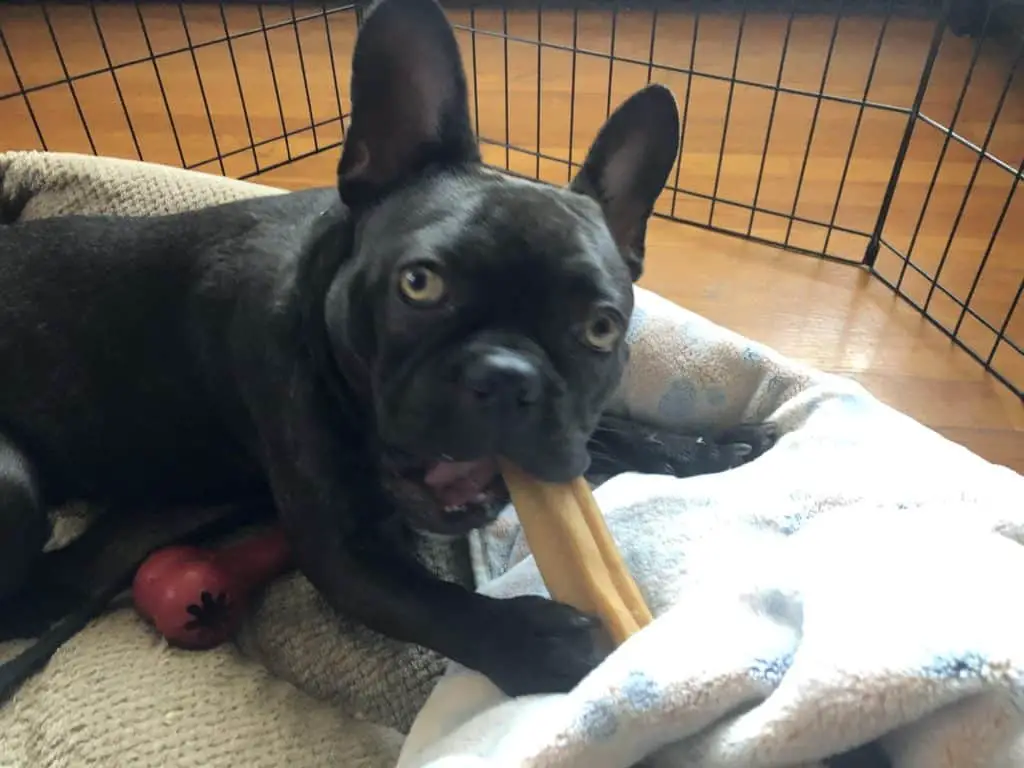 Why You Need a Puppy Gate
Bringing home a new puppy is a lot like bringing home a new baby. They're good at getting into just about everything. As a result, some good, old-fashioned puppy-proofing is in order. 
Even after your dog matures somewhat, you'll be happy that you invested in a doggy gate. After all, you never know when guests might come over who you need to keep separate from your best friend. 
The same goes for times when you have another pet in your home, or you need to keep kids that don't have the best integration skills away from your dog. Of course, you also have the option of locking your dog away in a back room.
This alternative will make your dog feel more isolated, however, and Frenchies don't do well alone.
Bred as companion animals, French Bulldogs prove fiercely loyal. This characteristic translates into a desire to be near you at all times. When that's not possible, a gate represents a superior solution to placing them in a separate room.
It's also one that will provide them with better ventilation and more open space to explore and play with toys. Even if you let your dog have free rein of the house, moments will arise where you need to keep them safe and away from the action.
Whether you've got a service man or plumber coming over or maybe movers, that gate will come in very handy. I promise. 
Finding the Right Gate for Your Best Friend
One of the most important investments you'll make is in a high-quality small puppy gate. These devices are remarkably easy to install yet offer peace of mind and an impenetrable barrier. If you get the right one, that is.
Where should you start when it comes to finding the best gate for your home?
To help you keep your new best friend safe, I've done some digging and uncovered the best units for your money. These include testing out free-standing barriers as well as those that mount in doorways permanently.
I've also looked at pressure gates as well as walk-through configurations. 
Bear in mind, some of these gates are advertised for infants and toddlers. Fortunately, they work just as well when it comes to Frenchies.
With that in mind, let's take a look at a variety of options so you can find the best one for your home setup.
Free-Standing Puppy Gates
Free-standing gates can be easily moved to any location, representing the pinnacle of convenience. The best ones are made from wood with side panels to maximize stability without taking up extra room space.
For example, the Richell Wood Freestanding Pet Gate boasts a lovely wooden frame and dark metal grate. As a result, it has both a functional and sophisticated feel.
You can expand the gate, creating a barrier measuring anywhere between 39.8″ and 71.3″. With the addition of one screw, you can ensure it stays the same size. 
If you don't need anything quite this large, the company also makes a smaller version, and models come in three different wood finishes. That way, you can find the unit that fits best with your home decor. 
Because of its height, the gate proves easy to step over. Of course, since you never actually mount or install it, you can just as quickly move it out of the way. 
What's more, flip the gate around, and you have a multipurpose accessory. It provides a handy way to protect your home entertainment or sound system from an overly curious Frenchie.
Walk-Through Dog Gates
You've got a variety of options when it comes to well-performing walk-through dog gates. Just don't relegate yourself to models specifically designed for pets.
For example, there's the Regalo Easy Step Walk Thru Gate. While marketed to families with small infants, this barrier works well for fur babies, too. It's also among the optimal puppy gates for stairs. 
What do users like about this gate? It's easy to open and walk through with one hand. So, when you've got groceries or other things in your arms, you'll still be able to get by. 
It also comes with a safety lock, although you likely won't need this for your Frenchie. (No matter how good your pup might be at escaping, they still don't have opposable thumbs.)
You can use this gate even without the safety latch. By the way, this makes passing through it with full hands even easier. 
There are two ways to mount this gate for flexible functionality. You can use it pressure-mounted, or you can drill holes into the wall and install it. As a result, consider it a semi-permanent option that presents the best of both worlds.
If you do decide to mount it, you only need to use a couple of tiny screws. They create small holes, which can easily be patched and painted over later. 
In line with the gate's remarkable versatility, it also comes with bumpers that allow you to take it down whenever necessary. Whether you're hosting a dinner or party, you don't have to worry about teaching guests how to navigate the gate.
Pressure-Mounted Gates
When it comes to pressure-mounted gates, they're among the easiest to install and move from location to location. (Along with free-standing gates, of course.)
Since they don't offer the walk-through option, however, make sure you get one that's low enough for you to step over with ease. If this poses an escape risk for your Frenchie, then you'll need to stick with a taller option.
If your dog hasn't shown much talent for jumping, though, then the pressure-mounted route is a great option. No more worrying about patching and painting walls later.
The Carlson Pet Products Lil' Tuffy Expandable Gate is a handy house gate that comes with a small pet door. Because it only measures 18″ tall, stepping over it is no problem. 
Its pressure-mounted installation relies on a bar running horizontally across the center of the gate for support. This design renders it both sturdy and convenient. 
Because of the gate's small pet door, you don't have to worry about taking it down to move your best friend around, either. This gate offers an easy, affordable solution to keeping your dog in one spot. 
If you've got a high flyer, however, you should consider one of the options below.
Extra Tall Gates
As the name implies, extra tall gates keep jumpers in one spot. They work equally well for climbers, too. If you've got a dog that's always trying to "escape from Alcatraz," then this option remains your safest one.
An excellent example of this type of gate is the Summer Infant Multi-Purpose Deco Extra Tall Walk-Thru Gate. It measures an impressive 36″ tall, which means it works well for larger breeds, too.
Like the Regalo, it also comes with an easy-to-use latch that allows for one-handed operation. So, you never have to worry about this model getting in the way of your everyday activities. 
Also, like the Regalo, it can be used as a pressure-mounted device. Yet, it comes with hardware to make the arrangement more permanent should you decide to mount it into a doorway. 
Select from a choice of two colors, beige or bronze, to align with your home decor.  
Besides the Summer, there's also the Primetime Petz 360˚ Configurable Gate. It measures 36 inches tall but is free-standing.
Its sturdy all-wood construction keeps even big dogs where they're supposed to be, and it comes in a handsome dark wood finish. Put it up and take it down with ease.
This gate lets your puppy know where they're free to roam. It also makes a fashion statement while doing so. 
Puppy Gates
You've got plenty of options when it comes to finding the best puppy gate for your home's space and your pup's personality. Is your Frenchie a high-flyer or climber who excels at the art of the escape? Then, opt for an extra high gate.
If you've got a more relaxed pup, then a simple pressure-mounted unit might do the trick. That way, you don't have to mess with screws and holes in the wall unless you want to add additional security. 
The options don't stop there, though. You'll also find a variety of sophisticated free-standing gates manufactured in all-wood and wood and metal configurations.
Think of these as proper pieces of furniture that add a decorative element to your home while keeping your Frenchie safe and secure.
Looking for more tips to make life with a French Bulldog a cinch? Check out our review of the best dog beds for Frenchies.