It's after breakfast, and you're dressed, ready to go to work. You kiss your Frenchie goodbye and drive off.
After work, you swing by the grocery store to pick up some necessities. Then, your mom calls; she needs you to change a burnt-out lightbulb. Oh, and fix a leaky faucet while you're at it.
Before you know it, it's late, and you rush home.
But to no avail; cute little Augie's already peed on the carpet. And to make matters worse, it's all dried up already.
Looking for the best carpet cleaner for old pet urine? Then keep reading. I'll give you several options in this article that I've researched and tested.
Even The Best Dogs Pee In The House Sometimes
Young or old, and no matter how well trained your Frenchie is accidents happen.  Further, it doesn't matter how diligent you work to maintain a pee break schedule for your French Bulldog, sometimes pee accidents happens Whether your Frenchie pees on the carpet, your hardwood floor, or anywhere else in your house, prompt action is the best way to make sure that you dog's urine won't leave a lasting odor behind.  Even if you discover an old dried urine stain in your house, there are still things you can do to remove the smell.
In a Hurry For The Best Carpet Cleaner For Old Pet Urine?
If you don't have time to read up on each of these carpet cleaner options for old Frenchie urine then these recommendations will serve you well.  I've examined each product, even tested it on a rug or two during the training of my Frenchie.  (Thankfully he has stopped having accidents in the house now!).  Anyway, here are my dog urine carpet cleaner top picks:
There you have it, those are my top three picks of pet odor removers.  If you're looking for more details then keep reading.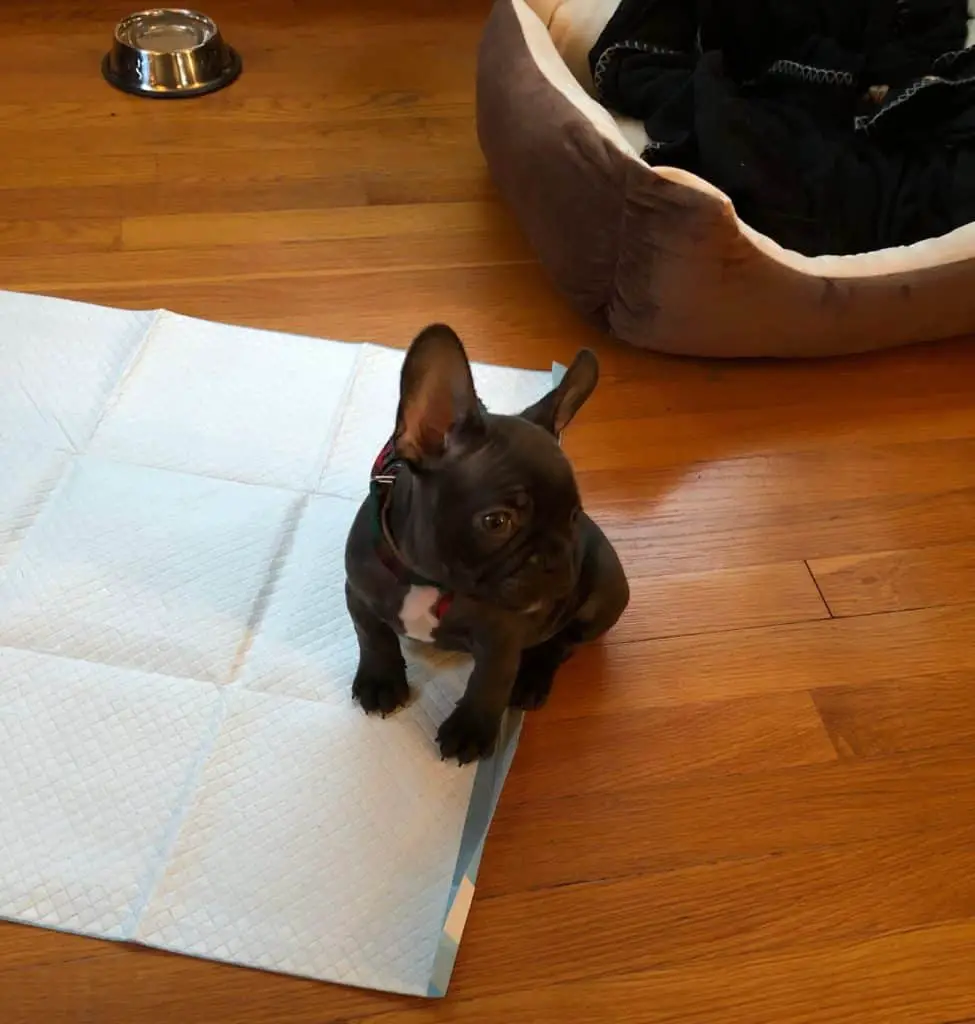 This company's been around for more than 3 decades, which shows how high-quality their products are.
This stain and odor remover uses bio-enzymatic odor locking technology. This ensures that both new and old stains get completely removed and deodorized.
You won't find any chlorine in this product, which means it's safe to use around your pets. Your carpet will also be free from staining or discoloration. Also, once you're done cleaning your carpet, it'll have a fresh citrus scent to it, thanks to this shampoo.
This Nature's Miracle stain remover is very affordable, so you can keep buying bottles of it. The only downside is that there are no instructions, but you can easily find them online or by contacting customer service.
Often, when you look at pet urine removers, they'll address the stain, but not the odor. Thankfully, you'll get rid of both with this product.
The Rocco & Roxie stain remover is great because it's heavy-duty without using chlorine, like with the previous product. This means it's safe for your carpets and won't cause discoloration. You can also use this product on hardwood floors, leather sofas, rugs, mattresses, and ceramic tiles.
The enzymatic bacteria contained within will become activated when you spray the product on surfaces. This, plus the fact that there's no chlorine, makes the Rocco & Roxie stain remover safe to use around your pets. It's completely biodegradable.
The only downside to this product is it has a very strong scent, so you'll want to make sure there's proper ventilation when you use it. You may also want to wear a mask while spraying it.
One of the best things about this stain and odor eliminator is if you're not completely satisfied with it, you get 100% of your money back! So it's worth a try, as it won't cost you a cent if you're not happy with the results.
If you're a fan of organic and natural ingredients, then you'll definitely want to give this product a try. This TriNova stain remover is plant-based, meaning the enzymes in it come from plants. It's 100% natural and non-toxic, meaning it's not only safe to use around pets, but also children.
For those who don't like artificial scents, this is also an excellent product for you. TriNova's scented their product naturally with mint and bamboo extracts, meaning you won't be overwhelmed by a saccharine smell.
While it's safe to use on carpets, concrete, and laminate, we wouldn't recommend using this product on hardwood floors. This is because it hasn't been tested for this type of surface yet.
Unusual Solutions Pet Odor Eliminator and Stain Remover
Those who want money-back guarantees will enjoy this product from Unusual Solutions. It's certified by the Carpet and Rug Institute (CRI) and if you're not 100% satisfied with its results, the company will refund you the entire cost.
Like the other products on this list, the Unusual Solutions stain remover doesn't have chlorine or other harmful ingredients. You can use it on not just your carpet, but other things such as bedding, clothing, litter boxes, and more.
If you've got a sensitive nose, then you'll be pleased to know this stain remover has an amazing scent. In fact, Unusual Solutions has gotten many requests not to ever change it.
The only thing you may be disappointed with this product is its price. When compared to the rest of the list, it has a high price tag. But considering you can get a money-back guarantee with it, it may be worth it to try it at least once.
Homemade Solutions
If you want some homemade solutions, there are some options. However, keep in mind that they won't work as well as commercial products since there are no enzymatic bacteria in them. This is the key to complete stain removal and deodorization.
Here are some DIY solutions that'll do in a pinch:
Baking soda and vinegar
Baking soda and hydrogen peroxide
Sugar and orange or lemon scraps
Castille soap, rubbing alcohol, and rosemary essential oil
You can mix all of the above with water and put in a spray bottle to spritz onto the affected areas.
Get the Best Carpet Cleaner for Old Pet Urine
Coming home to dried dog pee on your carpet isn't the end of the world. But if it happens often, then you'll want something heavy duty so you can keep your carpet in the best shape possible.
As you can see from our list above, you have several options available to you when it comes to the best carpet cleaner for old pet urine. Some may work better than others for your personal situation, so make sure you give at least a few of these a try before you settle on one.
If you want to learn more about Frenchies, then check out our other articles about this precious breed.