French Bulldogs are food-driven little dogs that's why treats are a great dog training tool.
However, carrying around dog treats in your hand or your pocket is less than ideal.  Having a bunch of treats in your hand makes it difficult to give proper hand signals.
This is when having a dog treat pouch can can come in really handy.
What Is a Dog Treat Pouch?
A dog treat pouch is a simple dog training accessory that you can carry with you, attach to your hip, or strap over your shoulder to carry your dog treats in.  They typically have divided pouches or pockets that can stay open during a training session for easy access to dog treats.  Some dog treat pouches have multiple clip on D-ring attachments where you can attach poop bag holders, dog clickers, remote trainers, or other dog training accessories.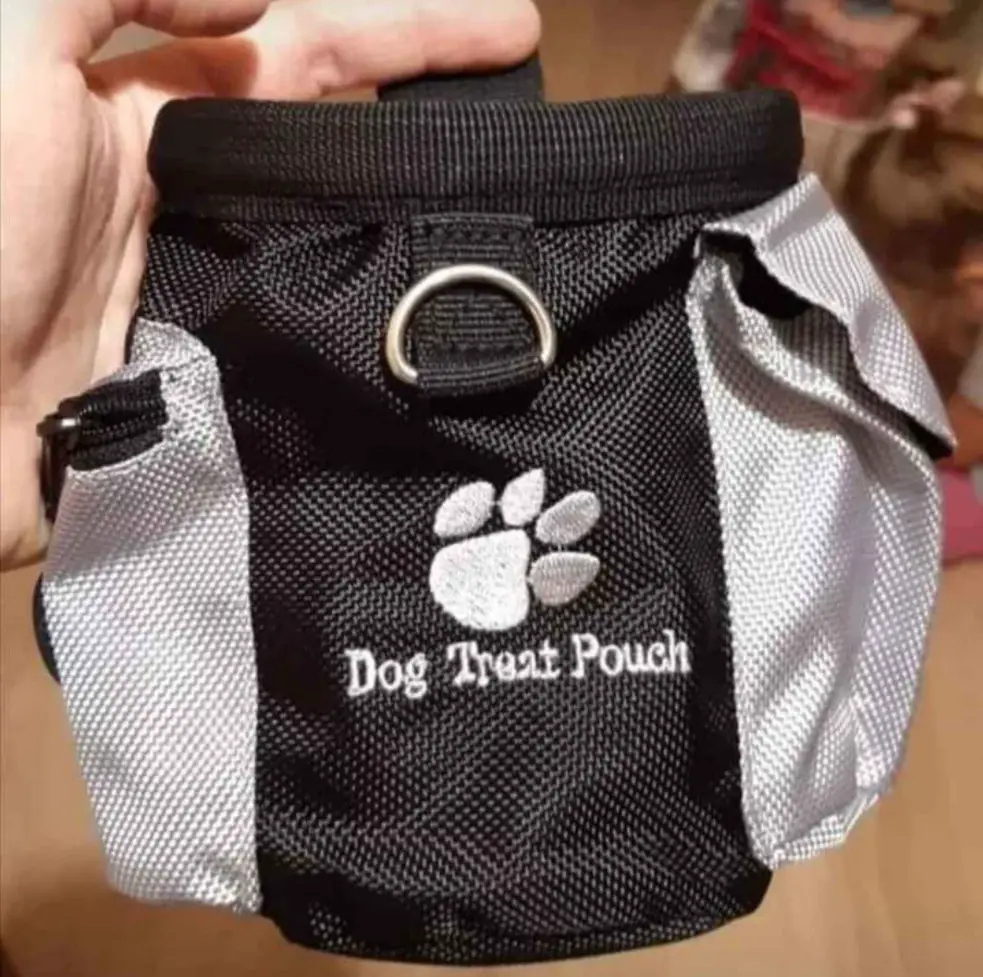 Why A Dog Treat Pouch Is A Great Training Tool
Dog treat pouches are very helpful in a variety of ways.  They help to keep dog treats out of the way until you need them.  A dog treat bag can also help to make them easy to reach when it is time to reward your French Bulldog.  Not having the treats visible and in the dog treat bag also helps to allow your Frenchie to stay focused on the task at hand.
Today's dog treat bags are much more convenient than traditional dog treat bag solutions and this article I cover a variety of options that should suit your needs.
In this article I will cover everything you need to know about dog training treat pouches.   I also included some Top picks below:
Quick Picks – The 12 Best Dog Treat Pouch Options For You
10. BeOneBreed Dog Treat Pouch
9 Things To Consider Before Buying Dog Treat Pouches
There are a lot of different options of dog training treat pouches so you will want to look into the various considerations before making your buying decision.
Below are some of the key things to think about before making your dog treat bag choice:
1. Easy to Open Dog Treat Pouch
When you are involved in a dog training session with your Frenchie you don't want to be fumbling trying to access your dog treats.
Beyond it being frustrating when you can't readily access your treat it can also negatively affect the focus of your French Bulldog which is not what you are going for.  You want the dog treat pouch to securely hold your treats while making them easy to access.
Different dog treat pouches employ various methods for keeping your Frenchie's treats secure, with a variety of opening and closing styles that include:
Magnetic open/close
Drawstring open/close
Zipper open/close
Velcro flap open/close
Now, each of these open and close styles are better or worse than the other options.  When deciding which dog treat pouch to go with, you should look into the various options and see what makes the most sense for you.
Most French Bulldog owners tend to go for either the magnetic open/close option or the drawstring open/close option. These tend to be the most popular dog treat pouch designs people choose.
2. Dog Treat Pouch Capacity
Dog treat pouch capacity can vary quite a bit so this is something you will want to consider.  Some of these dog treat bags have a very small capacity while other dog treat pouches are designed to carry many more dog treats.  The higher capacity dog training pouches can allow you to train more than one dog at the same time.
Be sure to take into consideration the small size of your French Bulldog and how long your training session will be as this will affect your choice.
3. Over-The-Shoulder Strap vs Waist Pouch
There are also different ways to fasten your dog training pouch including waist clip, over the shoulder, and around the waist strapped do training pouches.
Each style attachment has pros and cons to it – let's dig into them.
Over-The-Shoulder Strap Pouches
An over the shoulder way to attach your dog treat pouch can be a great option.  This type of dog treat pouch tend to have a large capacity for treats and typically have a lot of extra pockets which can be handy. While the extra capacity can be handy it can limit your ability to adjust the dog treat pouch precisely where you want it all the time.
Waist Clip Dog Treat Pouch
This is a great dog treat pouch option and one that I personally my dog trainer using to train my little Frenchie Augie.  This dog treat pouch clips right to the waist band of your pants and provides easy access to dog treats for your training session.  With this option you don't have to deal with any kind of over the shoulder strap so that's a big plus.  It allows for more freedom of movement.  This type of dog treat pouch also allows for quick and easy removal as well as putting it on.
On the negative side, this isn't a great option if you don't have a belt on.  A waist dog treat pouch isn't a great fit if you're wearing shorts or low waisted paints.  Additionally it can also be a challenge to manage if you happen to be doing dog training in the middle of Winter.  Another drawback of dog waist pouches is that they tend to have a smaller dog treat capacity so it will limit the length of your dog training session.
Waist Strap Dog Pouches
Yet another option to wear during your dog training sessions is a waist strap do pouch.  This option can be a little more constricting but is easier to wear with other outfit options (like a thicker coat). It also provides more versatility in where you position the treat pouch on your body.  That kind of flexibility can be very handy in your French Bulldog training efforts.
4. More Storage Capacity With Extra Pockets
A nice perk to look for in a dog treat pouch is extra pockets and storage capacity.  This can be a perfect place to store dog poop bags, your mini-educator if you use one, or even a clicker.
Having extra pockets or storage isn't 100% necessary but it is certainly a nice addition to look for in a dog training pouch.
5. A Waterproof Liner In Your Dog Pouch
Nothing is worse than having dog treat muck in your bag.  A proper waterproof lining will help to create a more clean and tidy storage spot for your dog treats.  Some dog treats are oily while others are wet so the waterproof lining is a good idea in these cases.
My French Bulldog is on a restrictive diet so I only use HA dog treats.
These are dry dog treats so that isn't an issue for me.
The bottom line is that a washable liner for dog treat pouch can make it much easier to keep your also makes it easy to keep things clean, and it'll help prevent smells from lingering in the pouch too.
6. Think About The Style of The Dog Training Pouch
Especially in the early years of your French Bulldog's life you will be using your dog training pouch often and how it looks is a factor to think about.
Your food-driven little Frenchie will be motivated with the treats it can earn with their compliance.  They won't care what the dog training pouch looks like.   But, how you feel it looks while wearing it does matter.  I think it is a good idea to choose a dog pouch that will also look good as well as having the functionality you need.
7. Room For a Training Clickers and Other Dog Training Tools
As I mentioned earlier, having room for a dog clicker can be very handy so you have multiple training tools right on hand.  Some dog training pouches have built in pockets specifically for storing dog training accessories.
8.  A Pocket in The Dog Training Pouch For Poop Bags
Let's face it, dog poop bags are essential.  I don't know about you but as soon as I giving my Frenchie dog food or treats it is only a matter of time before he has to go number 2.  When doody calls it is important to have dog poop bags on hand to clean up the mess after he has completed his business.
I personally prefer the scented dog poop bags over other options.  I find the subtle pleasant scent is a better option then the one my Frenchie leaves behind with his poo.  🙂
9.  Mini-Educator / Dog E-Collar Control Device
When I did a dog training bootcamp with my dog trainer she introduced me to the Mini-educator dog e-collar device.  I know this dog training tool isn't for everyone and that's ok but I personally have found it very valuable in training my Frenchie.
Having a storage space for your mini-educator dog e-collar device can be very handy to compliment the treats you will be rewarding your pup with.
The 12 Best Training Treat Pouches for Your French Bulldog
Ok, that we have covered the different things to consider before purchasing a dog training treat pouch for your French Bulldog it is time to look at the different options available and choose the one that's best for you.
Below, you'll find a comprehensive list of the dog training treat pouches I reviewed and I like best.
This is the best multi-size dog treat pouch and is a great option for your dog training needs.  This dog treat pouch has two different inner treat pouches which is very handy.  This way you can have treats in one pouch and store other items in the other pouch or even other dog training accessories.
The close-able spine of the dog treat pouch is very flexible and can stay open or close it tight.  This feature alone is very handy so you can easily access treats when you need them and close it tight when you want to.
Pros
Has a hinged design and has two different treat pockets so you can use different types of treats if you are so inclined.  You can also store other dog training accessories in one side if you choose.
Can be latched open during an active training session or closed when not in use.
Easy to get treats when you need them (easy access!)
Has a waist clip OR strap option
Has a magnetic closing option
Cons
The standard size may be too big for some French Bulldog owners
Not suited for a professional dog trainer but more appropriate for home dog trainers
This a smaller dog treat pouch perfect for a French Bulldog sized pup.  It is a great treat pouch that is perfect for your dog training sessions.  The magnetic closure of this dog treat pouch is one of the best I reviewed.
It can be secured to you with either a waist clip or a strap. All and all this is great dog treat pouch option for training your French Bulldog.
Pros
Well designed magnetic closure
It is very lightweight and compact
It is water resistant
Has a loop where you can connect your clicker or mini-educator
Has a small outer pocket for storing needed accessories
Cons
Is only available in one color
This dog treat pouch has limited storage capacity
This is another great dog treat pouch option especially if you are planning on doing an extended dog training session as it has a larger treat capacity. This dog training pouch also has one of the larger storage options of the products I reviewed meaning you can store your dog clicker, a ball or toy, and even other dog training accessories.  This dog treat pouch has a waist attachment so that you can wear it comfortably on your hip.   It has two large mesh pockets on each side too for storing other accessories.  This treat pouch is machine washable too so you can easily clean it up after extended training sessions.
Pros
This dog treat pouch has a ton of storage
It has a large drawstring opening to keep your treats where you want them
This has a large opening to easily access your dog treats
Has two mesh pockets on the side for storing anything you need (poop bags, training accessories, toys etc)
Cons
If you are a shorter person you may find this dog treat pouch sits a little awkwardly on your hip
Some reviewers reported that the pouch frayed after extended use
This is the best dog training treat pouch if you want to keep your dog treat pouch clean as it is machine washable.  If being hygienic and clean is your top priority then this is the dog treat pouch for you.  It is constructed with BPA-free silicone which is why it is so machine washable-friendly.  It has a waist clip attachment making it easy to hook onto your waist band.  It has a magnetic closure for easy opening and closing.  This is a simple dog treat pouch with no frills and no extra storage.
Pros
Machine washable so it is super easy to clean
Easy to access treats for your pup with the flap on the pouch
The one pocket design of this pouch makes it a very simple option
Cons
No extra storage space for your cell phone, dog clicker, etc
Their attachment clip isn't the best design
More prone to spilling for some dog training owners
This is a strong contender dog treat pouch and it is very versatile as you can wear it in multiple different ways.  You can have it over your shoulder, as a waist strap, or even as a waist clip.  It is nice to have options as far as how you wear it.  It has an easy to access mesh project, it has a poop bag dispenser, and it has capabilities to attach various dog training accessories.  Further, it is made from a Nylon material so it is completely waterproof and very easy to clean.
Pros
Has a large dog treat capacity
Waterproof and easy to clean
The poop bag holder option is very handy
Has D ring attachments so you can attach other accessories
Has lots of extra storage pockets which is very handy
Cons
Is a large dog treat pouch so not a fit for all dog owners
Can be a bit heavy for some users
Sometimes simple is best that why this option gets my pick.  This dog treat tote checks that box perfectly.  It is a very simple dog treat tote that has a capacity of about 1 cup.  It has a very simple and easy to use drawstring closure.  This makes it very easy to reward your good French Bulldog for their positive behavior.  It is made from a very durable thick cloth and has a moisture-proof lining.
Pros
Very simple design
Holds 1 cup of dog treats
Has an easy to use drawstring to keep your dog treats fresh
Cons
May not be big enough for all dog trainer needs
Of all the dog treat pouches I reviewed this has one of the best drawstrings I found.  It is very easy to use and makes it easy to access treats when it is time to give your Frenchie a reward.  This is another simple treat pouch for dogs that is constructed with a very strong, woven fabric.  It is a durable option for sure.
Pros
Has a great drawstring closure
You can attach this dog treat pouch via a belt clip OR via a Carbiner which is very handy
It has 2 zippered pockets for storing your dog training accessories, poop bags, and even your car keys or cell phone.
Has a nice reflective trim on the pouch
Cons
Not a big dog treat pouch so capacity for extended training sessions won't be good
This is another dog treat pouch that is very versatile.  It can be attached via a belt clip on the waist or even hook it to your belt.  It has a great magnetic closure to access the dog treats, it has a smaller front pocket and a larger pocket with a zipper too.  It is constructed with a very durable nylon material so it is made to last.  It does include a D-ring so you can clip on dog training accessories. This makes for a very strong choice of dog training bag.
Pros
This is a very attractive designed dog treat pouch
It has a nice magnetic closure to access dog treats
Has two pockets (one small and one large)
Has a D-ring attachment to clip on dog training accessories (think dog clicker or mini-educator)
Super easy to clean via hand washing
Comes in multiple colors
Cons
This dog treat pouch has a smaller opening so if you have big hands this may not be the pouch for you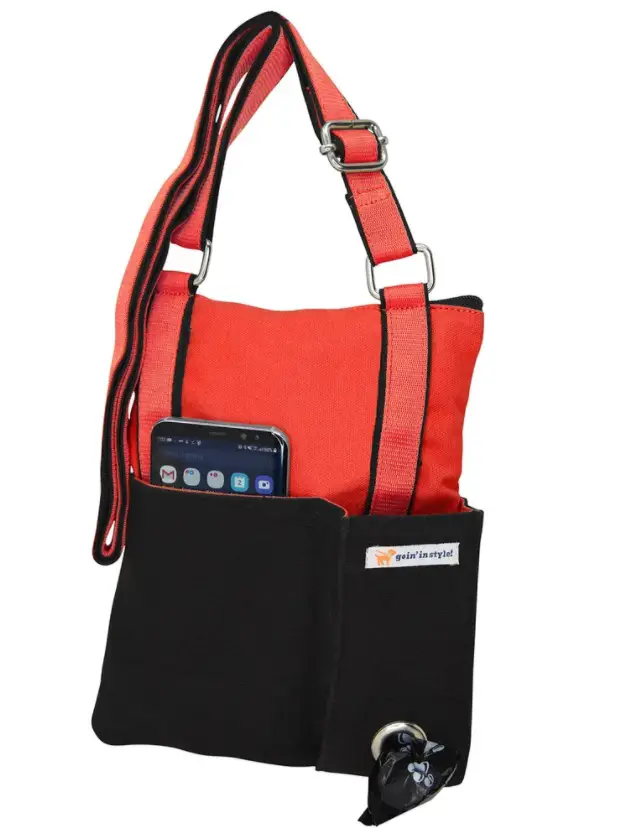 This Goin' In Style Organizer is a very versatile dog treat pouch.  It has different pockets for whatever you want to store in the pouch and has different compartments with zippers.  You can wear it across your body or on your belt – I prefer the belt option).  This dog treat pouch has a very reasonable price tag and is very affordable.
Pros
Lots of storage capacity
Made from 100% cotton and lined with Vinyl
Has an attractive design
Very affordable
Go poop bag attachment for easy poop bag access
Cons
Little bigger than other dog treat pouch options
10. BeOneBreed Dog Treat Pouch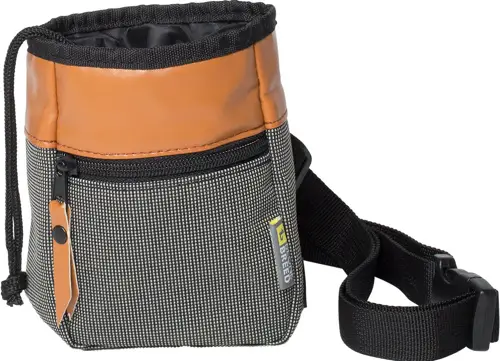 This is a dog treat training pouch with a little flair and a very attractive design.  For shoppers who care how their purchases are made you will be pleased to know that it is made from a vegan leather.  It features a well-made magnetic closure to help keep your dog treats fresh when not actively training your Frenchie.
Pros
Attractive design and appearance
Has a belt clip option AND a loop to help keep your hands free
Comes in a couple different sizes so you can choose what is best for you
Has a discrete compartment to store valuables (or valuable dog poop bags)
Smaller compact design so it's not too bulky
Cons
Some reviewers mentioned that the clip or the belt doesn't stay tight
Click Here To Learn More About This Dog Treat Pouch
This Silicone Dog Treat Pouch is the perfect treat pouch if you are not the biggest fan of cleaning dog cookie crumbs after your training session.  The Silicone design of this dog pouch is dishwasher safe so it is super easy to pop it into the dishwasher for a quick wash.  This is also a very affordable dog training treat pouch that fits any budget.
Pros
Dishwasher-safe dog treat pouch for easy cleaning
It is a very lightweight dog treat pouch which I liked
Very affordable dog treat training pouch
Cons
Some owners of this pouch mentioned issues with the belt clip
If you're not a fan of straps or belt clips this may be the dog treat pouch for you. You can easily attach this dog treat pouch to your bag, purse, backpack, tote bag, or waist band via a unique magnetic attachment design.  It is pretty slick and appealing to me!
Pros
Unique magnetic attachment makes it easy to use
Has some great storage options space to put your cash, credit cards, or dog training accessories
It features a water-resistant pocket that helps to keep your dog treats dry and fresh.
Easy to wear and reach the treats
Cons
Some purchasers of this dog treat pouch said it was too small for them
How Do You Clean a Treat Pouch?  
The method to properly clean your dog treat pouch varies depending on the material it is made with so look at the Tag for washing instructions.  Most dog treat pouch manufacturers will give you the exact instructions on how to clean it properly.  Many dog treat pouches can be put in the dishwasher for easy cleaning.  If in doubt or you don't see a tag, most dog treat pouches can be hand-washed quickly and easily.
How Often Should You Clean A Dog Treat Pouch?
Regular cleaning is a must to keep your wag bag looking and smelling great. You'd be surprised how dirty they can get, and wet or oily treats  make tidying up mandatory for avoiding odors and bacterial growth.
One Simple Hack On How To Keep Your Dog Treat Pouch Clean
Some people mentioned having a hard time keeping their dog treat pouches clean especially when using high-value (and smelly) treats like sliced up hot dogs, deli meat, etc.  Treats like this can be a special treat that will really get your dog's attention and keep them focused on the dog training session, however they leave a stinky mess and make clean up of your dog treat pouch more challenging.
A simple way to deal with this is first put the treats in a Ziploc bag and THEN put those treats in your dog treat pouch.  That little hack makes clean up up of your dog treat pouch much, much easier.  This may seem a little redundant but if you don't want to deal with a challenging clean up this simple hack will help.
Final Thoughts On the Best Dog Treat Pouch Choice For You
There are many great options for dog treat pouches available.  I prefer this dog treat pouch personally as it is easy to use and easy to access dog treats.  The Ruffwear dog treat pouch is also a great option!  Having a dog treat training pouch helps make your dog training sessions with your Frenchie much easier.  Hopefully this guide I put together will help you making the best decision.
Check this out if you are interested in learning how to socialize a French Bulldog puppy.