There are many doggy day care benefits that can make life for you and your French Bulldog more enjoyable. From improving your dog's behavior to improving the health of your Frenchie there are a lot of great reasons to sign your pup up for a dog daycare option that is close for you. I will share our experience enrolling our Frenchie in a dog daycare, share some options for dog day care close to you, and give you a glimpse of how life can change for you and your Frenchie. Let's dig in.
Why We Decided To Enroll Our French Bulldog Into Doggy Day Care
A recent change in my job (new office downtown) resulted in me no longer working from home. Previously my little guy would roam around with me as I worked from home but that was no longer an option. This resulted in leaving our little French Bulldog Augie home by himself from about 9:00 to 3:00 every single day during the week. That's six hours of our French Bulldog being by himself in his Exercise pen or dog crate. After a couple weeks of this life change we started seeing some less than desirable behavior emerge. He became more aggressive with his play, he tore apart socks, he raided the bathroom trash any time he could, and other issues. We suspected this would happen and decided to do something about it.
7 Doggy Day Care Benefits For You And Your French Bulldog
Exercise & Socialization – it is important for your French Bulldog to get some exercise each and every day. If he is stuck at home for 6-8 hours by himself that is less than ideal. Further, socializing your Frenchie with other dogs is important in so many ways.
Human contact – rather than keeping your Frenchie locked in his crate all day, having a trained professional dog trainer working with your dog during the day is very beneficial.
Supervised Playtime – having a professional do trainer supervise your Frenchie as he plays with bigger dogs is important. She can de-escalate doggy play that gets too excited or aggressive to make sure it stays a fun play time. The doggy day care we bring Augie to even includes some dog training which is awesome.
Relief from boredom – A bored French Bulldog is one that usually manifests some less than desirable behavior. It can also lead to mild depression for your dog so keeping them engaged, while also allowing proper rest time during the day keeps them appropriately stimulated.
Improved Behavior At Home – The primary reason we enrolled our French Bulldog in doggy day care was to help correct some of the negative behaviors that resulted in him being isolated for 6-8 hours a day. As soon as we started doggy day care those bad behaviors like eating shoes, ripping apart his dog bed and eating the stuffing, and destroying furniture were eliminated.
Improved Fitness – keeping your dog's waistline in check is important and can add years to their life.
Great for busy dog owners – Finally, having structured doggy day care time is amazingly beneficial for you and your family. It can make life with your Frenchie more enjoyable, result in more snuggle time, and ultimately create a better doggy owner relationship.
How I Found A Local Doggy Day Care Service
I found a trusted (and local) dog trainer near me, talked to her about her dog daycare service, asked her about doggy day care benefits for our Frenchie, and signed up our little guy for his class. I used Barbara Jean Crehan, owner of www.ReallySpecialAnimals.com and our Frenchie and our family absolutely love her! She was the dog trainer that I used to choose and train my French Bulldog since he was an itty bitty puppy. She charges about $50 for daily session of doggy day care. I fully understand that this may be expensive for some and certainly isn't for everyone but I have found the investment for our Frenchie far out weighs the cost.
You can also go to Google and search for a dog trainer near me or doggy day care near me. There are of course services like Rover where they can help connect you to a local doggy day care option that works best for you.
[lasso rel="" id="0″ link_id="3198″]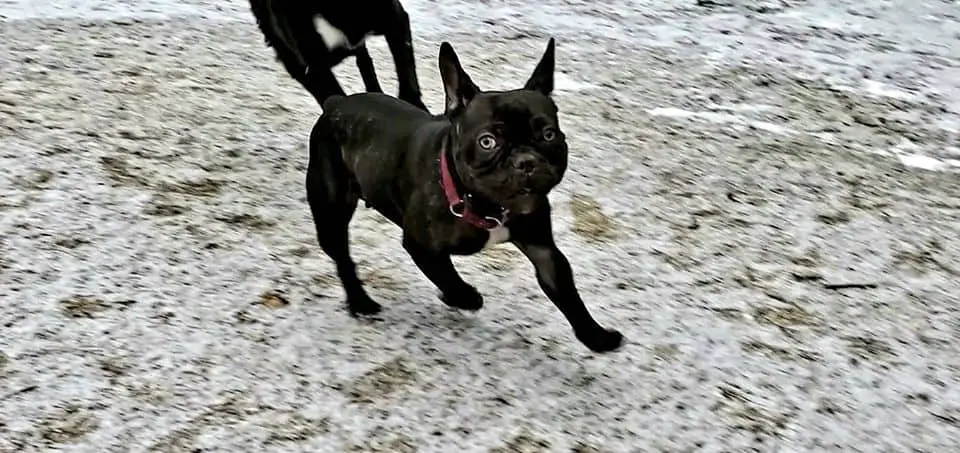 How My Dog Trainer Structures Her Doggy Day Care Classes
Morning & evening pickup and drop off at either people's home or work
Travel stimulation for the dog – no shenanigans by the four-legged passengers while traveling 
Trust and confidence building 
Obedience and impulse control
Lowering the intensity level of dog play when necessary
Treadmill exercise provides both mental and physical challenges 
Appropriate "dog on dog play" and interactions
Working on coming when called 
Crated nap time
Polite and patient behavior 
Sitting and waiting at all doors and gates
Name recognition – "Augie come"
Eye contact/connection 
Clear and consistent communication at all times
No jumping, barking, whining, pulling, rushing, panicking
Augie and some of his Doggy day care classmates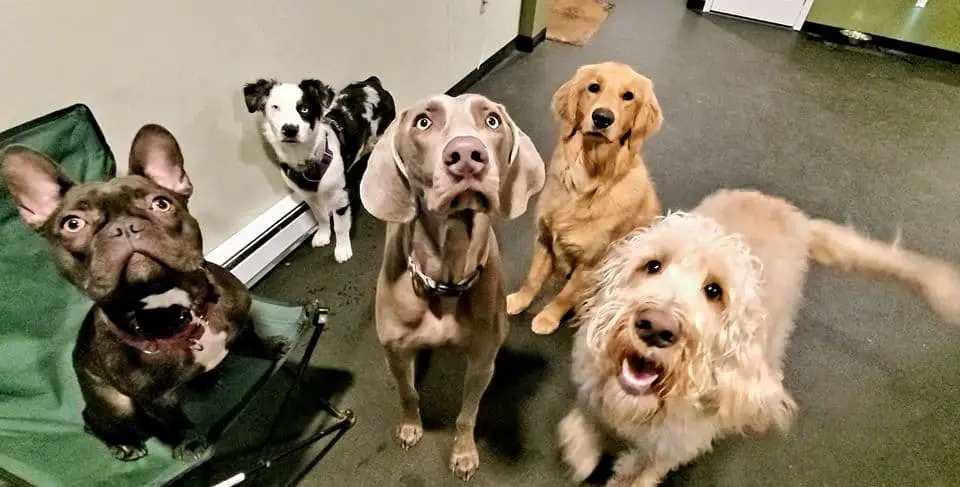 Augie's First Day Of Doggy Day Care
Barbara our dog trainer was very kind to put together a video showcasing Augie's first doggy day care session and I have shared that below to see how much fun our little guy had!!
He ran, he played, he ran, he played, and he ran some more! After Barbara dropped him off at the end of the day (right when our family got home from work and the kids got back from school) our little four-legged pal was grinning ear to ear and was a well-behaved little Frenchie. He slept VERY well that night and didn't have any behavior issues whatsoever.
Here Is a Photo Of Augie Resting quietly after a full day of doggy Day Care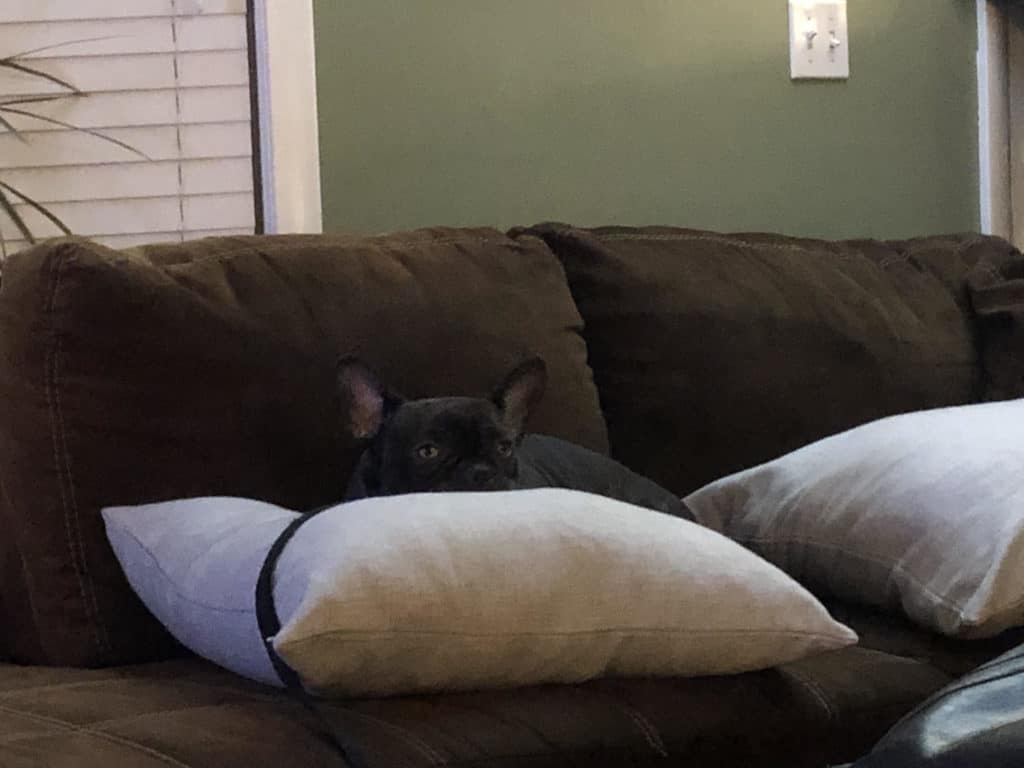 Final Thoughts On Doggy Day Care Benefits
After the first day of doggy day care our Frenchie came home grinning ear to ear and he had an absolute BLAST at class (just check out the video of his doggy day care visit). Our dog trainer once told us that "a tired dog is a well-behaved dog." We have found that to be very true! Augie is now signed up to do two doggy day care sessions a week and we are extremely happy that we decided to get him enrolled in this. I would absolutely recommend you sign up your French Bulldog for doggy day care if it fits in the budget.
If you are looking for more French Bulldog training tips take a look at these posts.