Did you know that with one simple item, your French bulldog can accompany you on vacation anywhere? Yes, that's right! By investing in a portable dog fence, your furry friend can go with you to the beach or on your favorite camping trip.
If you hate leaving your Frenchie behind or want them to be protected, keep reading our guide to buying a portable dog fence barrier.
If You're In A Hurry And Want To Know My Top Picks For A Portable Dog Fence For Your Frenchie, Here They Are:
Here Are Some Important Considerations In Choosing The Best Portable Dog Fence
1. The Basics – What Are Portable Dog Fences
A portable pet fence is an interlocking system of panels that helps to contain your French bulldog. You can set up the fence in any area, outside or inside. It's made to prevent your dog from escaping and to keep it safe when you're outside or in a new environment.  There are a ton of dog fence options and puppy playpens. They come in all different shapes and sizes. You can get camping dog fences that are in the shape of a rectangle, square, circle or even octagon. There are enclosure options to suit smaller dogs as well as bigger canines. You can even find virtual fences if you don't really want to set up a physical fence.
A portable fence is easy to move from place to place and is convenient to break down and rebuild. Convenient storage and transportation make fog play areas a fun accessory to take with you on holiday. This way, you can give your dog a safe outdoor perimeter to play around.
2. Why You Should Get A Portable Dog Fence For Your French Bulldog
There are many positive reasons why you should look into buying a fence for your French bulldog. Especially if you love for your furry friend to travel and spend time with you anywhere.
A portable outdoor dog fence will keep your French bulldog from running away or getting overwhelmed with a new space. They will also create a barrier so other dogs do not disturb you.
Dog fences can even be placed inside to help your puppy with potty training. It can be placed outside to create a barrier if your yard doesn't have one.
No matter where you go, a portable fence will keep your dog safe while letting them join in on the fun. You can pack your portable fence for camping dogs or go to a picnic.
Most fences are affordable, durable, and easy to transport. So, if you like your small dog to go on vacation to the beach or camping with you, a portable fence is something you should add to your packing list.
3. What Should You Look For In A Fence?
You have decided that buying a portable dog fence for your French bulldog is a great idea. Whether it's for vacation purposes or creating a fenced area in your backyard, there are some details you should keep in mind when buying a portable dog fence for camping or outdoors.
They Should Be Durable
Having a durable, heavy duty dog fence is very important. You want it to last for a long time and don't want your French bulldog to chew through it.
The more durable a fence is, the longer it will last. So shelling out the extra cash for a better quality item will pay off in the long run.
Metal is ideal for dogs that like to chew. If your French bulldog is a chewer, then plastic may not last long.
Even metal can be flimsy. So make sure your fence is made with heavier material, even if you go for a plastic one. Look for a weather resistant metal material with an anti-rust coating. It will last you a lifetime.
Fences That Change Shape Can Be Versatile
Buying a fence with collapsible and removable fence panels is a great idea. This will ensure that it fits anywhere in your house or outside. These fences can move to go around furniture inside or gardens outback.
They Can Match Your Home's Style
You may be thinking that all these fences must be the farthest from stylish. You're not wrong. Some are, but you can find some stylish ones too.
Plastic fences come in many colors and can even be found with designs. You can find one to match the style of the room you plan to place it in.
Even metal fences can be bought in different colors. If a gold fence with a beautiful design on top fits your house better than black metal, go for it.
Dog fences can be used to keep your pet safe while being an accessory piece in your home.
Fences That Change Sizes Are A Must
Finding a fence that has removal or collapsible panels is important for fitting it in your home, but it's also important for changing the size of the pen.
Having a fence that can change size is great for when your dog will be confined for a long time. Even making the pen bigger for a puppy play date is a great idea. If your dog is in the pen for a few hours, you don't want them to go crazy in a small space.
Keep in mind that small areas are okay for a short time.
Indoor Or Outdoor Use, Or Both?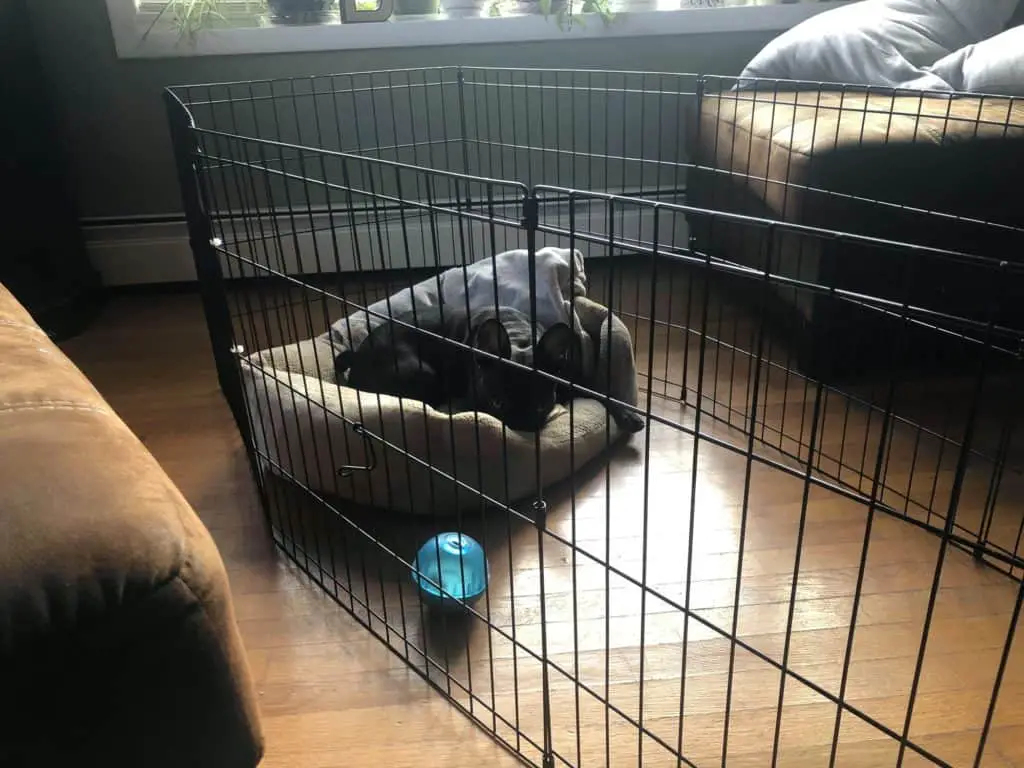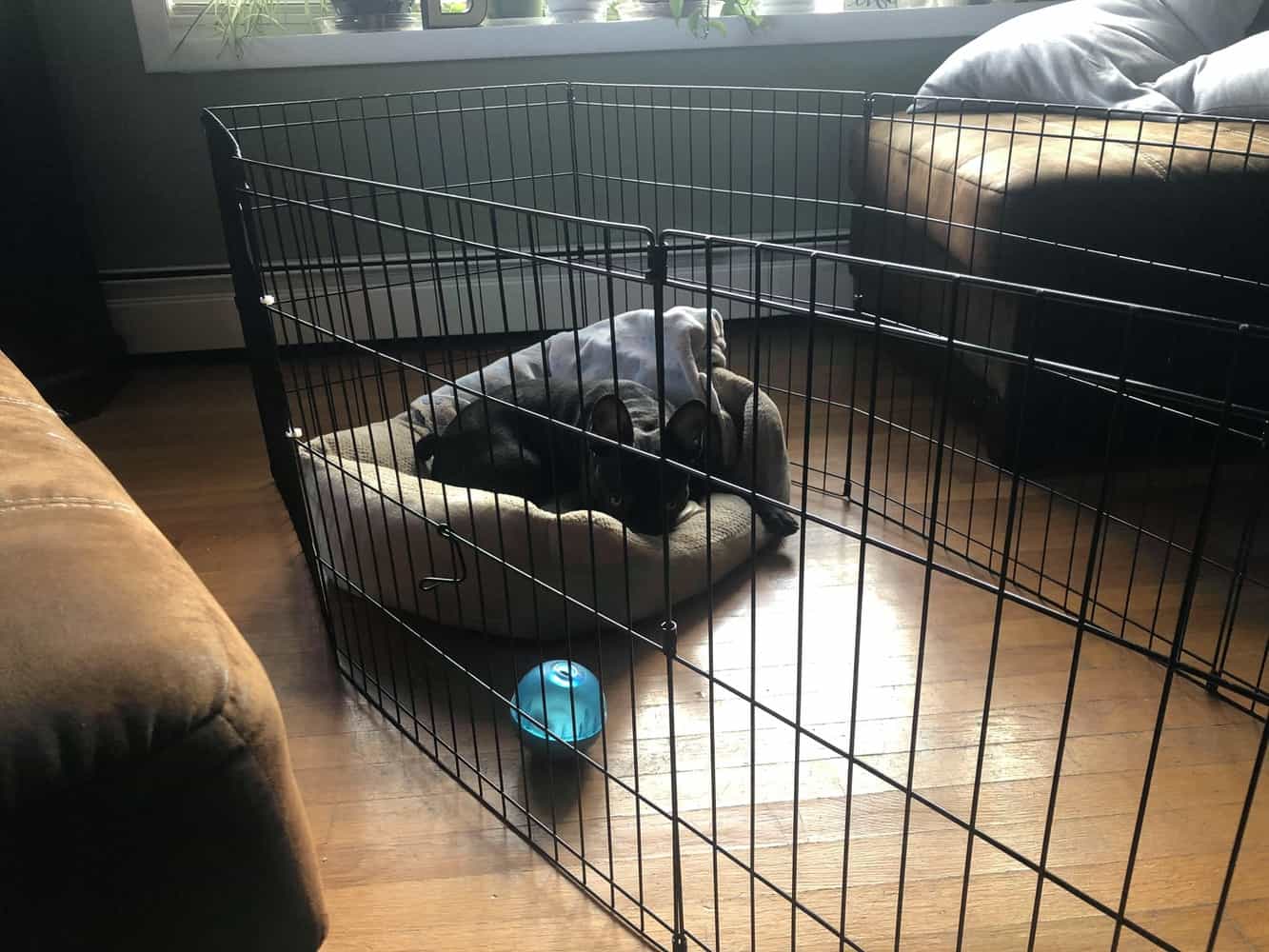 You have to know if the pen will be used both inside your home and in your yard, or one or the other.
If you are using it for both, then a portable fence is a must. You can find lightweight plastic and metal fences that come with their own totes. This makes it easy to carry and great to move from one area to another.
If you are using a fence just outside, then it should be fastened into the ground. Of course, if you plan to use it inside, too, then it shouldn't anchor into the ground.
Overall, your portable fence should be easy to break down and store. It should also be easy to set it back up when you need to use it. Checking reviews is the best way to know how difficult or easy each fence is to set up and take down.
Doors
Will you need a door for your French bulldog to exit and enter the area? If the answer is yes, you have options.
Most fences come with doors, and some come with removable doors. If you feel as if a door is too much, then some fences come without.  We have one without a door, and it is just fine because we just lift him in and out of it.
Height Is Important
Making sure you have the right fence height is important. You don't want to buy a fence fit for a German shepherd and have it tower over your French bulldog.
We recommend 24 inches being the perfect height. If your dog loves to climb, you can find higher fences.
4. Safety Is Always First
We have discussed the options you can have with your fence and what you should look for when shopping. While browsing fences and finding the perfect one, remember that safety is always first.
Make sure the fence is durable and will not collapse, falling onto your pet and hurting them. If you feel as if your pet will climb out of the pen, hurting themselves in the process, roofs can be bought to lay overtop the space. These roofs can be locked into place for extra safety or lay on top of the fence.
If your fence comes with a door, the latch should be secure. You don't want a faulty latch to be the reason your French bulldog gets away. When shopping, make sure latches are hard to open and work correctly.
We talked about how indoor and outdoor fences don't have to be anchored into the ground. But, if you are using a fence outdoors, we highly recommend one that does lock into the ground.
You don't want a gust of wind to come along and collapse the fence, hurting your dog inside.
5. For French Bulldogs That Don't Like Fences, There Are Options
So, your dog isn't the biggest fan of portable fences. Maybe they hurt themselves on the metal frame or don't like that they can see squirrels and rabbits running around them.
If this is the case, you can opt to buy a canvas or mesh fence. The fabric isn't as durable as metal or plastic, but it will ensure your dog doesn't hurt itself.
The Best Portable Dog Fences For Your French Bulldog
This is the pen we ultimately decided on and bought for Augie.  It has served him and us well!  It is extremely easy to set up and take down, and absolutely no fancy tools are needed (which is perfect because I'm not handy at all).  This dog exercise pen wins my top vote because it is easy to store, is very portable, and it will keep your Frenchie safe whether he's inside or outside.
The Midwest exercise dog pen also comes in two colors that can help you fit any space in your home.  This fence comes in different sizes, starting from a height of 24" and going all the way up to 48".
Each panel of the Midwest foldable metal exercise pen measures 24 inches Wide by 30 inches in Height.

The Midwest Exercise Pen folds flat for convenient storage.  You can stuff it in a closet or behind your couch when not in use.  

Exercise Pen provides 16 square feet of enclosed area (1.5 meters) for your French bulldog.  This pen is made for Dogs 26 to 40 pounds

You can take this pen outside with you as well.  It comes with 8 ground anchors for outdoor use and 4 thumb snaps for easy assembly included with Exercise Pen / Pet Playpen

Durable Black E Coat Finish, Provides Long Lasting Protection, Features Secure Double Latch Door

Easy set up & no added tools needed for assembly. Exercise Pen includes 1 year manufacturer's warranty
PROS
This crate is available with or without a door (we got one without)
No added tools needed for setup
Foldable for convenient storage
pen comes in different heights
Good for Indoor and outdoor use
Non-rust finish
Easy to assemble system
Available in either Black or Gold Zinc
CONS
Less durable than other heavy-duty options but for a Frenchie I don't think this is needed
The metal clasps on a couple of the sections broke for us and we had to use Zip ties to repair it
Click Here To See This On Amazon
The BestPet dog pen is a very well-built dog exercise pen and if you are looking to keep a rowdy Frenchie contained this is a great option.  This is a purely outdoor dog exercise pen and is not made for using in your house.
The BestPet exercise pen has eight panels that are 40" wide by 31" high.  You can also configure it into different patterns to fit the needs of your Frenchie.
Is your puppy a little mean chewing machine? No problem! The BestPet Heavy Duty Pet Playpen has a durable paint coating that will stand your doggie's attempts to chew through the fence!
PROS
Strong and durable exercise pen
Eight panels that can be set up according to your needs
Available in Black and Silver
Fit multiple Frenchies in it
Durable crate materials to keep chewers at bay
The door can be opened easily
CONS
Heavy exercise pen so it is tough to move
Not made for indoors, outdoor use only
Click Here To See This On Amazon
The Amazon Basics foldable metal exercise playpen is also a great option and cheaper than some of the other options too.  It is still a great exercise pen that can be used inside and outside for your Frenchie.  The pen allows you to quickly create a designated area for you to safely interact with your Frenchie, whether socializing, training, or providing playtime, or for simply giving your pet extra space to exercise and stretch.
PROS
Great for Indoor and outdoor use

Completely portable 24-inch play and exercise pen with door; for dogs up to 16 inches tall

Has a rust-proof black finish; step-through door access and has 2 secure-locking slide-bolt latches

Easy to set up in seconds and folds flat for space-saving storage

Has 8 ground anchors for outdoor use

Also has an Amazon Basics limited one-year warranty which is a nice bonus
CONS
Some reviewers mentioned once their puppy was old enough they could undo the latch on their own
Not as stable inside without the stakes in the grass
Click Here To See This On Amazon
This is one sturdy dog exercise pen.  In fact, this is like the Fort Knox of dog exercise pens.  While it is the sturdiest of the pens I reviewed it also conveniently folds down and is easy to carry in a portable tote bag.
This portable dog fence can be used both indoors and outdoors which is handy. This pen provides a safe enclosed space for your Frenchie much like a dog crate but with even more space.
If your Frenchie is a climber or jumper then this may be a great option for you. The roof not only keeps them in the pen but it also helps protect them from rain and from sun.
PROS
Fully enclosed exercise pen with a roof
5 – 21 square feet of enclosed space, depending on size
Used both Indoors and outdoors
Easy to setup
Can be purchased with a tote bag
CONS
Definitely one of the heavier dog exercise pens
Can't expand the crate due to the roof
Click Here To See This On Amazon
Now It's Time To Start Shopping And Get The Portable Dog Fence That Works Best For You
When it comes to a portable dog fence for your french bulldog you should know what you want. In this guide, we talked about the different types of fences and the different features that come with it.  As I mentioned above, the model we went with was the Midwest Exercise Pen.
It's now time for you to start shopping for the best fence for you and your dog.
For more information on french bulldogs check out the rest of our website here.