If you are looking for the perfect French Bulldog puppy to add to your family then this list of French Bulldog breeders in Virginia should get you started down the right path.  Before contacting any Virginia Frenchie breeder I highly recommend reading these tips to find a reputable French Bulldog breeder.
Below is a list of some of the Virginia French Bulldog breeders to begin your search with.
9 Best French Bulldog Breeders in Virginia
To get a French Bulldog, you must find the best French Bulldog breeder in Virginia. Finding the right breeder is essential and can make or break your dog's life. You want your puppy to be healthy, happy, and safe as possible and proper breeding practices can ensure you get a great Frenchie to add to your home.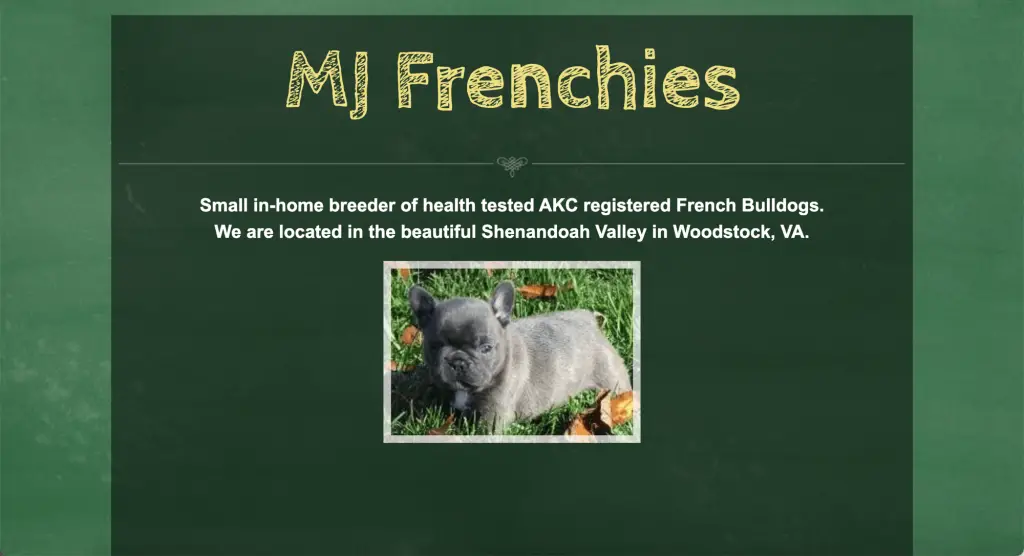 MJ Frenchies
MJ Frenchies is a small family-owned business breeding French Bulldogs for over 15 years. Their kennels are located in Virginia, and they have a large selection of beautiful French Bulldogs that are all well-socialized, up-to-date on vaccines, and ready to go home with you.
They offer various options regarding the type of French Bulldog puppy you want (such as color or temperament) and the gender(s) you wish to breed your puppy with. They also have an online store where you can purchase some items for your new puppy.
If you're looking for a great breeder who has been around for years and does things the way they should be done, MJ Frenchies is a good choice.
Location: Woodstock, Virginia
Website: https://mjfrenchies.com
Kaigan Kennels
Kaigan Kennels is a new French Bulldog breeders in Virginia, owned by Jordan Kaigan. They've been breeding French Bulldogs since October 2018 and have only been around for a few years. They're located in Virginia Beach, VA, and are currently only offering puppies to their clients who reside in the Hampton Roads region (Newport News, Norfolk, and Virginia Beach).
Their goal is to produce healthy, happy puppies with excellent temperaments and personalities. They breed for temperament, health, and longevity. They also breed for longevity by including hip dysplasia screening on all their dogs. They have various options for their future customers: black, blue, chocolate, and white pups; males and females; short coats or long coats; short legs or longer legs; healthy hips or not; the list goes on.
The Kaigan Kennels team takes its time to ensure that every puppy leaves their home with proper care instructions and socialization tips. They also offer a lifetime support program that includes training classes held every month at their house, allowing customers to come to watch puppies grow up from birth while they develop.
Location: Stephens City, Virginia
Website: https://www.kaigankennels.com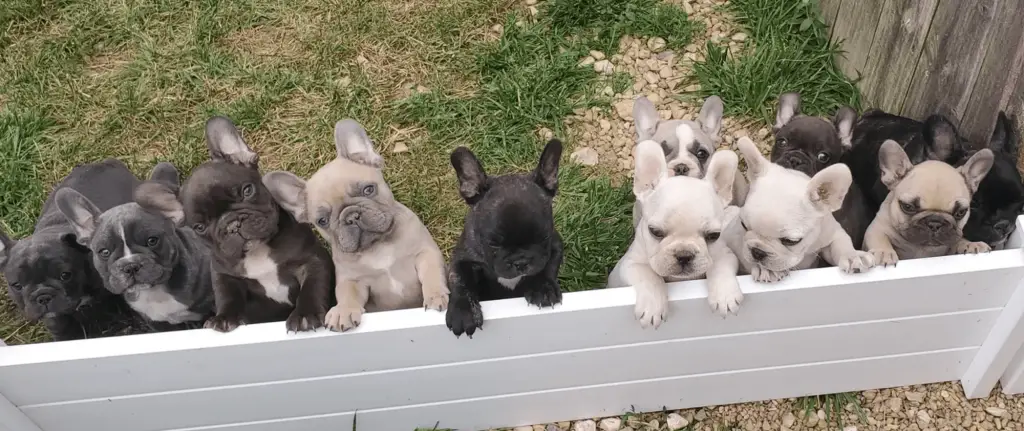 Brick House Bulldogs
Brick House Bulldogs is the place to be when you're looking for the perfect French Bulldog in Virginia. They've been breeding Frenchies for over 20 years and have a ton of experience. They can help you find the perfect puppy for your lifestyle and needs.
Brick House Bulldogs breed only French Bulldogs—they have no other breeds of dogs on their roster. If you want a great-looking French Bulldog that will be a joy to own, this is the breeder for you. Brick House Bulldogs specializes in small-sized Frenchies—they don't want to breed big dogs that eat up too much room in their homes or make noise while playing with their owners. And they've got plenty of experience with all types of Frenchies: from Standard to Miniature, toy to Standard, and everything in between.
Their focus is on quality over quantity when it comes to breeding Frenchies. They only have 15 puppies per year, so they can spend time preparing them for their future homes without sacrificing quality control or consistency. They also strive to maintain an environment that promotes healthy relationships with humans and dogs—they will only sell fully vaccinated puppies and microchipped at 8 weeks old or older (depending upon what vaccine was given).
Location: Winchester, Virginia
Website: https://brickhousebulldogs.net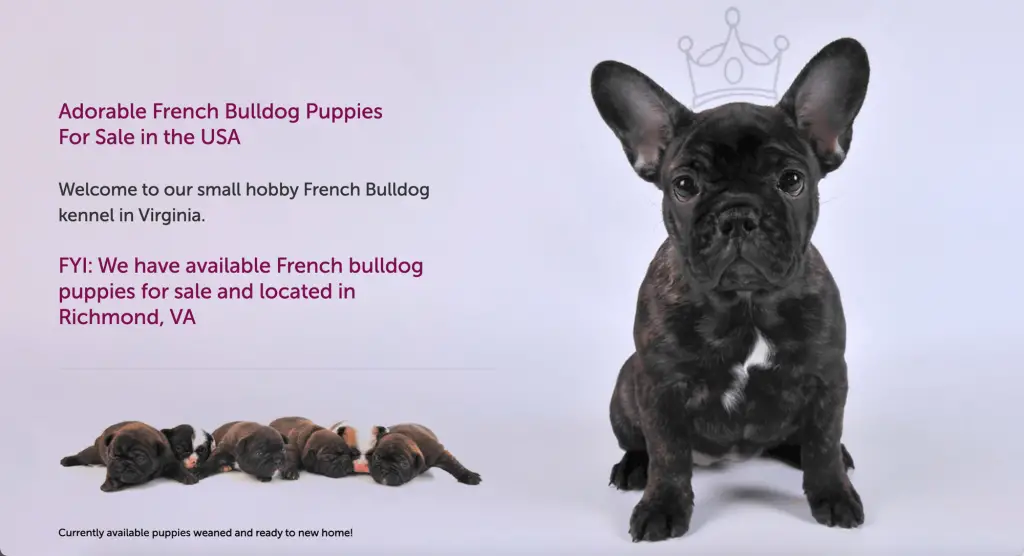 The French Bulldogs in Virginia
The French Bulldogs in VA have been breeding dogs for over 25 years, so they have a wealth of knowledge about the breed. They specialize in breeding Frenchies with health problems such as hip dysplasia or blindness, which makes them easy to adapt to families looking for a companion or therapy dog.
They offer several options for choosing what type of puppy you want: boy or girl; black or white; short-haired or long-haired; purebred or mixed breed; Labrador Retriever mix or standard poodle mix (this option is only available if you live outside VA).
Location: Henrico, Virginia
Website: http://www.the-french-bulldogs.com
Mccoy's Bullies
McCoy's Bullies is a French Bulldog breeder located in Virginia. Jackie McCoy's founder has had dogs since she was a little girl and has always loved them. She has been breeding Frenchies for over 15 years and is proud to call herself one of Virginia's best French Bulldog breeders.
The McCoy family started with two dogs—a male named Mac and a female named Piper. They were bred from McCoy's parents' dogs when they were young. Their first litter consisted of three puppies: One male and two females. The second litter was a bit larger, with six puppies: Two males and four females. The third litter had seven puppies total: Four males and three females.
McCoy's Bullies has grown with new litters every few months, with different dogs coming in each time. Some are females only, others both male and female; some are purebred French Bulldogs, while others are crossbreeds (mixing other breeds). Throughout all this time, Jackie McCoy has always focused on finding the right mix of personality traits in her dogs so they can be loved by everyone who comes into contact with them.
Location: Stanley, Virginia
Website: https://mccoysbullies.webs.com
Virginia French Bulldogs, LLC
Virginia French Bulldogs, LLC is a small, family-run business. The owner has been breeding Frenchies for over 20 years and has no other French bulldog breeders Virginia.
They have had many litters of puppies over the years but are currently only breeding one litter per year. They do not open up for tours or meet visitors as more extensive facilities might, but they let visitors see the dogs at their homes or in a local park.
The dogs are all born to parents registered with the American Kennel Club since birth and have been DNA tested to ensure that they are purebreds. The dogs are raised indoors in a free-range outdoor area with fencing so they can safely roam around when outside is too cold or too hot for them. The pups stay with their mother until they are 12 weeks old before being sold as pets to families who want a pet French Bulldog puppy without having to wait until they're ready for adoption as an adult dogs. However, most people purchase them as pets right away so they can start training immediately instead of waiting months after being purchased before training begins.
Location: Halifax County, VA
Website: http://www.virginiafrenchbulldogsllc.com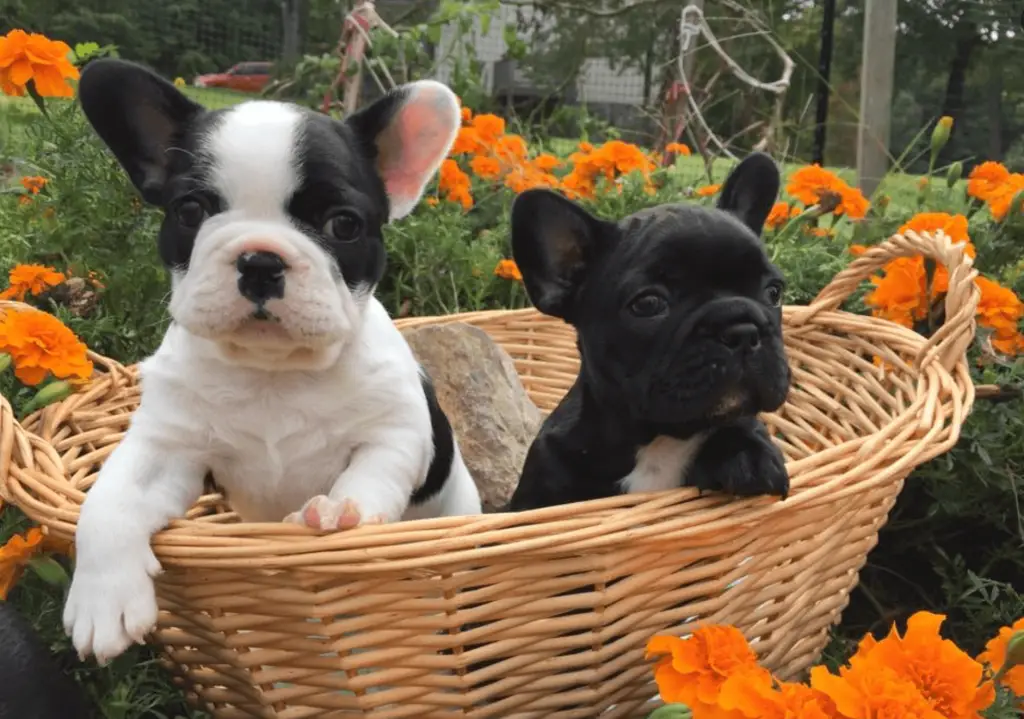 Smith Mountain Lake French Bulldogs
Smith Mountain Lake French Bulldogs has been a small-to-medium scale breeder in business for over 15 years. They are located in Virginia and currently have two litters on the ground at any time. Their current focus is on Frenchies, but they can also take in other breeds.
The breeding program at SMLLF is focused on producing healthy French Bulldog puppies Virginia with a solid temperament. They only use certified genetic parents who have been tested for every health condition their puppies could inherit. This includes hip dysplasia and eye conditions like patellar luxation, which can affect the quality of life for your puppy if not caught early enough.
Location: Union Hall, VA
Find them online:  Facebook Page
Shenandoah Valley Bulldogs
Shenandoah Valley Bulldogs is a family-owned and operated French Bulldog breeder. The owner, Sueann Merrick, has been breeding Frenchies for over 20 years and has been thrilled with the results.
Shenandoah Valley Bulldogs is located in Virginia but serves clients from all over. They have two large show kennels that are full of top-quality French Bulldog pups and provide plenty of time for their new owners to interact with them before they go on their first trip to "the show ring" (which is a big fenced-in area where you can walk your dog around while it's on leash).
The dogs they raise are always kept indoors, where they can get plenty of exercise and playtime with each other. They come from excellent bloodlines and are very well-trained but still retain some puppy energy, so they don't get too bored when left alone for long periods (after all, puppies need lots of stimulation.). Shenandoah Valley Bulldogs also offers puppy training classes so owners can learn how to train their new pup without having to do it themselves (this helps them avoid any potential accidents at home or in public).
Location: Winchester, VA
Website: http://svbulldogs.com/
Shiloh French Bulldogs
Shiloh French Bulldogs is one of Virginia's most well-known French Bulldog breeders. They have been breeding Frenchies for over 30 years, and they love their dogs so much that they even keep a part of their own family's bloodline at Shiloh French Bulldogs. They also take pride in their dogs' health and long lifespan; all of their puppies are vet-checked twice before they are sold to new owners.
Shiloh French Bulldogs breed healthy and happy puppies of all sizes. They focus on producing well-balanced puppies in all aspects: health, temperament, conformation, and movement. The dogs at Shiloh are all purebred French Bulldogs, meaning they all share the same genetic makeup and bloodline. The owners do not use any other breeders or kennels for their dogs; instead, they only use them for breeding purposes.
Shiloh French Bulldogs offers two different types of dogs: Standard and Miniatures. Both breeds are 25 pounds or under, making them perfect for families with children or small apartments. The Standard is a medium-sized dog, while the Miniature is smaller than the Standard but more significant than its companion breed, the Toy Poodle. This could be the perfect option if you're looking for a small dog that will make your home feel a little more spacious.
Location: 3067 Lowmans Ferry Rd, Pulaski, VA 24301
Facebook page: See them on Facebook here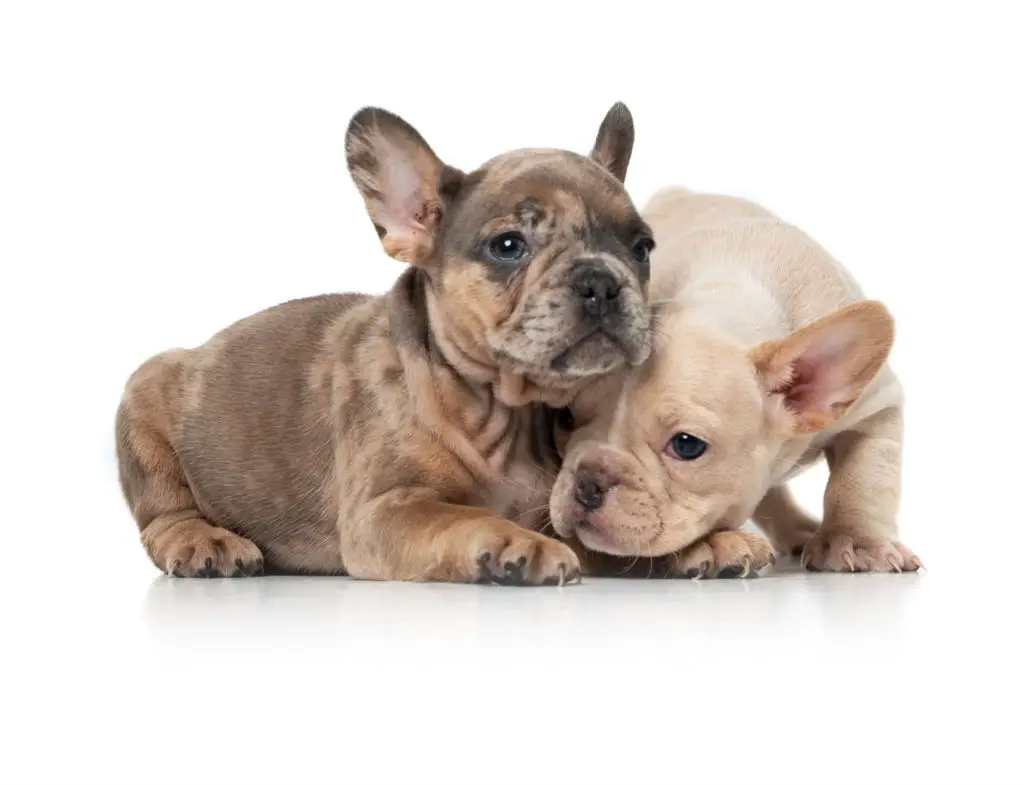 Final Thoughts – Best French Bulldog Breeders in Virginia
Overall, it's important to remember that selecting a breeder is a very personal process. After all, you're choosing someone who will be responsible for bringing a happy and healthy Frenchie puppy into the world in a safe manner is very important.  Proper breeding practices and care is essential in order to get the French Bulldog your heart desires. By conducting the right amount of research when selecting your breeder, you'll be able to choose the one who is best suited to help you find your new furry friend.
Other French Bulldog Breeders In Different States: