We all have to leave our pets from time to time and the best way to allow your French bulldog to have the same freedom they do as when we are home is to install a doggy door. Lots of pet owners love giving their dogs the option to be able to go outside when they are not home and of course we love not coming home to a mess. In the same token allowing your Frenchie the freedom to go outside when they want to and not needing you even when you are home. In this post I'll share the best dog doors for your French Bulldog.  Giving them the ability to go outside and stretch their little legs when they need is a great option as long as you keep their safety in mind.  ,,
Things To Consider When Thinking About Dog Doors
Safety Of Dog Doors
Before you consider getting a doggy door for your French Bulldog you will need to think about the outside area they will be being released into. If you are going to invest in a dog door so that your four legged baby can have the freedom he or she wants you will need to make sure that the outside area will be safe for them. The best idea is to have a fenced in backyard for your Frenchie to be able to venture into. I am sure that many households already have this but if you don't you will want to make sure you look into a way to keep your pouch in your yard when they decided to use their new dog door.
Size Of Dog Doors
The size of your dog door is also important. You will want to make sure that your Frenchie will comfortably fit through the door and that the step to get into the doggy door is low enough for our French Bulldogs little legs. You may also want to think about the age of your dog. If you have a senior aged dog with mobility issues you might want to make sure that there is no step up to get out of the dog door. A good rule of thumb for the height of the door should be 1.5 to 2 inches higher than the shoulders of your dog. Keep in mind if you are a household that has more than one dog you will want to use this guide line with your largest dog. The size of the door is important because once your dog knows they have the freedom to leave the house on their own, and anytime they want, they can get very excited and try to run right through the door. Most injuries from doggy doors are when the dogs are running through the door excitedly.
Security With Dog Doors
Another thing to consider when looking into Dog Doors is security. There are many things to consider when you are thinking about security. You may not always want your French Bulldog to be able to leave the house all the time. You may also not want any night time creatures to come into your house when you are not watching. Raccoons are one of the culprits when it comes to being curious and also wanting to eat anything they can smell. Of course you will want to also consider the best way to keep your house secure when you leave for vacation. Many dog doors have levers or manual locks that you can use from the inside of the door to keep your pup inside and night animals outside. Some doors also have an additional cover that can go over the dog doors to be able to offer more security for when you are away. With our technology some newer dog door companies are making smart doors that help with all of these safety features with the use of your cell phone. The type of dog door you get will depend on what type of security you are looking for so make sure to really check those things out.
Insulation Of Dog Doors
Installing a dog door does possibly change the energy efficiency of your home. To insure the best insulation for your dog door you will want to make sure the dog door has some of the following features, an insulated flap, a double flap, magnets to help keep the flaps closed, and weatherstripping. 
Material Of Dog Doors
Dog doors are made with a combination of plastic, vinyl or metal. The frames are usually metal while the flaps are either plastic or vinyl. You will want to make sure that the frame you pick is sturdy and will withstand use over time. The flaps that are purchased to put on the dog doors are typically inexpensive and can be easily installed or replaced. Plastic flaps will yellow with age and can accumulate scratches which makes them unattractive and in need of replacement. Vinyl flaps are more flexible and easier for smaller dogs, like our Frenchies to push open along with older dogs. The only thing is that vinyl can stiffen in cold weather and do not hold up to harsh winters. 
Easy Installation Of Dog Doors
If you are good with construction projects you can most likely instal a dog door as long as all of the instructions are easy to follow. However if you have any reservations about installing the dog door hiring a professional is better than having to instal a new door put in because of any mistakes you may make in the installation process. 
Types Of Dog Doors
There are several types of dog doors that you can look into. You will want to take into consideration the size of the dog door, the material used to make the door, the installation process, and the safety of the door, and finally the type of dog door that will work best for you and your Frenchie.
Door Mounted Dog Doors
The door mounted doggy door is the classic and is the most simple when it comes to your pooch letting themselves out. The door mounted dog door just has the flap that allows access to the outside and a securable lock to keep your Frenchie inside when you don't want them heading outside.
Wall Mounted Dog Door
A wall mounted dog door allows you to install the door in any area of your home. The wall mounted door can allow access to the outside or to other areas of your house, such as the garage. Wall mounted dog doors require a hole to be drilled into and through the wall of your home, because of this a wall mounted dog door can be complicated to install.
Window Mounted Dog Door
There are several different types of window mounted dog doors that fit both sliding windows and sash windows. Usually a pane of glass is removed and a window mounted dog door is installed. This is a great option for renters or other homeowners who do not want to permanently modify their home. Window mounted dog doors can be opened to allow access to the yard and then close it when not needed. 
Sliding Glass Dog Door
If you have a sliding glass door you can consider using a sliding glass door mount to instal an insert where a small section of the door is replaced with a flap dog door. You are still able to use the sliding glass door as normal once you have installed the doggy door. Many of these have locks that can secure the dog door when not in use. 
Electronic Dog Door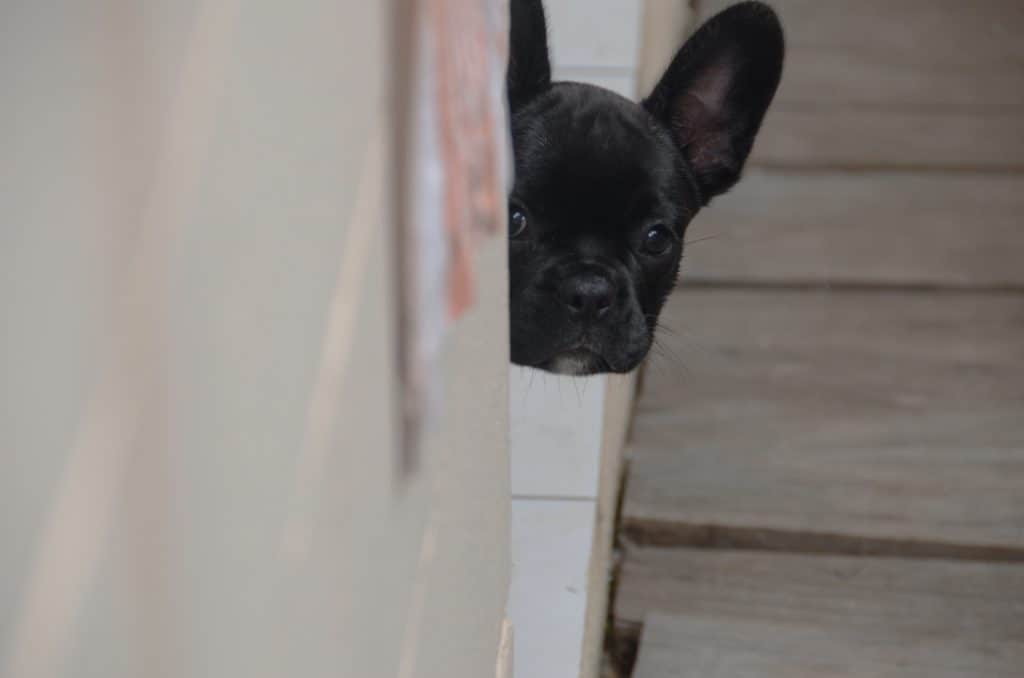 In our day and age, electronic dog doors are now a thing and very popular. Electronic dog doors are installed the same way an original dog door is, in a main door of the home leading directly outside. Electronic do doors often have extra insulation which is great for those living in extreme weather states, such as New Hampshire. These doors are activated by your dog's microchip or collar. After you activate your electronic dog door you can set timers and lock modes. This is a great option for letting your dog go in and out without letting in stray animals or wildlife. 
The 5 Top Dog Door Options For Your French Bulldog
If you are worried about security you might want to take a look at this PetSafe Electronic SmartDoor. The dog door is designed to be installed on interior or exterior doors but they do have an optional kit for wall installation. The PetSafe electronic door uses four D-Cell batteries and is activated with a SmartKey that attaches to your pet's collar. When your Frenchie wants to leave through the door it automatically opens for them and locks behind them. This particular door comes in many sizes for your large and small dogs.  If you are a tech lover like me this may be your favorite option!
Pros
– high tech quality
– solid weather insulation (one of the best insulated dog door)
Cons
– can have range issues
– not good for dogs with long tails as it can close too soon (obviously NOT an issue for Frenchies with their short little tails)
This dog door is perfect for the dog that likes to go in and out frequently. The durable plastic frame is built to take all the bumps, scratches, and bites your dog may give to this door. The Ideal Pet Products Door also has a telescoping frame that can allow you to install this door as a wall mounted dog door. This dog door is recommended for small dogs. 
Pros
– high quality
– good in preventing drafts (one of the best options for a dog door for cold weather)
Cons
– difficult to install (might need a handy man to help if you aren't handy yourself)
If you are looking for a sash window dog door this one may work for you. This high quality white aluminum frame is easy to install and remove. It features a vinyl flap and a lock to control access from either the inside or the outside. 
Pros
– sash window door is easy to install (it's one of the best dog door for sliding glass door)
– looks great in homes
Cons
– will only fit small windows
– only for small dogs
The PetSafe Sliding Glass Dog Door is easy to install and remove. This dog door is just a panel that adjusts to fit most sliding doors and you don't need to cut or modify anything to make it fit. The PetSafe Sliding Glass door is made of weather resistant aluminum frame and has a flexible flap that is made from shatterproof glass and secured by magnets. If you are looking for both an energy efficient and secure dog door this is one to check out.
Pros
– easy to install
– comes in several colors
Cons
– not great for cold conditions- locking system doesn't always work properly
Living in New Hampshire you can experience lots of weather changes. This Extreme Weather Door is great for storms and temperatures. It has a three flap system with the middle flap being heavily insulated. This helps to keep out extreme heat, or cold temperatures. There is also a snap on closing panel which keeps pets from being able to use the door when you don't want them heading outside and can also work as an extra layer during extreme weather. A great feature for this door is also that the plastic frame is paintable allowing you to match it to your home. 
Pros
– three flap system
– can be painted to match  
Cons
– sizes run a little small (but perfect for Frenchies)
– extra layer doors need to be purchased separately   
In Conclusion – The Best Dog Door Options For Your French Bulldog
One of the best ways to make our Frenchies comfortable is allowing them the freedom to come and go as they please. This can also make it nice for your French Bulldog when you need to go to work. Getting a dog door makes it so much easier for you and your pooch to be able to access the outside, either for exercise or to be able to go to the bathroom. You will want to give lots of thought and do some research about what type and kind of dog doors will work best for you, your family and your French Bulldog.  
PS – Looking for more French Bulldog accessories? Check this out: https://frenchiejourney.com/shop/accessories/