Winters are tough where I live in New Hampshire and that's why I first looked into what the best dog snow boots would be for my French Bulldog Augie.  It is important to protect your French Bulldog's feet from the tough weather, the salt used on the roads, and especially the bitter cold. Smaller breeds like French Bulldogs often need help staying warm in the form of dog rain coats, dog jackets, dog hoodies, and even dog booties.  
What are the best dog boots for snow? I will share what I have found in my research looking at various dog snow boots and I hope what I have found helps you make a good decision.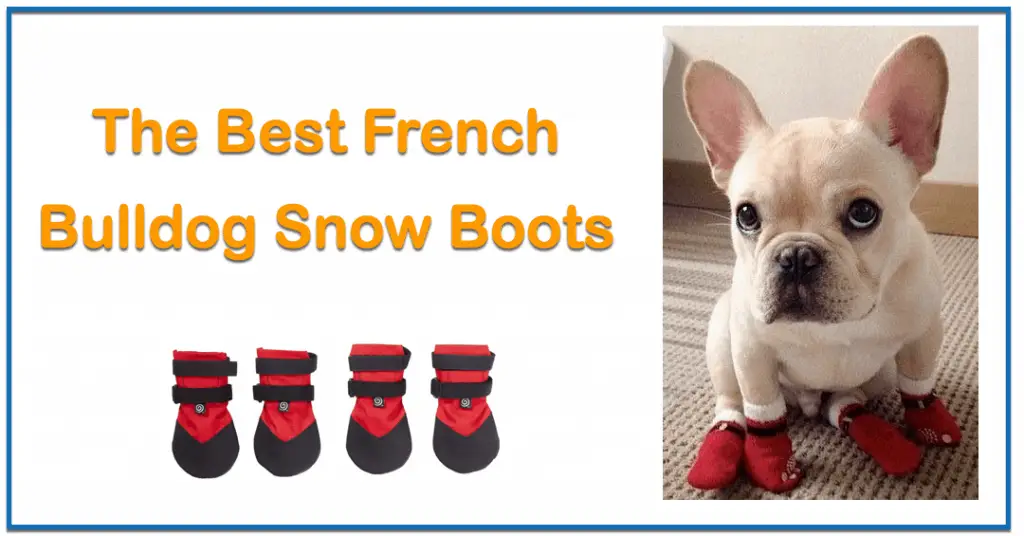 What Are The Benefits of Dog Snow Boots For Your Frenchie?  
There are a number of reasons why every French Bulldog owner living in harsh Winter climates should consider getting snow boots for their furry friend.  Here are some of the key benefits of having four of these dog booties for your French Bulldog.

Foot Protection From Salt and Harsh Chemicals.

  Keep your French Bulldog's feet safe from harsh road salts.  The bottoms of their paws are made of tougher pads but modern road salts have other chemicals mixed in that can be rough on their feet.  While salt is not healthy for your French Bulldog to walk on because it can get stuck in his paws and they will then potentially lick it off which can be harmful.  Older dogs or dogs with kidney problems are especially at risk. Dog snow boots can also protect against poisonous antifreeze to melt the ice. If your dog is wearing snow booties, they will be more protected from these hazardous substances.

Waterproof So They Keep Their Feet Dry.

 Good dog snow boots should be waterproof and keep their feet dry

Warmth.

 The best dog boots are also insulated and should help to get their feet warm as well.  By staying warm they will be more likely to go for walks even on a wet and snowy day.  

Increased Traction.

  Some of the different options of dog snow boots have great tread patterns on the rubber sole of the boot and offer your dog increased traction on slippery snow and ice.  

Fashionable.

 Let's face it, a fashionable Frenchie is always absolutely adorable to look at.  Getting your Frenchie four of these dog snow boots will make him look absolutely adorable while also protecting them from the Winter weather. 

Play Outside In The Winter.

  Dogs love to play outside but your yard or dog park may turn into a slippery ice patch during cold Winter days.  A dog running and trying to stop quickly on the slippery ice and snow might potentially cut their feet causing them to bleed. Even worse, they could possibly tear an ACL in their knee or cause some other injury to your French Bulldog.  A good dog snow boot designed to stay in place when your dog is running on a rough surface. A well-designed dog snow boot can offer protection from the elements no matter how rough the Wintery terrain is. 

Good For Older Dogs.  My last dog before I got my Frenchie was an English Bulldog named Noble and she lived until 12 years old.  In her later years she didn't do well in the snow. If your older dog needs some extra traction, some dog snow boots may be a great option to help your elderly dog gain some traction. 
5 Factors To Consider That Will Help You Choose The Best Dog Snow Boots For Your French Bulldog
There are a number of factors you should absolutely consider before picking up a set of dog snow boots for your French Bulldog.  Below are the factors I would recommend you consider before investing in some for your Frenchie. Here they are:  
I would recommend looking for dog snow boots that have a great sole on the bottom of them.  Look for a snow boot pattern that is textured and that offers great grip for traction on slippery ground.

Choose a dog snow boot with adjustable Velcro straps to help make putting them on and taking them off easier on you and your Frenchie.

Another thing you will want to look for is dog snow boots that are made from special water-resistant material.  Having waterproof snow boots for your Frenchie will help a lot in keeping them protected from the cold wet snow.  

Avoid an overly-rigid sole.  You want to look for a dog snow boot sole that is flexible so your French Bulldog can walk normally.

Always check the manufacturer's guidelines for size, and measure before you order.
INSIDER TIP:  Your Dog Will Likely Not Like Their Dog Snow Boots You Get Them (At First)  
This likely won't be a surprise to you but most dogs aren't not very excited about having shoes on their feet.  To them it will feel very weird having boots on. Are you wondering what the best way to use dog snow boots is? This tip I am about to share is a critical step in getting them prepared for their dog booties.  Before I share the tip, here's a video of a French Bulldog a fellow Frenchie owner shot of their dog wearing their dog snow boots and some of their initial training sessions.  It should give some good hints as to what must be done in advance of the white stuff falling on the ground and preparing your French Bulldog to walk in their new boots.  
You can prepare your French Bulldog for their boots (doggy boot camp) by trying them on him in the house for short periods of time.  Just like the Frenchie owner in the video, you will want to praise him as he gets used to wearing them. The more treats and positive reinforcement the better.  After numerous training sessions indoors your Frenchie will be prepared for the coming Winter snow storms and harsh conditions.  
Here Are My Top 5 Picks For The Best Dog Snow Boots 
The best dog boots for snow have all the characteristics I mentioned above.  They should be waterproof, insulated, have a great traction-supplying sole, and be comfortable for your Frenchie.  Here are the best snow dog boots I have found from my research:  


Click Here To See This Product On Amazon
Pros of The My Busy Dog Water Resistant Shoes
Strong soles protects your dog's feet from the Cold
Waterproof sole and insulated
Even protects against hot pavement and asphalt in the summer
Reflective strips for night time walking
Cons of The My Busy Dog Water Resistant Shoes
One of the more expensive dog boots
Bark Brite All Weather Neoprene Paw Protector Dog Boots
Pros of The Bark Brite Dog Boots
High quality breathable neoprene
These contour to your dog's foot shape
Boots protect your dog's feet from snow and ice
Small size perfect for a French Bulldog
Cons of The Bark Brite Dog Boots
Thick neoprene can make your dog's feet sweaty
Can be tough to get on your dog's feet due to slight elasticity
Click Here To See This Product On Amazon
Pros of The Explawlorer Waterproof Dog Boots
Easy to put on and take off as the shoe expands
Reflectors on fastening straps make it safe for nighttime walking
Protects your dog paws from the cold and wind
Cons of The Explawlorer Waterproof Dog Boots
Some customers stated that the Velcro wore down faster than they would like
Click Here To See This Product On Amazon
Pros of the Lonesuneer Dog Boots
Non slip 
waterproof
Works for dogs indoors and outdoors
Cons of the Lonesuneer Dog Boots
Make sure to measure your dog's feet properly
Click Here To See This Product On Amazon
Pros of the Ruffwear Grip Tex Boots
Simple and secure fastening system
Protect your dog's feet from the cold
Ruffwear is known to make some quality dog products
Cons of the Ruffwear Grip Tex Boots
Less customer reviews than the other options I researched
There you have it my four-legged Frenchie-loving friend.  Those are my tops picks!
Are Dog Snow Boots Even Necessary?  
You may be wondering if your dog really need dog snow boots?  You will certainly find people on both sides of this and with opposing opinions.  Some dogs can benefit from dog snow boots especially a smaller dog like a French Bulldog. The fact of the matter is that Frenchies and other small dogs aren't very well-insulated from the cold weather.  More importantly, it is what is on the snow and ice that concerns some Veterinarians. Dog snow booties are certainly important for dogs walking on surfaces covered with salt or ice-melter, which can be very toxic to dogs.  A note on that, be sure to pick up an ice-melter that is pet friendly.  
Click Here To See This Product On Amazon
Bonus Tip On Protecting Your French Bulldog's Feet
Perhaps you have decided dog snow boots just aren't for you and your Frenchie.  Maybe you just can't find booties that fit your Frenchie, or he just refuses to wear them.  Your dog will still need to go outside in the Winter months so if they won't wear boots for whatever reason you can take other measures to keep your Frenchie's paws protected.

For example, as soon as your dog comes inside you should soak his paws for five to ten seconds in a small bucket or bowl of warm water.  You will then want to dry his paws thoroughly. I would also recommend that you wipe down his legs and belly too. Since Frenchie's are small and short dogs it is likely they can get salt and other chemicals on their legs and belly.  You can also help prevent cracked and bleeding paw pads by applying paw wax before your dog goes back outside. 
Here are a couple of great Paw Wax Options To Protect Your Dog's Foot Pads
Click Here To See This Product On Amazon
Click Here To See This Product On Amazon
Final Thoughts About The Best Dog Snow Boots
Dog snow boots should ideally be comfortable for your Frenchie.  They should not rub against a dog's paws. If your Frenchie is going to be walking on surfaces covered with salt or harsh ice melting chemicals you should definitely start using dog snow boots. 

Understand you may have to try on a few different types of dog snow boots until you find the set that are the right ones for your Frenchie's little paws.  You will of course want to work on positive reinforcement when you get the dog snow boots and follow the recommendations I have above to get him used to them in a positive manner.  
If you any reason dog snow boots won't work for your Frenchie you can and should take other steps to protect their delicate paws. Use a product like paw wax to keep their feet protected and as soon as they get back inside you should soak their paws for a five to ten seconds in some warm water.  Then just dry them thoroughly after. Reapply some Paw Wax and your little Frenchie will be good to go and ready to take on the harsh Winter elements.  
PS – If you want to see other French Bulldog Clothes I have some other reviews here for you.  If you're looking for some cute Frenchie outfits check this out.