If you trying to determine what the best French Bulldog raincoat option is for your Frenchie read on.  I remember the first time I brought my French Bulldog Augie out into the rain – he hated it. At first he pulled because he didn't want to be in the rain, he shook his head repeatedly to get the annoying rain drops off of his large Frenchie ears, and he generally didn't care for it.  Donning a French Bulldog raincoat certainly helped the situation so I'll share what I have found looking at some of the raincoat options for Frenchies.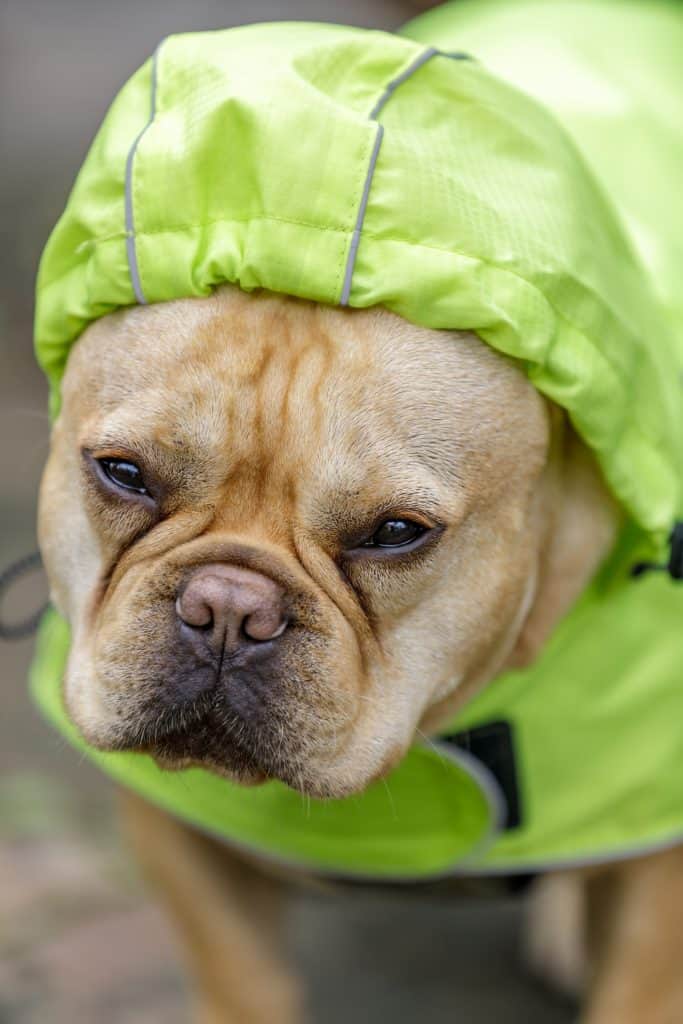 A French Bulldog In The Rain – Some Love It, Some Don't
I have met French Bulldogs that love the rain and love to splash in the puddles and I have met others (like my French Bulldog Augie) who don't care for it at all.  If your French Bulldog likes the rain like the one in the video below, then you may not need a raincoat for your French Bulldog.  
If your Frenchie doesn't care for the rain and you think he needs a raincoat, then hopefully the tips in this article will help you out.  
The Best French Bulldog Raincoat Options For The Fashionable Frenchie
The good news is that there are plenty of warm, comfortable and fashionable options for your Frenchie.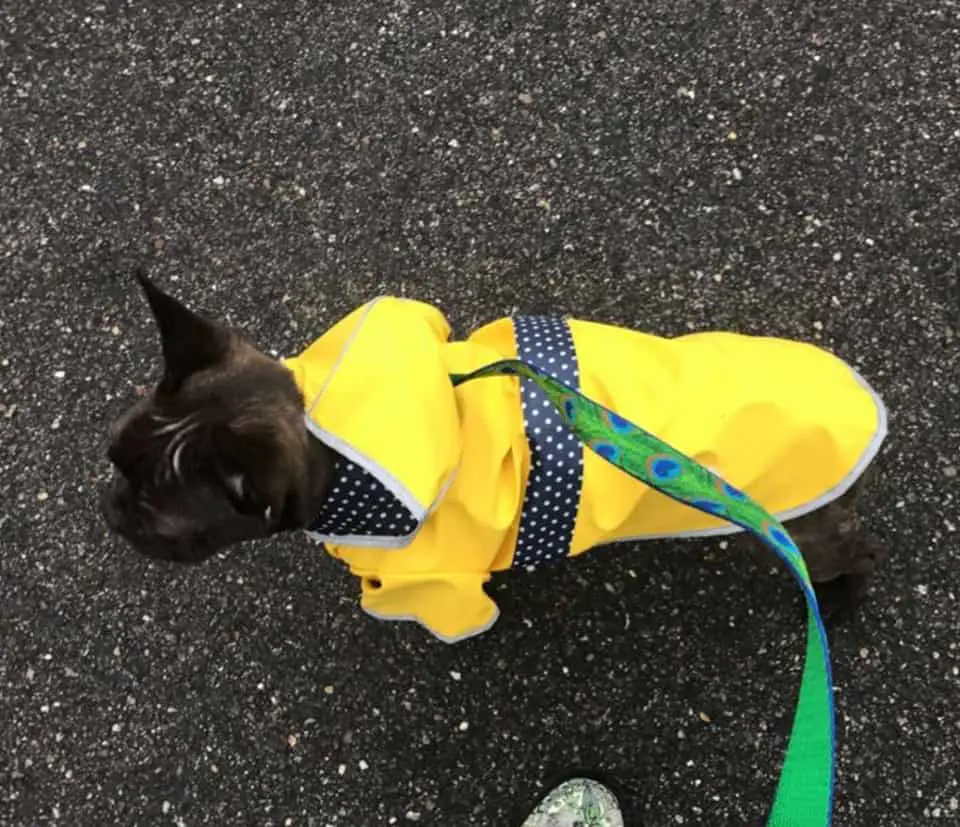 5 Things To Consider Before Choosing The Best French Bulldog Raincoat Option For Your Dog
When evaluating different French Bulldog raincoat options and which one is best, I looked at five important factors:  Function, Fashion, Portability, Hoodie vs No Hoodie, and Warmth.   French Bulldog Raincoat Function is probably the most important thing I really focused on.  The real purpose of a French Bulldog raincoat is to help protect your Frenchie from the elements, giving them a waterproof rain coat that keeps their fur dry.  French Bulldog clothes can seem a little weird at first but think about their comfort. The goal is to help your Frenchie be more comfortable in wet weather.  
French Bulldog Raincoat Function
Function matters and is my most important consideration when choosing a French Bulldog raincoat.  The jacket needs to be waterproof, fit your Frenchie well, and have a comfortable design. Other function considerations are how it goes on your Frenchie – does it pullover, does it zip up etc?  Also, make sure the French Bulldog raincoat you choose can still allow you to connect a leash to walk your Frenchie even with the raincoat on. Here are some good options that work well:  
Adjustable with multiple size
Reflective strips for safety
Fits well 
Has a harness hole so you can still connect a leash to your Frenchie's harness
Cons:  
No hood available
Straps could be better crafted
Pros:  
Easy to put on with adjustable chest strap
Poncho style classic yellow rain jacket design
Smart flap over leash-access 
Cons:
Small hood may not be ideal for all Frenchie ears
French Bulldog Raincoat Fashion
Let's face it, making sure your Frenchie looks dapper in his French Bulldog raincoat is a top priority for many French Bulldog owners.  With a proper French Bulldog raincoat you can protect your Frenchie from the rain while also having passerbys said, "Ahhh, that's one cute Frenchie!!"  Here are a some fashionable French Bulldog raincoat options for you:  
Pros:  
Cons:  
You many not be able to find your Frenchie due to the cammo 😉
French Bulldog Raincoat To Have a Hoodie or No Hoodie?  
As you may have noticed Frenchies tend to have large ears and my Augie doesn't care to get his ears wet so a French Bulldog rain jacket with a hoodie is a great option.  Here are some French Bulldog raincoat options with hoods:  
Pros:  
Closes easy with hook and loop
keeps your Frenchie's ears and head dry
Poncho style
Cons:  
Some Frenchies may not like it on their head
Raincoat For Your French Bulldog – How Portable Is It?  
You can't always plan for rain so having a French Bulldog raincoat that is portable is a great idea.  We keep one of these in our travel bag or in my Jeep so just in case it rains we have a rain jacket option for my little guy.  Here are some great and extremely portable raincoat options:  
Pros:
Folds down into an easy portable package
Skin-friendly TPU material
4 size available for a proper fit

Cons:  
Great in a pinch but less ideal if its cold and you want to keep your Frenchie warm
French Bulldog Rain Jacket With Added Padding For Warmth?  
I live in New Hampshire and as Fall and Winter approaches the rain storms have an icy bite to them.  Choosing a French Bulldog raincoat that has extra padding to keep your dog warm is a good idea if you live in colder climates where this will be an issue.  Here are some raincoats for French Bulldog options with added padding:    
Pros:  
Waterproof
Windproof
Neck and Abdomen hook and loop design
Cons:  
Must make sure you measure your dog properly
What Is The Best Raincoat For A French Bulldog? 
It really depends.  It depends on what kind of mix of function, fashion, portability,  hood vs. no hood, and warmth makes the most sense for you and your Frenchie.  I have a few of these options for my Augie that we use in different situations and at different times of the year.  Just consider what makes the most sense for your French Bulldog.  
The Best French Bulldog Raincoat Options To Keep Your Frenchie Dry and Warm

You want the best for your French Bulldog, that's why you are researching what the best French Bulldog raincoat is for your little one.  Hopefully this article gave some things to consider that will help you pick the best option for you and your Frenchie.  
PS – Before Winter comes I'd also recommend looking into some Dog Boots as well.  
PPS – In another article I will show you French Bulldog Winter Jacket Options.  Here's a puppy photo of my Augie wearing one of his first Winter jackets. Lol!!