If you are on the search for a French Bulldog breeder in North Carolina this article is for you.  French Bulldogs have a big personality, are playful, and are energetic to name a few of their best qualities. They are great companion dogs making them one of the most popular dog breeds in the United States.  On top of all that, they are absolutely adorable which makes them very desirable.  
When searching for a NC Frenchie breeder there are some important things to look for and the hand-curated list below of the best French Bulldog breeders in NC should help you in your search.  
In this article, we have listed the 18 Best French Bulldog Breeders In North Carolina to make your hunt for your perfect Frenchie that much easier.
French Bulldog Puppies for Sale in North Carolina
If you are looking for a French Bulldog to buy, we advise you to do research on the breeder before making a final decision. The article I linked to above helps you choose a reputable breeder and make certain you are working with a quality French Bulldog breeder.
Some puppy mills and backyard breeders selling French Bulldogs may have unhealthy puppies that are ticking time bombs of potential health issues. I did my best to vet these breeders out but you should always do your homework to make as certain as possible you are making a great decision.
Here are some breeders where you can find the best French Bulldog Puppies NC.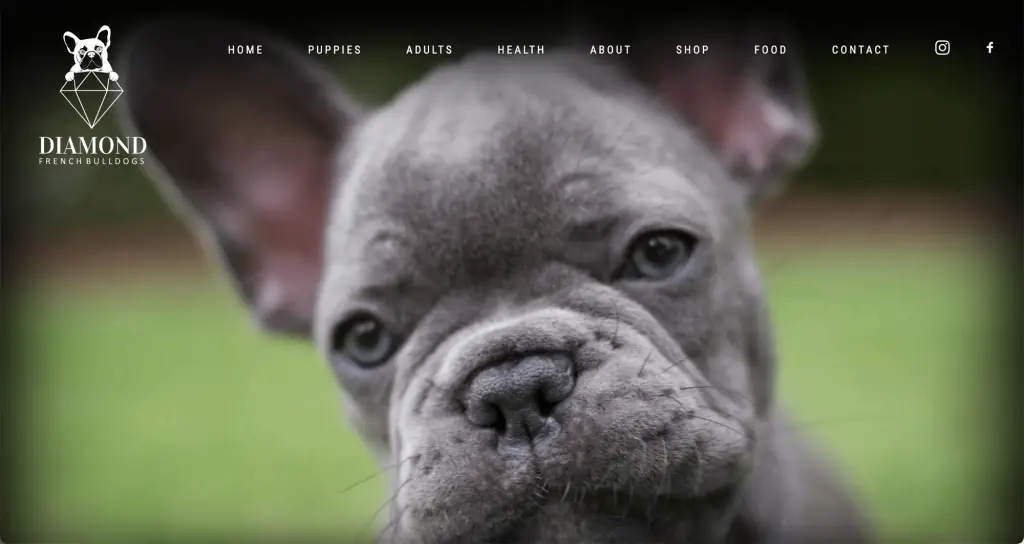 Diamond French Bulldogs
Based in Wilmington, North Carolina, Diamond French Bulldogs are breeders specializing in producing rare and exotic-colored French Bulldog puppies for sale in NC. The personality and physical beauty of their French Bulldogs are exceptional. This is because they choose the top line to enter the breeding program.
They focus on breeding dogs with superior structure and color carefully curated by their genetic line. Adding to their beauty and superiority, temperament is crucial; therefore, the puppies are surrounded with love and warmth since they are born.
All their dogs come with American Kennel Club (AKC) registration papers for those interested in buying a puppy. Reach out to them for more information on their upcoming litters.
Address: Wilmington, NC
Phone: 910-446-3949
Website: https://diamondfrenchbulldogs.com/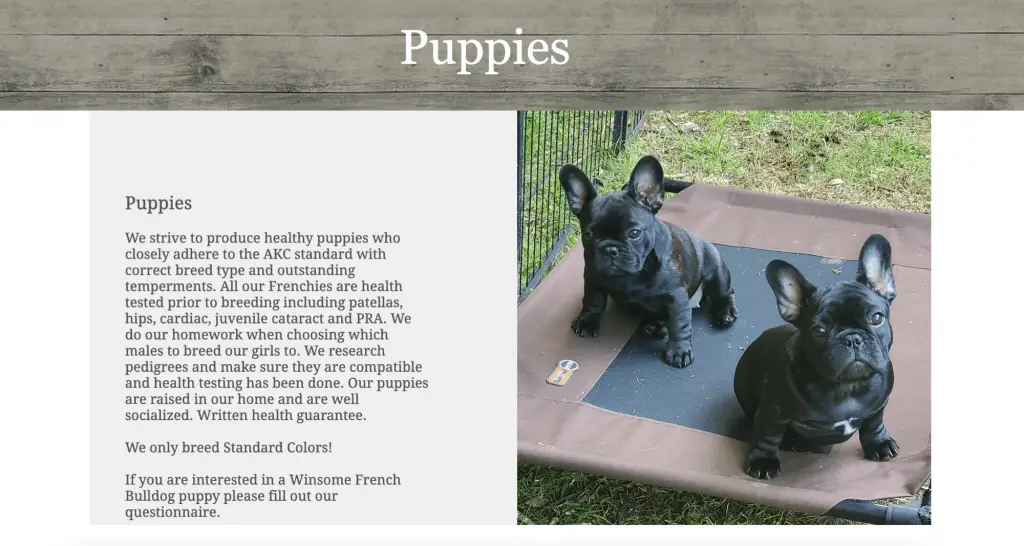 Winsome French Bulldogs
Winsome French Bulldogs is a small hobby breeder founded in Hendersonville that focuses on producing healthy and quality puppies. They strive to produce quality dogs that are an excellent companion in their families.
Health screening is done on all dogs to ensure they have perfect health. One of their unique qualities is ensuring all their puppies are placed in approved homes where they will be adequately taken care of and loved unconditionally.
Address: Hendersonville, NC
Website: https://www.winsomefrenchbulldogs.com/
Rippling Water
Dogs are their whole life; therefore, they breed, train, show and live with their dogs. Their litters are well planned; thus, they have few litters of French Bulldogs per year. This helps breed healthy, athletic puppies with excellent temperaments for companion homes and select shows.
Address: Bryson City, NC
Website: https://www.ripplingwaterkennel.net/
Stars Above Us Frenchies
By raising all their dogs in their home, Stars Above Us Frenchies breeds puppies perfectly socialized with other dogs and children. They offer a one-year health guarantee after purchasing their dogs.
Their dogs are taken to a veterinarian for a health exam and first vaccines and are microchipped with AKC Reunite before they are taken to their new home. New owners receive a gift box with their new puppy to help them get started.
Address: Fayetteville, NC 28306
Website: https://www.saufrenchies.com/
Royalty Pets North Carolina
Royalty Pets North Carolina is a family-owned breeder specializing in AKC French Bulldogs, Cavalier King Charles Spaniels, and Miniature Dachshunds. Buying their puppies comes with a one-year health guarantee against genetic diseases.
Their puppies receive excellent vet care and proper nutrition for healthy growth. The puppies stay with their mothers for at least eight weeks to ensure they are friendly and intelligent. They are always there for their customers when they need them.
Address: Greensboro, NC
Website: https://www.royaltypetsnc.net/
Ethical Kennel
Ethical Kennel is a breeder passionate about breeding French Bulldogs with love and dedication. Their motivation for opening this breeding program was the frustration that usually involves finding a responsible breeder.
They take great measures to guarantee healthy French Bulldog Puppies before listing them for sale. They socialize the puppies as early as possible to ensure they are fit for your family. All puppies bought from them contribute to helping neglected and abandoned pets.
Address: 5540 Centerview Dr, Raleigh, NC, 27606
Website: https://ethicalkennel.com/

TarHeel Bulldogs
Tarheel Bulldogs are French Bulldog breeders NC who breed their dogs with love and passion and always focus on producing healthy and high-quality bulldogs. The Bulldogs are raised surrounded by family and socialized with children and other bulldogs.
All of their puppies are pure bled, and you can pay a deposit so that they can hold a puppy for you. All puppies are dewormed, vaccinated and have a one-year health guarantee. The puppies are microchipped, and they offer puppy delivery services.
Location: Sanford, NC 27332
Website: https://tarheelbulldogs.com/
Adore Frenchies
Adore Frenchies, located in the Triangle area of North Carolina, is a small show kennel that focuses on improving French Bulldogs' health, temperament and confirmation.
They have companion puppies that are available for approved homes. You can contact them through their email for more information about their puppies.
Address: Triangle Area, North Carolina
Website: https://www.adorefrenchies.com/

French KissaBulls
French KissaBulls have experience of more than 20 years in breeding French, American and English Bulldogs. They love this breed because they are playful, affectionate, smart, and easygoing.
Their puppies get a lot of love and socialization from a young age since they live with them. They focus on breeding top-quality French Bulldogs that will find a loving home.
Address: 128 Mac Jones Rd, Moyock, NC 27958
Website: https://www.frenchkissabulls.com/
NC Puppies
NC Puppies is a professional dog breeder producing high-quality AKC French Bulldog Puppies North Carolina. The puppies and their mother are fed the finest organic food and raised at home with tender loving care.
To promote maximum health and development, the puppies are natured in an air-conditioned environment. After buying the puppies, the puppy comes with a health certificate, and the owner receives a certified pedigree from AKC to be aware of the puppy's bloodline.
Address: 92 Cornerstone Drive 142, Cary, NC 27519, USA
Website: https://www.ncpuppies.com/
Parker's Precious Puppies
Parker's Precious Puppies is a family-owned business that has provided many families with healthy and happy puppies for over 25 years. Their puppies are excellent in temperament and socialization since they all get individual love and care from birth.
Their dogs get a lot of playtimes, exercise and outdoor activities. When purchasing, the dogs will have been checked by a licensed veterinarian, health tested, vaccinated, and groomed.
Address: 5550 B J Hoisery Mill St, Hickory, NC 28602, United States
Website: https://www.parkerspreciouspuppies.com/our-available-puppies/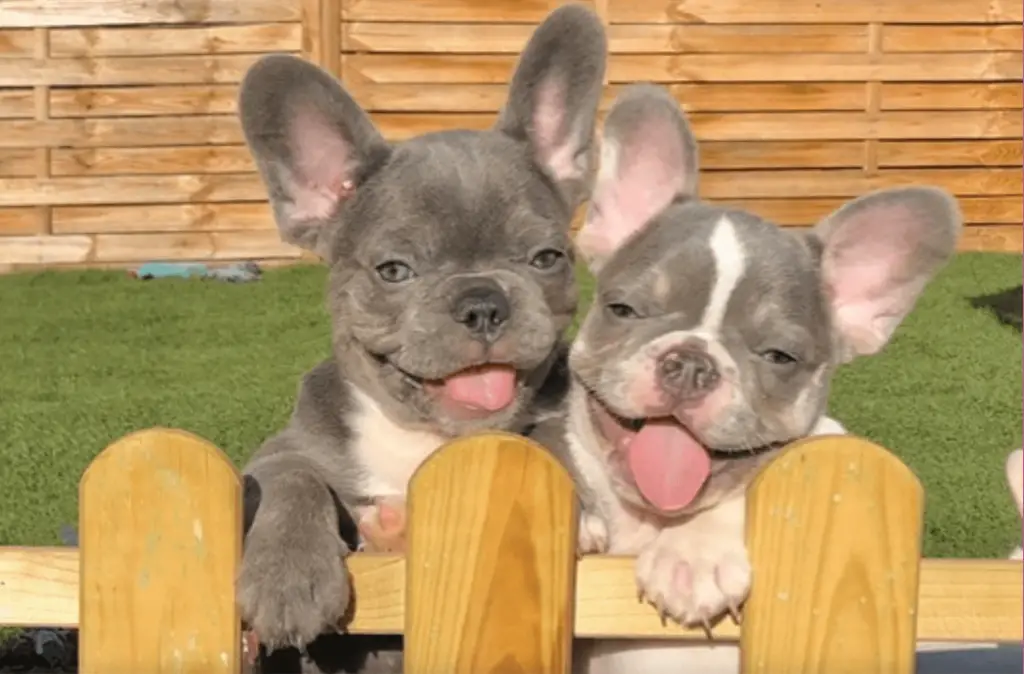 Tailor Made Frenchies
Tailor Made Frenchies have one main goal: to breed high-quality puppies, maintaining good genetics, health and structure. They offer unconditional love and care and devote their lives to caring for their dogs.
When purchasing a puppy from them, you are assured the pup will come with an FCI and AKC registration, health certification, up-to-date vaccination, a microchip and a puppy pack.
Address: Greensboro, North Carolina
Website: https://www.tailormadefrenchies.com/
Bentonville Pets
Bentonville Pets is a home-based kennel that breeds healthy and socialized puppies at a reasonable price. They focus on breeding companion dogs that make a perfect addition to your family.
After purchasing a puppy, the owner gets documentation proving that the puppy is vaccinated and dewormed. They are available 24/7, so you are assured to be answered in case you have any questions.
Address: 329 Britt Rd. Four Oaks, NC 27524
Website: https://bentonvillepets.com/
Queens of The South
Queens of The South is a breeder who loves dogs and makes sure her dogs live with her in her home and are treated like family members. She offers top-quality AKC French Bulldogs bred to the highest standards and undergo genetic testing.
To buy a puppy from them, apply through their website, and they will get back to you with all the information regarding available puppies.
Address: Rocky Mount, NC
Website: https://www.gooddog.com/breeders/queens-of-the-south-north-carolina
Scales Lovable Puppies
Scales Lovable Puppies delights in making every family happy through their new fur member. Their pups are checked by certified vets and receive appropriate shots and deworming before they are released into their new homes.
After purchasing, they provide health guarantees and 24-hour customer service to ensure the new owner knows how to take care of their puppy.
Location: Fuquay-Varina, North Carolina
Website: https://www.scaleslovablepups.com/
Charlotte Dog Club
Charlotte Dog Club is a club that focuses on breeding healthy French Bulldogs North Carolina. The puppies are brought up in a loving, responsible and healthy matter, and the owner receives a ten-year health guarantee after purchasing a puppy.
Their main goal is to find the perfect homes for their puppies; therefore, they ensure the health and welfare of their puppies are their top priority.
Address: 1800 Ostwalt Amity Rd, Cleveland, NC 27013, USA
Website: https://charlottedogclub.com/
Happytail Puppies
Happytail Puppies are breeders made up of 30 living families whose focus is to breed the healthiest and happiest puppies. The families are licensed and inspected to ensure that the puppies are raised in an environment full of care and affection.
When purchasing a puppy from them, you are assured that the puppies are raised with hands-on care, licensed and inspected, and have a lifetime health guarantee.
Address: 2911 Oak Ridge Rd, Oak Ridge, NC 27310, United States
Website: https://happytailpuppies.com/
Carolina Fabulous Frenchies
Carolina Fabulous Frenchies' owner is passionate about breeding and raising French Bulldogs. She works hard to ensure that the puppies are the healthiest, happiest, and best-looking on the market. You are assured that the puppies will bring you pure love and companionship as a dog lover.
Address: Charlotte, NC 28173
See them on Facebook:  https://www.facebook.com/CarolinaFabulousFrenchies
Website: http://www.carolinafabulousfrenchies.com
Final Thoughts – French Bulldog Breeders in North Carolina
It can be stressful to find a reputable French bulldog breeder NC who will provide you with a healthy and sound Frenchie puppy but it is worth the work to find the right one for you.
Having a breeder who has a good relationship with you is crucial so don't be afraid to ask a lot of questions and do your homework. Having the breeder you get your dog from is a great asset as you can get support from them in the future if the need arises, especially during the first few weeks after purchasing. We hope this article has helped you choose a breeder with the best French bulldog puppies for sale in NC.
Enjoy your new Frenchie!
Other French Bulldog breeders to look into: