If you are looking for a French Bulldog breeder in Illinois you are in the right place.
The French Bulldog's popularity is on the rise in America for a good reason. The dog is easy to maintain and handy in size, and most people find its personality and behavior endearing. In 2013, the American Kennel Club listed the French Bulldog as 11th, but by 2021, it had risen through the ranks of 2nd most popular dog breed. With increasing popularity comes an increasing number of professional French Bulldog breeders in Illinois.
This article serves as a guide for dog lovers and anyone looking for a French Bulldog breeder in Illinois.
French Bulldog Breeders in Illinois State
Below you will find a list of some of the top French Bulldog breeders in Illinois.  I highly recommend reading this article on how to find a reputable Frenchie breeder but this list will get you started with some great options.
• Horizon Frenchies
• South Prairie Frenchies
• Smithenry Bullies-N-More
• Ethical Frenchie
• BlueBell Frenchie
• Toal's Puppies
• Enchante French Bulldogs
• The Royal Frenchies of Thomas
• Blue Reign French Bulldogs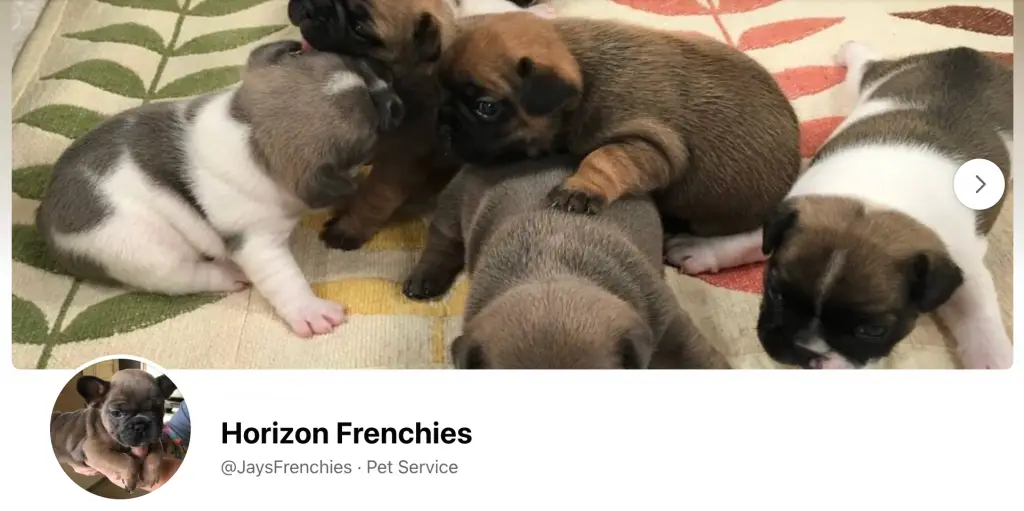 1. Horizon Frenchies
Horizon Frenchies is a French bulldog breeder with a lot of experience. They've been running a breeding program since the year 2000. The Horizon Frenchies might be significant if you're looking for a high-quality option.
They are most concerned about their puppies' health, demeanor, and appearance. Puppies are nurtured by their owners in their own homes. Horizon Frenchies socializes the pups carefully before transferring them to their respective homes.
The common breeds of Horizon Frenchies include the following:
Bulldogs: The bulldog is a global emblem of perseverance and may be found in businesses and schools all over the nation. They are brave but quite kind, and they have a soft spot for kids.
The French Bulldog: has a height of 11-13 inches, a weight of under 28 pounds, and a life expectancy of 10-12 years. They are affectionate with family and good with children and other dogs.
Website: Horizon Frenchies
Location: Peoria, IL 61606
Contact: (309) 427-0634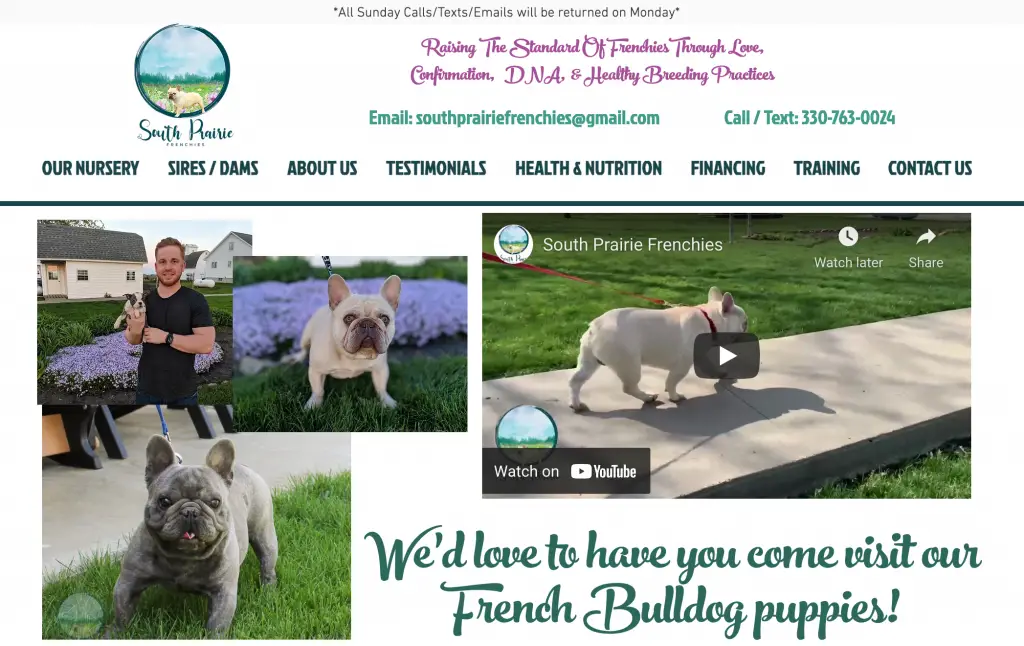 2. South Prairie Frenchies
The French Bulldog breeder South Prairie is run by a family. This breeder's primary goal is to produce healthy, happy French Bulldog puppies. They have climate control and air quality filters in their environmentally controlled dwelling.
The puppies are subjected to weekly testing by a professional veterinarian, ensuring that they are in good health. They only give their pets premium dog food, vitamins, and immune boosters.
The breeder offers after-sales services to customers. After buying a healthy dog from the breeder, you receive a pet bed, collar, toy, and a comprehensive health record.
Furthermore, the breeder offers transport services at $400 and a personnel trainer for $250 for a four-week program.
Website: South Prairie Frenchies
Location: 238 E Co Rd 200 N, Arcola, IL 61910, United States
Contact: 330) 763-0024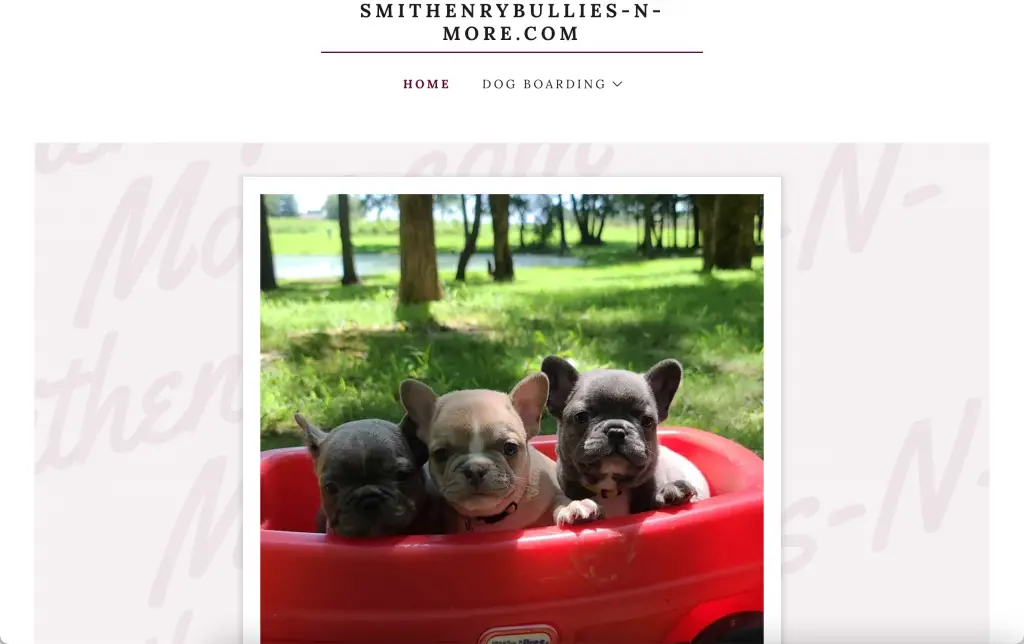 3. Smithenry Bullies-N-More
Smithenry has been breeding dogs since 1994 and seeks to create top-quality dogs with exceptional health and excellent temperaments. They enjoy breeding these babies and regard them as members of their families. It's all worth it to see how happy these pups make other people's families.
The pups mix with family members, go on regular walks and play fetch games from day one. As a result, they are healthy and happy. Before heading to their new homes, the pups are checked by a professional veterinarian who gives them their first immunizations and deworms them.
The breeder has focused their attention on three dog breeds, including:
French Bulldogs – The breeder is widely known across Illinois and beyond for breeding French Bulldogs more than other breeds.
English Bulldogs – English bulldogs, typically low-endurance canines, have a lovely personality, are reliable, trustworthy, and excellent with children, and only need minimal activity.
Website: Smithenry Bullies-N-More
Location: 2248 N 1000th St, Newton, IL 62448, United States
Contact: (618) 783-1671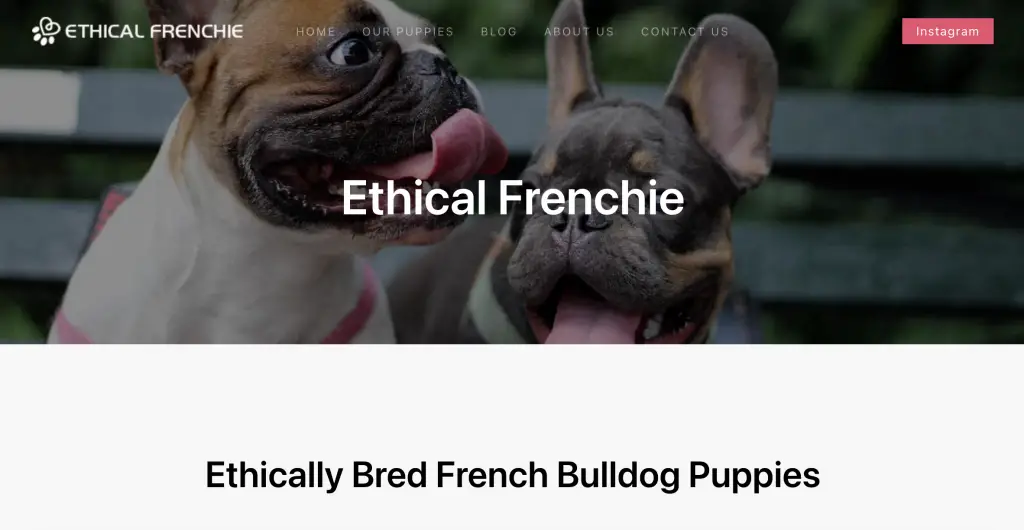 4. Ethical Frenchie
Ethical Frenchie is among reputed French Bulldog breeders in Chicago Illinois. They concentrate on socialization, fitness, and demeanors since these are the three most important aspects of a good dog. They also assist individuals in finding other good Frenchie breeders around the nation. They consider their Frenchies to be family members and lavish affection on them.
The dogs are well-fed and well-cared-for. The breeders are AKC registered and have a health guarantee. Ethical Frenchie devotes a lot of effort to producing and raising French Bulldog pups, and it shows in their dedication when you take your pet home. Unlike other French Bulldog Breeders, they communicate with you at all phases of your new family member's life.
Ethical Frenchie is breeding and raising blue French Bulldogs and Merle Frenchies. The breeder allows its friends and former customers to breed Frenchie puppies. They further organize dates between dogs with old customers bringing their dogs to interact with others.
Website: Ethical Frenchie
Location: 155 North Wacker Drive #FL 42, Chicago, IL 60606, United States
Contact: (773) 798-0950

5. BlueBell Frenchie
Northern Illinois' BlueBell Frenchies is a well-known French Bulldog breeder. For almost two decades, they have been conducting breeding programs and attempting to increase quality. Their Frenchies are born and nurtured in a loving home setting, where they are disciplined and well-cared for.
BlueBell Frenchies is owned and operated by Shannon and Andrew Parlogean. Tracy Laws are one of the business's co-owners. At their house, they breed and raise healthy and well-behaved Frenchies. Their escorts are self-assured, dedicated, and loyal.
This and other Illinois French Bulldog breeders ensures that the early life of all their puppies is solid. With that in mind, the breeder does not release its puppies to new owners until they have attained eight weeks. They constantly check the puppies' health to ensure they are hitting their growth milestones as required.
BlueBell Frenchies require a deposit from clients before a reservation for a puppy can be made. The breeder accepts back dogs at any time of their life regardless of their situation. They constantly keep in touch with their old and new customers to learn more about the dog's progress.
Website: BlueBell Frenchie
Location: Wonder Lake, IL
Contact: (940) 808-6434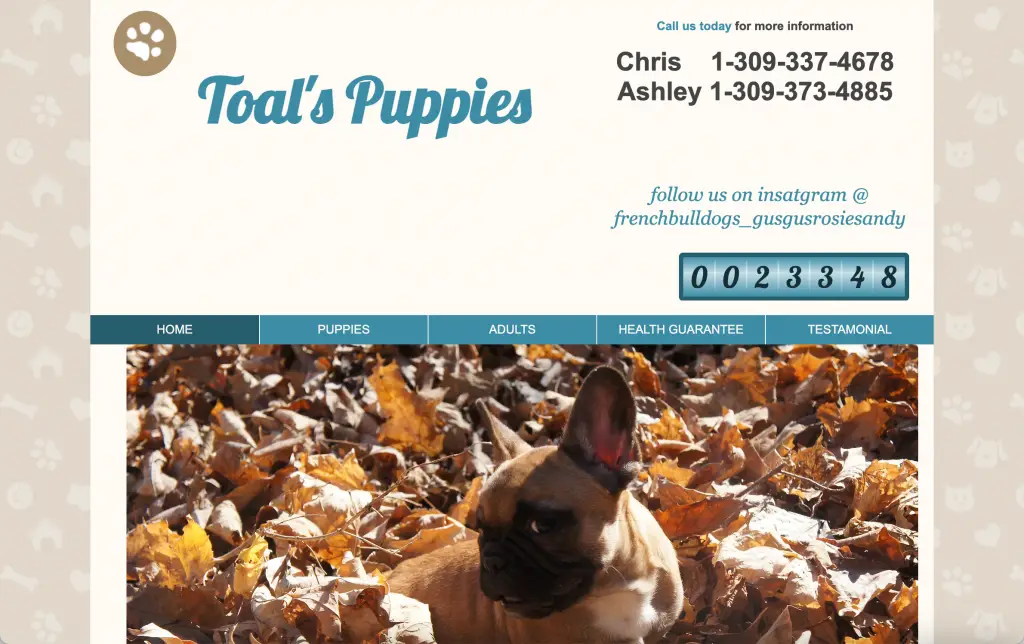 6. Toal's Puppies
For the last 12 years, this family has been rearing pups, handed down through the generations. All puppies are born underfoot in their house, ensuring that they are highly socialized and pampered when they arrive with you.
Toal's Puppies offers the right French Bulldog for you. They are known for their extreme checks on quality, discontinuing breeding any dogs carrying genetic defects.
Toal's Puppies places several limitations on customers when selling Frenchies. They ask you for a non-refundable payment to hold a puppy for you. The pups will come with a health guarantee and be replaced if they get unwell. On the other hand, buyers are responsible for the cost of returning the puppy. Buyers must understand puppy care and training.
Website: Toal's Puppies
Location: Illinois
Contact: 309-373-4885

7. Enchante French Bulldogs
Enchante French Bulldogs has been breeding French Bulldogs since the year 2004. They had very little understanding of this breed when they began their adventure. However, they are currently one of Illinois' most experienced AKC-certified breeders.
French Bulldog breeders Illinois are highly interested in ensuring that their consumers have all the information they may need concerning the dogs. They answer all your questions and appreciate consumers who show interest in understanding their breeding process and their dogs.
Website: Enchante French Bulldogs
Location: Illinois
Contact: 630-607-4356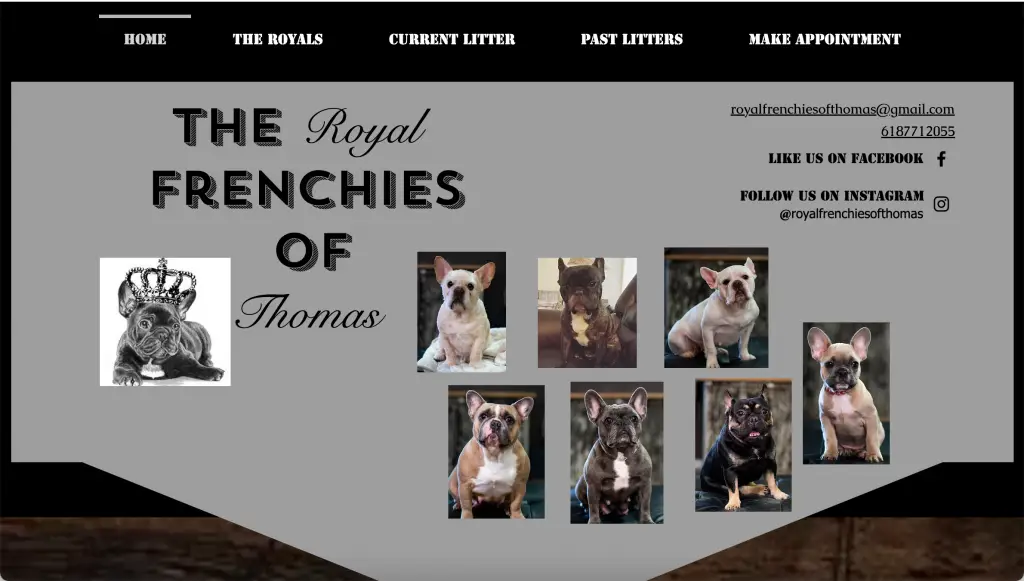 8. The Royal Frenchies of Thomas
Bulldog breeder The Royal Frenchies of Thomas is located in Southern Illinois. It is owned by Will Thomas, who has run the program successfully for the past five years. He brings the pups to the veterinarian for an annual examination. Before delivering the puppies to their new homes, they employ the Misty technique to house train them.
The breeder encourages all interested buyers to make a trip to their station and view the puppies before making a purchase. The breeder asks for a non-refundable deposit of $500 to reserve a puppy. They post most of their recent information and updates on Facebook.
Website: The Royal Frenchies of Thomas
Location: Vienna, IL 62995, USA
Contact: 6187712055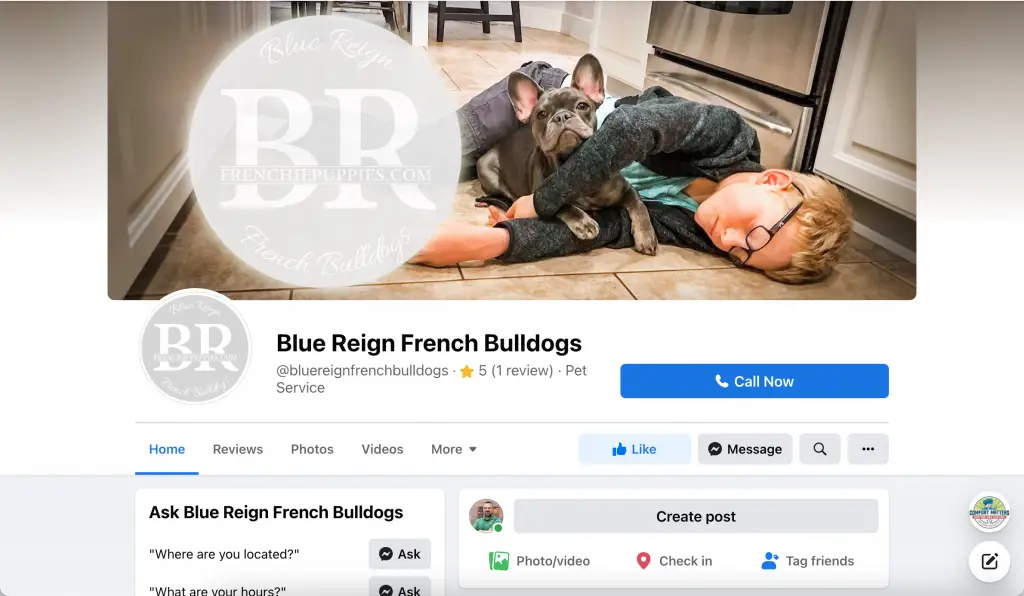 9. Blue Reign French Bulldogs
This is a business run and operated by a family of six. The four children are more than engaged; this is their business. Dale and Holly assist with logistics and provide financial and business advice. Still, Tara, Chase, and Kadie undertake most of the 'work,' since this 'enterprise' is intended to appendage their college tuition and provide them with something to return home to after graduation.
Visit the Blue Reign French Bulldogs before purchasing to choose your puppy. You can select your new friend at the moment of selection. They do, however, give shipping services if you have any concerns. However, an additional fee is always needed for this service.
Website: Blue Reign French Bulldogs
Location: Cabery, IL 60919
Contact: (815) 405 4116
Final Thoughts – French Bulldog Breeder Illinois
French Bulldog Breeders in Illinois have devoted their lives to breeding beautiful, healthy, and well-behaved Frenchies for potential owners.
French Bulldogs are excellent companion animals. It's simple to train them, and they're friendly and entertaining to be around. With a Frenchie at your side, every moment will be filled with joy.
PS – Here are other French Bulldog breeders in different parts of the country to further your search if you need them:
Frenchie breeders in California
Frenchie breeders in New Hampshire
Frenchie breeders in Connecticut
Frenchie breeders in Massachusetts