Today I'll be reviewing Ollie Dog food to help you decide if it is a good fit for your French Bulldog. Just like any other dog parent, giving a healthy and long life to my dog was my goal. Ollie dog food has been gaining in popularity so I decided it was time to see if the claims held true.
Therefore I decided to give Ollie a shout-out by writing an Ollie dog food review based on my personal experience.
Ready to dive into details? Here you go!
4 Factors to Consider Before Buying a Dog Food for French Bulldogs
When you have a plethora of options to feed your French bulldog, it becomes pretty hard to choose the best product.
No matter, you are a first-time purchaser or a seasoned buyer, who is feeling a bit lost while selecting your doggo's perfect meal, the following factors will help you make the right choice.
Your Dog's Breed:
The diet plan for a German Shepherd Dog and a French Bulldog will never be the same. Agree?
With different dog breed, shapes and sizes come different needs. Each breed differs from others in many traits. Like say, their nutritional requirements vary, they may have distinct digestion issues, or maybe they have contrasting food intolerances.
French Bulldogs are one of the cutest dog breeds. But, due to their miniature size and love of lounging around with the humans, they are prone to obesity. Hence, you must look for their calorie intake.
When buying a commercial dog-food, double-check its ingredient list. And confirm that all its elements are suitable for Frenchies.
Your French Bulldog's Specific Needs:
No different than humans, dogs also need nutrition in amounts appropriate for their size and activity levels. That amount is calculated based on their age, size, metabolism level, and activity level.
The nutritional requirements of a puppy will be different than a senior French Bulldog. Therefore, it's mandatory to keep your dog's age in mind when you shop for a dog-food for your fido.
Whatever dog-food you select, make sure it carries the required nutrition and conforms to the current stage of your dog.
You may look for:
Size
Age
Activity level
Your dog's taste
Certain Requirements if any (like, allergies, or food intolerances)
Check for Potential Allergens:
Does your dog, like most of the French bulldogs, also have some kind of allergy? In that case, while selecting dog-food, you must be more careful than ever.
Most Frenchies are allergic to beef, pork, soy, and other dairy products. Stay away from a dog-food that contains any such ingredients.
The right food with appropriate components will help you boost your dog's immunity.
Check for Labels:
You should never overlook the label of a dog-food you are willing to feed your dog. Checking the label of the food you are going to feed your dog is mandatory.
Artificial preservatives, additives, or fillers are a big no-no in dog food. It must contain all-natural, healthy, nutritional ingredients.
The food must have moderate proteins, low fats, low carbs, suitable vitamins & minerals, and no prebiotics or probiotics.
How Ollie ticks all the boxes?
As a 100% real dog-food, Ollie has no fillers or hidden ingredients. You will not have to worry about choosing the food that serves its purpose of passing on the nutrients best without adding to their weight.
The profiling mechanism and scientific algorithms help the team at Ollie to formulate your dog's unique recipe.
When your Frenchie's eat is a tailor-made food, it will be free from the allergens that might kick off any reaction, and of course, there are no unnecessary additives.
Do you know what that means? A win-win for French bulldogs!
Ollie, a dog food brand, made its mark in a short time by keeping it real. If you don't get what they mean by REAL, let me break that down for you.
Ready?
The Ollie's team is filled with dog-enthusiasts who wanted to celebrate their relationship with their four-legged friends. Spoiling their doggos with tasty treats has ALWAYS been their first love.
But one thing that would make them concerned about their pals' health was all the available dog foods in the market served general purposes, had fillers, and artificial preservatives.
The worst part? All of them had secret harmful ingredients!
When every dog is different, why feed them the same food, right?
And, why bear the secret ingredients?
This very idea provoked them to step forward, join hands with expert vet nutritionists, and formulate Ollie – all fresh, real, and healthy!
How is Ollie true to their promise? My Ollie Dog Food Review
The idea of feeding dogs with some dry kibble or processed dog food never fascinated the team at Ollie.
When they found no ideal product in the market to nourish their fur friends, they made their own. They promised to never feed anything to your dog food that they wouldn't eat themselves.
And, for years, they are keeping their promise by bringing dog-food made from real ingredients to your dog's bowl. No fillers, no byproducts, and no artificial flavoring!
Guess what?
Ollie's dog food goes beyond providing human-grade healthy food. How?
When most of the pet food products are getting recalls, Ollie stands head and shoulders above.
Yes, you guessed that right; Ollie dog food has no history of product recalls. It obeys the set food safety rules by The Association of American Food Control Officials (AAFCO) and fulfills the product safety standards set by US Food & Drug Administration (USFDA).
What do you get inside your Ollie food box?
Curious about what you will receive if you order Ollie? I too was!
But once I unboxed Ollie, I was more than satisfied and hope you'll also be. Let's unbox your fido's future meal box (I hope it would be) together.
Food Packs:
You get frozen fresh food packs worth two weeks. When the package arrives, the food packs are preserved in dry ice. You can store the chilled food in your freezer until you are ready to present it to your doggo.
Believe me; he'll lick the bowl clean!
Moreover, the food packs are also refined and easy to open. Peel off the top plastic sheet, and you can conveniently take out the amount of food you need and restore the rest.
Feeding Guide
When you order something like a dog-food, you truly need someone to guide you about feeding portions. Else, you stay in doubt. True?
So, when in doubt, read the feeding guide that comes with Ollie. It covers all the feeding information and food transitioning tips you need!
Pup-tainer
Dog food storage often makes your fridge unorganized and messy. No more indiscipline and untidiness!
Keep your refrigerator clean and arranged with the pup-tainer. It's simple but functional.
Scoop
Who doesn't know how helpful a scoop is while you serve food to your pets?
When your four-legged is impatient to nibble over the food he loves, nothing beats a handy scoop.
Ollie dog food review!
My Frenchie boy, Dorogo, is a picky eater. He doesn't like beef. So, finding eats for him was always a big hassle for me because most dog-foods are beef-flavored.
Why Ollie hooked my attention was just because it had four yummy variations of recipes. Not only I had beef-free options to feed my doggie, but also I could switch between the flavors. WOW!
Another reason why I opted for Ollie is it's a FRESH food with minimal processing. There's no doubt that dry foods and kibbles have a way longer shelf life than fresh foods, but their nutritional value is somehow compromised, because of their ultra-high processing.
Such food may fill up the dog's hungry stomach, but it won't provide him with the nutrition for his seamless growth and proper nourishment.
Also, fresh and fewer ingredients mean clean, good food with zero risks of getting allergies.
Since Ollie is real-ingredient dog food, it's easily digestible. However, if you don't make the transition appropriately, chances are your doggo's stomach can get upset.
Don't want such incidents to happen? Follow the feeding instructions. Simple!
Soon after switching to Ollie's Fresh Food, the changes I noticed in Dorogo were worth appreciating.
He had the shiniest coat ever, and that made him look cute. Other than that, he started getting less odorous poop. And, the best part? He has no itching.
So, for my doggo, Ollie worked, and we are happy with the results!
Pros:
Customizable subscription
Contains fresh and natural ingredients
Meets AAFCO and USFDA standards
Improves your dog's overall health
Is delivered right to your doorstep
Comes with a FREE container and a scoop
Cons:
Pricey
Has a shorter shelf life of up to two weeks
Not for on-the-go eating and training work
How Ollie Stands Out? – Features and Benefits
Quality Ingredients:
Ollie dog-food is a formulation of quality, wholesome, and natural ingredients. Unlike low-grade dog foods that may develop ailments and initiate allergies in your canine, you can rest assured that your pupper will be happier and healthier than before.
What's even better?
Ollie Fresh food is NOT stuffed with meaningless makeweight items.
Nutritionally Balanced and Complete:
To ensure the good health of your Frenchie, you must have searched for some nutritionally-balanced food, right?
Ollie's custom-made food succeeds in meeting the requirements by formulating a complete meal with the exact nutrients your pooch needs at his present stage of life.
Either you have a French puppy, a medium Frenchie, or an adult? Ollie takes care of all!
Fresh Delivery Right at Your Door:
In this modern age, where you enjoy every service at your convenience Ollie meets those expectations. Then why ignore your dog's food-related services? At Ollie's, they not only care about your dog's overall health, but they also don't want you to wander from store to store to shop for your dog's food.
So, they deliver their mildly-cooked fresh food to your door for FREE. How nice of them!
Delicious and Healthy:
Ollie's wholesome food is healthy, no doubt.  But, should you sacrifice the good taste for getting better nutritional value? Never!
Your dog's favorite (or maybe, to-be-favorite) Ollie dog-food is not overcooked. So, each ingredient retains its goodness and preserves its nutrients. Plus, when food has no artificial flavors, it always tastes good.
Want more satisfaction?
Grab a fork and let your taste buds have a try! Yes, it's even safe for humans to eat.
Rigorously Tested:
What I like the most about Ollie, they do rigorous testing on every food batch to ensure food safety and nutritional adequacy.
Also, Ollie is compliant with the pet food standards of AAFCO and USFD.
Customizable Dog Food:
Many other pet food companies offer their services of fresh or frozen foods, but they don't customize their product according to every dog's personalized profile.
Ollie wins the heart of most dog owners by providing custom services and giving you the freedom to design your pooch's meal.
Besides, Ollie takes care of your dog's growing needs by delivering the tailored dog food suitable for your dog's arising requirements.
Four Fresh Recipes to Choose From:
Is your furry a finicky creature? No worries!
With Ollie, you have four fresh recipe options to pick out from. I am sure your dog will surrender to the deliciousness of any one of these four meals – tasty and nutritious.
What taste variants do they offer? Look below.
Beef:
Loaded with proteins, vitamins, and minerals, this meaty feast is formulated to deliver an extra punch of nutrition. With other powerful ingredients, such as beef organs, sweet potatoes, rosemary, and peas, it contains every essential mineral that your dog requires.
Chicken:
This recipe is a perfect blend of chicken and veggies. Not only is this recipe protein-rich, but it also it's the powerpack for getting additional nutrients. Other key elements include spinach, cod liver oil, carrots, and blueberries.
Turkey:
This super tasty recipe is vitamin-rich and perfect for your dog's muscular health and tissue building. Apart from heart-healthy turkey, it contains pumpkin, carrots, chia seeds, and blueberries.
Lamb:
Want glowing skin and glossy fur for your Frenchie? Opt for this nutritionally-dense lamb recipe.  Its key ingredients are lamb meat, butternut squash, kale, and cranberries. Ideal for dogs with allergies!
Convenient Packaging:
According to Forbes, when it comes to convenient packaging, Ollie is the winner! They ship in user-oriented plastic containers featuring peel-back covers. You can effortlessly serve your fido without making any mess.
They have a flexible but regular delivery schedule.
Social Proof – Ollie Dog Food Reviews:
Do you know what helped me the most to make the final decision to switch to Ollie dog food? This dog food delivery services had plenty of great reviews from happy dog owners.
I stalked the internet and examined the web thoroughly. Ollie's reviews were so satisfying and enticing that I couldn't help myself making the purchase.
Every buyer seemed happy and witnessed a drastic change in their pet's health.And, this is what matters the most!
I also suggest you broadly research products first and go with your gut.
Anyway, here I am sharing the testimonials I found during my research.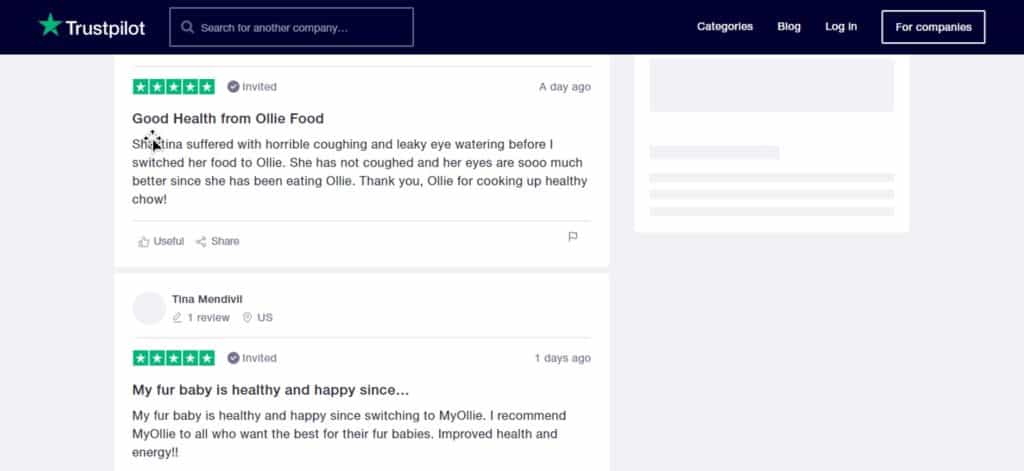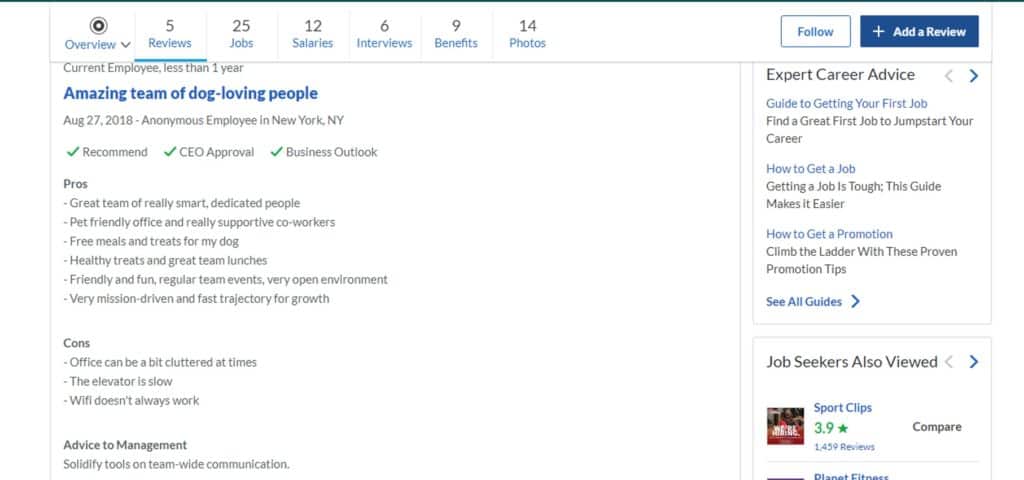 Switching to Ollie Dog Food
When you switch to any other dog feed, proper transitioning is the key. Ollie is no different.
Your pupper's stomach takes time to get used to the new food you just introduced him to. And for this reason, while making a shift to any new dog-food, go slowly and gradually. No shortcut!
Just like any other dog food, a sudden introduction to Ollie dog food can also cause diarrhea if you don't make the transition appropriately.
Inside Ollie's box, you get a how-to guide, suggesting a 9-day transition period, as well. The instructions are good enough to help you make the change over without any tummy upsets. Go with the suggested stages plan.
In case you notice runny poops, stay at the same stage for two more days. Once your dog's stomach adjusts, move on to the next stage

Where to buy Ollie dog food?
The only place to buy Ollie is their website. They gather your doggo's information through their onboarding process.
You sign your pup up and take a quick quiz about your dog (age, size, weight, breed, activity level, dietary information, and if he has allergies or not) to help them design a custom meal plan for your furry. Once you confirm your subscription through a confirmation mail, congratulations, you are in!
Your pup's starter box ships within one or two business days. The parcel contains your dog's two-week fresh-food supply.
After that, you'll keep receiving your subscription box at regular intervals.
If you ever want to update your dog's profile or are willing to cancel the order, log in to your account and make the amendments.
Have any queries? You can reach their canine care team through Ollie dog-food phone number, email, or social media.
How much does Ollie dog food cost?
At Ollie, they calculate the cost depending on your dog's size. However, the cost of feeding Ollie to a small dog is $3/day. It's a little pricey, but feeding your pup good food results in decreased vet trips and increased lifespan of your doggo.
Good things don't come cheap, but they ship for free!
Alternative Options                                     
The Framer's Dog is one of the best human-grade dog food delivery services. The reviews on the farmer's dog website tell that their buyers enjoy a good relationship with them. It's real, safe, and vet-developed dog-food.
The Farmer's Dog vs Ollie – What's better?
The Farmer's Dog:
Offers the most specialized dog diet
Deliver their food in biodegradable materials
Don't offer dog-treats
The packaging is a bit hard to work with
Costs more
Ollie:
Offers customization
Complex packaging (use plastic)
Dog treats are available
Easy-to-administer
Costs less
Want your doggie food service to take his special medical conditions like cancer or diabetes into account?  The Farmer's Dog will probably be your go-to doggie diet.
Nom Nom Dog Food is another fresh pet meal with many good reviews. They offer the most flexible delivery service in the pet-food space. From the pricing point, Ollie is still better than Nom Nom.
Nom Nom vs Ollie:
Nom Nom:
Allows sample trial
Includes a Pork recipe
First 30-day money-back guarantee
Flexible deliveries
Ollie:
Better affordability
No sample trial
Offers lamb recipe
Money-back guarantee on your starter box
Feature scheduled delivery
If you want a sample trial before you confirm the subscription and treat your dog's advanced allergy issues, Nom Nom can be the best choice for you.
Pet Plate Dog Food is another popular dog food delivery company famous for providing healthier food to your pets. They deliver pre-portioned, human-grade, fresh food to your door for free. I cover this program in this review.
Pet Plate Dog Food vs Ollie:
Pet Plate Dog Food:
Affordably priced starting plan
Food comes in hard plastic tubs
Chunky texture
Delivery plan gives limited freedom
Fixed treat option
Ollie:
Bit pricey starter plan
Storage-friendly packaging
Mushy food-consistency
Delivery plan is more buyer-oriented
Four treat options
Do you prefer reasonable prices and well-balanced chunky food? You may go for Pet Plate.
Conclusion: Is Ollie's Fresh Food A Good Fit For Your French Bulldog?
Ollie's online reviews clearly depict that Ollie is a premium dog-food service. It helps you manage your doggo's overall health with all-natural ingredients.
If you struggle with commercial dog foods filled with fillers and artificial flavorings, no need to struggle anymore! With its wholesome, fresh, and nutrition-dense food formula, Ollie leaves its competitors to lick dust and lures your dog to lick the bowl.
Sounds a fair deal, right?
Coming back to the point, Is Ollie a good dog food for French bulldogs? From my side, it's a YES!
Do you also think Ollie is the best bang for your buck? If so, go you can learn more here.