Are you thinking of taking the next step in purchasing a French Bulldog from a reputable breeder? If so, then I can help you with some of the research because I understand how important it is to get a Frenchie from the right place.
I've found six of the best French Bulldog Breeders in Los Angeles and nearby areas, with all of them registered with the AKC or a similar association.
Frenchies are great pets to have, and they have a wonderful temperament that makes them great companions. However, they also have genetic health issues that any future Frenchie owner must consider.
It's essential that you purchase a Frenchie from the right, reputable breeder and ensure that they've done the necessary checks. All Frenchies are at risk of these health issues, but working with a reputable breeder can reduce the risks of inheritance by running health tests on the parents.
All of these breeders do just that, and they also ensure that their puppies are socialized and ready to go to the right home. That's why you should consider these breeders if you want a Frenchie from Los Angeles.
As an AKC-registered breeder, Champion Pups breed their Frenchies and are raised in their own home. All their puppies are vaccinated before you buy them and are dewormed too.
In their home, the Frenchies grow accustomed to different animals, such as cats, other dogs, and small children. This ensures they have the perfect temperament for a family home.
All puppies will arrive with their AKC registrations and are microchipped to ensure they can be found if lost. You'll also be given a veterinary record of the vaccinations and deworming, with a one-year health guarantee for any genetic problems.
While there shouldn't be any health problems due to the strong pedigree of these puppies, a health guarantee is given to ensure a high likelihood of good health.
Upon receiving your puppy between ten and twelve weeks old, you will also be given food and a crate to start raising your puppy.
If you're looking for an ethical breeder in the Los Angeles area, then Ethical Frenchie is the breeder for you. They're focused on socializing their Frenchies, monitoring their health, and ensuring they have a good temperament.
Once you adopt a Frenchie from the Ethical Frenchie, the breeder is happy to work with you if you have any issues. They focus on ensuring you always get the answers you need and are delighted to work with you even when the puppies grow older.
All of their Frenchies are socialized early, so they aren't shocked by moving into a new household. Health tests are carried out on the parents to ensure there aren't any genetic issues in their line, and because of that, they have one of the strongest health guarantees found among other breeders.
Not only are they focused on raising their Frenchies well, but they also update their blog regularly to ensure that any questions are answered.
They will ensure that all puppies go to the right home, as they will conduct phone and text interviews and allow you to meet your puppy via video before you meet them in person.
Once they're positive that you're a good choice, they'll give you a preparation guide, and everything you need to ensure your Frenchie can be happy at home.
Located in both SoCal and Northern California, these Frenchies are registered with the AKC and are socialized and trained using the Von Falconer method.
They begin training at three weeks and learn how to respond to snaps, whistles, and hand claps. If further training is required, they offer it for a small fee.
All of the Frenchies are dewormed, vaccinated, and microchipped. You can visit the parents of each puppy on-site and run health tests before breeding them to ensure they're in top condition.
The puppies are socialized using the rule of seven, where they are introduced to seven different surfaces, objects, locations, people, challenges, and places they've eaten and eaten from.
They follow the rule of seven alongside early Neurological Stimulation, which ensures that your puppies will boost confidence and behavior, making them easier to train and can handle any external stress.
If you want a puppy from Francoeur Frenchies, you can make an appointment via phone or email. They have locations in Moorpark, Thousand Oaks, Los Angeles, and other areas in California.
Located just outside Los Angeles in the Ojai Valley of Ventura County, these French Bulldogs are bred throughout the year. All of the Frenchies they breed are socialized from a young age.
The owner of French Bulldog LA, Dr. Marika Zoll, has a degree in animal behavioral psychology and is certified as a dog trainer.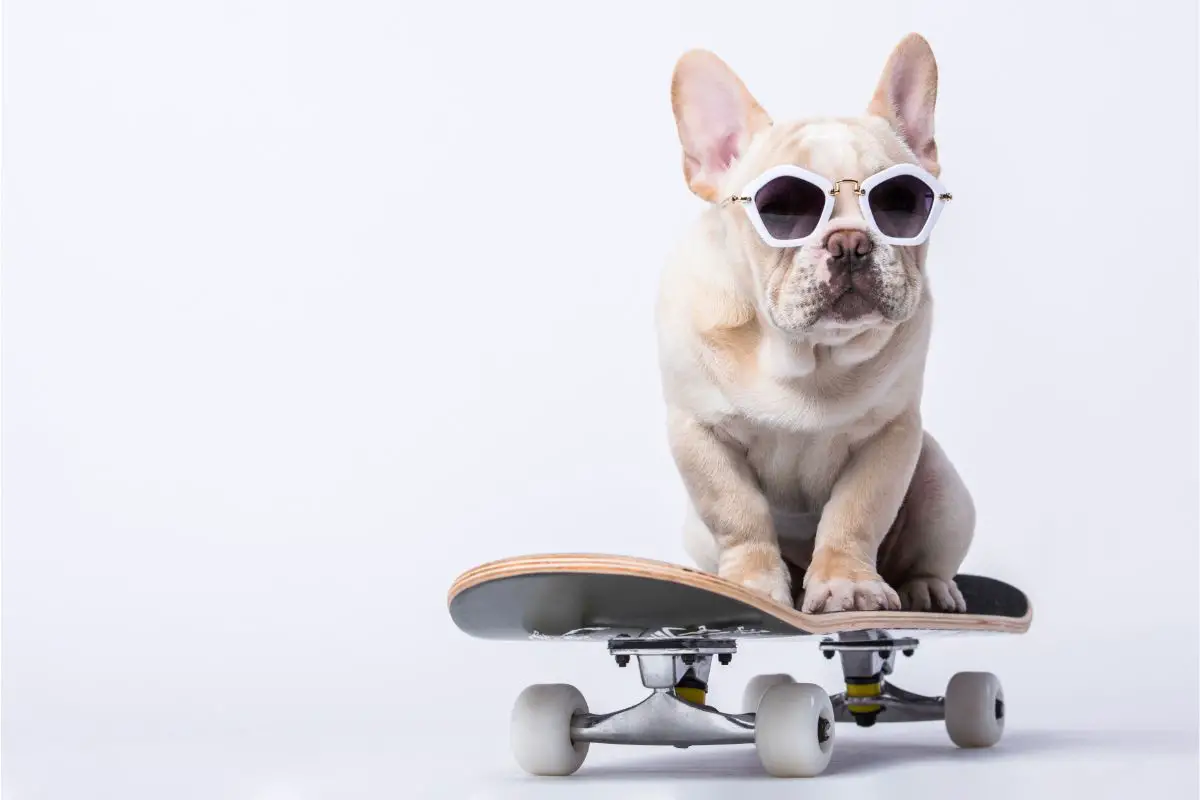 Every puppy bred from this kennel is socialized from a young age, and to see how well socialized they are, you're invited to visit the home to see them. If you need advice, French Bulldogs LA is happy to offer their services, and they won't release the puppies until they are fully vaccinated.
All puppies are registered with the AKC, CKC, ACA, or UABR; these are reliable and reputable kennel clubs. They have a health guarantee for one year and are both dewormed and vaccinated before being given to you. She won't send their puppies to their homes until they are eleven or twelve weeks old.
Located in San Diego, only a two-hour drive away from Los Angeles, is Melzano Frenchies.
Melzano Frenchies are reputable breeders who treat their pets as members of the family and raise the puppies in a home with parrots, cats, and plenty of other people so that they can acclimatize to different environments.
Once they have raised these puppies, Melzano will provide lifelong support to anyone who adopts from them and is happy to support the transition into your home.
Not only are they conditioned for crate training, but Melzano offers a thirty-day insurance policy with each puppy and provides a written agreement and health guarantee for their Frenchies.
When you purchase a Frenchie from Melzano, they will provide you with a puppy pack and a guide to raising French Bulldogs and are always happy to assist you regardless of the time of day.
All of their puppies are registered with the AKC, and they'll also come with a spaying and neutering contract to ensure that no one can try to breed them unless it is discussed with them beforehand, so they know that they are treated correctly.
All puppies from Melzano are vaccinated, dewormed, and have temperament tests done. If you do want a puppy from Melzano Frenchies, they will conduct interviews to ensure that all Frenchies go to their perfect forever homes.
If you want a breeder with over twenty years of experience, then head over to Royal Empire French Bulldogs in Jurupa Valley. All puppies are registered with the AKC and are health tested to ensure that all Frenchies are bred healthily.
Royal Empire French Bulldogs are dedicated to ensuring that French Bulldogs are born healthily and are socialized with the rest of the family. All of their Frenchies have DNA tests conducted on them to ensure they're clear of any genetic health issues.
To secure healthy puppies, they import European French Bulldogs from champion bloodlines to ensure that their pedigree will have only their most favorable characteristics.
None of the puppies are bred for quality. Instead, the focus is on the quality of the breed. The standard day you can bring a puppy home is roughly after they have turned eight weeks old to ensure they've been socialized.
If you do want a puppy from Royal Empire French Bulldogs, you will have to wait a minimum of three months, and you can reserve your puppy for when a litter becomes available.
All puppies come with a two-year health guarantee covering any genetic illnesses they may not have been able to eliminate. Health guarantees are put in place with the knowledge that health testing will reduce the chances, but otherwise, it may not always be successful.
Once you have a Frenchie from them, you'll receive a health certificate, a registration certificate with the AKC, and of course, your puppy.
Final Thoughts
These are without a doubt the best breeders that you can find in and around the Los Angeles area. I've done plenty of research to ensure that all of these breeders are affiliated with the AKC and that the puppy's health is their main priority.
All of these breeders have different amounts of experience when it comes to breeding, but I've found that the main element they share is their love for French Bulldogs.
If you are looking for a puppy, I recommend doing plenty of research first and understanding what you should look for when you're searching for an awesome breeder. But the good news is that I've given you a hand with these six!
French Bulldog Breeders in Tennessee
New England French Bulldog breeders
French Bulldog breeders in Illonois
North Carolina French Bulldog breeders