Tis the season of giving and I wanted to share 12 French Bulldog Christmas gift ideas for the special Frenchie in your life.  I have been shopping around for gift ideas for my little Augie so I wanted to share these with you.  With Christmas approaching I am not only shopping for my loved ones but I of course need to get some Christmas gifts for my beloved French Bulldog.  Here are some great Frenchie Christmas gift ideas.  
13 French Bulldog Christmas Gift Ideas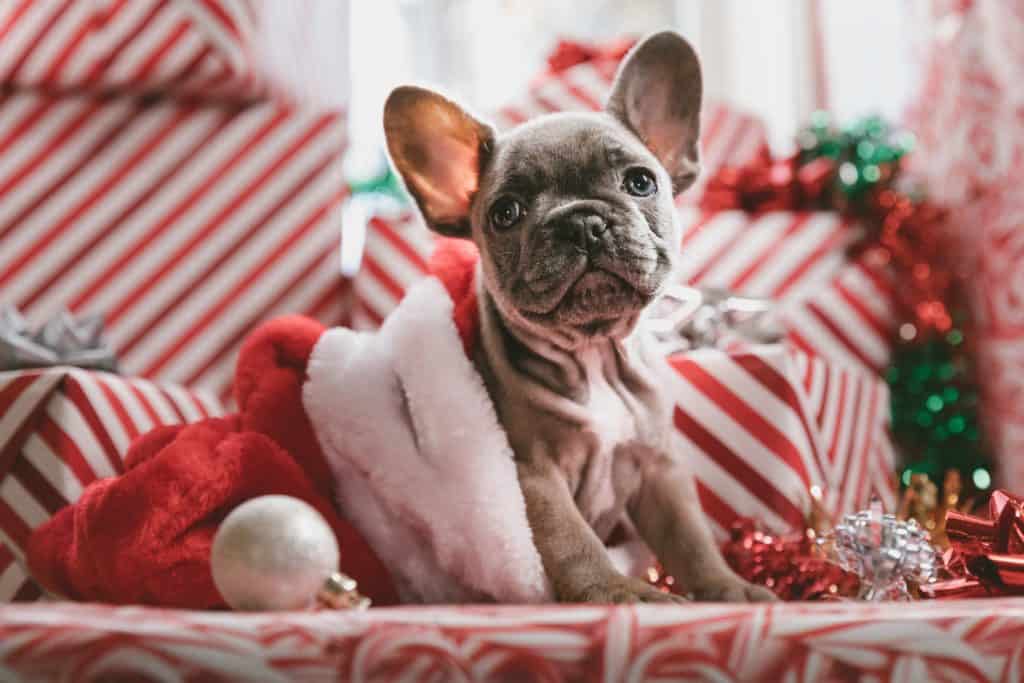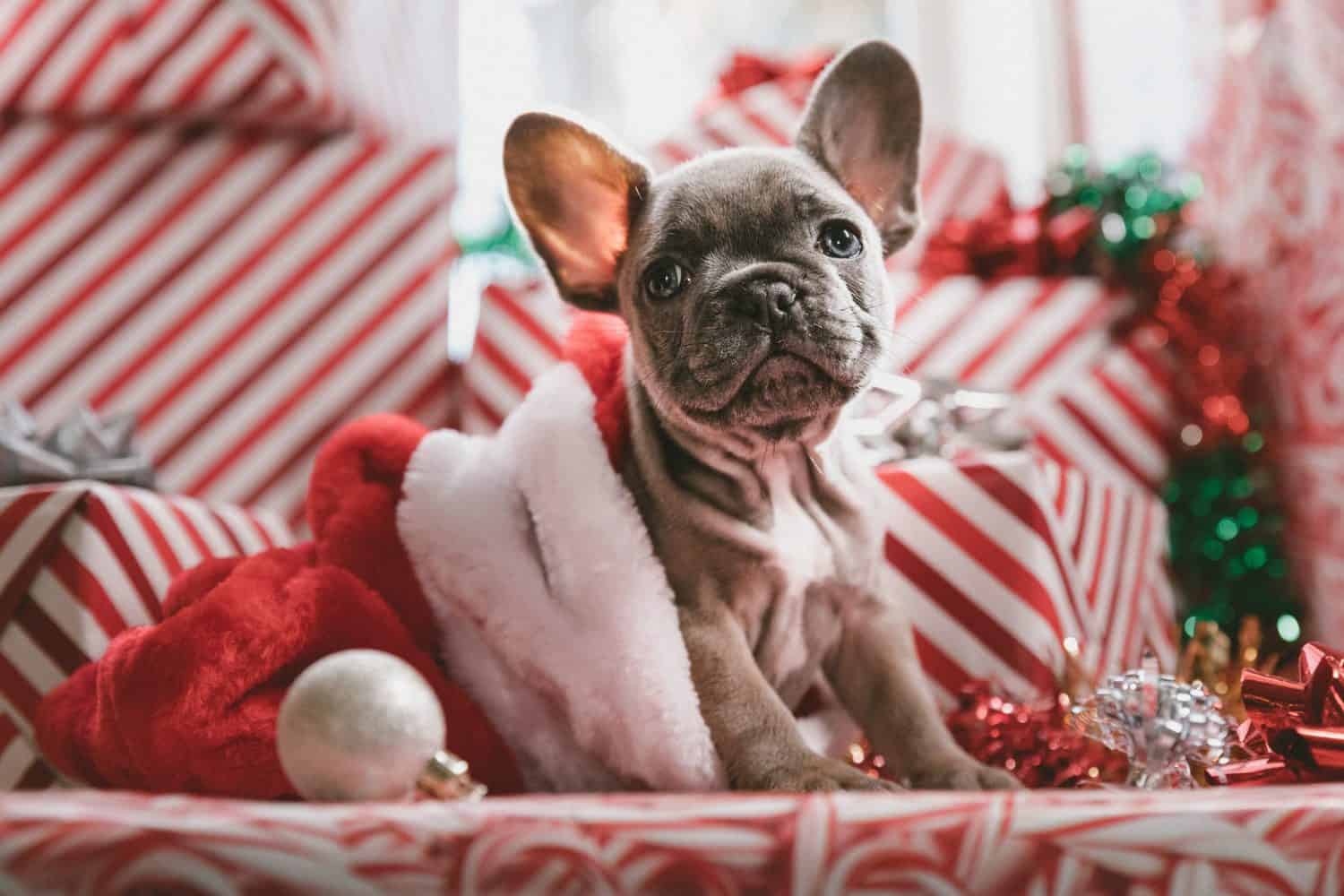 One of my Frenchie's favorite treats are these Himalayan Dog chews.  He absolutely loves these tasty treats and they are completely safe for French bulldogs.  These treats keep him occupied, out of trouble, are healthy, and don't make a mess.  
Click Here To See This On Amazon
Deer antlers make an excellent treat for your French Bulldog.  Deer antlers are made of a bony material, are very durable, last for a long time, and guaranteed to keep your Frenchie engaged.  Best yet, they don't smell or stain. The nice thing about the deer antler as compared to a Hoove, is that a deer antler doesn't stink after your Frenchie chews it.  (Hooves have a terrible odor to them!).  You can even wash the antler in warm, soapy water to keep it clean and fresh.
Click Here To See This Deer Antler On Amazon
A crate is an essential Christmas gift for your four legged friend if he doesn't already have one.  Or perhaps you need another one for some planned flights or road trips.  There are a lot of great reasons to use a crate and its beneficial for both your French Bulldog and you.  A French Bulldog crate offers you a secure personal space for your French bulldog. If you want to know the right size to get, check out this article on French Bulldog crate size.  
Here's the crate I use for my little Frenchie:  
Click Here To See This On Amazon
Let's be honest, French Bulldog pajamas are adorable.  Here where I live in the Northeast of the United States the Winter months get cold so outfitting my Frenchie with warm Winter gear is a must.  Plus, your Frenchie will look absolutely adorable wearing them.  These French Bulldog pajamas are perfect for everyday wearing, excellent for sleeping time and adorable for photo opportunities for a French Bulldog Christmas card.  The thick and warm fabric keep your Frenchie warm during the coldest of nights.  
Click Here To See This On Amazon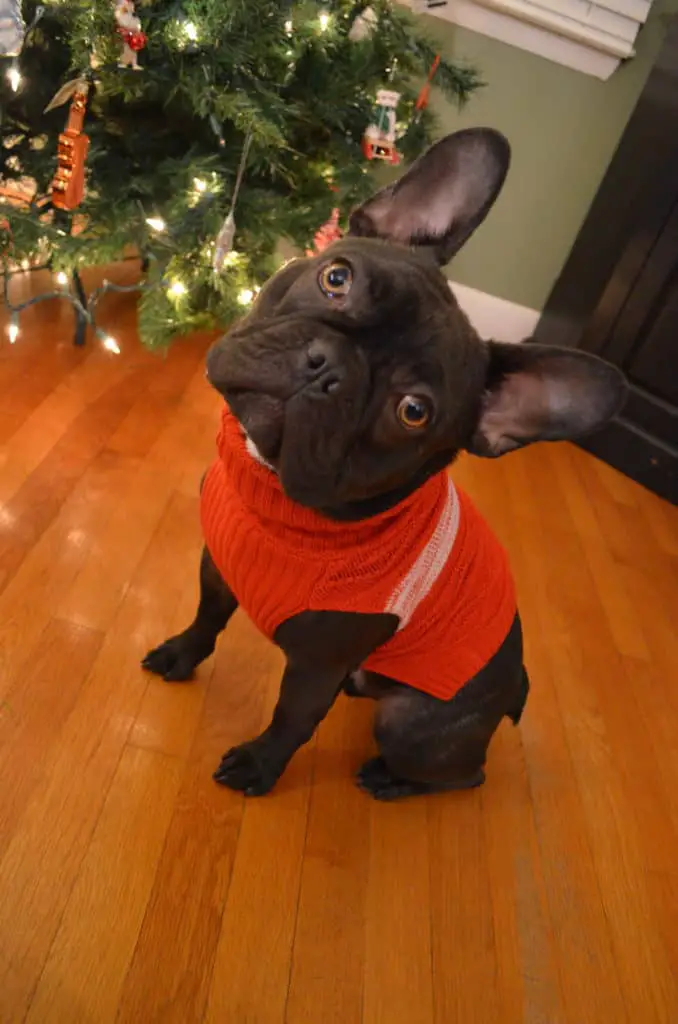 We recently found this absolutely adorable French Bulldog Christmas sweater for Augie and just had to take some Frenchie Christmas photos of our little guy.  
Click Here To See This Dog Christmas Sweater On Amazon
Our family just decorated our Christmas tree and missing from the tree was a French Bulldog Christmas ornament so I needed to remedy that quickly so I got this ornament that looks like our Frenchie Augie.  This little Frenchie Christmas ornament is a great way to honor your best friend and loyal French Bulldog with our pedigree Christmas tree ornaments that add a treasured memory to your holiday decorations.
Click Here To See This French Bulldog Christmas Ornament On Amazon
One great gift idea for your Frenchie especially if you live in a part of the world that gets snow in the Winter are dog snow boots.  There are a number of reasons why every French Bulldog owner living in harsh Winter climates should consider getting snow boots for their furry Frenchie friend.  Having waterproof footwear for your Frenchie can keep their feet protected from the cold, salt, and road chemicals.  Here are some of the winter dog boots I got for Augie:  
Click Here To See These Dog Snow Boots On Amazon
What a great Christmas gift the Kong dog toy makes!  My French Bulldog Augie loves his Kong and he even has multiple Kongs which come in handy for some of the different Kong stuffing recipes we use.  The Kong toy provides great mental stimulation and is guaranteed to keep your French Bulldog busy for quite some time. Healthy play is important for dogs' physical and mental development, emotions and behavior. By encouraging healthy play and satisfying instinctual needs, this toy helps solve chewing, separation anxiety, teething, boredom, weight management, crate training, digging, barking and more! The KONG Classic's unpredictable bounce makes for exciting games of fetch and other interactive play with your pet.
Click Here To See The KONG On Amazon
Winter is here and with it lower temperatures have also arrived.  Even though your house is heated heat does rise and with your Frenchie trying to sleep in his crate on the floor it may not be warm enough.  Putting a heated dog crate pad inside his crate will help your Frenchie stay warm and toasty. 
Click Here To See This Dog Heating Pad On Amazon
Winter usually consists of low temperatures and cold air.  You want to keep your French Bulldog protected during the harsh Winter as much as you possibly.  The cold air and dry heat inside your home can contribute to a dry nose for your French Bulldog.  Getting dry and chapped lips can happen to you just as easily to your French bulldog's nose.  A wet dog nose is a healthy nose and this Snout Soother is a great Christmas gift idea for your Frenchie.  
Click Here To See This Dog Nose Balm On Amazon
One great Christmas gift idea for your French Bulldog is this adorable Winter hat!  This particular Hat includes adjustable cotton chin cord and has a scarf with loop closure easy put on and off.  Plus, it is absolutely adorable and your Frenchie will be Christmas photo ready with his new hat!  Plus, it will keep those Frenchie bat ears warm even on the coldest day.  Take a look:  
Click Here To See This French Bulldog Christmas Hat on Amazon
This Frenchie Bow Tie Christmas collar is the perfect Holiday gift idea to make your Frenchie look dapper at the Christmas party.  A bow tie is attached to the collar for a perfect holiday party celebration.  When you show up to show off your Frenchie and he is rocking his new Christmas Collar he will be dressed to impress for sure!  It will also make for some great Christmas photos with you and your Frenchie!
Click Here To See This Christmas Bow Tie On Amazon
13.  Get a French Bulldog Custom Pet Portrait
A wonderful holiday gift idea is to get a custom pet portrait created of your beloved French Bulldog.  This custom work of art can be a great gift for your kids or family member.   Here's an example of one I had made up.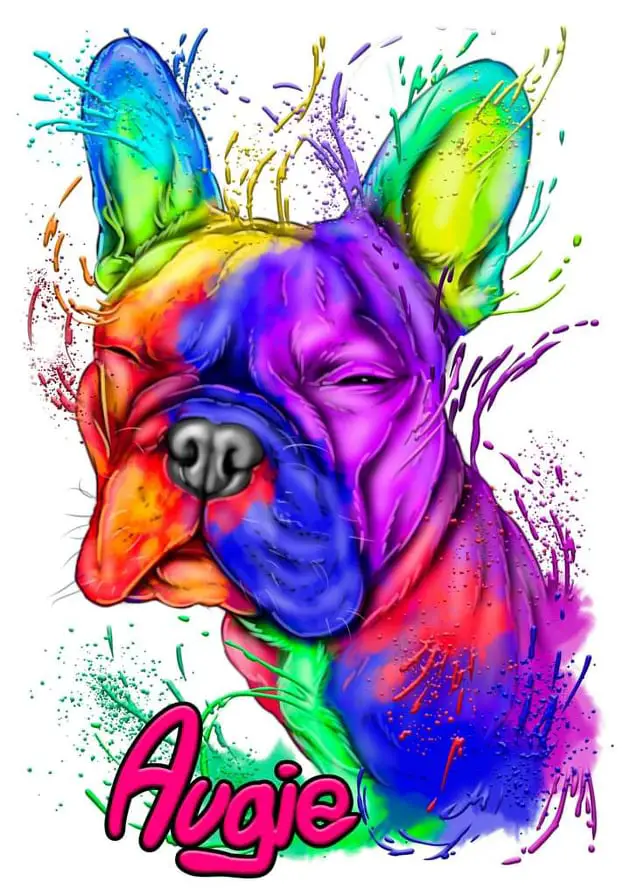 Those Are The 13 French Bulldog Christmas Gift Ideas I have For You
I hope you found some good Frenchie Christmas gift ideas in this article!  I love Christmas and I love getting gifts for my little Frenchie.  I hope you like this and wish you the best this Holiday season.  I hope that you capture some great pictures of you and your Frenchie.  
Definitely check out this Farting Frenchies game review – it's a great family-friendly game for French Bulldog lovers. 
If you are looking for some other French Bulldog shopping ideas take a look at these other articles.