A French Bulldog is a popular and wonderful dog breed!  French Bulldogs, affectionately known as Frenchies, have captured the hearts of many dog lovers.If you are on the search for a French Bulldog breeder in Arizona the list I have researched below will be a great place to start.
These charming and affectionate canines are well-suited for small apartments, require minimal maintenance, and are an excellent choice for young families with children. In the following sections, we will provide valuable recommendations to help you find a reputable French Bulldog breeder in Arizona, ensuring a delightful addition to your loving home.
French Bulldog Puppies For Sale in Arizona
Finding the perfect French Bulldog puppy in Arizona is made easier with experienced and passionate breeders who prioritize your pup's health and happiness. These top-rated breeders in Maricopa, Scottsdale, and other parts of Arizona have a strict no-puppy-mill policy and are registered with the American Kennel Club, ensuring your new furry friend is of the highest quality.
Years of expertise in breeding French Bulldogs have allowed these breeders to help numerous families in Arizona find their ideal companion while also providing essential health checks for each puppy.
To further enhance your French Bulldog's well-being, consider some product recommendations such as the best air-dried dog food and the finest pet insurances tailored for French Bulldogs.
A Comprehensive List of French Bulldog Breeders In Arizona
Below you will find a list of French Bulldog breeders in Arizona that we researched to start your hunt for a French Bulldog puppy of your very own.  Use this list as a starting point to find the perfect Frenchie breeder for you.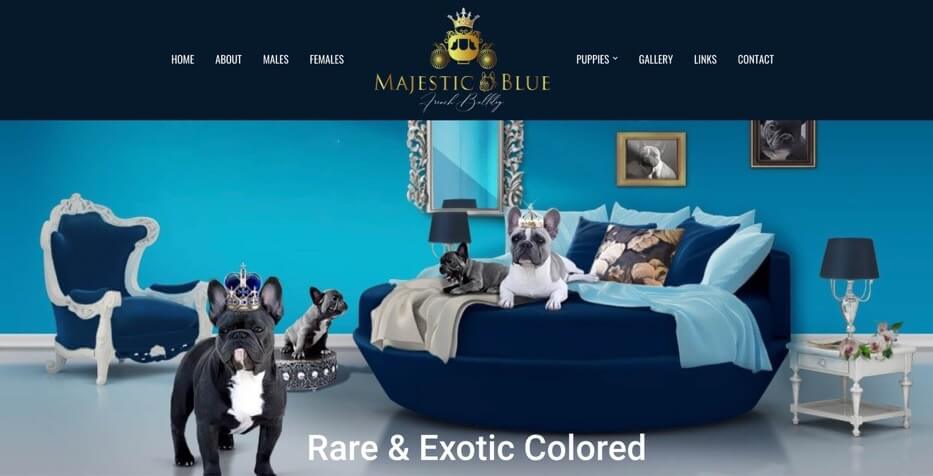 1. Majestic Blue French Bulldog
Majestic Blue French Bulldog Details
Located in Queen Creek, Arizona, Dan and Leslie from Majestic Blue French Bulldog have made a name for themselves by breeding beautiful French Bulldogs. Their 5-acre property serves as a nurturing environment for both rare and exotic colored Frenchies as well as standard ones. With over 23 years of experience in breeding, they have specialized in French and English Bulldogs for the past 12 years.
Majestic Blue's dogs have found homes with NBA stars, famous actors, musicians, and even as therapy dogs. Their puppies have also been featured in PetSmart advertisements. Raised with love and care in a family home, the puppies are well-socialized with adults, children, and other animals, preparing them for their future lives.
Understanding the importance of proper nutrition and care for young puppies, Majestic Blue emphasizes feeding their dogs only the best human-grade dog food. Before joining their new families, the puppies receive up-to-date vaccinations, worming treatments, and veterinary care, and come with a written health guarantee.
Their Google Business page has over 21 reviews and here is a 5-star review Jenna Hust posted:  "I cannot say enough positive things about my experience. Majestic was very thorough and patient and answered all my questions and concerns. I wanted to make sure I found an ethical breeder with experience so I could minimize any health issues and that is exactly what I found in Majestic and more.I did a lot of research and I kept getting referred back to Majestic. Not only is our male puppy extremely healthy he is also one of the most beautiful Frenchies I've seen."
Majestic Blue French Bulldog offers shipping for their puppies all over the USA, with a dedicated puppy nanny ensuring their safe arrival at the airport for pick-up. For those living closer, a personal visit to the ranch to pick up the puppy is also an option.
2. Fry's French Bulldogs
Fry's French Bulldogs Overview
Dean and Lori, with their extensive experience of over 25 years in dog care and breeding, are dedicated to raising top-quality French Bulldogs in their Golden Valley, Arizona location. Each dog at their facility is AKC registered and comes with a comprehensive health guarantee. They offer French Bulldogs in a range of colors, such as blue, solid black, merle, black and tan, and more.
These adorable Frenchies are raised in a loving family environment alongside other playful canine companions. As a result, they become well-socialized and adapt easily to their new homes. All dogs receive proper veterinary health checks, up-to-date vaccinations, and worming treatments before joining their forever families.
Fry's French Bulldogs ensures that the pups are potty trained, crate trained, and leash trained from an early age, making the transition to their new homes smoother. Additionally, they provide a starter pack containing a small bag of food and an information packet with health records, allowing pet owners to focus on bonding with their new furry friend.
Fry's French Bulldogs Details
Website:  Fry's French Bulldogs
Address:  4162 W Abrigo Dr, Golden Valley, AZ 86413, United States
Phone:  (928) 530-2755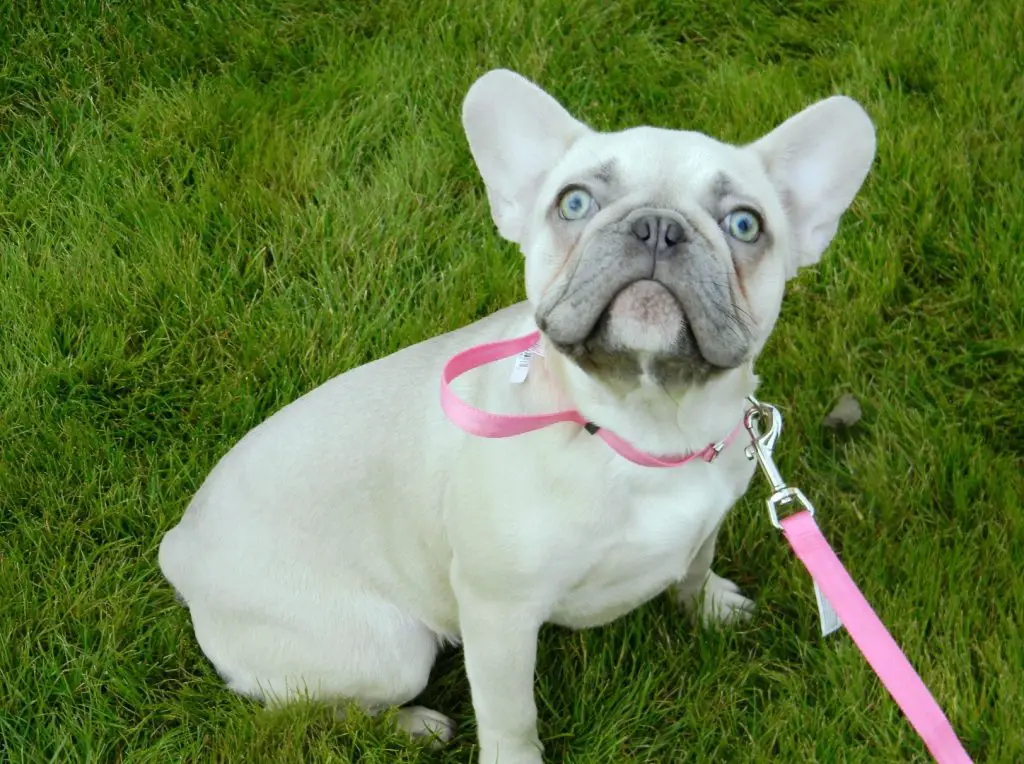 3. Blue Bat Pigs
Blue Bat Pigs: The Details
Located in Maricopa, Arizona, Blue Bat Pigs is a breeder specializing in high-quality Blue French Bulldogs. They offer a range of colors such as Blue Fawn, Blue Brindle, Solid Blue, Blue Piebald, Lilac Reverse, and Platinum Lilac Fawn puppies. These adorable pups come from a loving home, raised by Donovan and Jennifer, who have more than 15 years of experience breeding Frenchies.
Their puppies are known for being playful, friendly, and full of personality, which makes them wonderful companions. Blue Bat Pigs takes pride in their passion for breeding quality blues from excellent pedigree dogs. To learn more about their French Bulldogs, such as Lily Bear (Blue Fawn) and Fiona (Blue Brindle), you can visit their website or reach out via their contact information.
Here is what one review on Google said about their experience with this Frenchie Breeder:  "Couldn't give more than 5 stars, from the beginning to the end they have been honest and knowledgeable. They answered all of our questions and shown extreme passion for the dogs. Donovan even told us how they spoil the babies giving the moms fresh chicken while there pregnant. For the price they are totally worth every dollar!!!!! Will definitely work with them in the future."
Website: Blue Bat Pigs
Address: Maricopa, Arizona
Phone number: (520) 815-6702
4. PHX Frenchies
PHX Frenchies Overview
PHX Frenchies, based in Gilbert, Arizona, are passionate about raising high-quality French Bulldog puppies in various colors, such as blues, whites, fawns, brindles, tris, merles, pied, and more. Since 2017, their focus has been on breeding healthy puppies in a family environment.
They ensure all puppies come with a one-year Health Guarantee, are fully vaccinated, wormed, and have undergone a veterinary check. For those located farther away, PHX Frenchies offers a Flight Nanny Service to guarantee a safe and secure arrival for the new puppy.
Contact Information
5. La Bella Kennels
La Bella Kennels Information
Located in San Tan Valley, Arizona, La Bella Kennels, run by Nicole, focuses on breeding family-friendly French Bulldogs. As a dedicated and passionate breeder, she emphasizes high-quality and ethical breeding practices, resulting in healthy and happy puppies. The love and care Nicole puts into each puppy she raises is evident in their temperaments and satisfied new owners.
Key Details:
Website: La Bella Kennels
Address: San Tan Valley, Arizona
Phone number: (480) 297-9992
How to Select a French Bulldog Breeder in Arizona
When looking for a reputable French Bulldog breeder in Arizona, consider the following guidelines to ensure a positive experience:
Communicate with the breeder: Speak to the breeder in person, online, or over the phone to ask any questions and gauge their expertise.
Verify certification: Confirm that the breeder is American Kennel Club certified.
Health checks: Ensure all puppies undergo a thorough veterinary examination before leaving the breeder, including up-to-date vaccinations and worming treatments.
Documentation: Obtain records detailing the health checks, vaccinations, and birth information of the puppy.
Puppy's diet: Inquire about the food the puppy consumes so you can provide the same diet upon their arrival.
Be cautious of breeders who:
Prevent you from seeing the mother.
Offer the puppy before it reaches eight weeks old.
Pressure you to make a cash payment without ensuring your comfort.
By following these guidelines, you can confidently select a French Bulldog breeder in Arizona and avoid potential issues like puppy mills or inexperienced breeders. For more information about choosing a quality French Bulldog breeder be sure to read this article.
More Information About French Bulldogs in Arizona
French Bulldogs are known for being affectionate and make great companion dogs for dog lovers in Arizona. The breeders mentioned in this article have been thoroughly researched, ensuring that they have genuine recommendations from satisfied puppy parents who have raised happy and healthy Frenchies. These breeders have been independently verified to have no connections to puppy farms or puppy mills, ensuring the highest quality care and upbringing for these beloved pets.
Final Thoughts – Top French Bulldog Breeders in Arizona
Arizona is fortunate to have numerous exceptional French Bulldog breeders, making it easier for you to find the perfect addition to your family. French Bulldogs continue to be a popular breed, and by reaching out to one of the fantastic breeders mentioned above, you'll be in good hands.
For French Bulldog Breeders in other states check these out:  
French Bulldog Breeders in Alaska
French Bulldog Breeders in Alabama
French Bulldog Breeders in Tennessee
French Bulldog Breeders in New England
French Bulldog Breeders in Illinois